When it comes to buying or subscribing to anything, it is a good idea to compare the various products before making the final decision. Probably the best way to do this is to use a comparison tool available online.
🤣😍😂 14 Business Fibre Broadband Plans Compared For Small Offices
Now, do note that not all tools are equal. For example, some sites may leave out certain companies or brands, the reason being that many do not profit from the potential sales when you click on the link to that particular product. After all, these are profit driven companies. Some are requested by a particular company not to have their data included in the comparison engine for reasons only known to that company.
Compare: Credit Cards | Personal Loans | Fixed Deposits | Car Insurance | Medical Cards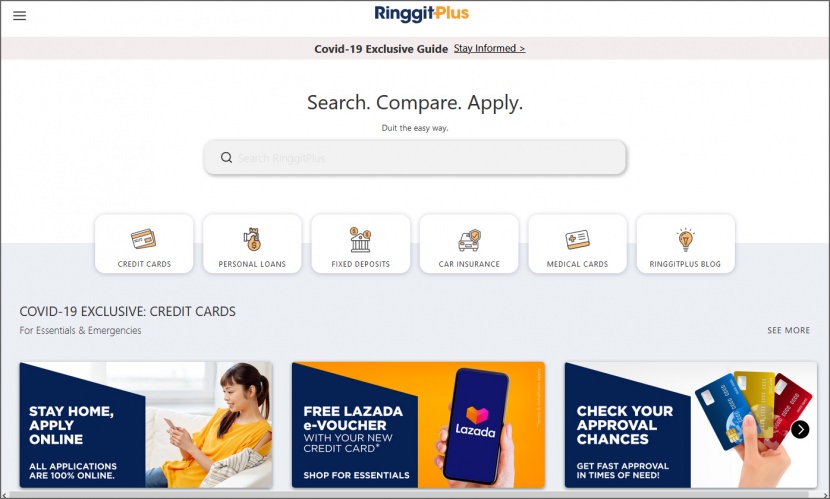 RinggitPlus.com is Malaysia's leading financial comparison website. Every day, we help you get more for your money – whether you're applying for a credit card, personal loan, an insurance plan, a home loan for your dream house, and much more.
The RinggitPlus team are your go-to guys for impartial information on everything you need to make empowered decisions and save money on products and services you use every day. They make it easy to search for the right choices for your needs, and we translate the small print into language that's simple to understand. Their unique feature not found in other comparison websites is fixed deposit.
Islamic Fixed Deposit
Conventional Fixed Deposit
Fixed Deposits for Senior and Junior
Foreign Currency Term Deposit
Compare: Funds | Bonds | Personal Insurance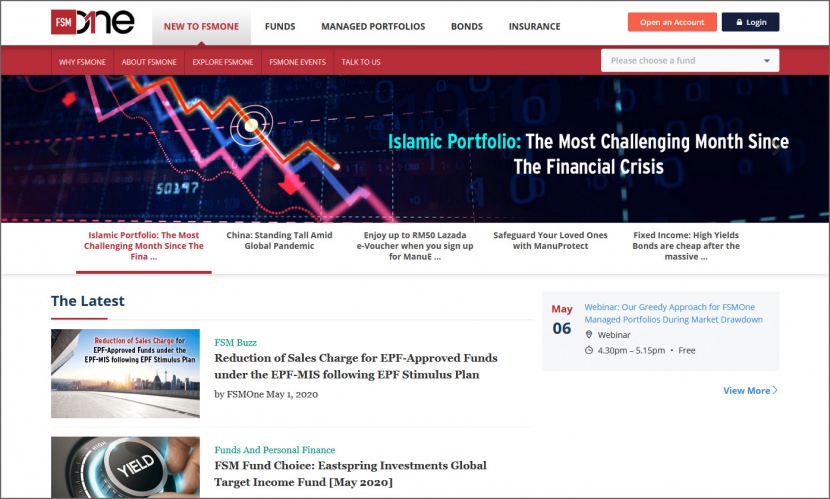 There is a vast array of funds available on FSMOne. Fund Selector helps you to filter funds that are currently being available on the platform in accordance with the filtration criteria. Simply make your selections and the filtered results will be presented in the table below. If your selections have generated a blank table, it means there aren't any funds that meet all the criteria.
They also offer basic insurance comparison by Hong Leong Assurance, MCIS Insurance, Manulife, Prudential, and Tokio Marine Insurance. Clients can enjoy greater savings from their panel of insurance as they are able to deliver 30% in commissions back to you. They help you in getting protected at the lowest cost possible and in turn encourage you to use the cost savings for your investments.
Compare: Credit Cards | Loans | FD | Broadband | Insurance | Gold Investment | Share Trading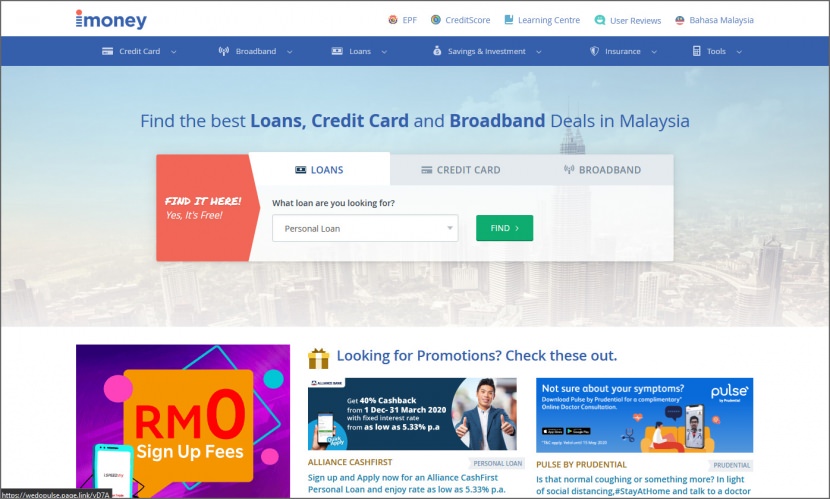 iMoney helps Malaysians make the right decisions with their money, making things simple enough so you have the power to always make the right decision with your wallet. At iMoney you can browse their comprehensive listing and compare.
What I liked about iMoney's broadband comparison is the ability to input your postcode and it will return a list of broadband companies based on the coverage. iMoney is perhaps the best comparison tool for everything financial in Malaysia. Their credit card comparison engine is perhaps one of the best. They have many categories from major banks such as Maybank, HSBC, Citibank, BSN, UOB, Public Bank, CIMB and more.
Petrol Credit Cards
Shopping Credit Cards
Travel Credit Cards
Rewards Credit Cards
Cash Back Credit Cards
Dining Credit Cards
Low Interest Credit Cards
No Annual Fee Credit Cards
Islamic Credit Cards
Balance Transfer Credit Cards
Compare: Credit Cards | Personal Loans | Travel Insurance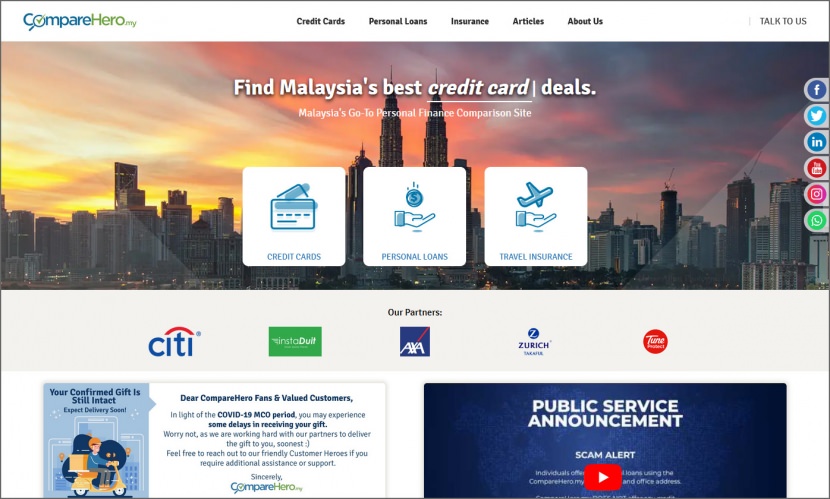 CompareHero is Malaysia's go-to personal finance platform, they provide a free, independent and convenient online comparison tool for finding, comparing and applying credit cards and personal loans. Their mission is to help Malaysia save time and money by providing a free, independent and easy way to compare a wide range of financial products and services online. Some of the key comparison tools are:
Fast Approval Personal Loans
Low Income Personal Loans
Islamic Personal Loans
Debt Consolidation Personal Loans
Loans for Self-Employed
Micro Financing Alternatives
Compare: Credit Cards | Personal Loans | Insurance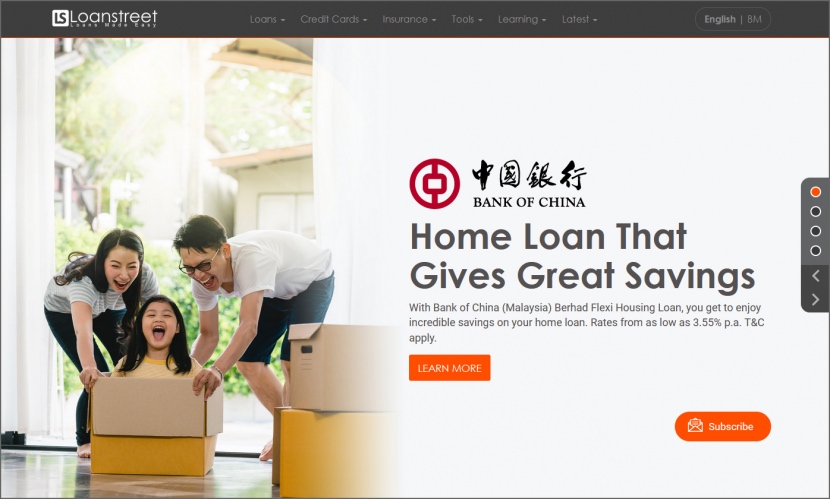 Loanstreet is a comprehensive and independent Malaysian comparison website, with its very own library of financial articles. Loanstreet's cutting-edge platform makes it easy for anyone to compare retail credit products including credit cards, personal loans, and housing loans. Some of their unique comparison engines are:
Land and construction loan
Commercial property mortgages
Loans for shop house and office lots
Loans for serviced apartments, SoHo, SoVo and SoHo
Loans for factories
↓ 06 – PhoneTech [ Discontinued ]
Compare: Postpaid | Prepaid | Mobile Plans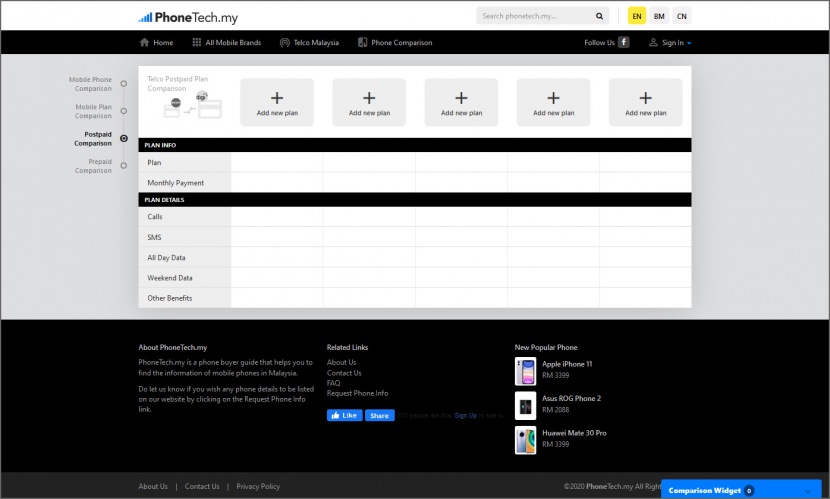 PhoneTech is a phone buyer guide that helps you to find the information of mobile phones and mobile data plans in Malaysia. By using their tool, you can compare the various postpaid and prepaid plans available. Do note that a cheaper plan does not mean a better deal if the coverage or signal is bad. There is a good reason why Maxis is expensive compared to Umobile.
↓ 07 – GoInsurance [ Discontinued ]
Compare: Travel Insurance | Personal Insurance | Car Insurance | Medical Insurance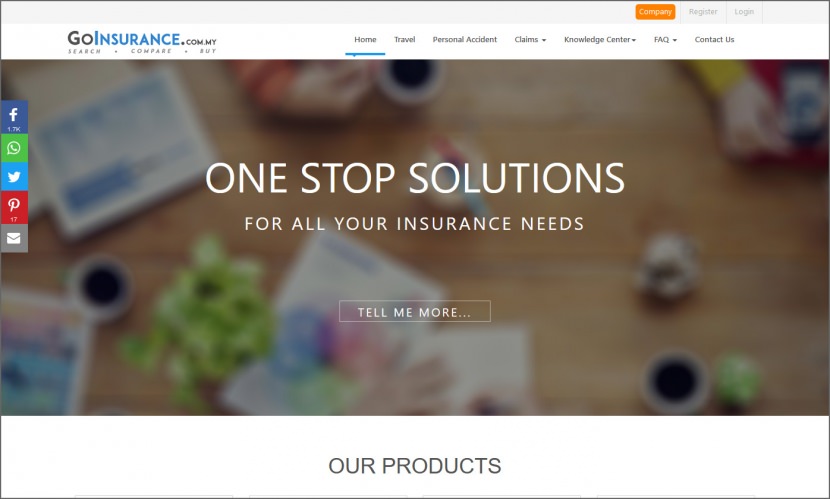 GoInsurance is one of the most comprehensive insurance comparison websites in Malaysia. We are committed to finding the right plan at the best price and helping you to save your time and money. Our main focus is to help you to discover the features and benefits offered by the Insurance Company. Our aim is to help our client make better decisions when buying insurance from companies such as AIA, Prudential, Takaful, Great Eastern, Allianz, Manulife, AIG, and more.
Term Life Insurance Policies
Car Insurance Policies
Medical Insurance Policies
Travel Insurance Policies
↓ 08 – BolehCompare [ Discontinued ]
Compare: Credit Cards | Personal Loans | Insurance | Broadband | Mobile Data Plans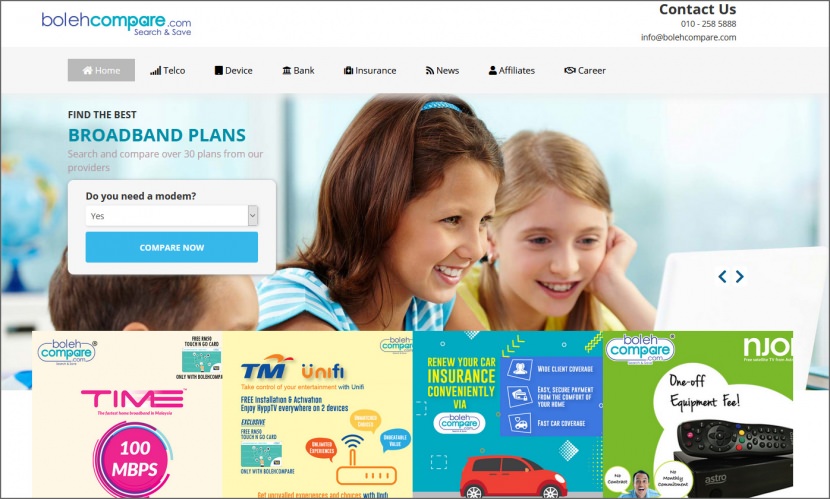 BolehCompare is the most comprehensive financial comparison service in Malaysia. They are committed to helping you find the right product at the most competitive price, and we are dedicated to saving you time and money. They also believe that helping you become more aware of banking, insurance and mobile & broadband products will allow you to take more control over your financial well-being and improve your financial standing.
One of their key features is mobile plan comparison. Choose from Maxis, Celcom, Digi or U Mobile. Find and compare the best mobile data plan in Malaysia according to your needs. They also compare Standard Chartered credit cards, Hong Leong Personal Loans, Berjaya Sompo Insurance, Air Miles Credit Cards and more.