An Insurance Agency Management System software, also known as Insurance Agency Management Software (IAMS) or Insurance Agency CRM (Customer Relationship Management), is a specialized tool designed to help insurance agencies and brokers manage their day-to-day operations, streamline processes, and improve overall efficiency. It serves as a central platform to organize client information, policy details, and other critical data related to insurance transactions.
See More ▼ 95 Quotes – Believe In Yourself, Be Confident & Think Positive
An Insurance Agency Management System software helps insurance agencies and brokers improve their workflow, reduce manual data entry, and enhance customer service. By centralizing critical data and automating various processes, agencies can better serve their clients, increase productivity, and gain a competitive edge in the insurance market. The specific features and complexity of the software can vary depending on the size and specific needs of the insurance agency.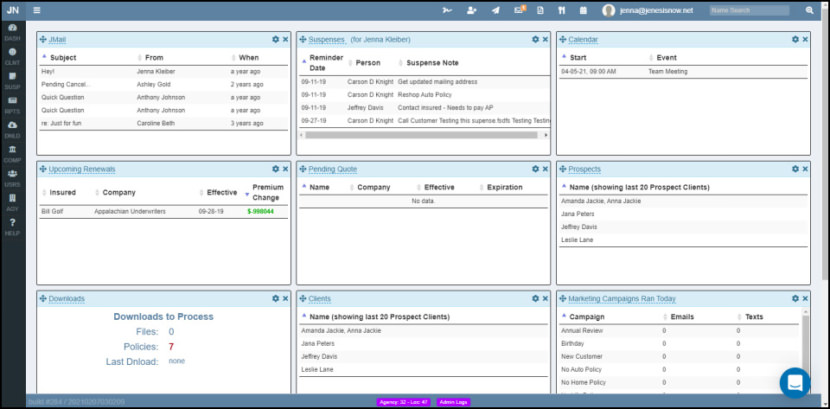 Jenesis is a cloud-based solution that helps insurance agents manage personal and commercial lines and obtain new potential customers. Key features include claims management, rating engine, policy processing and reinstatement tracking.
Their web-based software is designed to help you manage existing clients, market to potential prospects, increase efficiency and build strong relationships with your policyholders. Schedule a free demonstration and learn how their insurance agency management system can transform your agency.
Automated Marketing Campaigns – Save time & money and increase revenue with marketing campaigns.
2-way Emailing and Texting – Send a text or an email automatically from within your agency software.
Accounting – Keep accounting aligned with Quickbooks export, receipting/invoices and payment detail reports.
VOIP Integration – Efficiently receive and make calls from your computer. Automatically recognize client phone numbers.
Receipts & Payments – Easily generate receipts for payments to send to your customer or save for future reference.
Notes – Notes option is like having a searchable notepad available per client.
Credit Card Integration – Allow customers to pay with a credit card using Simply Easier Payments (SEP) or WeSignature Payments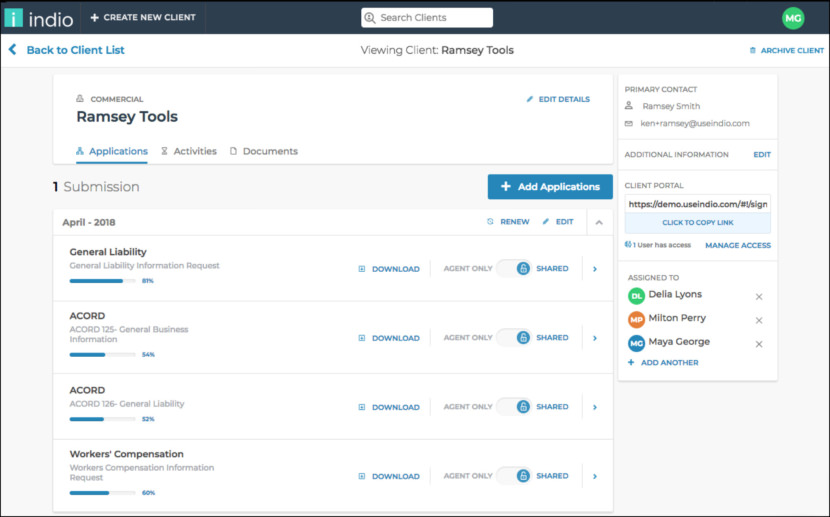 Turn the traditionally cumbersome insurance application into a simple, Turbo-Tax like experience. Indio simplifies the insurance application process to make it fast, collaborative, and easy, saving you and your clients' time and money while minimizing E&O exposure.
Stop sending your clients unruly PDF forms and spreadsheets during the insurance application process. Unify the application and renewal data gathering process for your staff and customers, eliminating redundancies in data gathering while ensuring data accuracy.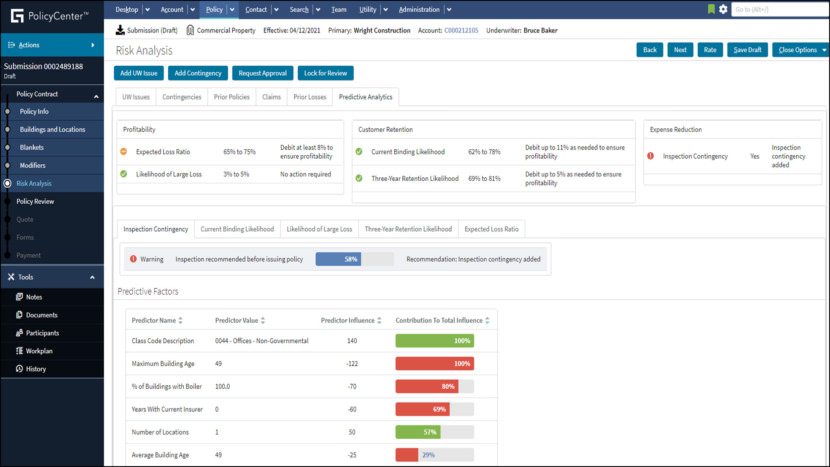 Engage, innovate, and grow efficiently with the most trusted insurance software platform in the industry. With more than 300 P&C customers worldwide, InsuranceSuite is the industry standard for speed, agility, and success.
InsuranceSuite helps companies organize cross-department processes, reduce costs, enable collaboration between teams and track performance. InsuranceSuite's claims management feature enables insurers to reduce manual workloads by automating tasks that include data entry, fees processing and reminders.
Underwriting – Improve risk selection and pricing with complete views of every submission, an agile rating engine, and analytics insights embedded into underwriting workflows.
Policy Management – Manage policies from submission to renewal all in one place, and increase agility with a cloud platform that enables you to quickly make changes to serve policyholder needs.
Claims Servicing – Resolve claims efficiently and improve customer satisfaction with increased automation, analytics insights embedded into claims workflows, and customer-centric digital experiences.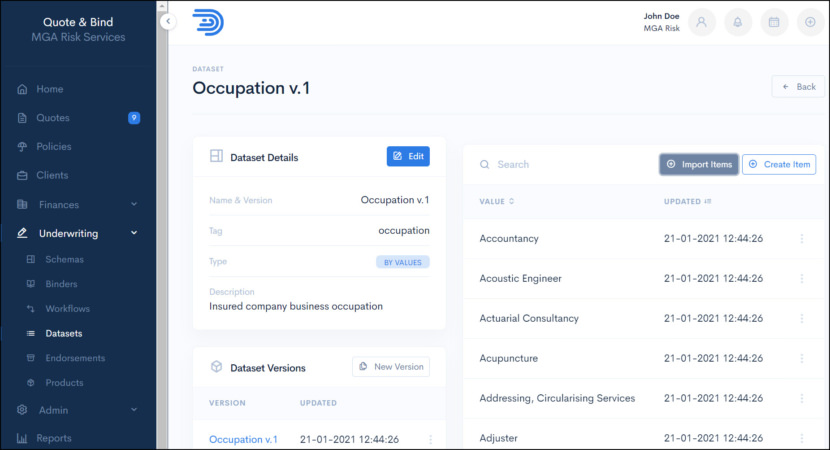 Insly provides a fully extensible suite of insurance software solutions that can be combined with your own custom modules to both simplify and completely automate all tasks required to run a successful insurance business. Additional services like accounting, reporting, and claims management tools further enhance the platform's capabilities for streamlining and optimising insurance selling and admin processes. You can use Insly for:
Launching your insurance product
Distributing your insurance product
Accounting, reporting and data capture
Claims management and handling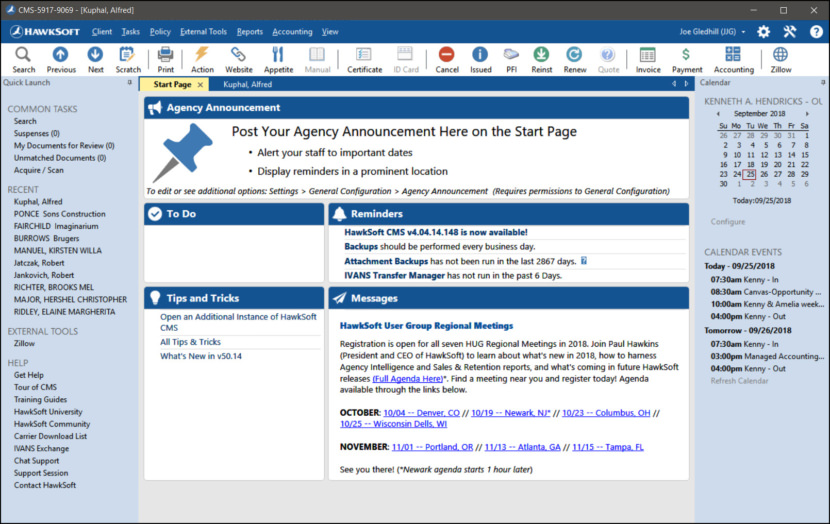 HawkSoft is an insurance management solution designed for independent agencies. HawkSoft offers workflows for commercial and personal lines and an auto-documentation process that builds a trail of every client interaction. HawkSoft's core package includes the reporting suite, Agency Intelligence, giving agents access to vital business metrics and sales pipeline management tools.
Insurance agency management systems have become a cottage industry, with nearly as many vendors out there as insurance carriers. How does HawkSoft's insurance agency management software stand out in serving independent agencies?
Provides intuitive PL and CL policy management
Increases efficiency and reduces costs
Boosts sales and improves client retention
Standardizes processes across policies and carriers
Automates documentation and mitigates E&O
Helps staff keep track of tasks and schedules
Keeps KPIs up front with easy reporting and analytics
Turn your agency into an insurtech powerhouse with their strategic insurance software technology at its foundation. HawkSoft's insurance software solution works harder and smarter for your agency with the tools and technologies you need to succeed in the ultra-competitive modern insurance industry.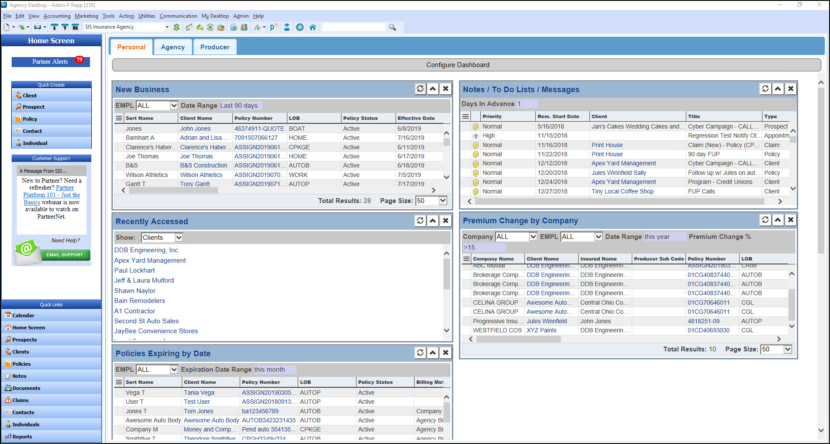 Easily manage the entire life-cycle of your agency's client relationship from pre-sales to servicing to renewal in a unified system that has sales and marketing, client, policy, and financial management, agency-branded mobile app, integrated text messaging, data analytics, web solutions, and integrations with third-party tools and industry partners.
Easily manage the entire life-cycle of your agency's client relationship from pre-sales to servicing to renewal in a unified system that has sales and marketing, client, policy, and financial management, agency-branded mobile app, integrated text messaging, data analytics, web solutions, and integrations with third-party tools and industry partners.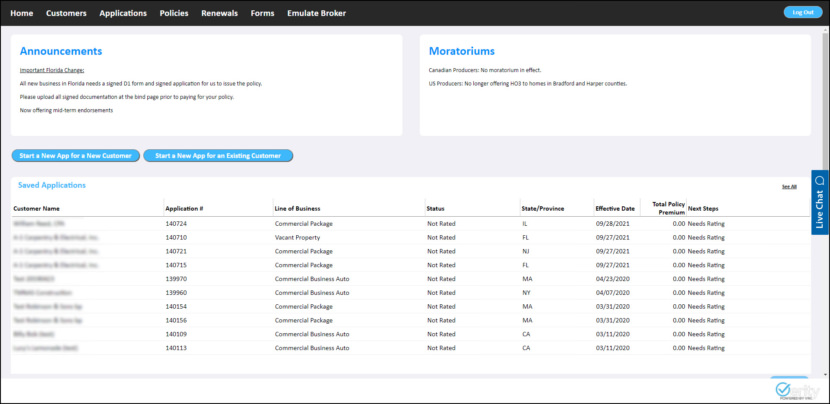 Velocity's comprehensive scope of functionality is a result of more than 30 years of development and enhancements. The extent of their functionality allows their customers to combine, consolidate, and communicate between disparate systems, departments, offices, and databases. Their products take the customer from lead-in through renewals and beyond.
The carrier bundle is a package that can be added to the agency management system for rating and issuance functionality. It provides automation and processing capabilities for the creation of new policies, renewals and mid-term endorsements. The carrier bundle also includes a claims management module where claims are paid and administered.
Built-in Rating Engine
Policy Issuance
Bordereaux Reports
Fiduciary Accounting
General Ledger
Direct Billing
Management Reporting
Document Management
Online Certificates
Workflow Management
Diary Items
Prospecting & Marketing
Policy Administration
Claims Administration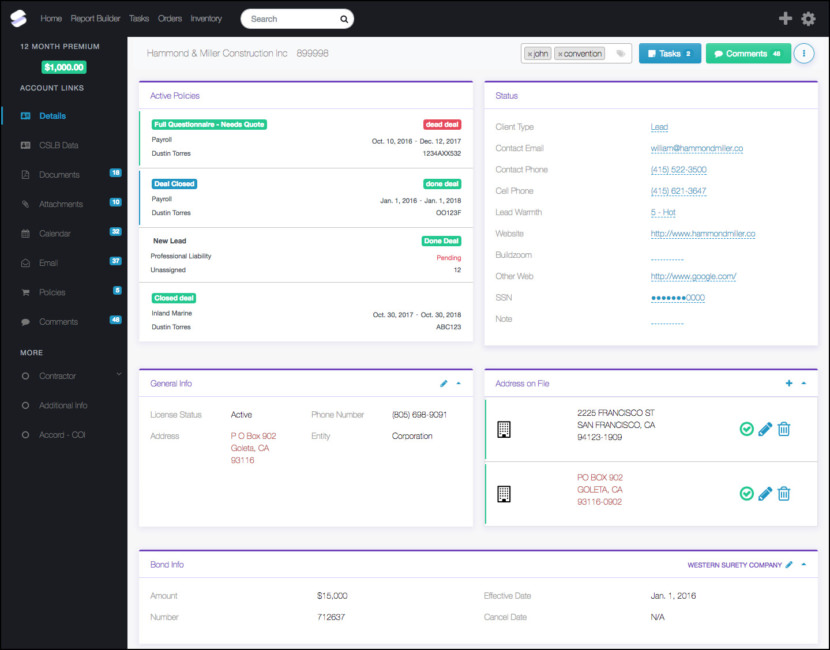 Surefyre is a cloud-based customer relationship management (CRM) solution designed for the needs of insurance agents. It is suitable for multiple types of carriers, including property, casualty, life and health care insurance providers. Surefyre's flexible no-code configuration allows you automate virtually any line of P&C insurance. From full automation to high-touch underwriting, workflows can match your ideal business process.
Ideal for General Liability, Workers Comp, Professional Liability, Trucking, Home Owners, Bond, Cyber, Earthquake, Inland Marine, Restaurant / Bar / Tavern, Contractor GL, Commercial Auto, Garage & Dealers, Commercial Umbrella, Tiny Homes, Flood, Cannabis, Cargo, Mobile Homes, Transportation, Lawyers & Professional Liability, and many more…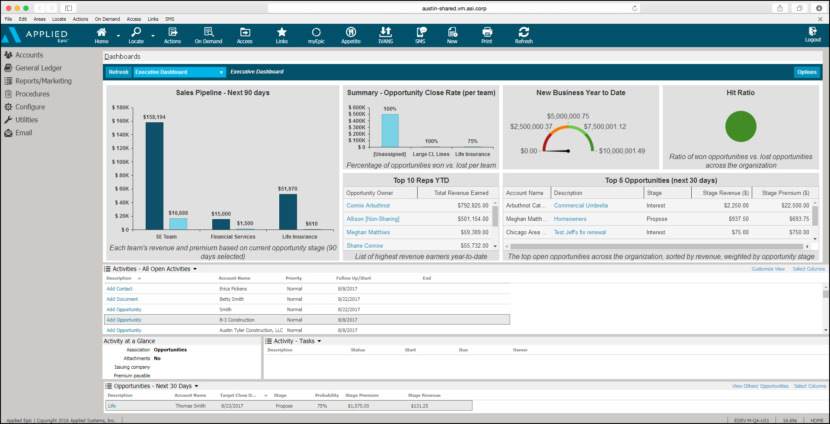 The management system is the backbone of your agency so you need a system with the capabilities to manage your entire business and the flexibility to grow as you do. Applied Epic® is the world's most widely used management platform. It allows you to manage and maintain a clear picture of your entire agency across all roles, locations and lines of business, including both P&C and benefits.
Applied Epic allows users to compare and verify policies, documents and contracts. Users can design plan summaries using pre-built forms and templates. It also allows users to educate employees on government-mandated benefits and coverage. An agent dashboard helps to manage the sales process and track performance against individual sales goals. The sales automation feature helps sales teams to manage their pipeline and other sales activities.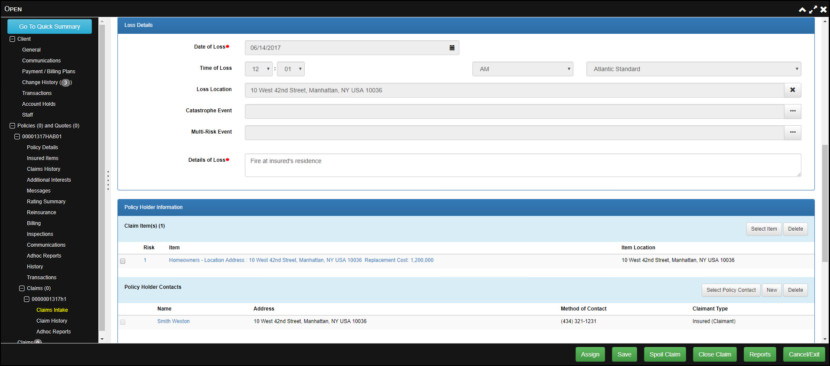 Imagine having a top-down, complete view of every client portfolio. ISI Enterprise Policy Administration makes this a reality by providing users a client-centric interface in order to manage the full policy administration lifecycle. ISI takes a broader view of what Policy Administration means to insurers, and thus leverages the fully-integrated nature of the ISI Enterprise solution to incorporate claims, risk control, reinsurance, billing and financial information into Policy Administration workflows.
Empowers users by providing integrated client information and at their fingertips
Rules-based underwriting system increases efficiency
User-friendly interface that support multi-tasking for optimal productivity
Automated quote and policy life cycles
Full transactional versioning and Out-of-sequence transactions
Flexible, configurable hierarchal policy structure
Policy levels provide attachment points for associating rating rules, documents and underwriting data elements
Expandable areas for gathering risk details
Automated and manual renewal features
Bulk import feature for large policies
BindHQ is the seamless quoting, policy-issuing, business-binding Insurtech empowering tomorrow's leading MGUs, MGAs, and wholesale insurance brokers to produce more in a fraction of the time. If you're still operating your insurance brokerage or managing independent agents with in-house servers, outdated software and pricey maintenance contracts… Then it's time to give your AMS a 21st Century upgrade.
BindHQ can be used to manage policies, accounting, invoicing and financial reports. Users can monitor agents' and agency's performance using real-time reporting. Carrier and partner data can also be viewed. The solution has a role-based dashboard where users can view data about priority work streams and time-critical tasks. Additionally, users can also view real-time scenarios using this solution.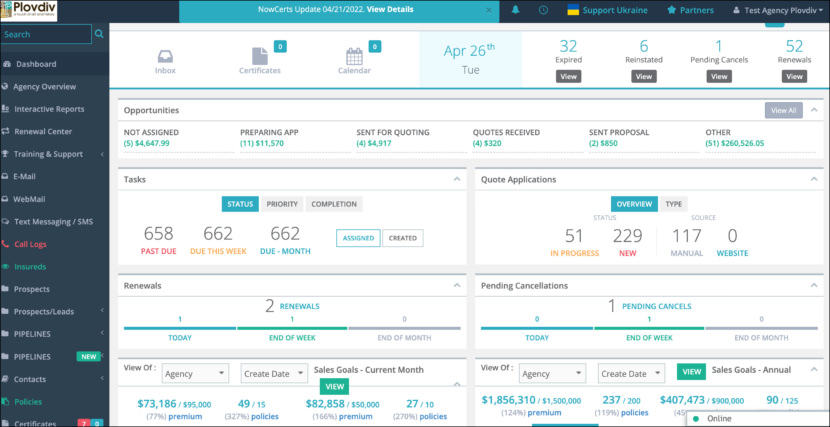 NowCerts is a cloud-based insurance solution designed for insurance agencies of all sizes. Key functionalities include commission tracking, task management, claims management, reporting, self-service certificates, reminders, calendars, dashboards and e-signature.
Invoices & Receipts – Easy to use tool for creating invoices, voiding them, taking payments, issuing receipts.
E-mail Synchronization – Sync all of your e-mail accounts in one easy to use location.
Carrier Downloads – Now Certs offers automated updates of your policy information from carrier databases.
Faxing and E-mailing Certificates – You will never have to create another certificate, print it and put it in the fax machine.
Files and Documents Storage – You don't have to think of how many gigabytes of storage you are using. They will keep your files safe for you.