What is property management software? Property management software helps property managers save time and money by streamlining their day-to-day operations. Using a range of features, they can keep track of rent payments, communicate with tenants, schedule maintenance tasks, and generate financial reports. Property management software may also include tools such as online tenant portals, automated rent reminders, and mobile apps for access on-the-go, 24/7.
🤣😍😂 10 Quotes On Real Estate Investing And Property Investment
Overall efficiency, ease of communication, accounting you can trust, new revenue streams…if these are aspects of your business that you'd like to grab ahold of, then there are plenty of reasons why you'd want to use property management software.
Some of the top benefits involve making quick work of maintenance with improved response times and task automation; getting paid faster by automating payments and collecting rents, fees, bills and more; keeping in sync with your tenants through an online resident portal; and managing the entire leasing process online including collecting signatures from any device.
Property management software allows landlords and property managers to monitor, screen, and provide online rent collection to their renters. The rental industry is always looking for ways to optimize, simplify, and enhance back-office operations and finances, and property management software is the way to do it. Using property management software improves communication between managers, owners, and renters.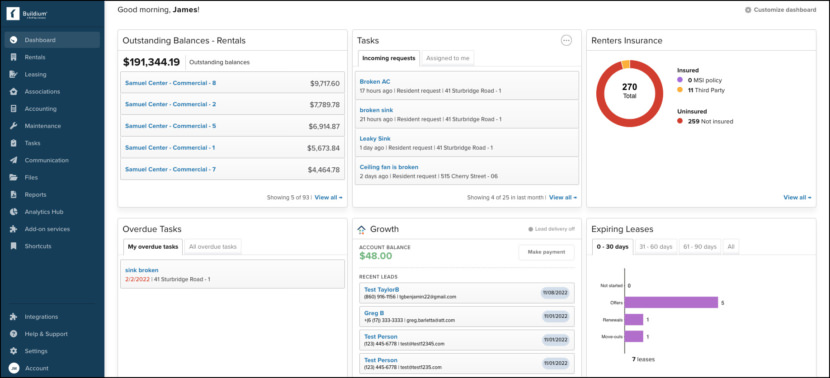 Buildium is a cloud-based property management software that enables managers of residential and association properties to take control of every aspect of their business, whether in the office or fully remote, including online rent & payments, vacancy management, maintenance cycles, and accounting.
Manage operations and communication with applicants, tenants, vendors, and owners using simple-to-use residential property , community associations, commercial properties, affordable housing, and student housing management software. Share financial statements, leases, and receipts with owners via the owner portal so they can access information at any time. Use email and mailing templates to send notices to owners, or easily create your own.
Property Accounting – Purpose-built property accounting software
Collect Rent Online – Get paid faster with our online payment platform
Maintenance Requests – Managing work orders has never been easier
1099 e-Filing – Easily create your 1099s and stay organized during tax season
Resident Center – Deliver the ultimate resident experience
Rental Listing – Syndications Effortlessly advertise your listings
Tenant Screening – Tenant background checks
Property Management Website – A free property management website, hosted by Buildium
Online Leasing – Manage the entire leasing process online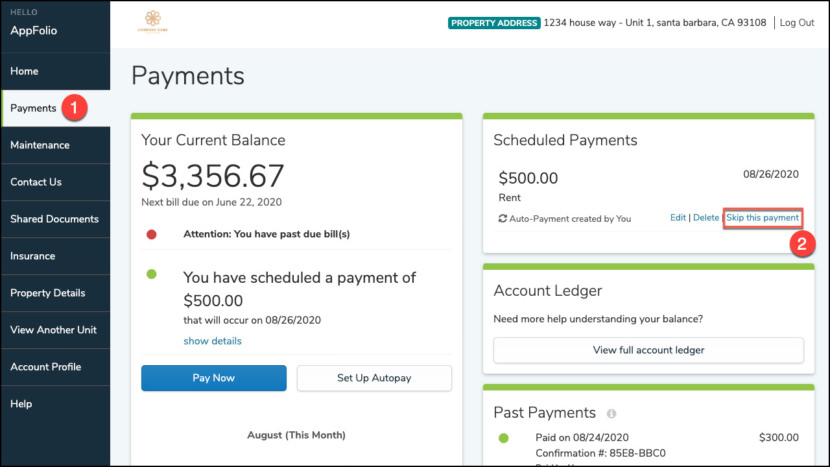 AppFolio Property Manager unlocks new possibilities for your business all on one powerful platform. No matter what your needs might be, our personalized partnership and intuitive software open every closed door along the way, helping you uncover new efficiencies and grow your business.
AppFolio Property Manager Plus is a custom-built solution for complex businesses managing thousands of units. Flexible workflows allow you to consistently execute processes, seamlessly deliver exceptional experiences, and quickly gain full transparency, even if you have a large team working across many properties. Comprehensive and intuitive, AppFolio Property Manager Plus provides instant access to insights and data, enabling your team to make strategic decisions and execute on long-term plans.
Communication & Service – Differentiate your business through exceptional experiences and customer service with AppFolio's modern communication tools.
Accounting & Reporting – Eliminate the pain of accessing and understanding the essential data that drives your business and optimizes customer relationships.
Maintenance & Efficiency – Keep your property values up and your customers safe and satisfied with streamlined work orders, inspections, and unit turns.
Marketing & Leasing – Run and grow your business with professional website services, flexible showing options, and a fully integrated lead-to-lease process.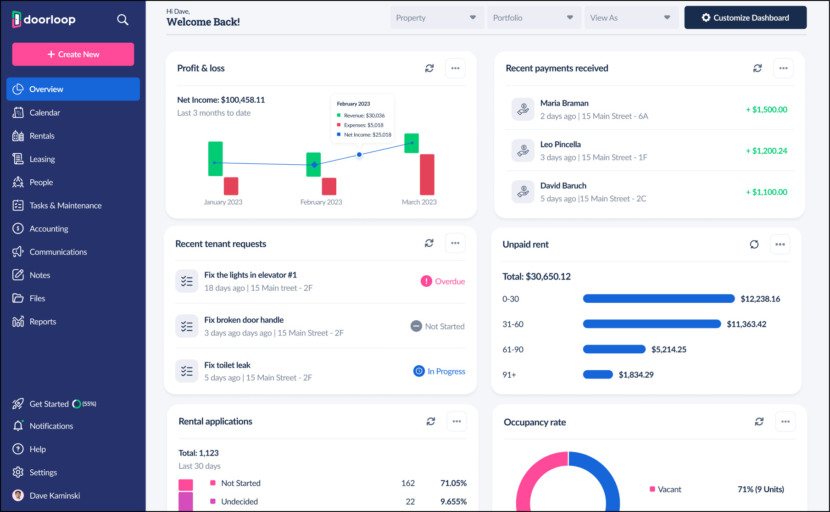 DoorLoop's property management software helps manage, grow, and automate hundreds of thousands of properties in over 100 countries. Tired of chasing down rent & late fees? With DoorLoop, you don't have to. Get tenants to pay you automatically on the 1st of each month. Make more money and spend less time collecting. Keep your tenants & vendors happy & make sure nothing falls through the cracks with an easy-to-use online portal.
DoorLoop is the easiest all-in-one property management software. Lease your properties, manage work orders, automate accounting, and more. Keep your owners and investors happy with an owner portal, reports, distributions, and ultimate transparency.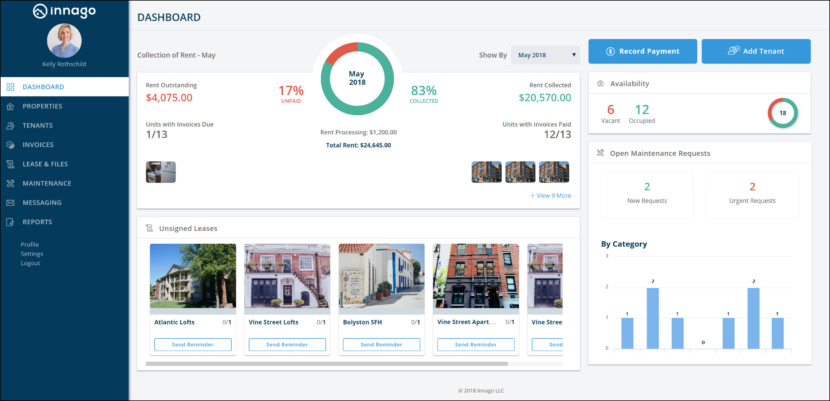 Innago is a free, easy-to-use property management software solution, designed to save you time & money. Our mission is to make renting simple, accessible, & affordable for landlords of any size. Too many alternatives are expensive & overwhelming, turning a "solution" into a problem.
Innago allows you to easily: collect rent, screen tenants, list properties, manage work orders, create applications, sign leases, organize financials, communicate with tenants, & much more!
Online Rent Payments – Simple, easy online rental collection for you and your tenants.
Online Lease Signing – In just a few clicks, sign and store leases and other documents online.
Security & Cloud – Serious security and convenience so you don't have to worry about your data. Secure cloud based property management software.
Maintenance Request – Innago maintenance tracking software makes it easy for tenants to submit maintenance requests. Manage work orders and your maintenance team all in one place.
Listing & Syndication – Free rental property listing tools and syndication. Spread the word about your rentals to attract more tenants.
Mobile App – Innago Mobile apps for landlords and tenants. Innago access anywhere for you and your renters.
Expense & Reporting – Innago's financial & expense reporting. Understand your business better than ever before with insightful reports.
Renter's Insurance – Rental insurance policies. Protect yourself and your tenants now from future headaches.
Tenant Screening – Instant access to screening reports so you can find the best tenants.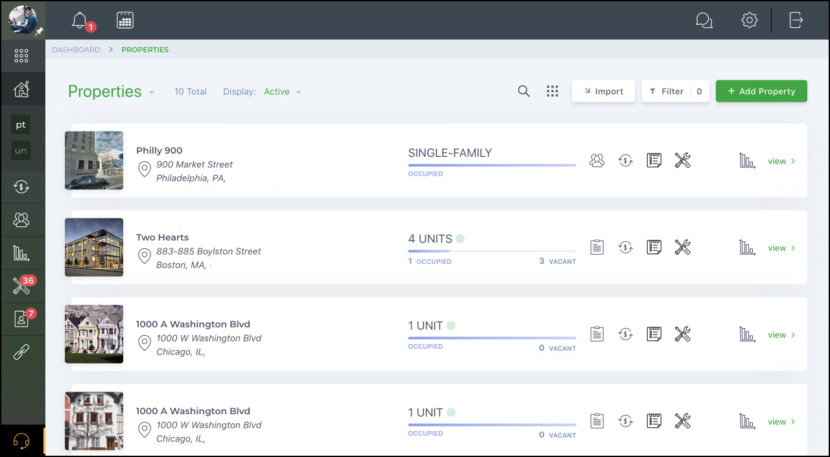 Property management software that helps you collect payments online, advertise your vacant properties, and screen potential tenants. TenantCloud is a cloud-based property management system designed to meet the needs of landlords, property managers and real estate professionals. The system offers property management, tenant management, accounting management and marketing functionality.
Online Payments
Tenant Screening
Listing Website
Rental Applications
Roommates
Accounting
Reports
Maintenance Requests
Team Management
Rent Reporting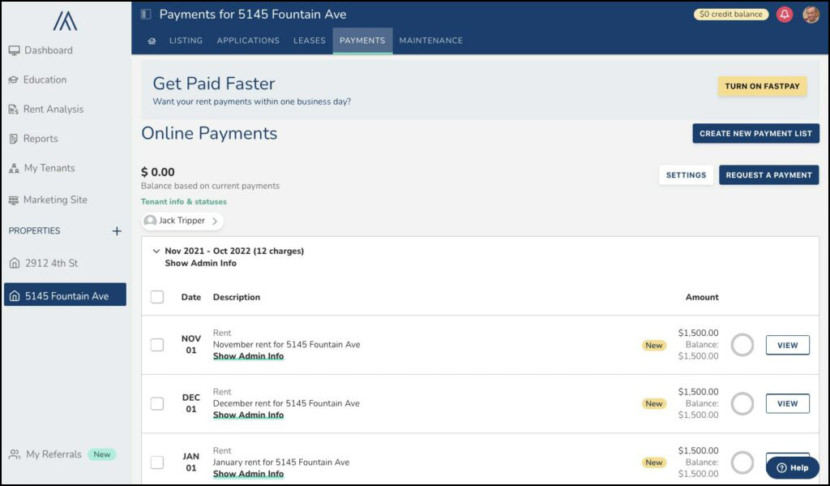 A complete set of tools, guidance, and best-in-class educational content that give you everything you need to be a confident and professional landlord. Avail is a cloud-based property management that allows independent landlords to find tenants, view their credit history and collect rent. Key features include affiliate syndication, social sharing tools, lead management, automated reference checks, applicant communication and digital signatures.
Feel good about the way you manage your rentals with Avail landlord software. Find tenants, view credit history, sign leases, and collect rent — on any device, with tools built specifically for DIY landlords.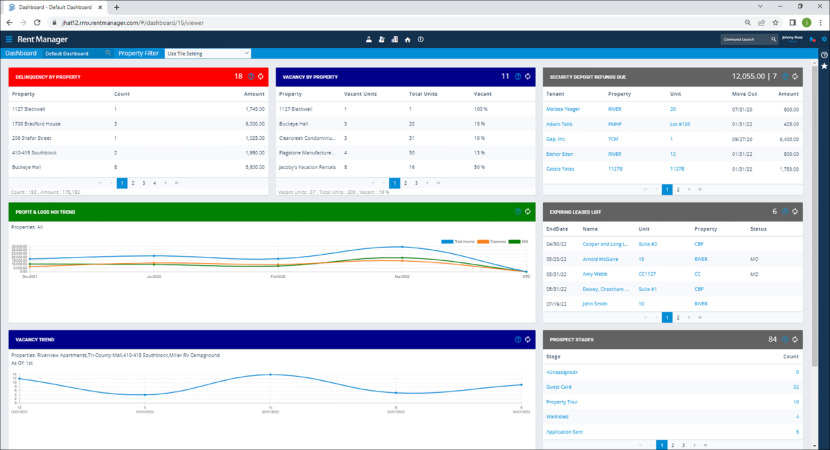 Rent Manager is a powerful property management software that combines all the features you need to run your business into a single integrated solution. Exceptionally customizable and ideal for properties of every size, Rent Manager is your key to an effective and efficient business.
Rent Manager is proven property management software for companies that handle real estate portfolios of every type and size. With complete accounting and reporting resources, intuitive marketing and mobile tools, comprehensive work order and management capabilities, and an ever-growing network of integrated technology providers, Rent Manager is the one software you need to continue building your exceptional business. Ideal for the following industries:
Residential
Commercial
Manufactured Housing
Associations
RV Park & Campgrounds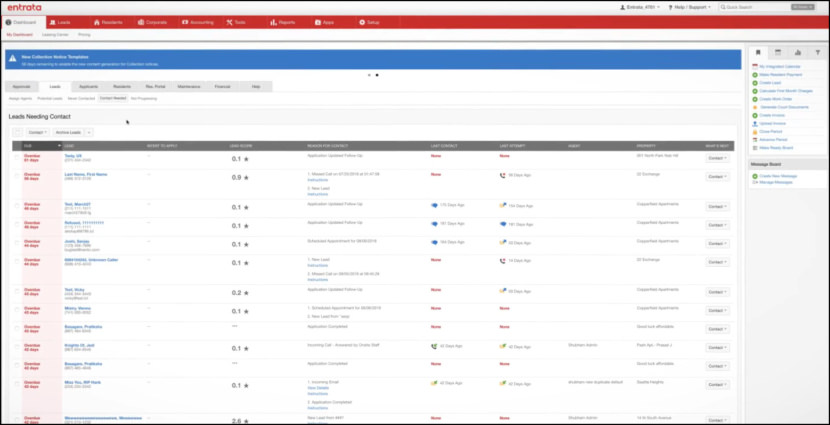 Some of the world's largest owners and operators use Entrata to run their properties. That's millions of residents in thousands of apartment communities. With everything in one place, you can focus on creating happy residents and healthy communities.
Entrata is a enterprise level cloud-based property management solution that features property accounting, facilities management and resident management. The solution includes invoice creation, vendor management, bank reconciliation, lead management, intercompany transactions and work order management.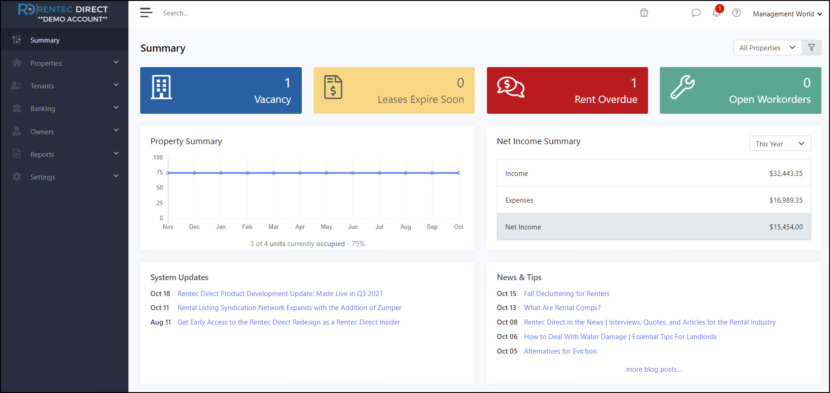 Whether you are a landlord managing a handful of properties or a property manager with thousands, Rentec Direct includes all the features you need to make your operation the most efficient it has ever been. Rentec Direct serves as a web-based, full-featured management system for landlords and property managers that is designed to suit the needs of those managing properties between 25 and 5,000 units.