A Law Practice Management Software is a specialized tool designed to assist law firms and legal professionals in managing their day-to-day operations, cases, clients, and administrative tasks. It serves as a centralized platform to streamline various aspects of legal practice, improve efficiency, and enhance overall productivity.
🤣😍😂 8 Free Powerful CRM Invoicing Software For Small Businesses
Law practice management software simplifies the management of legal matters, enhances collaboration among team members, and improves client communication. By automating routine tasks and centralizing critical information, legal professionals can focus more on providing quality legal services and optimizing their firm's performance.
The specific features and complexity of the software can vary depending on the needs and size of the law firm. Everything You Need to Run Your Law Practice. No QuickBooks® Required. Ideal for solo practitioners, small firms, and mid-size and large firms .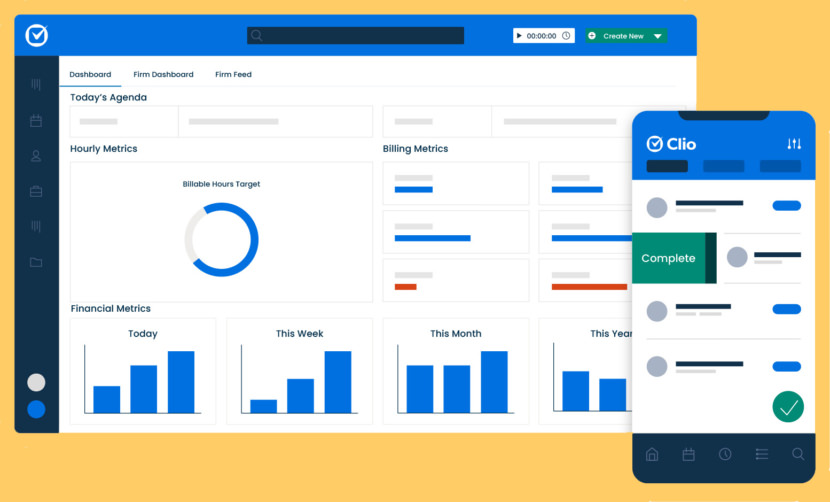 Clio is a cloud-based legal practice management solution suitable for small to large law firms. The platform enables lawfirms and other businesses in the legal industry to track important deadlines, manage client cases and documents, bill clients, and accept payments. Clio legal practice management software is everything your law firm needs – All in one place. It simplify every aspect of your law firm, from billing to communication and document management.
The Clio mobile app for iphone, iPad and Android allows law firm employees carry out client interactions, document management, billable hours tracking, case management and more, from anywhere. The mobile app also offers push notifications and messaging tools to help users stay connected. Here are some of Clio's features:
Case Management – Stay organized, and access the information you need—from anywhere, at any time.
Document Management – Edit, store, and organize your legal documents securely, from anywhere.
Calendaring – Stay on top of deadlines, with legal-specific features like Court Rules.
Accounting – Simplify reconciliations and comply with trust accounting regulations. Sync to third-party accounting systems.
Task Management – Assign and track tasks. Report on task progress, identify roadblocks, and better manage productivity.
Online Payments – Get paid faster and make it easier for client to pay with online payments.
Client Portal – A desktop and mobile app for clients to communicate and collaborate with their lawyer.
Lawyer and Law Firm App – An app for legal professionals to schedule their day, work remotely, and capture billable time on the go.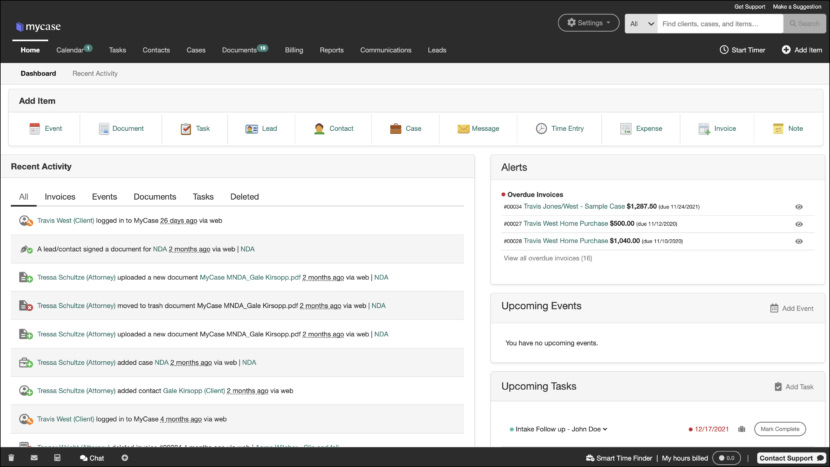 MyCase is a cloud-based legal management solution that helps attorneys in small to medium size law firms manage communications with their clients and carry out daily business operations. The solution also provides functionalities for accounting and scheduling purposes.
Get a 360-degree view of your law firm's prospective client pipeline. Attorneys and staff can track leads from first contact through to signing, and see exactly where there's room to grow. From calendaring and communications to document management and case reporting, keep track of every detail without falling behind.
Client Intake Forms
eSignature
Calendaring
Document Management
Time and Expense Tracking
Built-in Text Messaging
Client Portal
Billing and Invoicing
LawPay Payments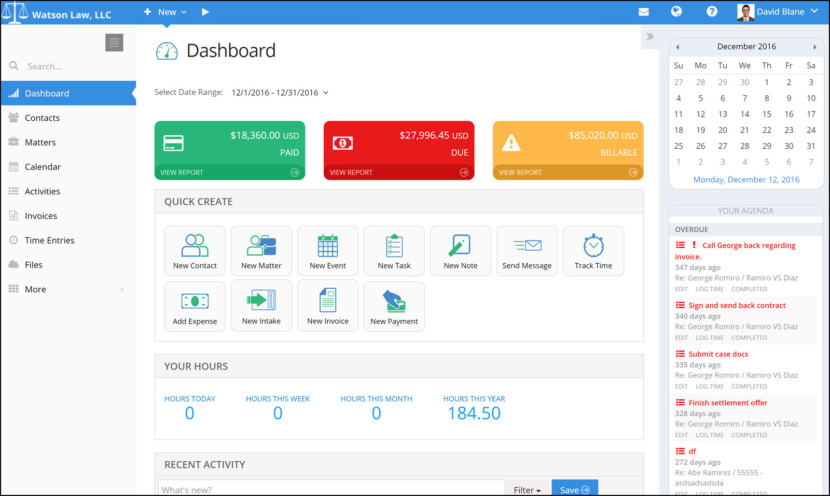 You didn't go to law school to waste time on paperwork. PracticePanther's automated features including case management, document management, calendaring, billing, and payments, simplifies daily operations at your law firm to allow you to give your full attention to what matters most: your clients and practice.
Key features include case management, contact management, document management, calendaring and docketing, time tracking, billing and invoicing, trust accounting, CRM and payment processing. The solution provides users access to task and event workflows, credit card processing, notifications and chats and client portal. The system can be integrated with calendars and email, Box, Dropbox, QuickBooks, PayPal and many more.Pricing is per user per month. Support is provided via an online forum, phone, email and chat.
Calendaring – PracticePanther's legal calendar does more than just scheduling — it keeps busy lawyers organized and connected to their practice, wherever they go.
Simple client relationship management – PracticePanther captures and stores all your client information in one place. Grow and manage your book of business with custom Tags to track where you generate the most leads.
Sophisticated Document Management – We organize, manage, and track your documents — 21st century style. Access your legal documents securely from the cloud and never worry about tracking down a file again.
Legal Billing – We make legal billing simple by reducing manual entry and automating your most redundant billing tasks. Set your custom fee structure, create payment plans, and generate invoices in minutes. Allow clients to pay you easier with online payments, digital invoices, and secure payment links.
Robust Case Management – Stay on top of all your cases wherever your day takes you, anytime. Our case management software automatically tracks every detail and document, so you don't have to.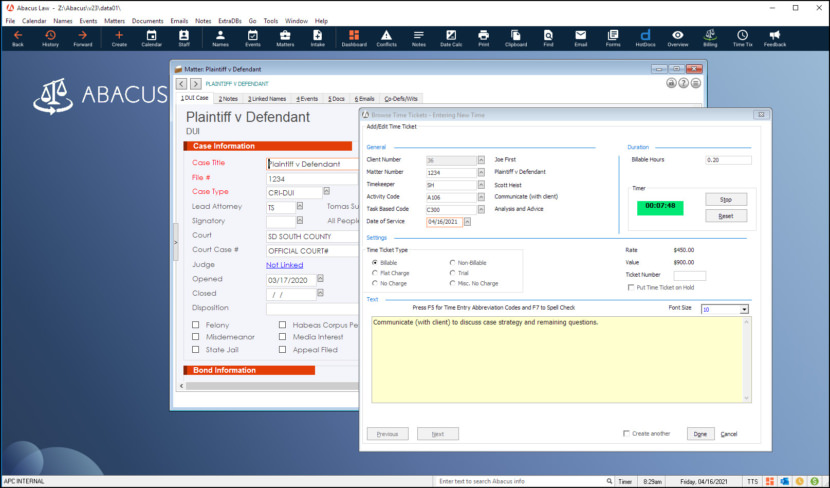 AbacusLaw is case automation software designed explicitly for law firms. The system works as a complete practice management solution that helps in managing workflows including time tracking, billing, and accounting operations. AbacusLaw is available as a cloud-based or an on-premise solution.
Case management – Case intake screens capture well-organized client information and set in motion workflows with accurately prepared legal forms and precise follow-up events. Case status, chronology, deadline, and alert reports enable you to support each case's upcoming activities.
Accounting – Managing the financial side of your firm just got easier. With built-in accounting tools, you can generate reports and capture accounts within a few clicks. Trust Accounting even exceeds all Bar Association requirements.
Legal Calendaring – Update your schedule and make your calendar visible to anyone that needs it, including your client. When unexpected situations make changes inevitable, AbacusLaw makes it easy to alert any impacted parties and proceed accordingly. The Microsoft Outlook integration puts powerful organizational tools at your fingertips, enabling efficient client communications.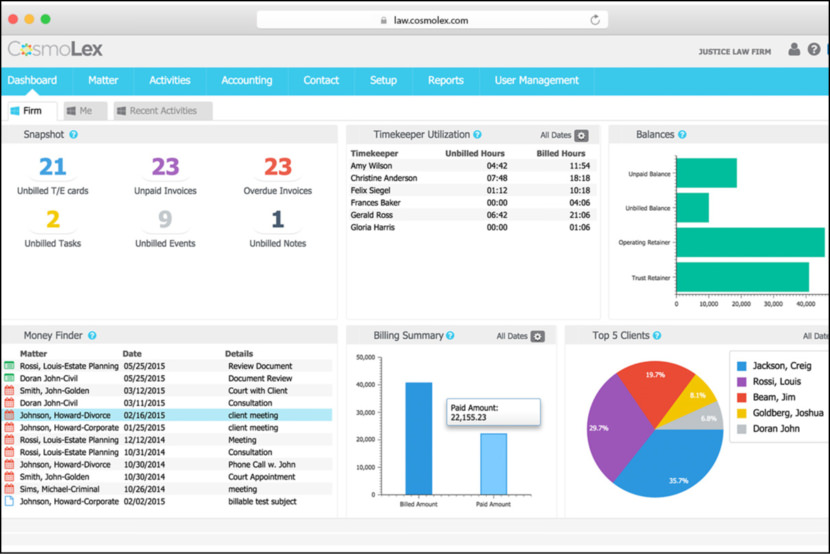 CosmoLex is a cloud-based legal management solution that offers features including time tracking, billing, trust accounting, task and document management. The solution connects all modules so that users do not have to enter information into multiple systems or clean up errors due to double entry. CosmoLex is a modular solution that allows users to synchronize and replicant information between multiple modules in real-time.
Legal Case Management – A matter-centric approach connects every entry to the appropriate client matter, while optimized calendar, document, and email management keep everyone on the same page.
Legal Billing and Payments – Prevent leakage with on-the-go capture and Money Finder, while one-click billing and built-in electronic payments make it easier than ever to get paid.
Law Office Accounting – Legal-specific trust and back-office accounting automatically keep you current and compliant. Over 100 reporting options help you analyze your firm's performance and boost your bottom line.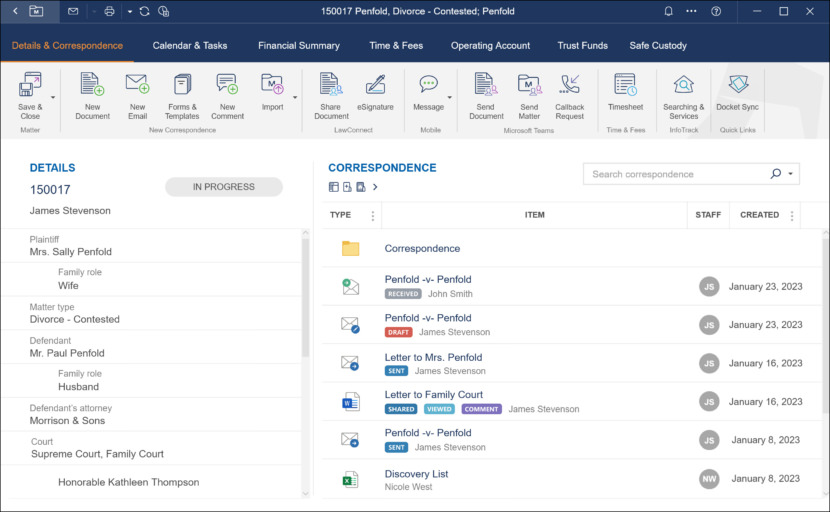 LEAP is the legal practice productivity solution designed to help small to mid-sized law firms improve efficiency, productivity, and profitability. LEAP leverages best-in-class technology to help law firms with practice management, legal accounting, document assembly and management, and legal publishing all in one integrated solution.
Easily Open & Manage Your Matters – LEAP offers pre-built matter types to help attorneys save time with opening and managing legal matters for all common areas of law, including Family law, Real estate, and Estate planning and probate.
Enhance Legal Document Creation – LEAP has a highly experienced team dedicated to the creation and maintenance of automated local, state, and federal court forms. Access 12,000+ court forms and templates, auto-fill legal documents with matter details, and securely share and collaborate on documents.
LEAP legal practice productivity solution has pre-built matter types and legal content for all common areas of law in the United States. Whether a law firm specializes in one area of law or offers services across verticals, users have practice management, document assembly and management, legal publishing, and legal accounting integrated into one solution.
Real Estate
Family Law
Commercial Law
Criminal
Estate Planning and Probate
Litigation
Personal Injury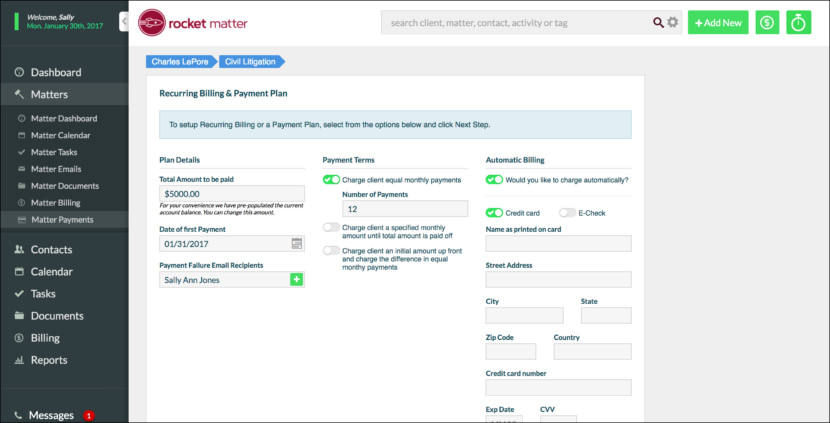 Manage your law firm's matters, get invoices out quickly, get paid on time, grow your firm, and gain deep business intelligence with our complete suite of easy-to-use legal software.It is a cloud-based legal billing and management solution designed to cater small and midsize law practices. It features time and billing management, calendar, document management, payments and collaboration management modules.
Matter Management
Time and Billing
Online Payments
Trust Accounting
Conflict Checking
Document Storage
Contacts and Calendaring
Advanced Customizations
Sophisticated Reporting
Matter Templates
Document Assembly
Two-Way Document Sharing
Integration with Outlook, QuickBooks Online, & Dozens of Other Applications
Advanced Billing with Interest, Discounts, Taxes, and Much More!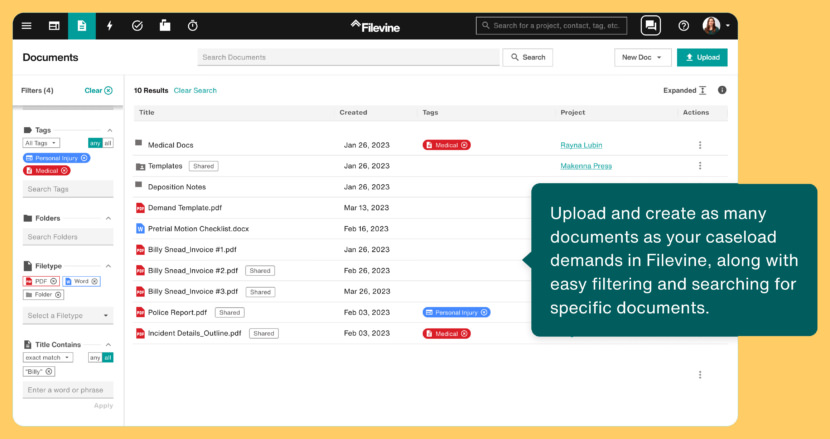 Legal case management software that makes managing cases easier. Connect everything from task automation to client communication and timekeeping to legal documents. Keep the chaos under control with one cloud-based legal software platform. Filevine is your ultimate legal tech stack, including case and document management, texting, and time and billing features. Powerful AI tools summarize and find inconsistencies in documents in as quick as a few seconds. Get your free demo.
Case Management Software – Case, matter, investigation, or project management
Lead Management – Intake, lead tracking, and marketing optimization
Document Management – Create, edit, store and collaborate on documents
Contract Management – Create, track, and manage contracts and deals
Business Analytics – Reports, data visualization, and ROI
eSignatures – Send documents and collect signatures
Time & Billing – Automated time-tracking and invoice generation
Document Assembly – Automate document creation and legal drafting workflows
DemandsAI – High-quality demands prepared by AI and tailored by legal experts
Run Your Best Firm, Build Your Best Life. Eliminate administrative tasks and focus on high-value work. Get the industry-leading legal practice management software and support that empowers you to run a more profitable, organized law firm and attract your ideal clients. Smokeball helps you focus on your most valuable matters and bill what you're worth.
Expect More from Your Legal Practice Management Software. No matter what you practice—Family Law, Civil Litigation, Estate or Real Estate Law—Smokeball will transform your firm and business like no other law firm software.
Family Law – Let automatic time tracking, email management, automated letters and public forms make your family law practice the most efficient and profitable.
Personal Injury – Let Smokeball track all medicals, negotiations and documents so you can focus your energy on fighting for your clients.
Real Estate – Whether you are dealing with 50 or 500 transactions per year, let Smokeball automate your workflow, assemble your documents and do the calculations.
Criminal Law – Access your firm on the go and keep track of all your matters and clients so that you can spend more time winning and less time managing.
Civil Litigation – Calendar and workflow features inform you of every court date and due dates for motions, interrogatories and responses.
Business Law Software – Smokeball helps your business law firm organize every document and keep in close communication while remaining compliant.
General Practice – Smokeball's intuitive legal practice management and full billing and reporting features offer small law firms the most robust, complete solution.
Probate – Smokeball enables probate lawyers can confidently administer, challenge, and defend estates with accuracy and attentiveness.
Workers Compensation – Smokeball helps workers compensation firms deliver the most precise representation to clients when they are at their most vulnerable.
Estate Planning – Access clients' estate details in one easy-to-manage and secure place, with files and estate planning-specific forms accessible within seconds.
Guardianship – Now you can focus on your clients' well-being while Smokeball worries about your well-being, saving you time and effort.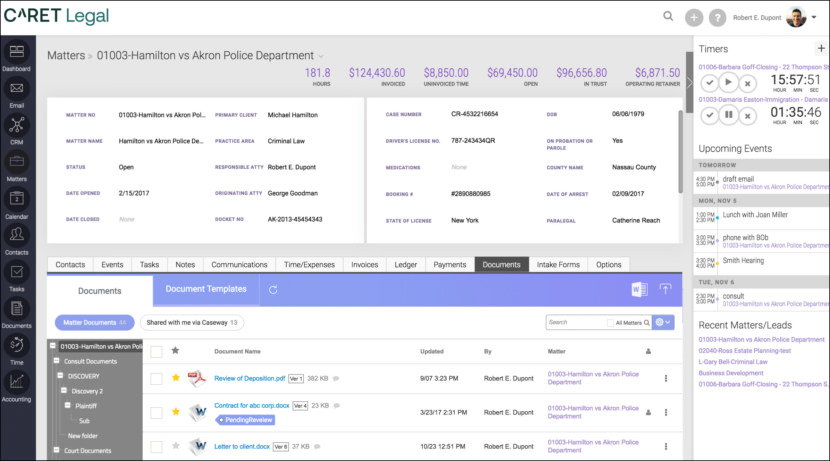 CARET Legal, previously known as Zola Suite, is the leading solution for legal professionals to manage their practice and create space for what matters, including delighting clients and maximizing billable time. Their legal case management software helps you track and manage all aspects of a case – freeing you to collaborate with colleagues and clients, view activity logs and effectively manage your caseload.
CARET Legal partners with a diverse group of professionals, including IT consultants, accountants, practice advisors, and marketing consultants who work with law firms around the country. These partners share in our commitment to providing firms with cutting-edge legal technology that helps to maximize efficiency, collaboration and profitability.