A Patient Intake Software is a specialized tool or application designed to streamline and automate the process of collecting and managing patient information during their initial visit or appointment at a healthcare facility. It is commonly used in medical practices, hospitals, clinics, and other healthcare settings to improve the efficiency of patient intake procedures and enhance the overall patient experience.
🤣😍😂 50 Motivating Quotes On Losing Weight, On Diet And Living Healthy
By implementing a Patient Intake Software, healthcare facilities can reduce paperwork, enhance data accuracy, improve patient satisfaction, and streamline their administrative processes. It also allows healthcare providers to focus more on patient care and less on manual data entry, leading to increased efficiency and better patient outcomes. Practice Medicine, Not Administration.
Patient Intake Software helps practice owners like you spend more time growing your business and less time worrying about it. Grow your business, shrink your stress-levels. An EHR system that lets you focus on what matters most. It's the practice management software you need to make sure you're moving forwards instead of chasing your tail.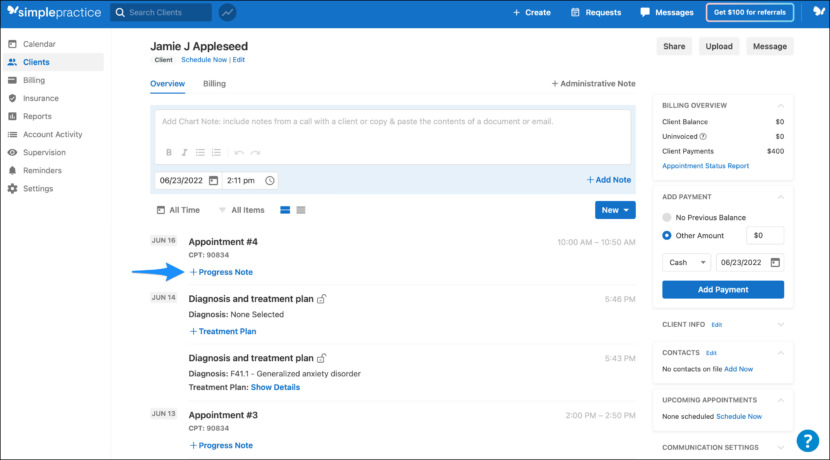 Private practice your way. Virtual, in-office, or both. SimplePractice is more than an EHR software. It's your all-in-one practice management software for running a simpler business and delivering a great client experience. SimplePractice is a cloud-based practice management system built to make the business side of private practice easier.
Their easy-to-use and HIPAA-compliant software helps health and wellness professionals automated their day-to-day processes like scheduling, payment processing, documentation, and more. Key features include free, unlimited appointment reminders, insurance claim management, online appointment requests, and a Client Portal to simplify client communication.
Scheduling – Send free reminders and schedule appointments on your time, on your terms.
Billing – Simplify client payments with AutoPay and online credit card processing.
Telehealth – Offer HIPAA-compliant video appointments, including screen-sharing.
Insurance – Electronically file primary and secondary insurance claims in seconds.
Client Portal – Centralize your client communication with a secure, online portal.
Mobile – Handle everything from scheduling to billing with our top-rated mobile app.
Documentation – Streamline all of your intake and documentation needs with one EHR solution.
Support – Rely on an all-star customer success team that's there for you every step of the way.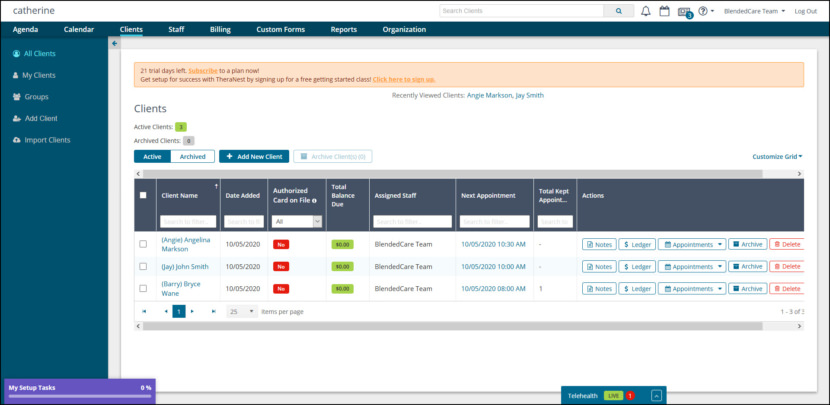 TheraNest is an HIPAA compliant web-based mental health solution used by solo practitioners, large mental health practices, and nonprofit organizations. The solution is suited for therapists, psychologists, psychiatrists, and social workers. Perfect for all practice sizes​ such as solo practices, medium practices, group practices, none-profit organization and educational organization.
Mental Health Billing Service
e-Prescribe Software
Group Telehealth
Assisted Claims
HIPAA Compliant Video Conferencing
Counseling Progress Notes
Client Portal
Client & Billing Management
Scheduling & Appointment Reminders
Counseling EMR Software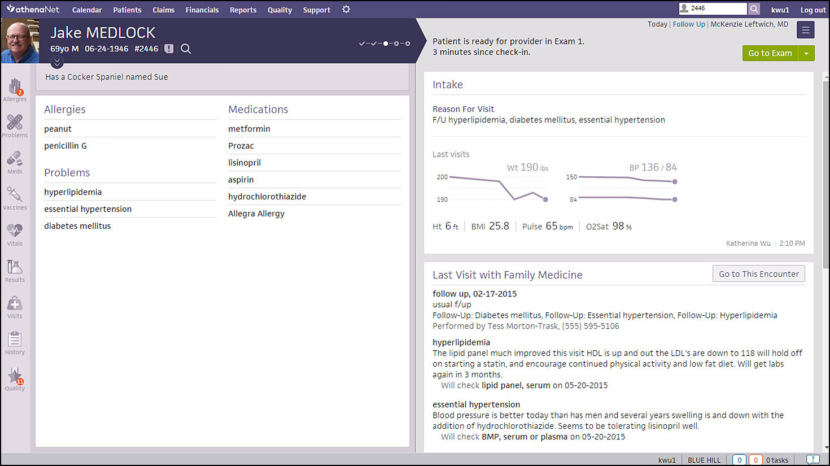 Improve your clinical and financial performance with their suite of healthcare solutions. Enable outstanding care while maximizing revenue with support that bundles EHR, revenue cycle, and patient engagement products with expert support services. Physicians often feel like they have two jobs – one clinical and one administrative. athenaOne's EHR makes it easier to focus on patients with specialty-specific workflows, automatic patient record sharing, real-time patient insights, and a mobile app that helps reduce documentation time.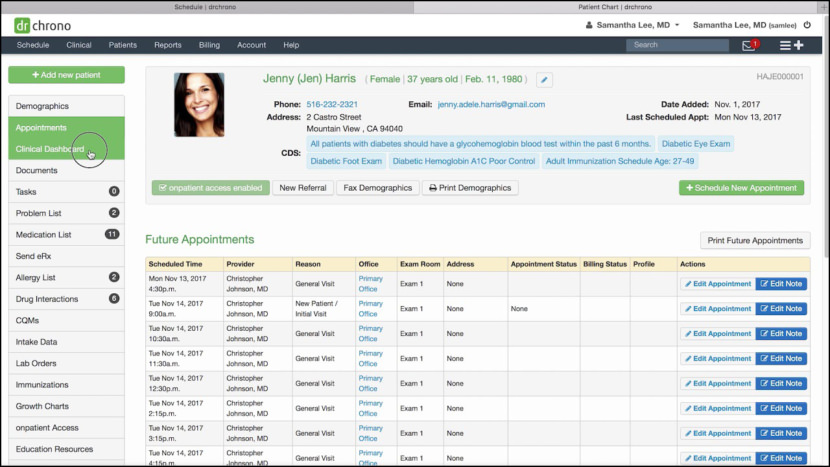 Have your practice at your fingertips on the web, iPhone, and iPad. Seamlessly integrate scheduling, clinical workflows, patient engagement, and medical billing into one web based EHR system. Their medical forms and charting shortcuts have been tailored for over 20 specialties to boost efficiency, reduce errors, and provide an intuitive experience, whether you're on iPhone, iPad or desktop. Ideal for family practice, pain management, orthopedic surgery, psychiatry, and podiatry.
EMR – Enjoy customizable clinical notes and time saving shortcuts built for your specialty.
Telehealth – Schedule and conduct Video Visits directly from your EHR on desktop or mobile.
Revenue Cycle Management – Our experienced RCM team offers over 96% clean claims rate and complete transparency.
Practice Management – Online scheduling, self check-in, a HIPAA-compliant patient portal and more.
Medical Billing Software – Medical billing software with customizable profiles and dashboards in your EHR.
Mobile EHR – Provide care anywhere with our mobile EHR app on iPhone, iPad, Apple Watch or desktop.
AdvancedMD is a unified suite of software solutions designed for mental health, physical therapy and medical healthcare organizations and independent physician practices. Electronic health records software with prioritized task donuts, patient cards & physician dashboard to unify all roles of your practice to improve clinical care while creating a more personal experience with patients.
Features include practice management, electronic health records, medical billing, patient engagement tools, telemedicine functionality, patient charts, reputation management, financial analytics and business intelligence reporting that all work together to automate medical practice workflows.
Paperless Fax – Manage information quickly and securely by converting a manual fax process to paperless.
Immunization Reporting – A simple way to electronically and effortlessly send patient immunization information to state registries.
EPCS – Prescribe & track Schedule II-IV narcotics and electronically send to the patient's pharmacy.
ePrescribing – Manage requests and renewals, and access medical histories from anywhere – even from your phone.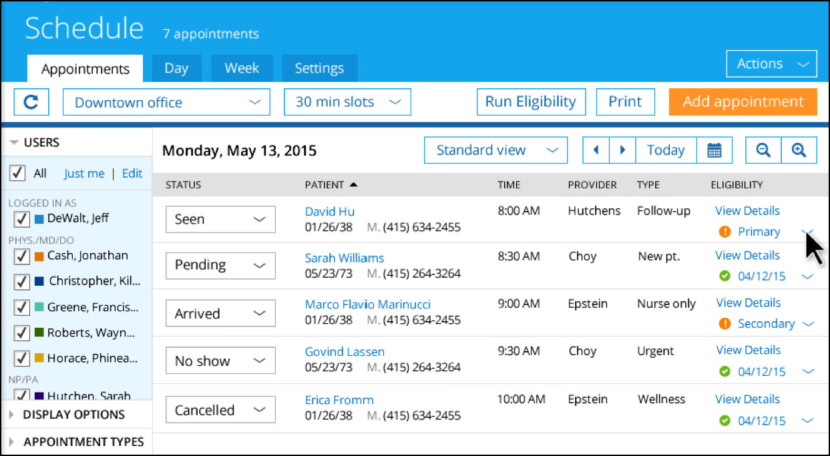 Deliver better care more efficiently with the #1 electronic health record (EHR), Practice Fusion is an easy-to-use EHR that saves you time. With no software to download or hardware to manage, your cloud-based EHR is always up to date — helping you stay current in a continuously changing clinical landscape.
Your EHR comes with a free library of customizable charting templates so you can quickly e-prescribe, send lab and imaging orders, and instantly share results right from your patient's electronic health record.
Medical Billing Software in your EHR – Get paid faster with flexible billing options to help make sure you're reimbursed for the work that you do.
Appointment Reminders and Patient Engagement Solutions – Easily and securely reduce costly patient no-shows, improve patient satisfaction, and reduce staff time spent on the phone. Practice Fusion's EHR subscription includes text, voice and email reminders with confirmation. We also offer an enhanced premium experience with Updox.
Save time with Smart Charting – Save time with EHR charting based on feedback from over 112,000 providers. Efficient, natural, and seamless design make sure you're charting patient visits the way you want.
Certified e-prescribing with Practice Fusion – Advanced e-prescribing capabilities including electronic prescribing of controlled substances (EPCS),* prior authorization management and allergy alerts.
Imaging and lab integrations – Submit lab and imaging orders faster and receive results directly in your patient's chart.
Patient portal and personal health records – Help your patients play a more active role in their health with free portal access.
Stay up to date with EHR policy changes – Our team of experts and rapid development cycle keep you on the leading edge of care a changing clinical landscape.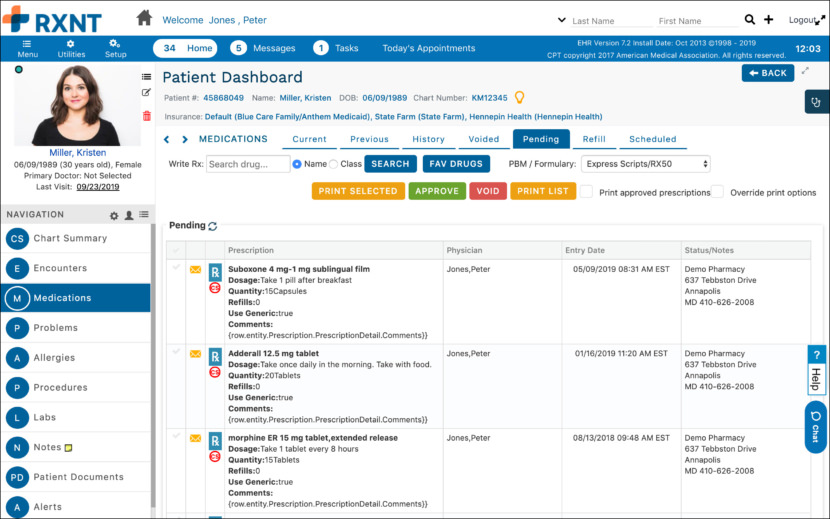 RXNT's cloud-based, ONC-certified medical software—Billing, Practice Management, EHR, and more—improves clinical outcomes & revenue cycle management. Simple, transparent pricing includes free setup and training, free data transfer, free in-house support, free mobile applications, and no "hidden fees."
Connected iOS and Android apps for mobile and tablets allow providers to e-prescribe, manage patient information, charge capture, schedule providers and practice resources, and check-in patients from anywhere. Our dedicated U.S. teams are your partner, delivering a collaborative approach to solving business challenges for practices and specialties of all sizes.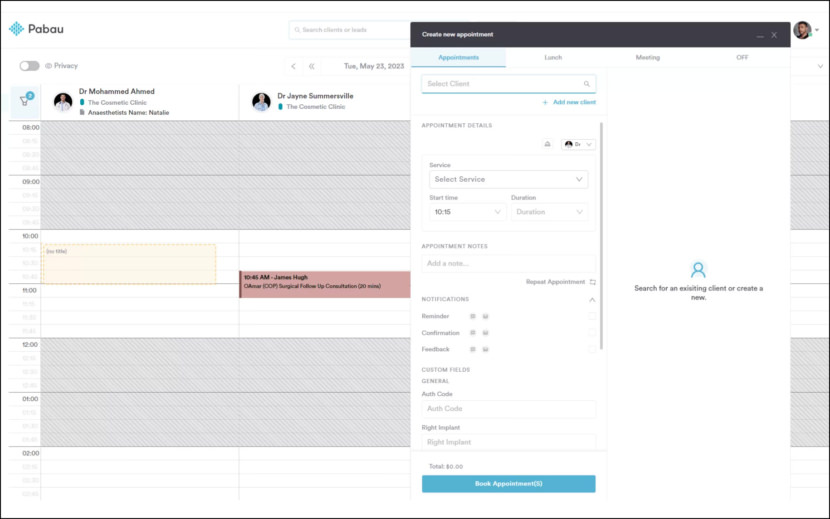 The all-in-one Practice Management Software you need to run your Medspa,GP Clinic, Laser Salon, Pharmacy , Cosmetic Surgery, Hair Transplant Surgery, Travel Clinic, Wellness Center, Physiotherapy clinic, IV Therapy Clinic, and more. Take the pain out of managing your practice, with a CRM system that is built to handle the entire patient journey seamlessly – without the endless repetitive tasks.
Pabau can take care of this for you, with a fully automated and streamlined patient journey. From online booking to automated appointment reminders, let us handle the busy-work so you can focus on treating patients. Pabau's patient management system has been tailor-made to cater for the heavy documentation needs of medical patient workflows. Key features for Practice owners:
Online bookings – Add Pabau's widget to your website, and when your clients are ready to book, let them secure an appointment without you lifting a finger
No-show protection – Don't put your livelihood at risk, use Pabau's automated deposit collection to cover the costs of any missed appointments and no-shows.
Customisable reporting – Capture all the key data and insights for every part of your practice, however big or small, so you always know exactly how you're doing.
Multiple integrations – Pabau is the all-in-one practice management software that integrates with all the apps you're already using to run your clinic.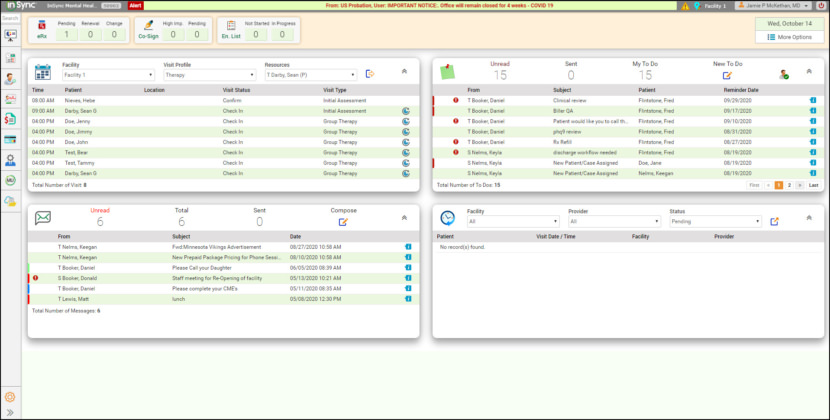 Their fully integrated medical software brings together charting, billing, scheduling, and telehealth into a single cloud-based platform. Helping thousands of practices across the country become more efficient, safe, and productive. With fully integrated features including e-prescription, eMAR, automated claims management just to name a few. The InSync software allows you to progress through your patients' notes fast.
They are committed to delivering the most complete medical software solution – one that will unify the patient experience across a growing number of patient healthcare touchpoints. Our interoperable technology is removing the requirement that a medical practice needs several systems in order to function efficiently. Ideal for the following specialties:
Behavioral Health
Substance Abuse
Inpatient Recovery
Group Therapy
Community Behavioral Health
Court Ordered Therapy/Testing
Physical Therapy
Pediatric Physical Therapy
Speech Therapy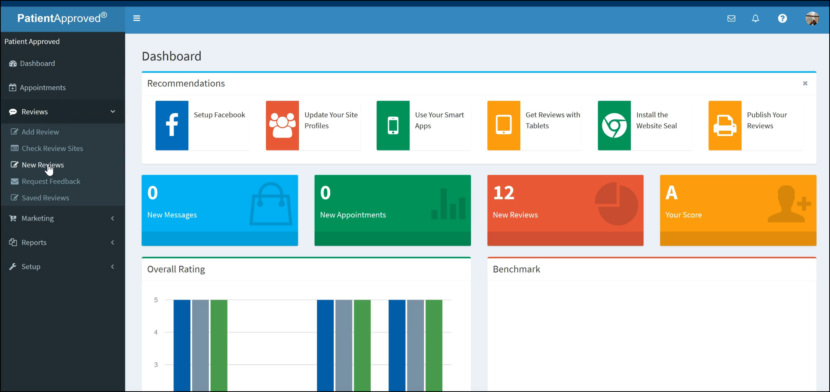 From paperless forms and tracking inventory to converting new clients, billing and beyond, PatientNow has elective and aesthetic clinics covered. You'll find everything to manage and grow your clinic from one single source. PatientNow provides comprehensive EMR, practice management, and before & after photo management software in the elective medical industry. Streamline practice operations, improve efficiency, and drive revenue with one vendor partner.
Practice Management – Scheduling, Document Management, Productivity, Financial, Reputation Management, Integrations, and Reporting & Analytics.
Patient Engagement – Communication, Patient Portal, Membership / Loyalty, Marketing, Social Media Posts & Scheduling, Reputation Management, and Email & Text Marketing.
RxMarketing – Websites, SEO / SEM, Content, Social Media, and Email Marketing
RxPayments – Integrated Payments, Inventory & PoS, Security & Compliance, and Patient Financing.
RxPhoto – Photography, Forms, Consultation, and Before & After Gallery.
RxPortal – Telehealth, Forms & Appointments, and Education.
EMR – CRM, Patient Record, Reporting, and Barcode.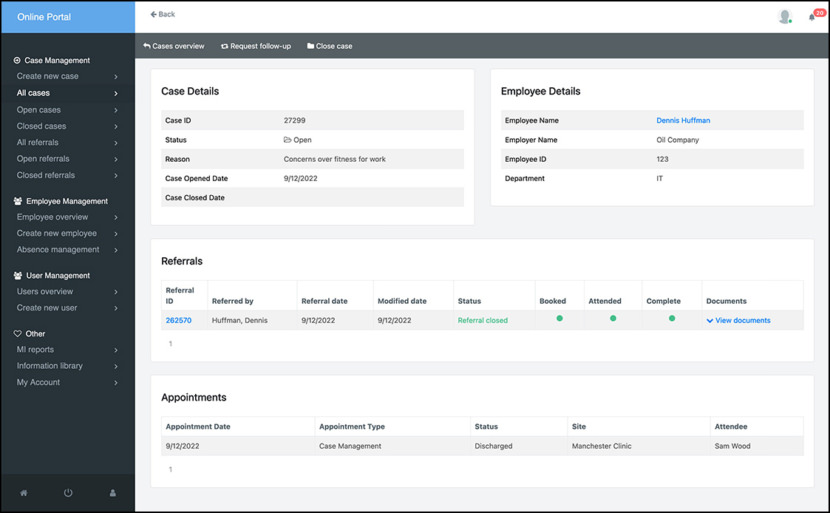 Meddbase is a fully-secure and scalable healthcare management solution, designed with healthcare experts over two decades to improve efficiency, security and patient care. Meddbase gives peace of mind with world-class security; HIPAA compliant, EU GDPR compliant, ISO27001 certified and SOC2 certified, and is securely accessed from any web-enabled device, anywhere at anytime.
Occupational Health – Improve efficiency and billing, with a purpose-built solution including absence management, and comprehensive reporting features
Practice Management – Practice Management Software offering a complete toolkit of features to power your practice, all supported by our team of experts
Health Assessments – Powerful tools for reliably integrating and importing large data sets from a variety of clinical systems
Primary Care – Accommodating a wide range of functionality and workflows to meet the clinical and practice specific needs of primary care
Multidisciplinary Teams – Groups that provide a single source for medical care need a single software that can accommodate functionality for all specialists in the team
MSK – Integrated software that manages the entire patient lifecycle from assessment and diagnosis to treatment, across all aspects of MSK
Ophthalmology – Treating conditions from cataracts to glaucoma Meddbase integrates with your existing equipment and contributes to ideal patient outcomes
Orthopaedics – With full scheduling and diary management alongside the patient record your focus can be on diagnosis, treatment and patient well being
Physiotherapy – A seamless solution for physiotherapists, providing a full range of features and services that integrate with your website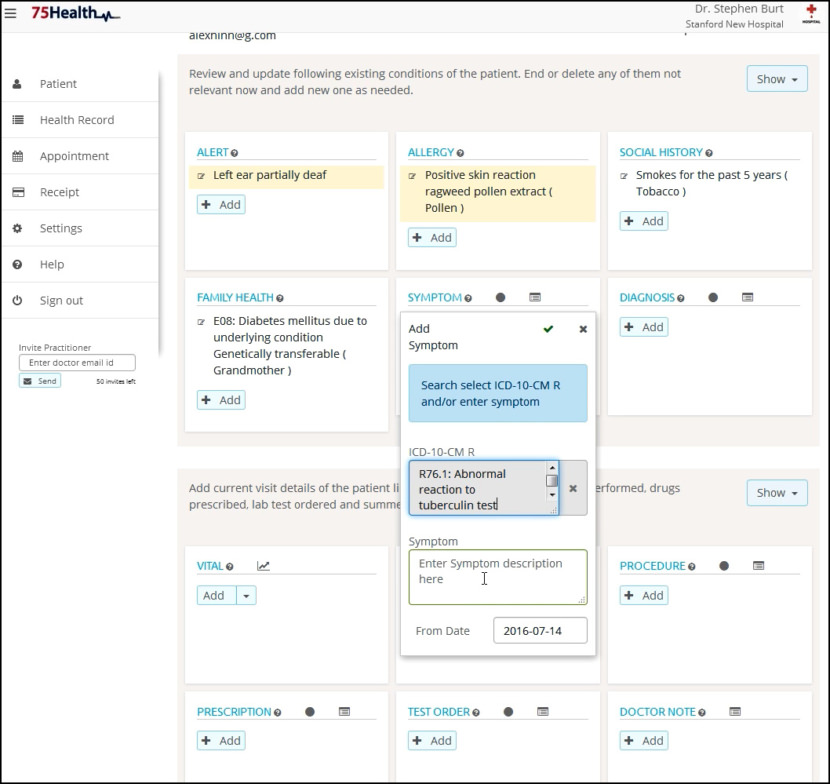 75Health is a cloud-based electronic health record (EHR) solution that helps medical professionals working in small and midsize medical clinics to manage patient information and digital records. Key features include a built-in scheduler, drug list management, automated email generation, a tracker for diagnostic tests, vaccination tracking and more.
Electronic Health Record Software is a digital version of medical charts. It allows the users to create, edit and share information with the authorized healthcare network. For quick access, information is available in the dashboard. The paperless documents include prescriptions, lab records, radiology images, hospital bills, and insurance claims are managed from anywhere.
Productivity and efficiency are the main benefits of cloud-based services as it improves the coordination between multiple departments. The performance can be reviewed, exact lag can be found and suggestions are given. Report generation is a savior for management to adapt and self-tutorials are attached to learn about new features.
Patients ID-based report delivery system
Tracks Patient Demographics
Appointment Scheduler with Notification Option
Clinical Summary for each visit
Consolidated Medication List
Live Management of Clinical Documents
Accurate Bills, Claims, and Revenue Status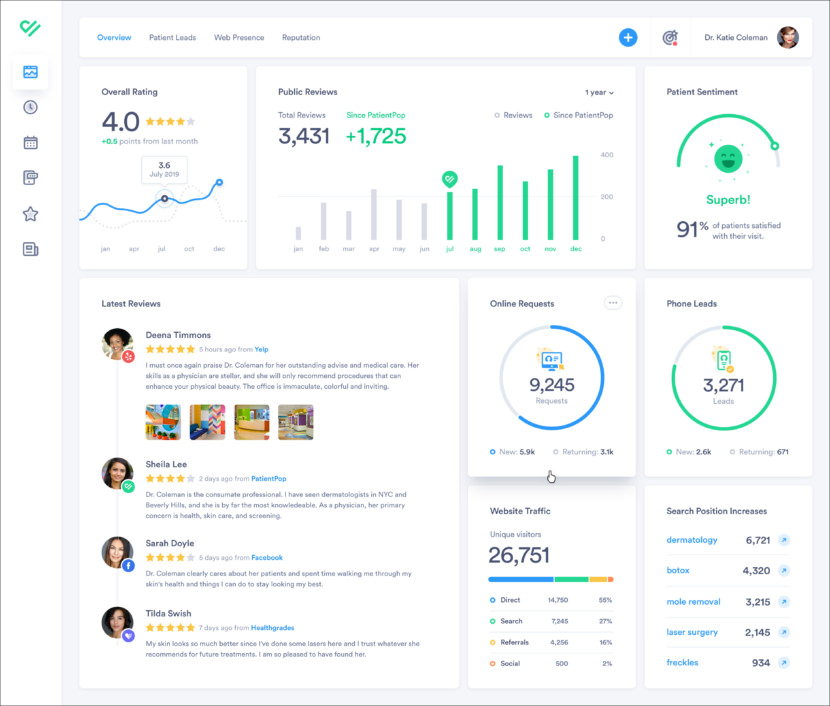 PatientPop offers the most complete medical practice management and healthcare marketing platform. We deliver measurable improvements to enhance patient engagement, streamline your front office, and grow your practice. Bring more new patients in the door each month. Then, stay connected in ways that keep them engaged for years to come.
Enhance every patient touchpoint with your practice by applying technology and convenience to the patient journey. Get more done with less work. Free up staff to take on higher-value practice work and better focus on patients walking in the door. Ideal for the following specialties:
Cardiology
Dentistry (cosmetic)
Dentistry (general)
Dermatology
ENT
Gasteoenterology
General Surgery
Internal Medicine
Med Spa
OBGYN
Ophthalmology
Optometry
Orthopedic
Pain Management
Pediatrics
Pediatric Dentistry
Plastic Surgery
Podiatry
Primary Care
Psychiatry
Urgent Care
Urology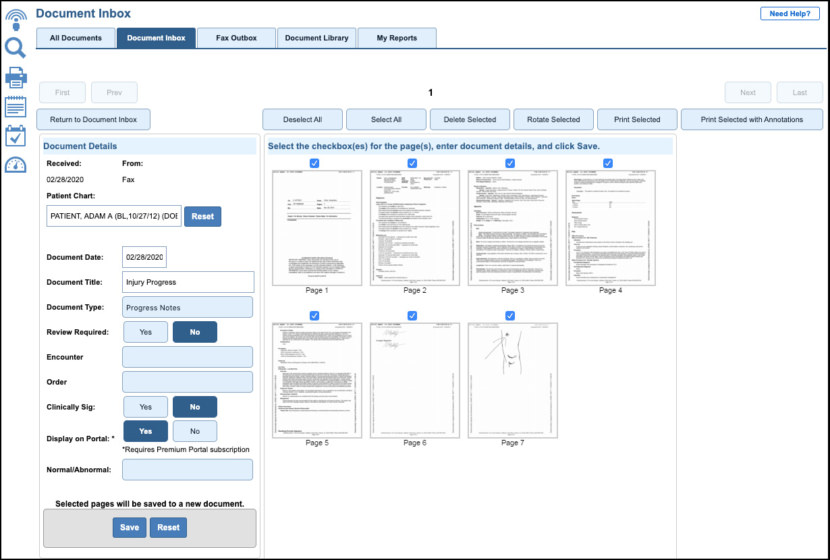 NextGen Office can save your practice valuable time and money with intuitive, streamlined workflows and refined reporting. Easy-access training and support helps you improve clinical outcomes and enhance the care experience for you, your staff, and your patients.
An all-in-one solution to run your practice so you can focus on care. Practice the way you want with an award-winning, cloud-based EHR that includes a practice management platform and a patient portal.
Deliver the flexibility and efficiency providers need and the convenience and communication patients expect with one platform. Whether you're looking for an out-of-the-box, cloud-based platform, NextGen Office, or a more robust health IT solution for small practices.
Ambulatory Surgical Center
Behavioral Health
Pulmonology
Rheumatology
Cardiology
Community Health Center
Corrections
Dental Health
Dermatology
amily Practice
Community Health (CHC/FQHC)
Gastroenterology
General Surgery
Geriatric Medicine
Integrated Care
Internal Medicine
Multi-specialty
Neurology
Neurosurgery
Internal Medicine (small practices)
Pediatrics (small practices)
Primary Care (small practices)
Urgent Care (small practices)
OB/GYN
Ophthalmology
Optometry
Orthopedics
Osteopathic Medicine
Otolaryngology
PACE
Pain Management
Pediatrics
Physical Therapy
Planned Parenthood
Podiatry
Primary Care
Tribal Health
Urgent Care
Urology
Women's Health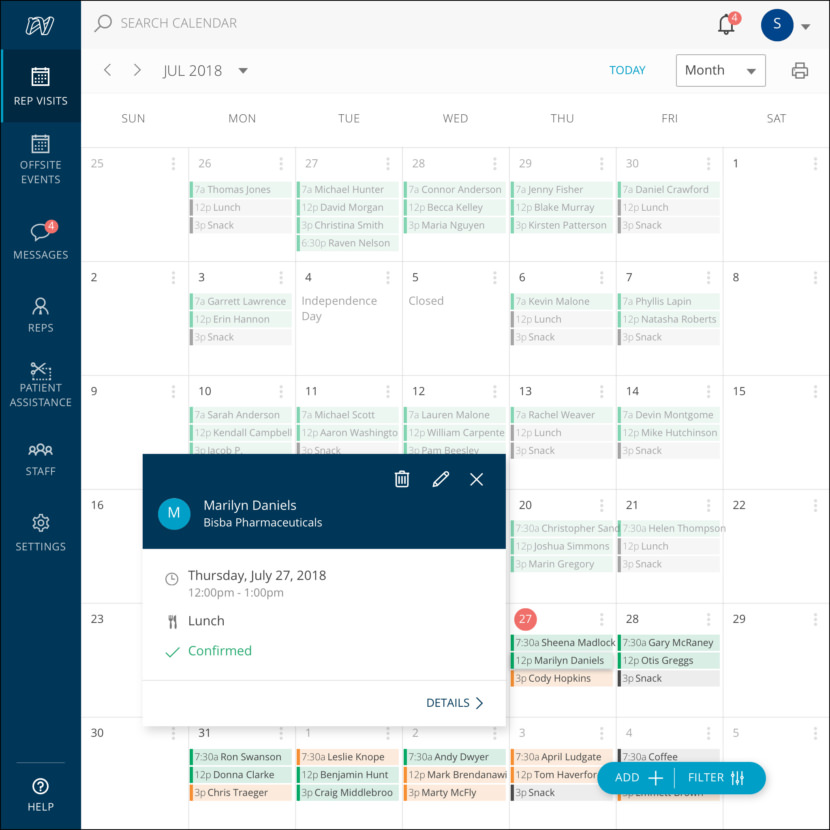 RxVantage is a cloud-based healthcare management system that streamlines communication between medical practitioners and representatives. The platform's key features include online appointment booking, automated rule enforcement, in-app messaging, searchable local rep directory, and real-time notifications.
Their patient assistance program database is updated in real-time to ensure you always have access to the latest information. Powered by RxAssist, you can view current program eligibility requirements, download forms, print information, and more – all on RxVantage.
Searchable database for all PAPs
Information updated in real-time
View eligibility criteria at a glance
Download the latest applications