We're heading for an aging world, with the current birth rate trend gradually declining, it is inevitable there comes a day when there are more old people than young. I foresee the medical industry will be the only industry that benefits greatly from this trend as senior citizens requires more medical care.
For those looking into opening their own small to medium retail pharmacy, I highly recommend you look into automate as many part of the business, from inventory to delivery. These pharmacy management software will greatly enhance your working environment, enables you to run your business stress free.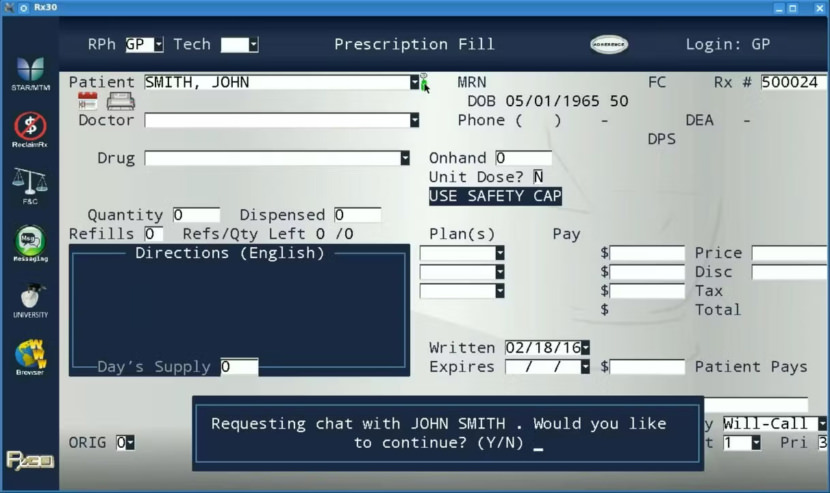 The pharmacist's role in the healthcare continuum is expanding every year, and your pharmacy management system must keep up. With more than 40 years of experience serving independent pharmacies, Rx30 features the tools and functionality you need to serve patients and grow your business.
With their integrated POS, users can provide customers with a seamless sales experience, maintain compliance, and maximize revenue. Their POS system lets users capture electronic signatures and scan IDs, provides detailed inventory tracking and price updates, and allows for drilldown reporting with insights into business intelligence.
Prescription processing is at the heart of Rx30, and it takes just seconds to complete a refill request. Maximize efficiency, automate prescription processing with the leading community pharmacy solution. Inventory management from Rx30 ensures you stay up to date with your prescription and over the counter (OTC) stock.
Direct integration provides accurate on-hand inventory
Streamlined process for managing ordering
Maintain optimal inventory levels
Comprehensive reporting and inventory insights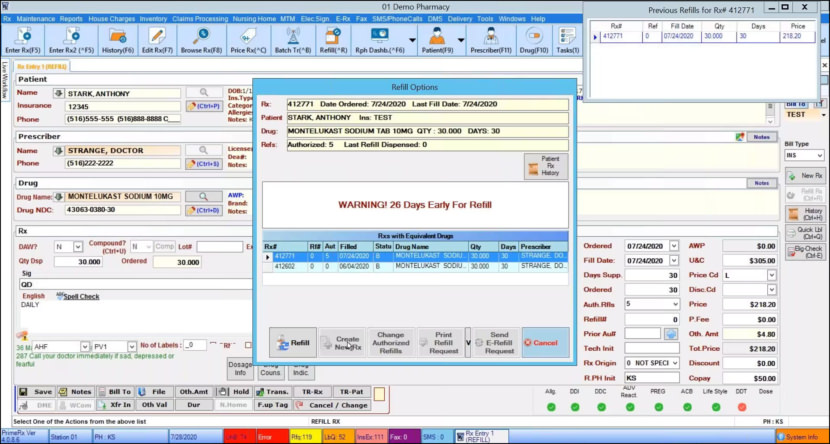 The pharmacy experience is a journey with many twists, turns, and unexpected bumps. Count on the PrimeRx pharmacy management system for comprehensive solutions to guide you through every step of the way. In a constantly evolving pharmacy landscape, Micro Merchant Systems develops software solutions that guide pharmacies with innovative technologies that change patient behaviors and industry trends to build healthier communities.
Pharmacists improve their patient's lives daily. We are beside them every step of the way, integrating patients, providers, payers, and caregivers through our PrimeRx platform, building and sustaining healthy communities.
Across communities throughout the U.S., the pharmacy acts as the local healthcare provider. Our solutions maximize the pharmacy's patient interactions through patient engagement tools that improve prescription fill compliance and reduce prescription copayment barriers. Ideal for the following industries:
Retail Pharmacy
Speciality Pharmacy
Long Term Care / Assisted Living
Compounding
Health Systems
340B
Mail Order
Physician's Office
The PrimeRx system's extensive capabilities allowed the 14-store network to offer an improved customer experience, build its brand, and achieve unexpected levels of efficiency. Rebecca Sabnani, the network's senior vice president of managed care, called the PrimeRx system a "gamechanger" in helping the Alivia Network grow and succeed.
Inventory – Their Pharmacy Communication Module allows pharmacies to transfer inventory of certain medications between stores.
Prescription Transfers – Patients can easily have their "preferred pickup location".
Pricing – Seamlessly scans pricing across all stores.
Delivery/ Curbside Services – Manage home delivery and curbside pickup. services.
Loyalty Programs – A patient can seamlessly access a pharmacy's loyalty program at any location.
Patient Record Accessibility – Their Multi-Pharmacy Inventory Management feature enables access to patient accounts across all stores.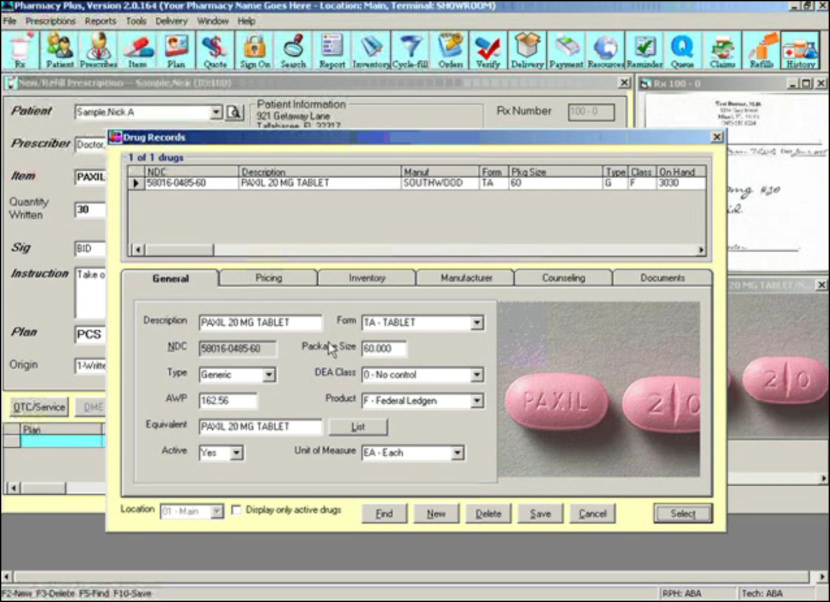 The Retail Pharmacy software is designed for independent Retail Pharmacy drug stores, retail chain stores, 340B Pharmacies, Specialty Pharmacies, Compounding Pharmacies, Hospital Outpatient Pharmacies and Physician's Office that serve walking patients and may provide home delivery and other professional services associated with pharmaceutical care such as health screenings, administering vaccinations, counseling patients, consultative services with other health care providers, collaborative practice and disease state management.
The Abacus Pharmacy software is a comprehensive pharmacy management solution that fully integrates your back-end pharmacy processes with your front-end business management. Below is a list of some of the solutions, they offer, that will provide the efficiency and cost savings you are looking for.
Dynamic Inventory Control
Barcode Scanning
Rx Scanning and Document Management
Drivers License Scanning
eScriptPlus™ – ePrescription
Robotic Dispensing System (RDS)
CompoundRx™ – Compounding/IV Infusion
SignatureRx™ – Electronic Signature Capture
VoiceRx™ – Electronic Will-Call
DosePackRx™ – Blister, Bingo & Plastic pack
eMARRx™ – Electronic MAR
IVRRx™ – Interactive Voice Response
IDRx™ – Employee ID
BioRx™ – Biometrics
DMERx™ – Durable Medical Equipment
CMS Five Star rating
ShippingRx™ – Multi-Carrier Shipping
Physician Office/Clinic
Productivity Tools
SafeRx™ – Secure Offsite Backup
Revenue Enhancing Tools
Cloud Solutions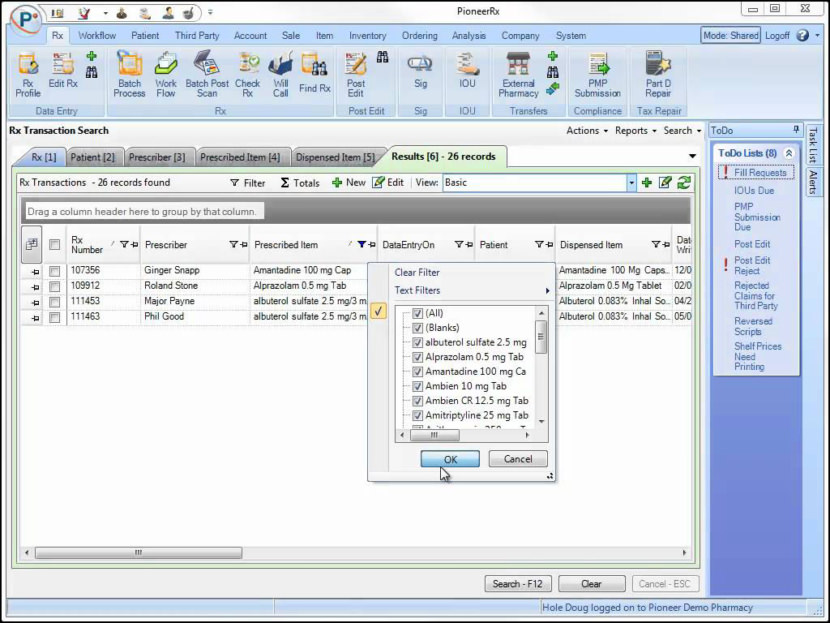 The landscape of independent pharmacy is always changing. They provide software for pharmacies of the future. PioneerRx offers the most advanced, customizable workflow which gives pharmacists more time to focus on patient care and enhanced clinical services. Having the best pharmacy software allows you to say yes to new opportunities as they arise and adapt your business for long-term success. Invest in your pharmacy's future with PioneerRx Pharmacy Software.
Enhanced Workflow – Our customizable and intuitive workflow allows you to run your pharmacy in the way that works best for you. By streamlining your workflow, you can improve the way you run your business and better serve your patients.
Inventory & Ordering – A successful pharmacy relies on efficient inventory management. PioneerRx offers powerful software to streamline the process and make it easy to keep track of even the most complex stock. With its automated ordering capabilities, you can ensure your business always has the supplies it needs.
Finance & Reporting – Don't let potential profits slip through your fingers. PioneerRx Pharmacy Software offers comprehensive reporting to help you gain valuable insights into your operations and improve your bottom line.
Integrated Point-of-Sale – PioneerRx's POS pharmacy software offers a truly integrated experience. You can complete patient transactions while also getting alerts for potential interventions, tracking patient loyalty status, and viewing other medications in queue.
Long-Term Care / Facility – Extend your reach beyond your pharmacy. Streamline cycle filling, manage facility billing, and generate custom MARs and physician orders based on each facility's unique needs and structure.
Pharmacy software systems include (A-Z): Applied Micro Systems, BestRx Pharmacy Software, Cerner, Connexus Pharmacy Software, DigitalRx, Enterprise by PDX, EnterpriseRx by McKesson, Epic Pharmacy Software, Epic Willow Pharmacy Software, EPRN Pharmacy Software, Framework Pharmacy Software, FSI, GuardianRx by CarePoint, HBS, Helix Pharmacy System by RNA, Liberty Pharmacy Software, Newleaf Pharmacy Software, Nexgen Pharmacy Software, NRx by QS1 Pharmacy Software, PDX Pharmacy Software, Pharmacy Plus by AbacusRx, PharmacyRx by McKesson Pharmacy Software, Pharmaserv by McKesson, PK Software, Prime Rx Pharmacy Software by Micro Merchant Systems, QuickScrip by Cost Effective, RX30, RxKey by Keycentrix, RxMaster, ScriptPro, Speed Script by Digital Simplistics, VIP, Visual Superscript by DAA Enterprises, Winpharm by Datascan Pharmacy Software, WinRx by ComputerRx.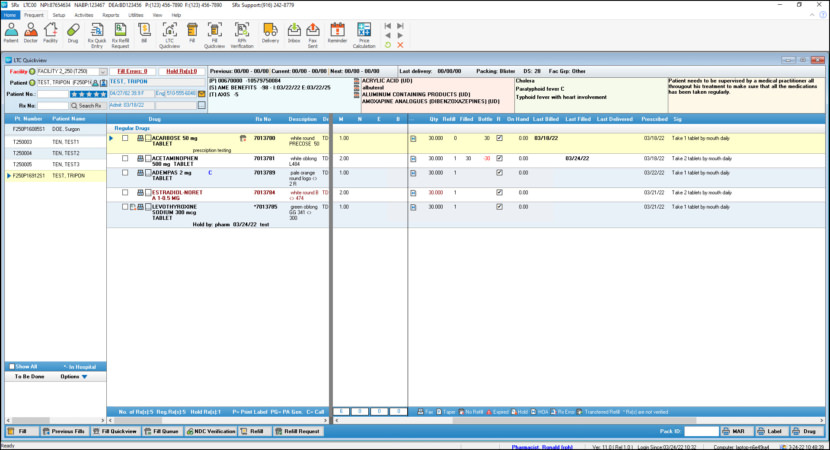 SRx (formerly, Intelligent Pharmacy Software or IPS) by SuiteRx was developed by pharmacists for pharmacists to address the needs and challenges presented in the independent pharmacy market. Their pharmacy team is passionate about providing each patient with the best possible patient care experience. We believe in working together with your prescriber and any other members of your health care team to provide you with seamless care.
Their pharmacies are able to dispense specialty medications along with standard prescription medications allowing you to take control of your health and have all of your prescriptions at one pharmacy. When your prescriptions are all at one pharmacy it reduces the risk of drug interactions and ensures all of your prescriptions are always filled on time. They are proud to have clinical knowledge in the following areas:
Biologics
Specialty Compounding
Hepatology
HIV and PrEP
Addictions Medicine
Mental Health
Botox
Allergy Medicine
Endocrinology
Cardiology
Neurology
Urology
Asthma
Transplant
Fertility
Ophthalmology
Oncology / Hematology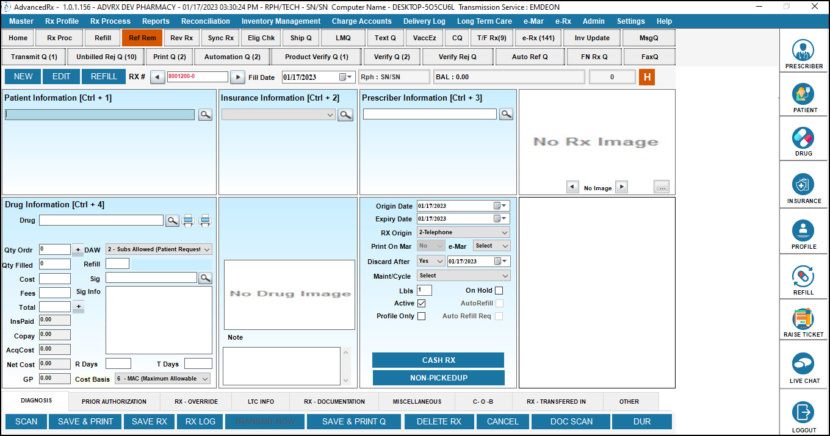 Advanced Rx empowers patients and providers by delivering superior patient care for all medications and insurance plans with our physician dispensing solutions. Today Advanced Rx has grown itself in every vertical and serves a wide variety of retail, compounding, and long-term care pharmacies.
They provide just what the doctor ordered in office, in pharmacy or delivered. We offer the only comprehensive point of care dispensing, repackaging, and in-network pharmacy program. We take pride in understanding payer relationships, including the intricacies of prior authorizations, billing, reimbursements, collections, and regulations. Provider Specialty Profiles:
Dermatology
Pain Management
Podiatry
Ear Nose and Throat
Urology
Gynecology
Orthopedic
General Surgery
Pediatrics
Primary Care
Psychiatry
Neurology
Dermatological
Topical Pain and Neuropathy
Male and Female Hormones
Wound and Scar Cream
Customized Anti-Aging Topicals
Erectile Dysfunction
Pre-Op Procedure Topical Numbing Agents
Nasal Sinus Rinse Kits
Podiatry
Custom Compound Formulation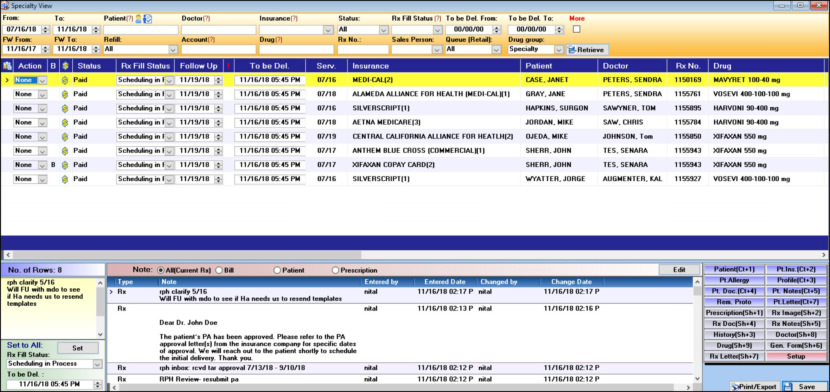 Our all-in-one pharmacy software is designed for multiple pharmacy settings including but not limited to retail pharmacies, long-term care pharmacies, 340b pharmacies, specialty pharmacies, and compounding pharmacies.
IPS understands the importance of automation in today's world as it allows pharmacies to optimize their daily workflow and reduce costs. Our software is compatible with many automated dispensing systems in the market today and is easily customizable to accommodate future enhancements. Their belief as always, is to surpass the expectations of the ever expanding world of technology.
Automatic refill and IVR functionality
Quickly bill multiple rxs at once
Quickly rebill multiple rxs with 1 click
Newly designed POS window with Loyalty rewards and redemption
Rx error & on hold tracking windows
Paperless document tracking & faxing
Customize Prior authorization Templates by Insurance
Inventory module
Text/SMS messaging capability
Adherence reporting
Newly designed rph verification window to easily identify key information
Medicin Pharmacy Management Software helps pharmacists manage pharmacies effectively. It also enables pharmacists to manage purchases, purchase returns, sales, sale returns, short items and overall businesses. The solution is fully automated, which helps reduce the burden of pharmacists and increase revenue.
Mobile applications for Android and iOS devices are also offered, which allows users to remotely manage their business activities. It is available on a one-time subscription and support is extended via phone and email.
Schedule Drug H, H1, X, C, G & TB Report Compliant
3 lacs Prefilled products with GST, Schedule,
HSN Code, Packing & Company
4000 Molecules Prefilled Data With Defined Schedule H / H1 & TB Report