Loan servicing software automates and manages the loan lifecycle, from origination to reporting. Many lenders opt to service their own loans, as this allows for increased profits and greater control over regulatory compliance. Loan servicing software minimizes error and effort when tracking and reconciling loans.
See More ▼ 10 Quotes On Student Loan Debts And Debt Forgiveness
Overall, a PayDay Loan Servicing & Debt Management Software aims to simplify and automate the processes involved in issuing payday loans, managing debt, and ensuring borrowers' repayments are handled effectively. It assists lenders and debt management companies in maintaining organized records, reducing manual errors, and enhancing customer service while complying with industry regulations.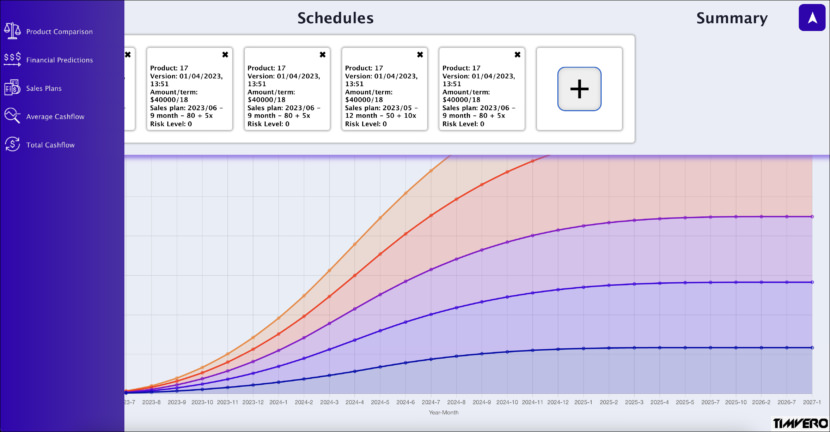 Comprehensive loan servicing platform from TIMVERO automates lending business at scale: from disbursements to calculations, notifications, payment registration, overdue loan management, and collection.
The loan servicing workflows in your bank or financial institution can be powered by the underwriting engine built on top of the open-source BPM engine. The timveroOS integrates the engine with the own data warehouse and the Machine Learning core. Ideal solution for:
Loan Origination
Advanced Analytics
Loan Servicing
For Banks
For Fintechs
Commercial Lending
B2B Installment
MCA
Factoring
Leasing
Asset Based
Consumer Lending
BNPL
Auto Lending
POS
Microfinance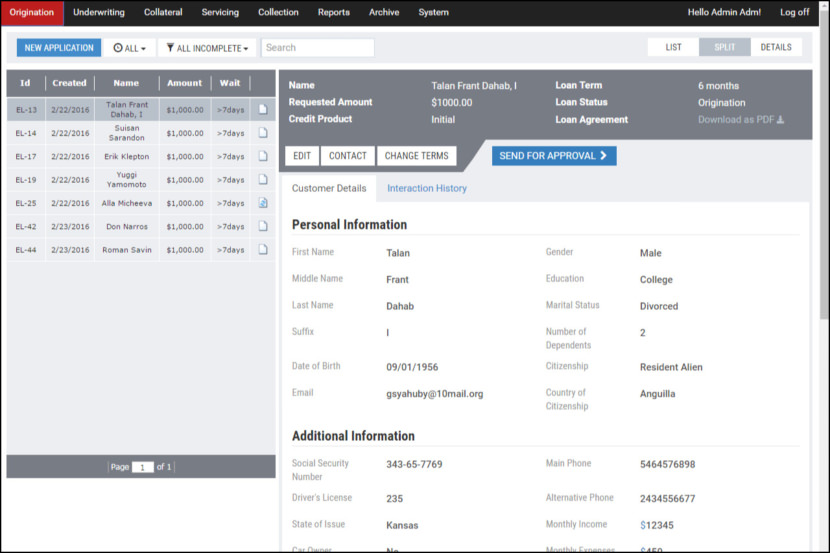 The TurnKey Lender Loan Origination Software includes the functionality for loan application creation, terms and schedule management, as well as bank and contact details collection. The fully configurable loan application process allows for creation of custom application flows, dictionaries, and loan offers, as well as supports disclaimers and document templates management.
Any kind of lending process – automated on your terms. Loan origination solution with the fastest time-to-market and most configuration freedom.
Loan Origination
Underwriting
Credit Risk Management
Debt Collection
Consumer Lending
Commercial Lending
Peer-to-Peer Lending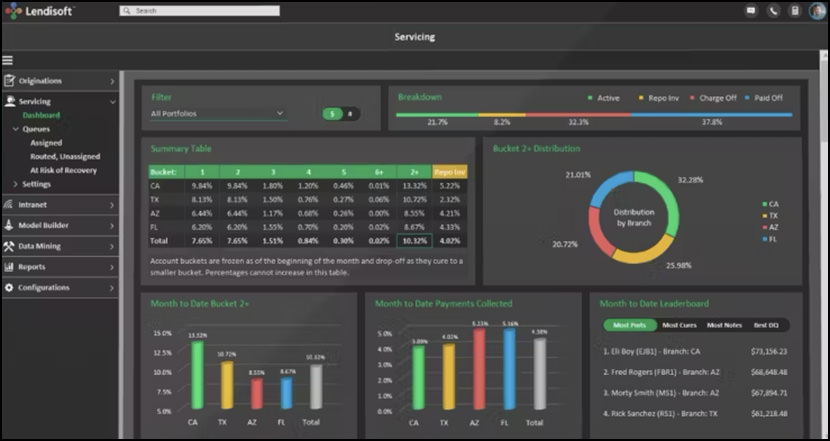 Lendisoft LMS's Odds of Roll feature uses a visually engaging speedometer gauge and 12 advanced scoring models to assess the likelihood of accounts rolling into deeper or more current delinquency stages, empowering informed decision-making and proactive collections strategies.
Experience unparalleled efficiency and automation in your lending operations with Lendisoft LMS, a state-of-the-art platform designed to empower lenders with cutting-edge technology, seamless integrations, and comprehensive tools to optimize collections, manage compliance, and drive growth for your loan portfolio.
Auto Financing
Consumer Lending
Medical Lending
Buy Now Pay Later
Micro Finance
PayDay
POS Finance
Student Loans
eCommerce Financing
Credit Cards & Overdraft
Commercial Lending
Commercial Lending Software
Working Capital
Leasing
Merchant Advance
Free Peer-to-Peer
Trade Financing
Equipment Financing Software

The entire system is powerful, flexible and incredibly simple to use. The Free Loan Servicing Software module will help you streamline the complete lifecycle for managing large portfolios without introducing more labor costs. With their powerful loan servicing software, you have the ability to service many types of loans including Conventional loans, Commercial loans, ARMs, HELOCs, GTM, Rehab, Auto, Equipment, & more!
Their automated software tools make it easier to scale your loan servicing capacity. The Mortgage Office features loan tracking, which allows users to track loan charges, interests and advances. Users can also assign multiple funding sources for loans and send automated emails for borrower bills and statements.
Teaser Rates – Handle default interest with teaser rates.
Payment Distribution – The Mortgage Office offers you automated payment distribution to funding sources with check printing.
Automated Emails – Their system features automated emailing of borrower bills, statements, and notices.
Payment Processing – Streamline your processes with fast and flexible payment processing, NSFs, and Payoffs.
Document Imaging – Take advantage of their fully integrated document imaging and management systems available within the Mortgage Office.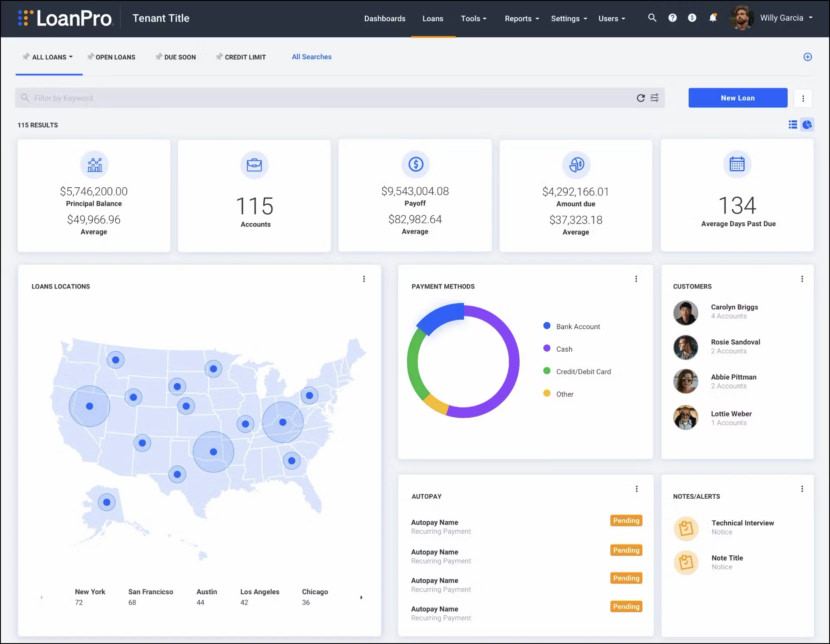 LoanPro is a cloud-based loan servicing and management solution built on its full-featured API with AWS allowing for complete scalability and a wide variety of business solution integrations such as accounting, CRM, and ERP systems. Data management, payment solutions, customer communication, process automation, and reporting functionalities are all offered with complete data visibility and control.
Consumer Lending – Design, build, launch, and service any new lending products in the same platform with the most configurable loan creation dashboard in the business.
Business Lending – In business, time is money. You need a loan servicing software that can not only match the pace but set it. Utilize their simple loan templates and then adjust them to meet unique business needs, such as unusual payment frequencies.
Banks – Keep up with lending trends, leverage new tech to keep compliance, mitigate credit risk through smart customer data, and make loan adjustments as you see fit, all in your preferred platform.
Neobanks – Improve customer loyalty and LTV. Offer your customer base targeted, compliant lending products: designed, built, tested, and launched with LoanPro.

The Loan Office is a cloud-based and on-premise loan servicing solution for enterprises of all sizes. It's suitable for lending, mortgage and financial service companies. Primary features include loan management, accounting management, automated clearing house (ACH)/EFT debiting, financial calculator, reporting and forecasting.
Use their Escrow Accounting feature to manage escrow and impound trust accounts, REO properties, real estate transactions and funds
deposited by borrowers. Reconcile your trust account to your bank statement easily and automatically. With the Escrow Accounting feature you can:
Handle, control and account for all trust monies received
Meet or exceed currently established legal and accounting standards
Maintain multiple accounts with unlimited clients (sub-ledgers)
Generate reports, reconcile bank accounts, issue checks and disburse funds
Process deposits, adjustment and issue checks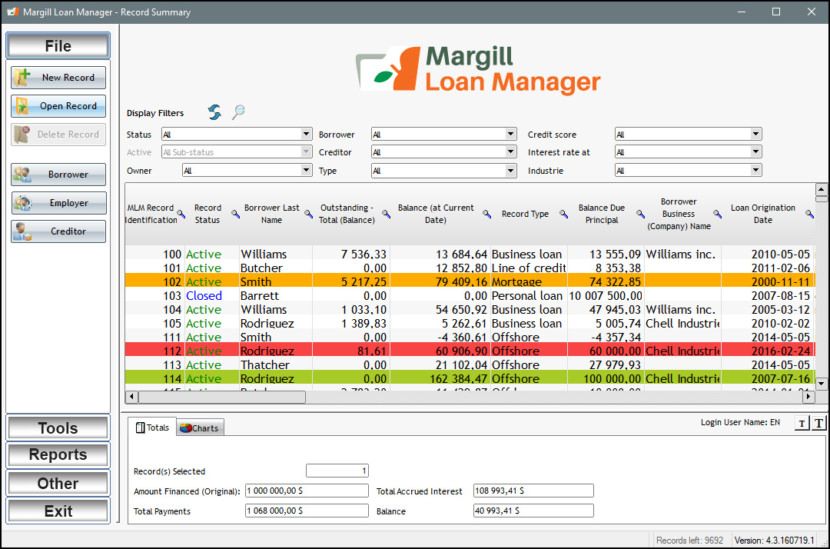 World-Class Loan Servicing Software. Margill is the loan servicing software with the industry's most sophisticated mathematics and customizable interface for lenders with complex needs. Margill Loan Manager is a Windows-based loan servicing and credit management software that supports various loan types including personal, corporate, intercompany, student, auto, litigation, mortgages and lines of credit. Compute, Service, and Manage:
Personal Loans
Installment Loans
Hard money / Asset-based Loans
Corporate Loans
Inter-company Loans
Growth capital (Private equity firms / Family offices)
Participation / Syndicated loans (multiple Investors / Funds)
R&D tax credit loans
Economic development Loans
Employee / Shareholder Loans
Student Loans
Auto Loans
Irregular / Complex Loans
Mortgages
Litigation Loans / Legal fees / costs funding
Lines of Credit
Judgments (Collection)
Garnishments
Leases
Bridge Loans
Energy efficiency / PACE Loans
Agricultural Loans
Bank loans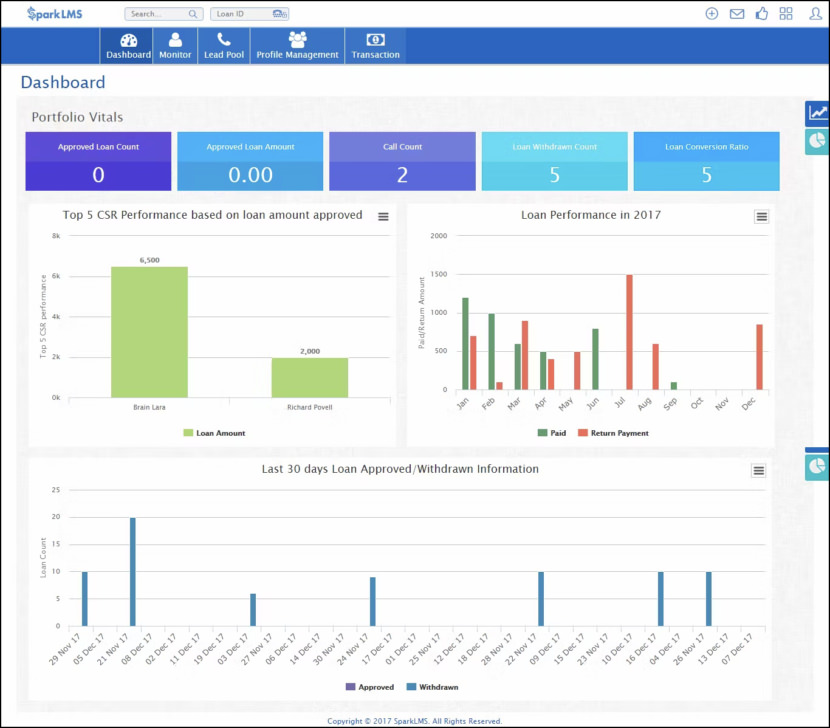 SparkLMS as a platform seamlessly integrates with your business processes, providing customized and automated workflows to simplify your day-to-day tasks. It offers customizable workflows that can be tailored to your specific lending processes. From credit checks and underwriting to document verification and approval, you can configure the system to align with your organization's best practices and compliance standards.
End-to-End Automation – Right from lead acquisition to loan origination to servicing and collections. It provides tools to streamline processes, automate workflows, and enhance operational efficiency. Automated workflows save time, effort, risk of errors and enhance borrower experience.
Flexible Loan Product Configuration – Configure and manage various loan products, including installment loans, cash advances, payday loans, auto loans, revolving line of credits and line of credits. It offers flexibility in defining loan terms, interest rates, repayment options, and eligibility criteria based on specific lending requirements.
Automated Underwriting – Incorporates automated decisioning and underwriting, leveraging predefined rules and algorithms to assess borrower eligibility and risk. These speedup the decision-making process, reduces manual errors, and leads to auto-origination and auto-funding workflows.
Integrated Credit Bureau and Data Sources – SparkLMS comes equipped with pre-integrated credit bureaus and other data sources to access borrower credit histories, financial data, and other relevant information. This enables lenders to make informed decisions and assess borrower creditworthiness accurately.
Manage Payments – SparkLMS simplifies the payment management process by allowing easy creation of new payments, modification of existing payments, and generation of payment schedules without the need for complex procedures. SparkLMS has seamless integration with all the major payment processors to handle ACH, RCC and Debit / Credit cards
Payment Processing – The platform supports payment processing, including loan disbursement, repayment tracking, and automated reminders. It also assists with collections management, tracking delinquencies, generating statements, and facilitating payment arrangements.
Robust Reporting and Analytics – Provides comprehensive reporting and analytics offering lenders with insight into portfolio performance, portfolio metrics, borrower trends, profitability, delinquency rates, repayment trends, and more, enabling data-driven decision-making and strategic planning.
Communication and Notifications – Offers efficient communication features for the lenders to interact with borrowers using integrated voice calling, automated notifications via email, SMS, in-platform messaging and integrated chat. SparkLMS is integrated with enterprise class communication gateways.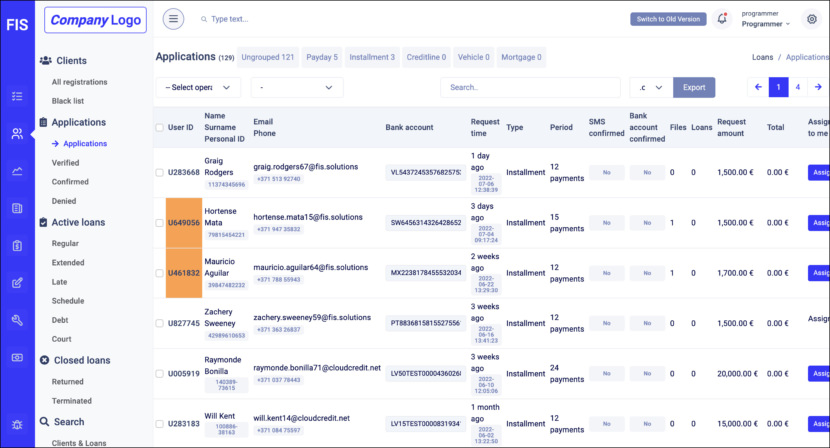 They began operations in 2011 with a clear goal – provide a loan management system for online and offline lenders with an individual approach, while creating a set of tools simple enough for anyone to use.
Our business currently runs on two pillars that help a broad variety of financial services companies – a plug & play SaaS system and integration services for custom features development and system connections. By building these pillars they unlock the benefits provided by their experience to offer their clients and partners the ability to adapt to a rapidly changing industry.
The system processes secured and unsecured loans for consumers and businesses, including instalment loans, auto leasing, mortgages, line of credit, credit cards, business loans, payday loans, buy now, pay later (BNPL) products, long-term car rentals, crowdfunding, P2P lending, invoice factoring, warehouse financing, student loans and many other types of loans.
Payday loans – Short term 30-day period or other time period Payday loan product management by correct customer information, scheduled date and reminder possibilities.
Business loans – Short- or long-term loan for business development that includes evaluation and scoring of all the participants including companies. You can have more than one loan with specific conditions for each separate loan for the business.
Instalment loan – Installment loans are a credit product for a long term – easy to get and intended to help consumers to deal with financial emergencies. Split financing in equal payments with a fixed interest rate over a period of time or using flexible recalculation for your client depending on your business specifics and client early repayment recalculations.
Factoring – Designed as a Payday loan but operating for companies by involving many participants. It is important to have acceptance from company managers or owners before issuing the loan. Additionally, companies and participants need to be scored to stay safe.
Line of credit – Supervise your customers' credit line through an integrated advanced management system with extension possibilities. Use the option to manage credit line repayment methods customized for your clients – payments for an indefinite period, payments after one month, payments after an exact period of time, or any other according to your business.
Mortgages – Property information management in the system with unlimited flexible possibilities.
Auto loan – Provide your partners e.g. car dealers with a dedicated website to collect customer data and create requests. Over the loan or lease period, you can switch vehicle ownership to a new customer, start a new lease or loan contract for the same vehicle, thus, maintaining full flexibility and track record of any future transactions.
Warehouse loan – Any small or large product purchased by the client can be added to the software as an asset to control all customers and all incoming payments. The system registers all the goods you sell and can include all the necessary calculations for that particular product added to the client.
Crowdfunding – Businesses can use crowdfunding to raise capital for a venture. Any sort of crowdfunding types are possible with optional changes to the software but including all your business specifics and aspects like a custom-made product. The software is capable of working with the smallest funds as well as with the biggest real estate products.
Student loan – A specific product with its own calculations and conditions that is very flexible depending on repayment discipline. It includes rescheduling or changes to the existing payment plan.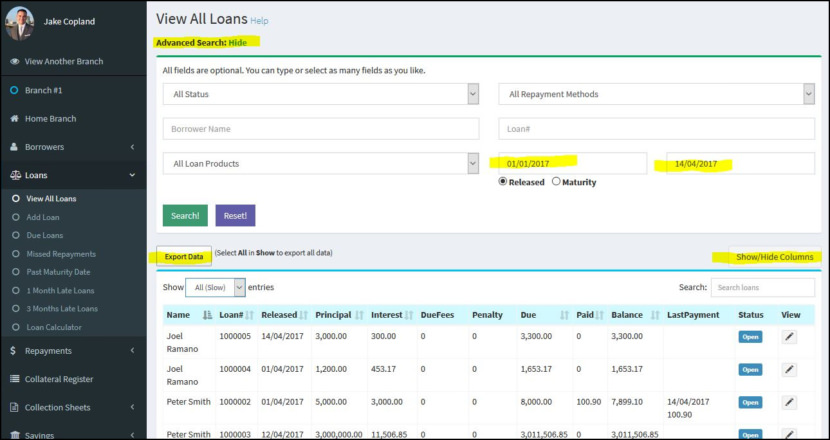 Manage all your customer loans and repayments in one place. Engage with customers with automated SMS and Email. Spend less time doing admin work and more time growing your business. Loandisk is a cloud-based accounting software that unites banks and their borrowers in one system.
It also allows investors to access information about their microfinance investments through an investor dashboard. Loandisk empowers microfinance companies with a cloud-based loan management system that can streamline loan administration processes, make lending more accessible, and increase profitability.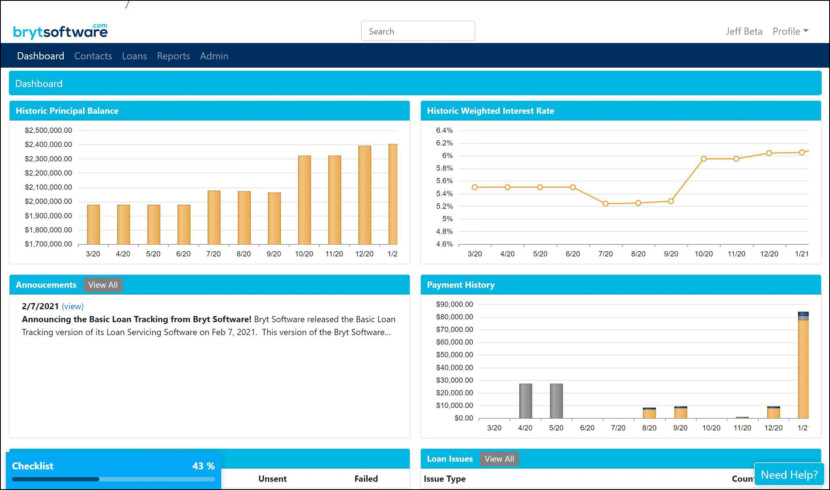 Bryt loan management software is a cloud-based solution designed to aid lending professionals in loan origination, loan servicing, document creation, storage, trust accounting, payment processing and more. Having a centralized dashboard, it caters to different types of loans such as non-revolving, term and commitment.
Hosted on Microsoft Azure cloud, Bryt helps users automate tasks, manage loan documents, procedures, custom fee structures, client notifications, automated clearing house (ACH) payments, client communication, documents sharing and more. Additionally, it allows lenders to approve loans, create pipelines and setup custom repayment schedules.