A debt collection and accounts receivable software is a specialized tool designed to help businesses efficiently manage their outstanding debts, track customer payments, and streamline the accounts receivable process. It is particularly useful for businesses that need to collect payments from customers who have overdue invoices or outstanding balances.
🤣😍😂 12 Free Money Management Software & Financial Planning For Small Businesses
Debt collection and accounts receivable software are valuable tools for businesses looking to streamline their collections processes, reduce the risk of bad debts, and improve cash flow management. By automating various tasks and providing valuable insights into customer payment behavior, businesses can optimize their collections efforts and maintain healthy financial operations.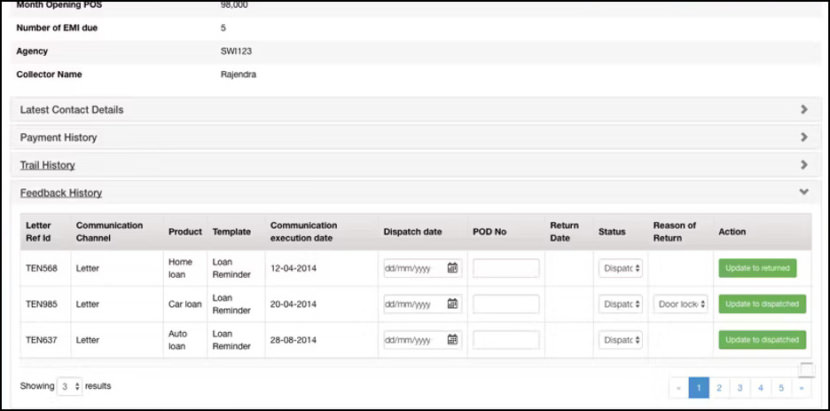 ENCollect is your one-stop digital shop for everything under Debt Collections and Recovery. ENCollect combines Deep Digitech with Deep knowledge of the Collections domain to help you Collect Fast, Collect More and Collect at a fraction of your current Costs.
The ENCollect package offers modules for payment tracking, reconciliation, delinquency management, settlements, legal actions and repossession. The platform also provides back-office digitization and automation workflows. ENCollect supports collections on all types of lending products under one umbrella. From Consumer Loans to Business Loans to Credit cards and Group Loans.
Personal Loan
Consumer Durable Loan
Home Loan
Credit Card
Mortgage
Auto Loan
Micro Finance Loan
SME Loan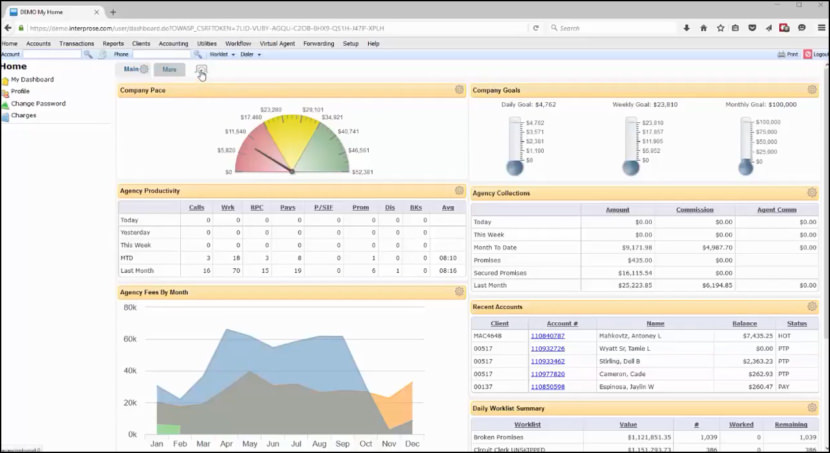 Their debt collections software is web-based and includes the infrastructure security & compliance certifications that cost you time and money. Leverage today's technology and work smarter. Automate non-revenue-generating collection activities, integrate your favorite third party services and extract valuable data with analytics tools.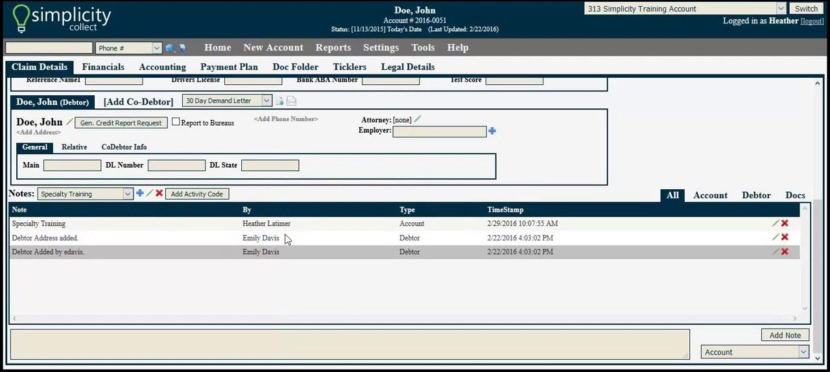 Simplicity Collect is a management software specifically designed to help small business and big business alike. Manage and track business collection cases. The system allows you to take ultimate control over how the collection agency software works for your business to increase your profits. Unlike other collection systems, Simplicity's affordable and sophisticated system specializes in ensuring your collection cases never fall through the cracks.
The product also features debt management, which provides users an online portal to settle their accounts, manage payment plans and make payments using credit cards. Users can also customize the portal using their brand logos and images, and they can embed the portal on their website. Simplicity Collect is ideal for the following situation:
Debt Management
Loan Collection
Business Debt
Consumer Debt
Medical Collections
Credit Card Collection
Legal Collection
Judgment Recovery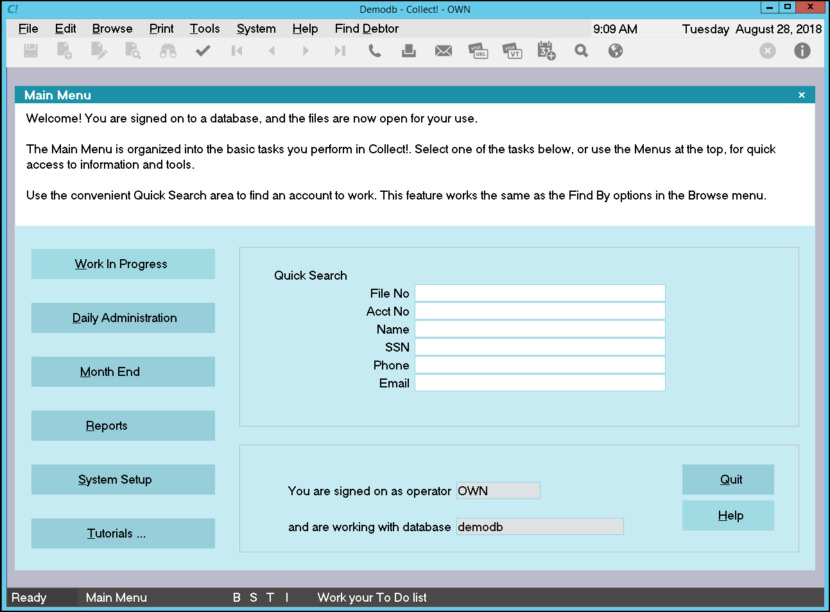 Collect! is a hybrid debt collection solution that includes flexible options, automation, add-ons, and integrations that enables businesses to manage various components of debt collection routines. Collect! caters to businesses of all sizes in the credit and collection industry and helps them to manage various components of debt collection routines, which include automating collection letters, tracking phone calls, processing payments, and more.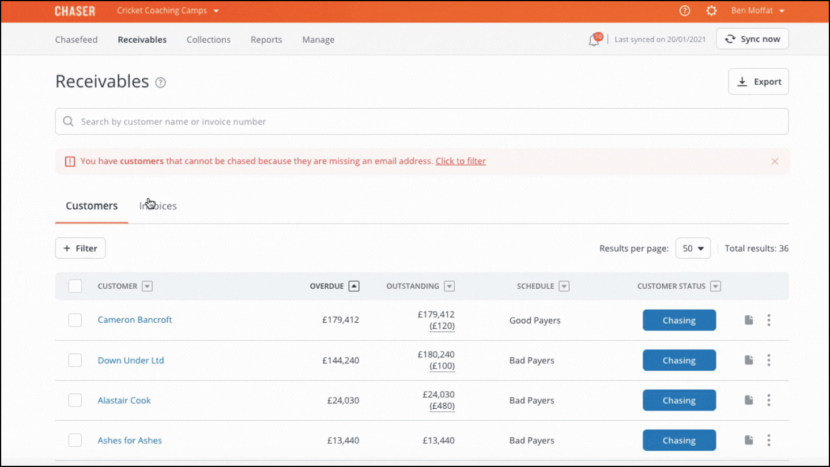 Thousands of SMEs worldwide trust Chaser to automatically chase and collect late payments, track debtors and improve their working capital. Users can credit check, monitor debtors, chase late invoices via SMS and email, collect payments, recover debt and reconcile accounts, all in the same unique platform.
Receive payments faster, reduce the time it takes to collect payments, and manage your cash flow better with Chaser's accounts receivables solution. Automate your payment reminders in a personalized, human way so that you can dedicate your attention to your core business activities and growth.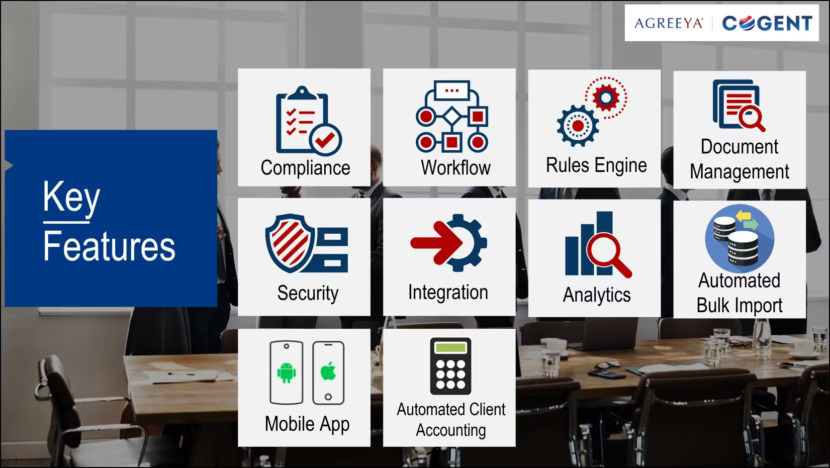 CogentCollect is a web-based debt collection management solution that enables agencies and firms to automate and manage their collection process by leveraging an anytime anywhere solution with the flexibility of remote working. CogentCollect empowers firms to gain big savings on infrastructure and manpower costs while improving collections, optimizing operations, and ensuring compliance.
Deep Reduction in Collection Costs – Delivers a single, cost-efficient, and infra-independent platform to manage clients, vendors, portfolios, letters, and custom payment plans. Huge productivity gain by automation reduces the cost of operation too.
Increase and Maximize Collections – Enforces the right collection strategy and methods to maximize collection while minimizing risks.
End-to-end Collection and Claims Management Solution – CogentCollect is a comprehensive solution that handles essential debt collection processes such as claims import and export, payment posting, skip tracing and media management end-to-end. It ensures your accounts are managed consistently and effectively.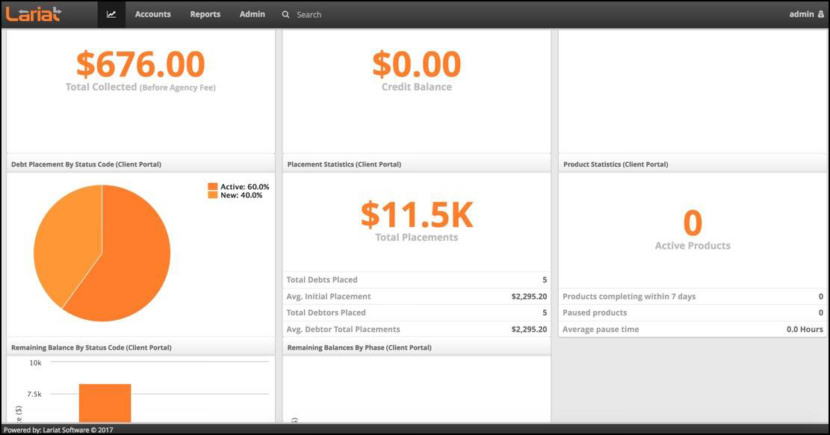 Web-based debt collection software for collection agencies and corporations to easily manage debt collection accounts. Track accounts, communicate effortlessly as well as manage process and results with robust reporting capabilities. Great for all types of agencies including commercial, healthcare, debt purchasers, retail and collection departments in corporations.
Client to debt relationship – Ability to handle multiple debts owned by multiple clients for a single debtor
Custom letters – Create custom letters that are tailored for your business needs
Notifications – Event Notification system for reminders & real-time messaging system
Global configuration – Allow administrators to set global configuration parameters for themes, security, letters, reports & other various defaults for agents
Keep information up to date – Ability to perform mass updates of selected fields with Query & Update
Powerful searching – Provides a range of search options, including the ability to search for debtors from anywhere in the system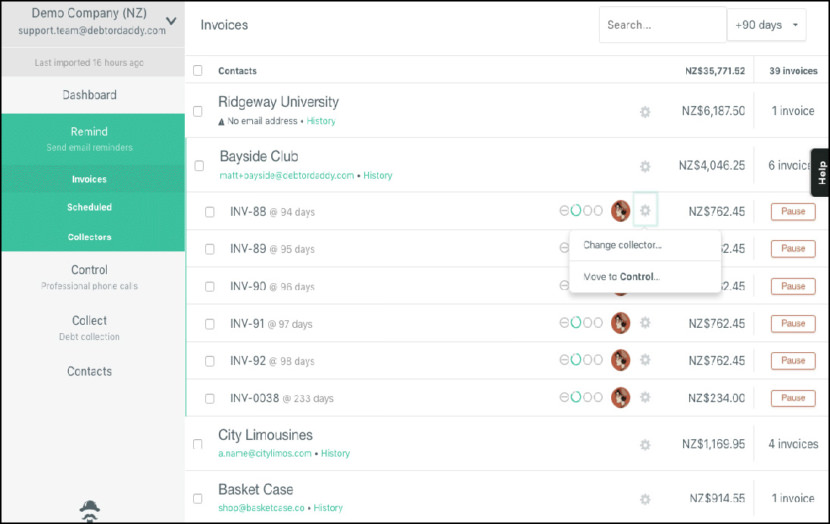 The smarter way to collect accounts receivable automation software and outsourcing. All the features you need to create your perfect accounts receivable process, including email and SMS reminders, statements, phone calls and debt collection. CreditorWatch Collect users have best practice AR processes. Their teams and customers enjoy a better receivables experience. CFOs, Finance Managers and business owners get quick and clear insights into debtor trends and cash flow.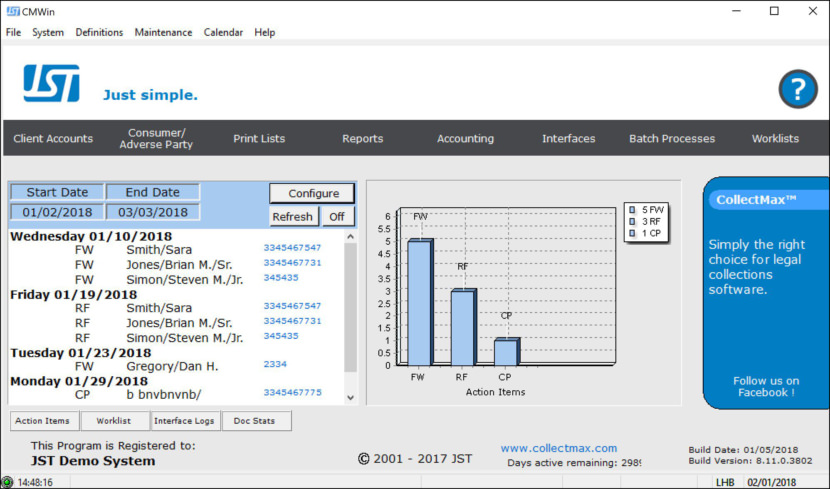 CollectMax is user-friendly and can be configured without programming skills. But don't confuse easy-to-use with simplistic or basic, as CollectMax offers robust capabilities that have evolved over decades of development and customer input. You can structure the software to function with your workflows using CollectMax' flexible design.
A law firm or business managing debt collections accounts including but not limited to credit card, commercial, medical, credit union, retail, subrogation, landlord/tenant, auto finance, and more.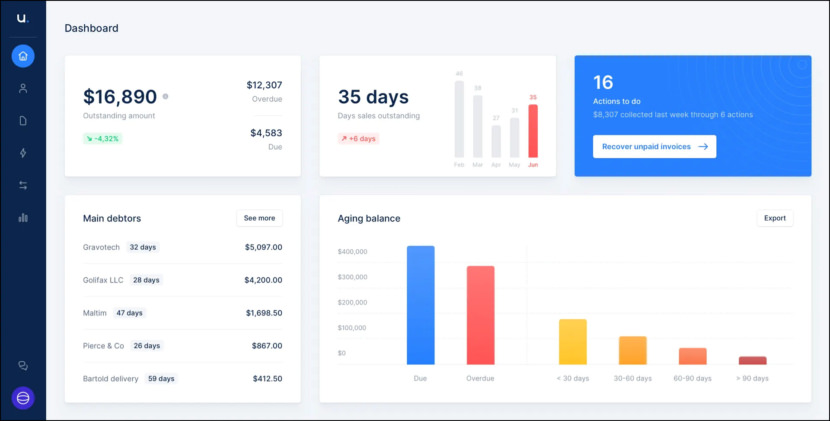 Speed up your accounts receivables collection, right away. Say goodbye to Excel, revolutionise your collection processes. Get control of your cash flow. Upflow software integrates in 1-click with your existing accounting software (Quickbooks, Xero, Chargebee, Stripe Billing, Netsuite).
With Upflow, spend more time focusing on what's important and plan your growth with reliable A/R data.
Best For B2B companies in North Americas and Europe. Quickbooks, Xero, Chargebee, Stripe Billing, Sellsy, Zuora Sage Intacct, Salesforce or Netsuite users.
Streamline your team's process – Manage all of your invoicing and payments in one place.
Streamline your team's process – Manage all of your invoicing and payments in one place.
Collaborate with your team – Team collaboration and customer communication in one single place.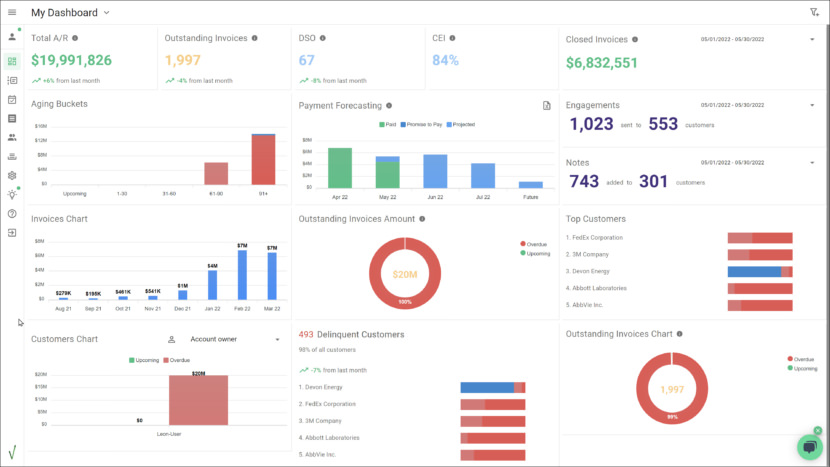 Gaviti is an accounts receivable collections management & automation solution with everything you need to control, manage, and automate your A/R processes. Boost your A/R team's efficiency, improve cash flow, and gain visibility into the entire collection process. Gaviti's automated A/R collections solution streamlines the collections process and accelerates cash flow.
Faster invoice payments – Accelerate cash flow and improve DSO with smart workflows that drive on-time payments
Payment forecasting – Accurately predict future cash flows by monitoring history of issued invoices and existing data
Institutional collections knowledgebase – Streamline team collaboration by logging any and all collection activity on one central platform
Real-time performance metrics – Gain instant access, visibility and actionable insights with just one click
Stronger collection team performance – Accelerate team productivity with process automation
Enhanced customer experience – Provide a chance for proactive invoice dispute resolution
AP Assistant – Improve your engagement with client's accounts payable to improve communications with customers and address the hurdles that are delaying payment of open invoices.