A church management software (ChMS) is a specialized type of software designed to help churches and religious organizations manage various aspects of their operations and administration. It serves as a central hub for organizing and streamlining different processes, allowing church leaders, staff, and volunteers to focus on their core mission and ministry.
🤣😍😂 31 Beautiful Holy Bible Verses On Strength, Faith, Hope, Healing And More
Church management software comes in various forms, from simple cloud-based solutions to more comprehensive and customizable systems tailored to the specific needs of larger churches or multi-campus organizations. The software aims to streamline administrative tasks, improve communication, enhance member engagement, and provide valuable insights to church leaders to make informed decisions about ministry planning and development.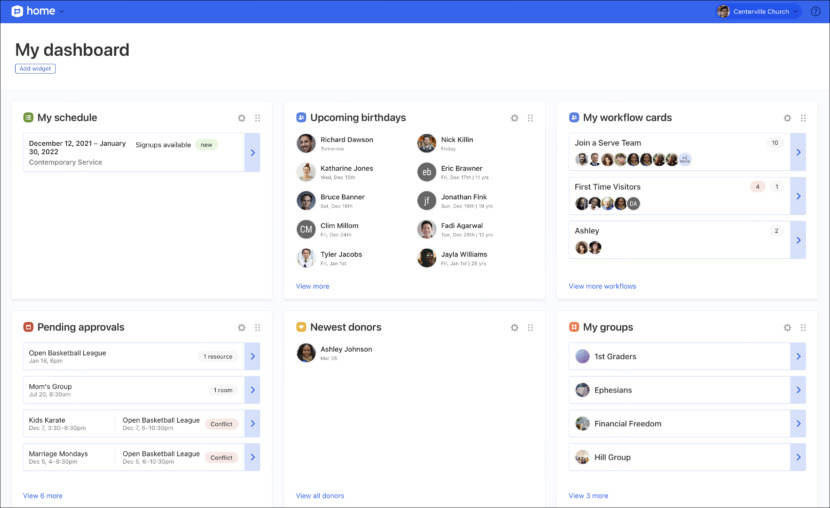 A flexible system to meet the needs of your church. Planning Center is a set of software tools to help you organize information, coordinate events, communicate with your team, and connect with your congregation.
Designed for churches of every size, Planning Center is an all-in-one system for organizing your ministries and managing your church's operations. Use only what you need from our suite of products.
Engagement Dashboard – Analyze attendance, donations, and more from a metrics dashboard.
Push Notifications – Make announcements with the Church Center mobile app and website.
Email – Send emails out to lists of people, or design full campaigns in MailChimp.
Room/Resource Booking – Track requests/approvals for who is using what in which room, and when!
Event Attendance – Take attendance, offer self-serve check-in, and track who checked in to which locations.
Worship Planning – Create a comprehensive plan including an order of service, roles, and songs.
Online Church – Broadcast services live, create a sermon library, and share links to content.
Mobile – Manage your database, plan services, and check people in from an app.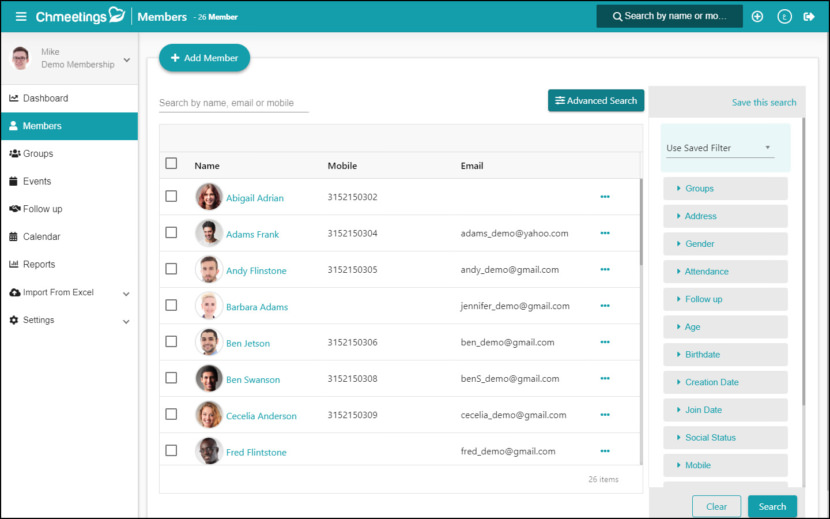 The most Recommended, User-friendly and Affordable Church Management Software. Trusted by over 5000 churches and dioceses around the world. Whatever your church size, ChMeetings helps you to effectively track and store groups and members' data. Our advanced search feature allows you to easily access data and turn them into actionable reports at any time.
ChMeetings is available in English, Spanish, French, German, Danish, Italian, Romanian, Russian, Portuguese, Norwegian, Chinese (Simplified), Chinese (Traditional), Korean, Japanese, Afrikaans and Arabic.
People – Create profiles, track people and manage families.
Groups – Assign people to groups for productive work and easy communication.
Events & Check In – Transform event management by doing it all online.
Giving – Offer members the option to donate, both online and offline.
Member Access – Allow members to update their data, contribute online or register for events by themselves.
Mobile app – Everyone at church can use ChMeetings on the go, using our mobile app, for Android and iOS. T
Payment Processors – Event payments or online giving collection via ChMeetings are achieved by integrating with PayPal and Stripe.
Elections – Manage all stages of Diocese Elections: Nomination, Vetting, Candidate Confirmation, Voting and Results.
Schedule volunteers – Organize your event volunteers with scheduling / rota, dedicated email features, reminders, RSVP and the option to download a volunteers sheet.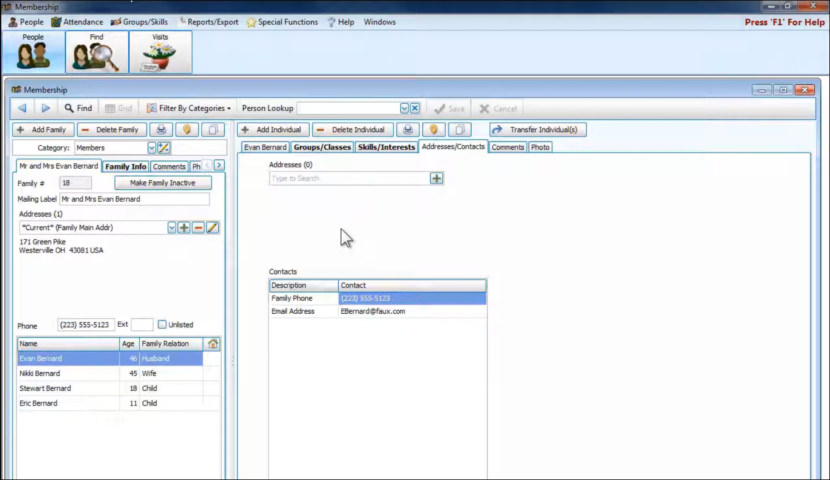 User-friendly, powerful church management software with Membership, Scheduler, Donations, Accounting, and Payroll. Desktop and Web! Church Windows Management Software, available either via remote web access or desktop installation, includes the main modules: Membership, Scheduler, Donations, Accounting, and Payroll.
Through these four modules in tandem with add-ons and various software partnerships, Church Windows is the solution for your church's management and congregation communication. Church Windows Software provides an easy way to track the church congregation with the Membership Module, its events with the Scheduler Module, and its giving/pledging with the Donations Module. Trusted by thousands of churches for decades, Church Windows also efficiently handles the church receipts and disbursements, its budget with the Accounting Module and its employee pay & taxes with the Payroll Module.
Membership – Membership maintains family records and member involvement in the church; integrates with Scheduler and with Donations. Ability to Email members and groups. Scheduler is included with the purchase of Membership.
Scheduler – Scheduler creates and shares the calendar of events on the church website or by email; integrates with Membership to assign people duties at events. Customize Scheduler to track your church's Locations and Equipment.
Donations – Donations tracks member pledging and giving while easily creating detailed reports that summarize giving; integrates with Accounting for easy transfer of monies from Donations into Accounting. Donations offers the "green" option of emailing givers' Donation Statements. Importing of electronic giving is also easily performed.
Accounting – Accounting utilizes fund accounting to track funds separately plus provides incredible ease & flexibility in reporting and exporting. Fully-integrated with Donations and Payroll, Accounting provides direct import of members' giving from Donations, plus wages and tax totals from Payroll. Includes optional Accounts Receivable add-on.
Payroll – Payroll generates payroll checks, reports and tax forms based on employee compensation, deductions and allowances. Federal and State tax tables plus tax reporting agency forms are regularly updated. Electronic filing is available through our partner, Aatrix. Payroll fully integrates with Accounting.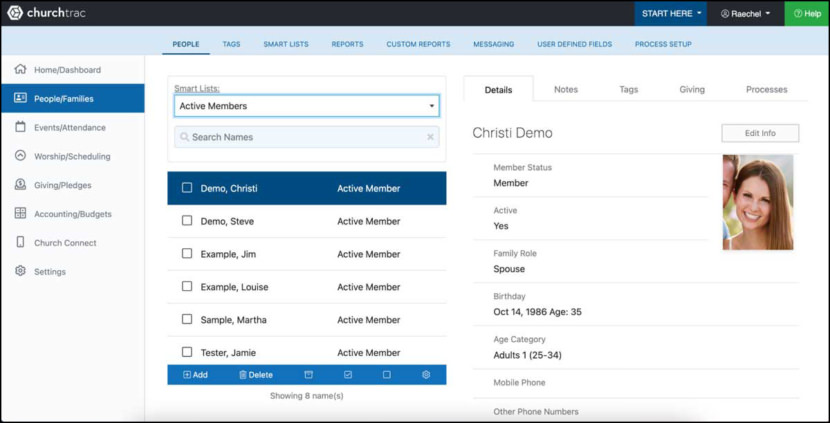 ChurchTrac brings all the church apps and features you need together in one simplified ChMS so you can focus on your mission. At its core, ChurchTrac is a church database software for church membership. Create an instant church directory, send mass emails, build phone trees, and text in church. At ChurchTrac, our all-in-one software has all the tools you need built in. Most Affordable.
Membership Management – View people profiles based on their role in your organization, like Member, donor, or prospect. Or use Smart Lists to show names that meet any criteria.
Mass Email Built In – Send email to your people without any complicated setup.
Directories and Reports – Choose from dozens of built-in reports, or create your own. Print member and picture directories.
Text Your Church – We have the most affordable church texting platform anywhere, with bulk text, auto-replies, two-way texting, and more.
Keep Secure Notes – Keep notes on people or families. Optionally secure private notes so only certain user types can view.
Organize Around Processes – Set up custom, step-by-step processes for discipleship, guest follow-up, and more.
Track Important Dates – Generate reports for birthdays, anniversaries, or other important dates that you track, or display upcoming dates on your dashboard.
MailChimp Integration – Easily keep your MailChimp contacts synced and up-to-date with your People database.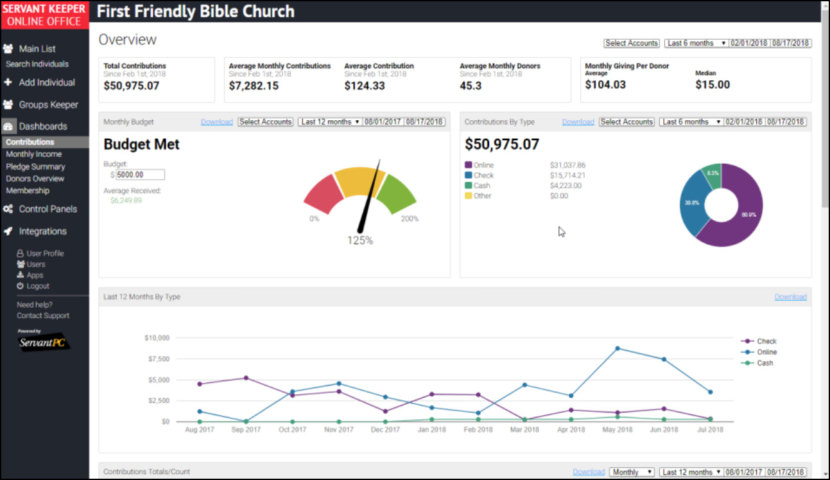 Over 30,000 churches have switched to Servant Keeper because it's customizable, affordable, easy to use, and saves them hundreds of hours each year. Will your church be next? Servant Keeper is an absolute diamond amongst the other church management software tools on the market. Whether it's church management or church finances, this is a great tool for member care, financial reporting, and any ministry looking to serve God's people with excellence.
Manage Members and Volunteers – Manage unlimited people and data with customizable fields, skills tracking, online sign-ups, and improved communication.
Manage Donors and Contributions – Track and increase giving, expand giving options, and improve communication with your donors.
Child Check-In and Security – Keep your children's ministry secure, effective, and organized.
Sacrament Manager – Create and maintain sacramental records.
Events and Attendance – Increase ministry event participation, attendance, and follow-up.
Tools for Making an Impact – Make your counseling, pastoral care, and outreach ministries more impactful.
Smart Groups – Build groups based on any criteria you can imagine for communication and tracking.
Secure Data – Protect your members' data and your ministry with secure church software.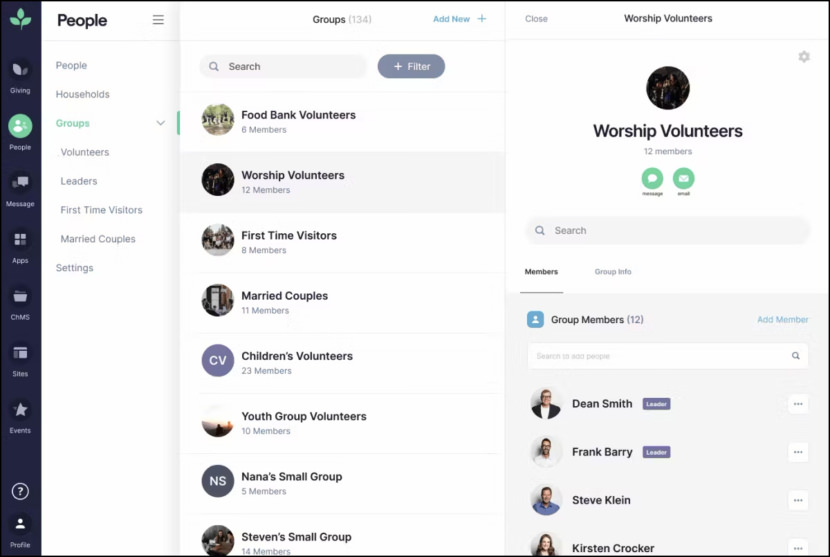 Free online giving tools for your church. Tithe.ly provides the best online tools to help you increase generosity, manage your church, and engage your church members. Tithely digital giving tools enable churches of any size to offer secure donations from anywhere, at any time, and our back-end administrative tools make management super easy.
Online Church Management Software (ChMS) that helps you engage your community, equip your team, reduce administration time, grow your people, and steward the resources God has entrusted you with. Pastors & Leaders – Give your leaders the church administration software they need to easily and effectively lead teams, ministries, and small groups. Give them the ability to meet their goals with tools for better organization and smoother processes.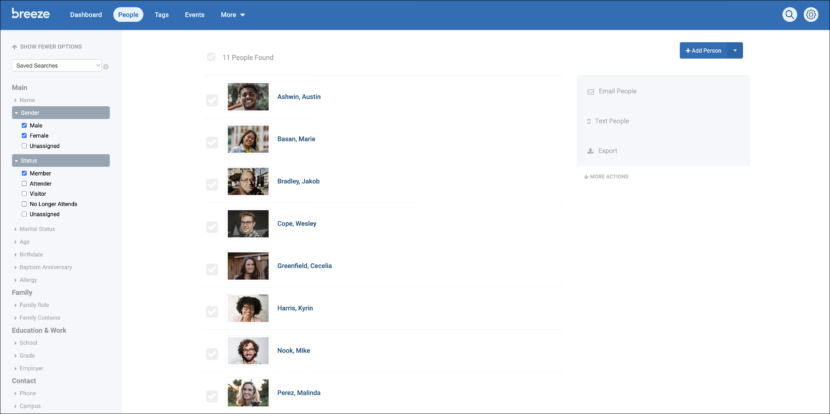 Breeze ChMS™ is a powerful, yet intuitive church management software used by more than 10,000 churches. It's designed to help you save time, reduce frustration, and accomplish your church's goals. Easy-to-use church management software to quickly organize people, groups, events, giving, & more.
They believe powerful church management software shouldn't require an IT degree to use. Breeze's intuitive design is built to help streamline work processes and increase adoption by the entire church so everyone can benefit, and anyone can manage it.
With Breeze, your church can easily schedule events, track attendance, and print name tags on the spot. You can quickly generate reports to gain insights into who's attending, and how often. Additionally, you can set up alerts to notify you if families stop attending and even integrate with external calendars.
People – Manage your database of people and their information
Groups – Easily organize and group people in your database
Giving – Built-in online and text giving tools
Service Planning – Quickly and easily build a worship service plan & manage volunteers
Events & Check In – Schedule events, take event attendance, and print name tags
Messaging – Send emails and text messages directly within Breeze
Print name tags for children & parents – Print customizable name tags for children at check in (and corresponding tags for parents) to ensure the right people are picking up the right child.
Check in children & track attendance – Easily use a computer, tablet, or phone to check children and adults into services and events to keep track of who is where and when.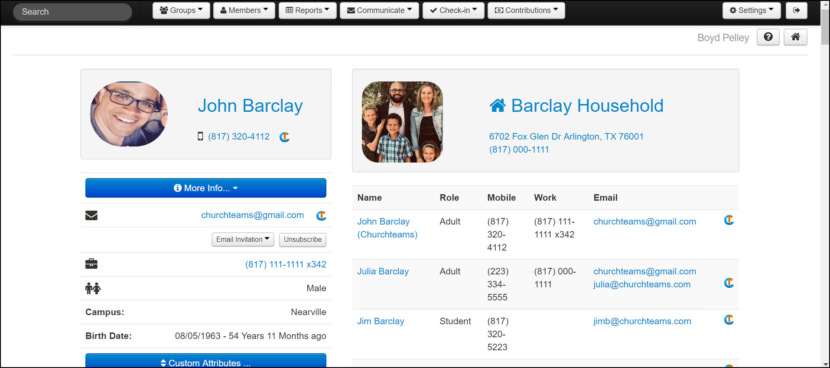 Churchteams is the most innovative, effective, affordable church management software on the market. Their team is constantly updating and adding features that serve our church well – like their industry leading text-to-check for our Kids' ministry. Their approach to data management allows me incredible flexibility to get specific data I need to measure ministry progress.
With Churchteams it feels like we've added our own internal database team: they respond quickly, welcome our input, and help us problem solve. We've been with them for ten years and plan to be with them far into the future. Churchteams is a full software suite for managing all the things that keep you up at night, letting you get back to what's most important – making disciples and building teams.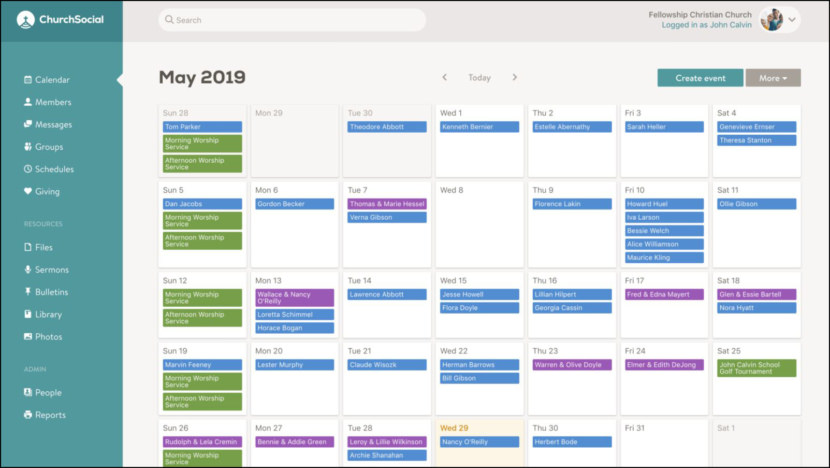 Church Social gives congregations a safe place to communicate, share information, and manage membership online. Administrators can generate reports to gain visibility into members' activities, bouncing emails, login frequency or user roles and export them in CSV or PDF format according to requirements.
They believe day-to-day church life can be made better with software, especially software you love using. Church Social is an easy-to-use app that helps congregations get organized and stay connected.
Member directory – The searchable member directory gives members easy access to family photos, contact information,
birthdays, anniversaries and more.
Calendar – Keep track of what's happening at your church, including events, birthdays, anniversaries and schedule reminders.
Schedules – Create schedules for the nursery, ushers, host family, deacon collections and more, and get automatic email reminders!
Messaging – Sending church emails has never been easier. No more managing email lists. Target specific groups, or the whole congregation!
Sermon archive – Everyone can benefit from listening to a past sermon. Upload MP3s, videos or PDF sermons, and add descriptions and bible texts.
Donation tracking – Record member contributions, track budgets, and generate tax receipts. Members can even login to view their past donations.
All-in-one technology solution to help you care for your members, empower your volunteers & serve your community. Quickly access information from your church, sign up for groups, register for events, give online, pre check-in your family, manage your profile, view teachings and more.
Your church must already have a One Church Software account to use this app. One Church is an award-winning, cloud-based church management system providing modern software for the modern church.
Communication Tools – A single system to create, manage, and automate communication with your members, guests, community, and more. Text Messaging, Emails, and Push Notifications.
Financial Tools – Our safe, secure, & fully integrated giving solution. Online, Recurring, Mobile & Text Giving.
Worship Planning & Volunteer Scheduling – Align your various ministries and serving opportunities in one centralized location, while providing comprehensive organization around your worship gatherings and volunteer opportunities.
Kids Check-In – Provide safety, security, and report-ability around your events and gathering with our check-in system.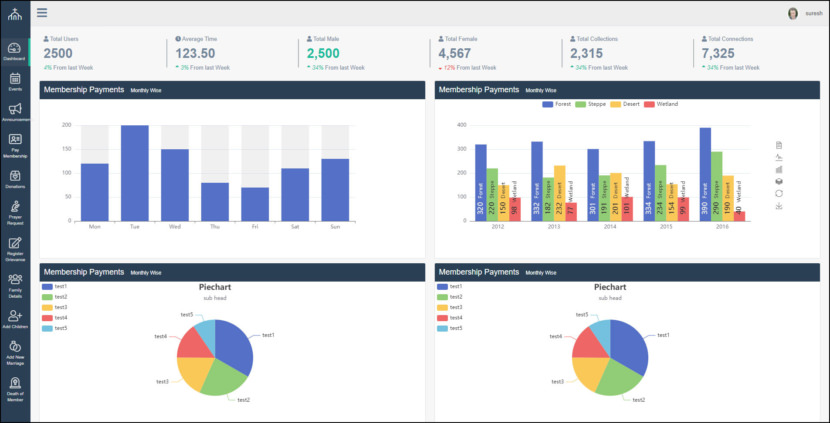 Effective Software to manage Church Administration. Church on Cloud is a specialized software that assists churches in the automation of daily operations. It handles processes such as Membership Databases, Communication, Community Events, Worship Programmes, Finances, Report generation, and many Features.
Church on Cloud is specialized software that assists churches in automation of daily operations. It handles processes such as Membership Databases, Communication, Community Events and Worship Programs, Finances, Report generation, among many others.
Church Inventory – Make it easy to manage your church inventory (equipment and consumable goods) with COC. Whether you are a single location or a mega church with many locations.
Generate Church Electoral Roll – The church's Electoral Roll is the register of its voting members; it is a list of those qualified to attend and to vote at the Church Elections. Church Admin can Generate Electoral rolls with much accuracy of its qualified members to participate in Church Elections just at a click.
Baptism Register – A Christian sacrament marked by ritual use of water and admitting the recipient to the Christian community.
Marriage Register – Essentially all Protestant denominations hold marriage to be ordained by God for the union between a man and a woman.
Death Register – A death is when a person is no longer alive. An example of death is when a program loses all its funding and ends forever.
Church Vendors – Empanelment for Church Vendor Registration / Up-dation of Suppliers / Contractors list towards execution of supplies / services at Church.
Track Giving – When it comes to church giving, it is important to accurately track tithes and offerings, not only for legal and moral reasons, but also to uphold congregation trust. The Giving tool will track detailed information.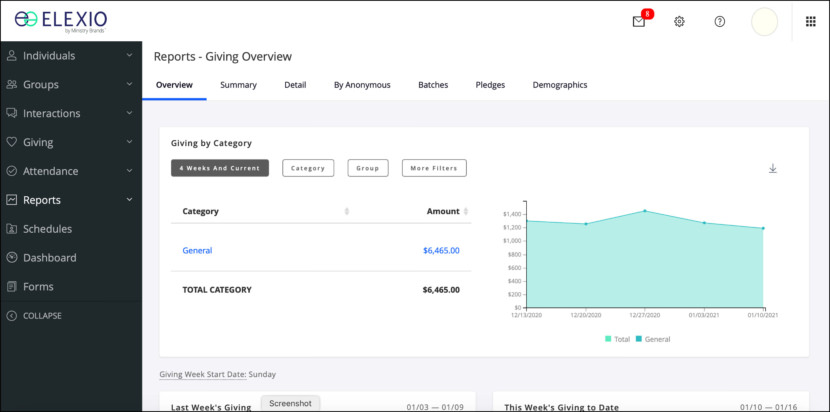 Elexio church management software (ChMS) is simple, easy to use, and integrated, giving you a whole church management system at your fingertips. Elexio's easy-to-use, reliable solution. It's an intuitive system, smart enough to track data yet strong enough to support your ministry's vision. Elexio's Community ChMS automates and streamlines administrative tasks so your church can "work" less while doing more. Elexio ChMS will help your church:
Access church information from any device, anywhere, and at any time
Communicate with your members via text, email and voicemail
Create smart reports and dashboards to track attendance and contribution trends
Leverage automated workflows to prevent church attenders from falling through the cracks
Manage church events and reservations with an integrated calendar
Coordinate your worship services with WorshipPlanning, included at no extra charge
Schedule volunteers for all your classes and events
Gather information on registrations through online forms