We live in an information overloaded world, making the right choice when faced with an ever-growing number of options is a genuine challenge of our times. Gathering relevant and accurate data is no easy task: our brains are constantly overloaded with information, offers and possibilities. With new products and features to keep up with each day, making the choice that best suits one's needs demands a lot of time – and with possible bias from manufacturers and retailers, there is no guaranteed accuracy in what you'll find in your research.
🤣😍😂 8 Free PCMark 10 Alternatives – Benchmark Custom Gaming Systems
Below are 6 websites that benchmarked various hardwares such as Western Digital SSD, Seagate HDD, Intel CPU, AMD GPU, Dell's Monitor, Samsung LCD, Sony Gaming Headset, Mi Smartwatches, Wireless Bluetooth Earbuds, Nvidia Graphic Cards, Asus Laptops, and more. This enables you to make the best choice when purchasing the item. Unbiased hardware comparisons for your everyday needs.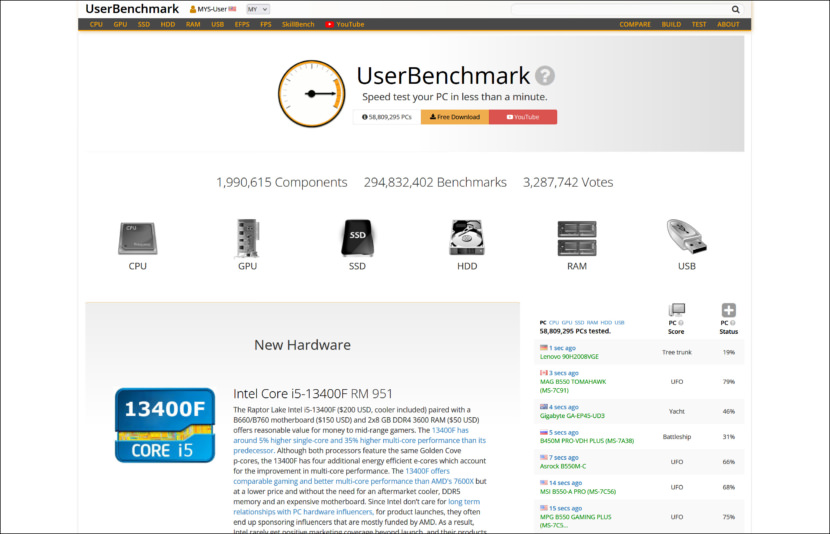 User Benchmark are an independent team of scientists and engineers. We do not have time for HR, PR or marketing. They compute and analyze millions of benchmarks of various hardware such as GPU, CPU, SSD, HDD, RAM, USB and more. Users can quickly size up their PCs and explore real world performance.
Since UserBenchmark routinely declines sponsorship, it has become the target of a smear campaign which intensified following improvements to the CPU effective speed index in July 2019. Billion dollar corporations can try to shut them down but they can't change who they are, the clue is in their name. UserBenchmark serves users exclusively and only earns via affiliate links and Google Ads.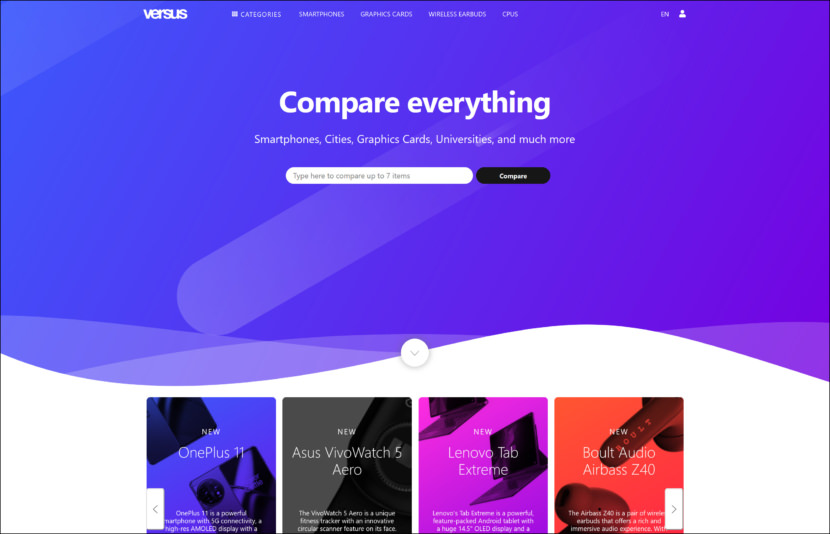 Versus is a global data-driven comparison platform, covering over 90 categories. Compare smartphones, cameras, headphones, graphics cards, and much more. Versus wants to provide an objective overview of the most important specifications, features, and facts, we gather data from manufacturers' websites, product manuals, and we also test products and apps.
They use the official websites of manufacturers, product sheets, and product manuals to gather data about products. For apps, they usually do a bit of testing to get a better idea of the functionalities. When it comes to cities and ski resorts, they use official statistics presented by the local authorities. As for universities and faculties, they refer to their official websites and the statistics provided by the institutions. They always focus on the objective aspects and collect data that makes sense for our comparisons. They also do comparison of smartphones, smartwatches, wireless earbuds, cameras and more.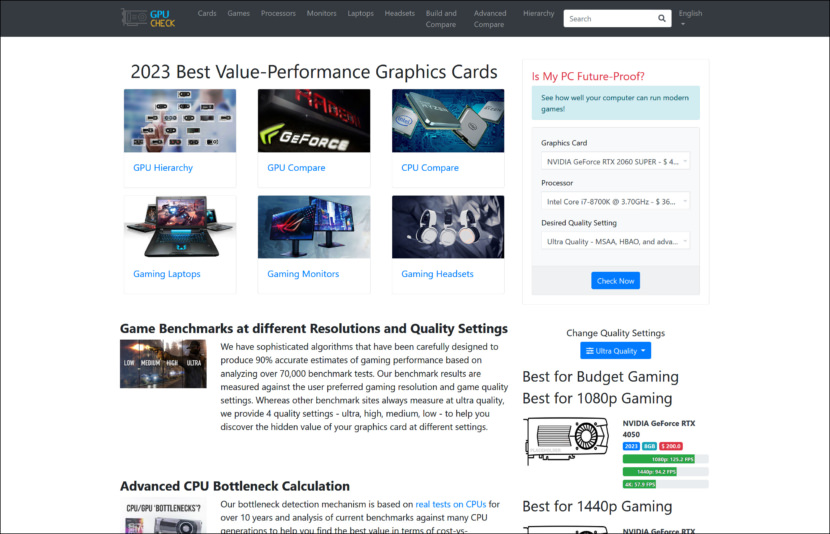 GPUCheck.com is a comprehensive database of benchmarks for many graphics cards on the market that provides what other comparison websites lack. Using GPUCheck.com, you can find the best performance-value graphics card that matches your needs in terms of desired game quality settings, your budget, desired screen resolution, and current or target CPU. By providing, such flexibility in building your current PC vs your future PC, you have complete oversight of any power requirements, compatibility issues in terms of bottleneck resulting from the CPU, heat and noise levels expected, and performance expectations in over 50 games and more.
They do not compare specifications only. We compare the complete build and focus on frames per second performance in the 3 main gaming resolutions 1080p, 1440p, and 4K. Our algorithms have been carefully designed and validated by studying the best graphics benchmarking review results in the web. Sites that are truly authentic such as: tomshardware.com, techpowerup.com, techspot.com, anandtech.com, and more of the same level of authenticity to validate our results in GPU scaling, CPU bottlenecking, and impact of performance.
This website will act as the best tool to decide what to buy and what to upgrade to for everyone: the budget customer, the entry level, the mid range, the high end, and those looking for the best price-performance in every category. This is a site where you can compare gaming monitors, gaming headsets, gaming laptops from Asus, Samsung, HP, Lenovo, Dell, Sony, LG, Acer, and more.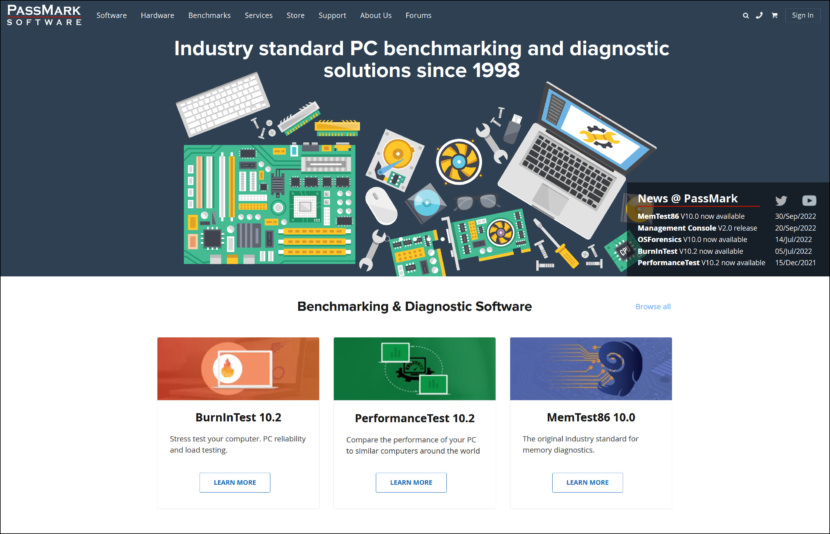 PassMark® Software Pty Ltd is a privately owned software development group with a head office in Sydney, Australia and a branch office in California, United States. They specialize in the development of high quality performance benchmarking solutions as well as providing expert independent IT consultancy services to clients ranging from government organizations to major IT heavyweights. PassMark Software is a leading authority in software and hardware performance benchmarking and testing.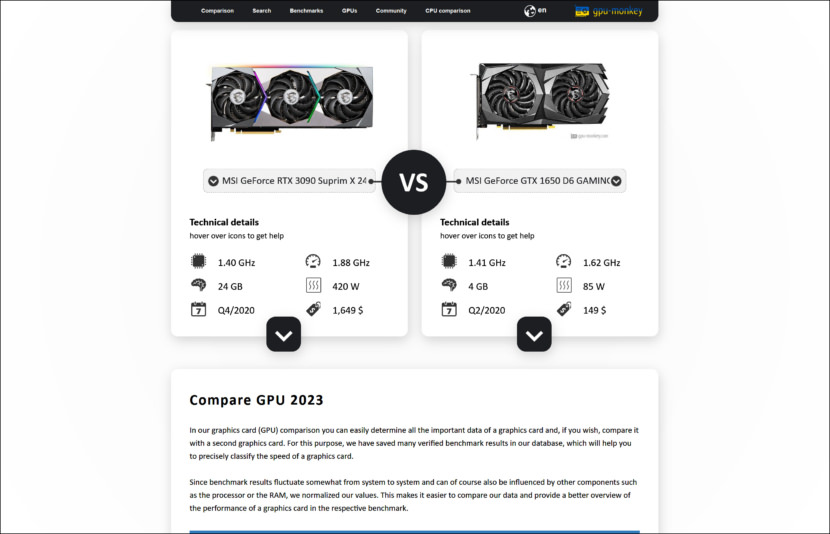 GPU-Monkey.com was born out of the necessity that there was no website that had correctly compiled and published all the values and data they needed. They rely on classic benchmarks and also on practical applications and mining performance. The GPU Monkey Speed Index is a transparent rating system for graphics cards that they developed. Their index can be used to quickly find out the speed of a graphics card and compare it with other graphics cards.
They made Technical City to inform those who take interest in computer hardware. Our site helps making a buyer's choice, comparing graphics cards or processors, or just enjoying while learning about the specifications and technologies. This is a site made for gamers and also bitcoin miners. You can compare bitcoin mining hash rate of various GPU.