PCMark 10 is the most popular industry standard PC benchmarks for Windows 10. PCMark 10 features a comprehensive set of tests that cover the wide variety of tasks performed in the modern workplace. With a range of performance tests, custom run options, and the new Battery Life Profile, PCMark 10 is the complete PC benchmark for the modern office. Unfortunately, it is not free.
🤣😍😂 5 GPU Stress Test Tools For Stability After Overclocking
With its accurate and impartial tests, PCMark 10 is the ideal choice for organizations that want to evaluate and choose new PCs for a workforce with a range of performance needs. For those that only want to benchmark their custom PC, below is the complete list of PCMark alternatives. Works great with Dell, HP, Lenovo, MSI, Asus Gaming Desktop PC.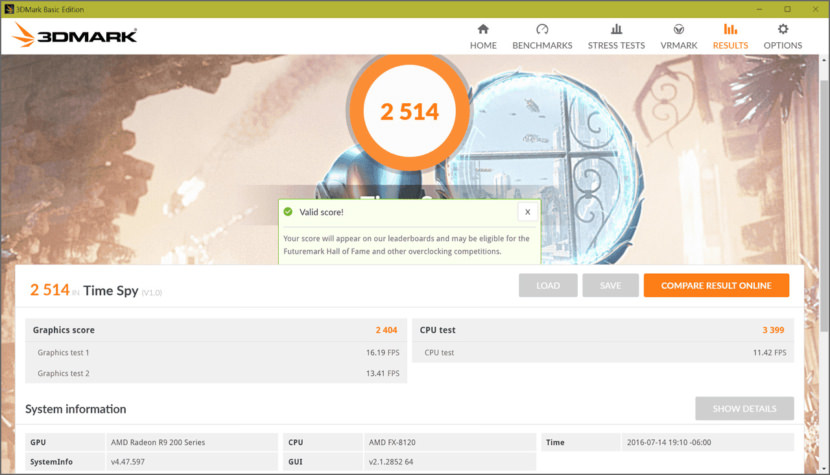 3DMark by the maker of PCMark 10 includes everything you need to benchmark your PC and mobile devices in one app. Whether you're gaming on a smartphone, tablet, notebook, or a desktop gaming PC, 3DMark includes a benchmark designed specifically for your hardware.
Everything you need to test your PC, notebook, tablet and smartphone.
DirectX 12 benchmark for Windows 10.
3DMark recommends the best benchmark for your system.
Compare your 3DMark scores with other Windows, Android and iOS devices.
↓ 02 – Cinebench | Windows | macOS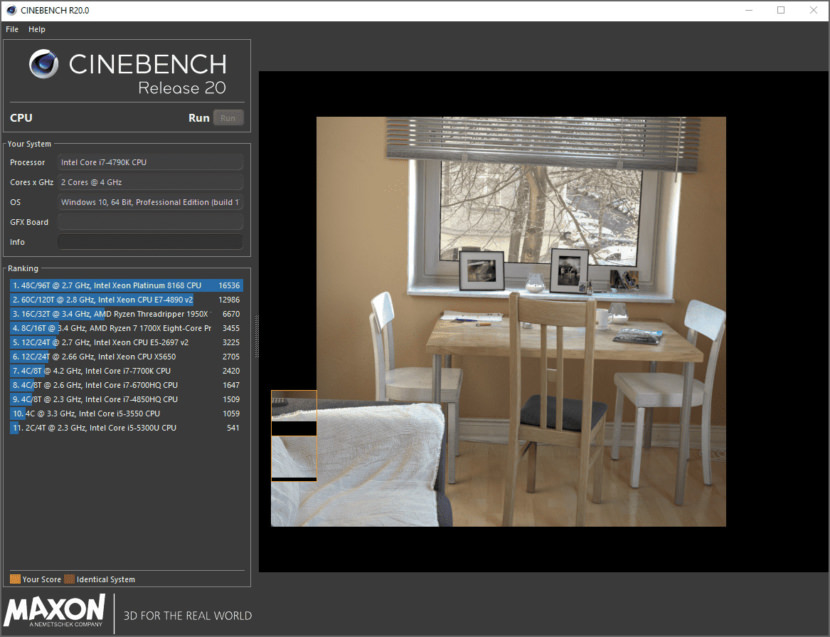 Cinebench is a real-world cross-platform test suite that evaluates your computer's hardware capabilities. Improvements to Cinebench Release 20 reflect the overall advancements to CPU and rendering technology in recent years, providing a more accurate measurement of Cinema 4D's ability to take advantage of multiple CPU cores and modern processor features available to the average user.
Any computer owner can evaluate their individual system. Unlike abstract benchmarks, which only test specific functions of CPUs, Cinebench offers a real-world benchmark that incorporates a user's common tasks within Cinema 4D to measure a system's performance.
Extreme performance and stability test for PC hardware: video card, power supply, cooling system. Check your rig in stock and overclocking modes with real-life load! Also includes interactive experience in a beautiful, detailed environment.
Extreme hardware stability testing
Accurate results due to 100% GPU-bound benchmarking
Support for DirectX 9, DirectX 11 and OpenGL 4.0
GPU temperature and clock monitoring
Comprehensive use of adaptive hardware tessellation
Dynamic sky with volumetric clouds and tweakable day-night cycle
Real-time global illumination and screen-space ambient occlusion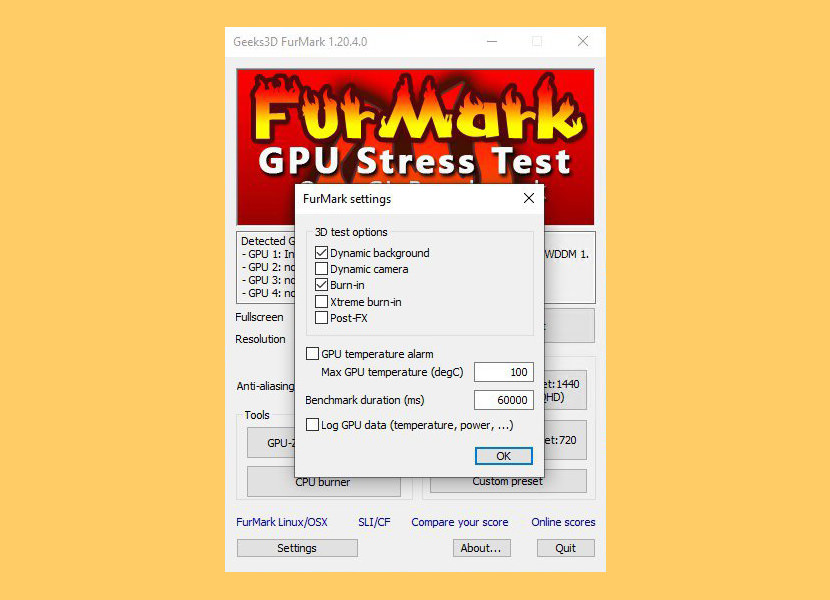 FurMark is a lightweight but very intensive graphics card / GPU stress test on Windows platform. It's a quick OpenGL benchmark as well. FurMark is simple to use and is free.
↓ 05 – GFXBench | Windows | macOS | iOS | Android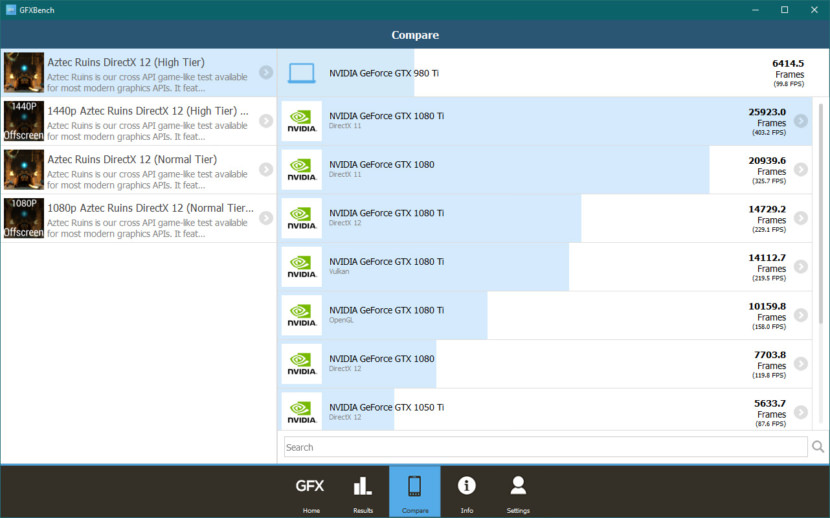 GFXBench is a high-end graphics benchmark that measures mobile and desktop performance with next-gen graphics features across all platforms. As a true cross-API benchmark, GFXBench supports all the industry-standard and vendor-specific APIs including OpenGL, OpenGL ES, Vulkan, Metal, DirectX/Direct3D and DX12.
GFXBench measures temperature, CPU clock and frame time at each test and provides graphs of the results. The consumer version available on the popular application stores contains all the test features included in the corporate edition.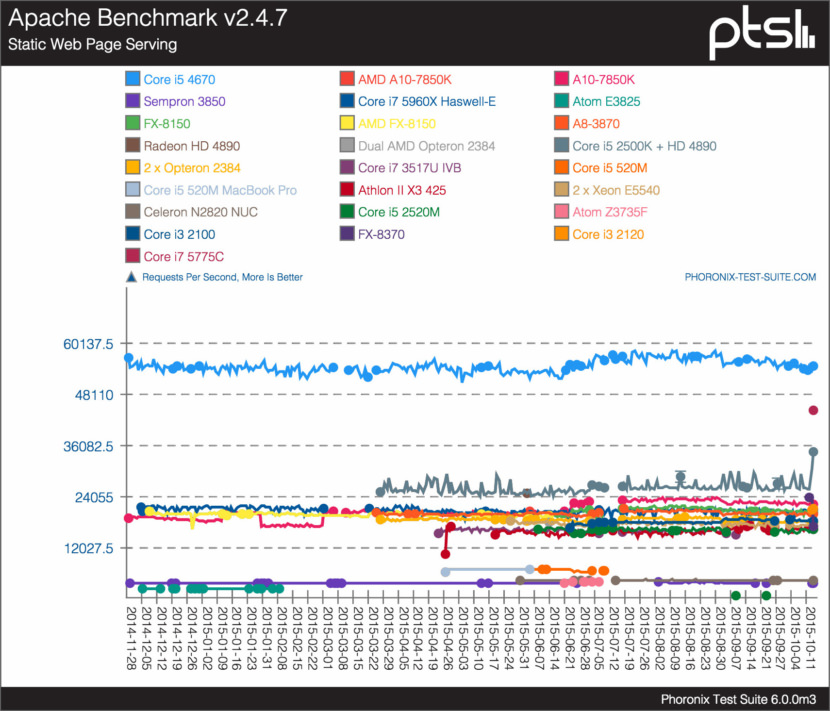 Phoronix Test Suite is a free, open-source benchmark software for Linux and other operating systems developed by Phoronix Media with cooperation from an undisclosed number of hardware and software vendors.
The Phoronix Test Suite can be used for simply comparing your computer's performance with your friends and colleagues or can be used within your organization for internal quality assurance purposes, hardware validation, and continuous integration / performance management.
↓ 07 – Novabench | Windows | macOS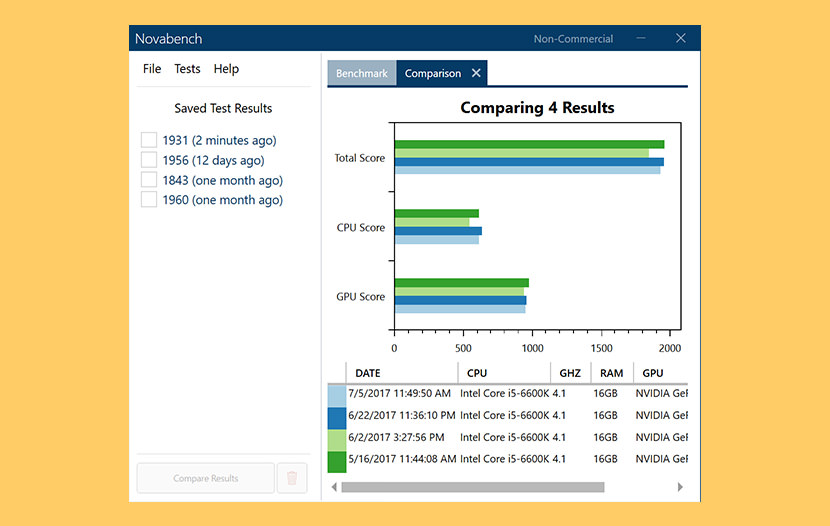 Novabench is a popular benchmark test for Windows and macOS. Quickly measure your computer's parts, and compare your results online to optimize performance or fix potential problems.
CPU tests
GPU tests – Direct3D 11 / Metal graphics test and OpenCL compute test
Memory transfer speed
Disk read & write speed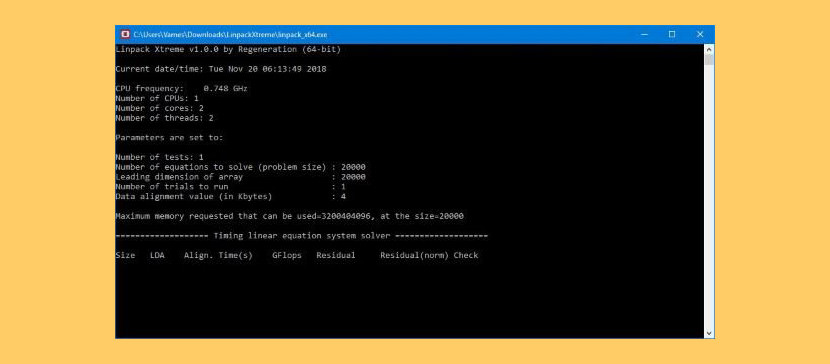 Linpack is a benchmark and the most aggressive stress testing software available today. Best used to test stability of overclocked PCs. Linpack tends to crash unstable PCs in a shorter period of time compared to other stress testing applications.