Which remote working from home software is free and works best for small businesses? With the outbreak of Covid-19 pandemic, working from home is not an option. Here are some Zoom alternatives free software that enables you to collaborate online, share files, video conferencing and more.
When it comes to running a small company, communication is the key to success. For some, WhatsApp is good enough but for those in search of business communication software that provides more features, they need a cloud based team collaboration tool that enables file sharing, task management, team video meetings, feedback and more.
🤣😍😂 8 Free Salesforce Alternatives – Self Hosted CRM For Small Businesses
If you are searching for Slack alternatives, Microsoft Teams alternatives or any other alternatives, below is a complete list of all team collaboration software. Almost all come with free versions that have limited features, those that are open source are not entirely free as this requires hosting which costs money. If you are running a small business, free is good enough.
↓ 01 – Chanty | Free / Paid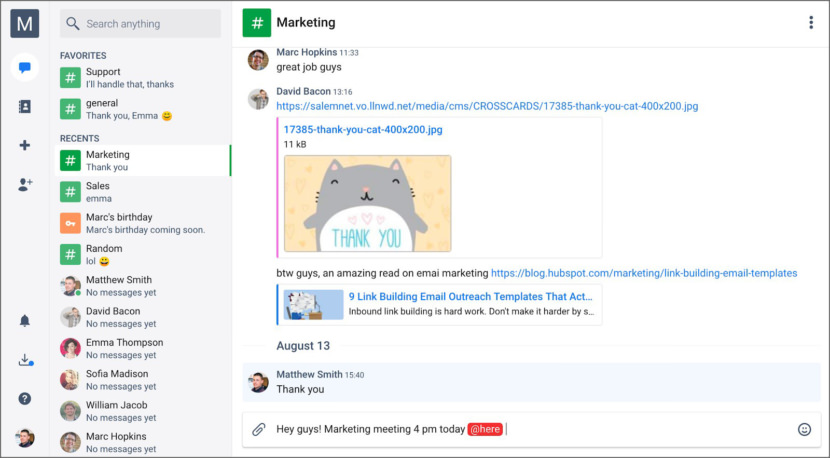 Get more things done, together. Join Chanty – simple AI-powered team chat. Get unlimited message history free forever. Chanty is a faster and more affordable alternative to your current team chat. No IT background required. Simply enter your email address and a team name to create a team. Invite colleagues and you are ready to chat.
Organized communication – Create an open channel for a project, team or whatever you want to discuss. Make your team communication transparent and accessible. Need some privacy? Send direct messages to a person or a group.
File sharing made easy – Drag and drop images, PDFs, spreadsheets or other files from your desktop. Once a file is in Chanty, it's always there – no need to upload again. Need to send multiple files? Drag and drop to share as many files as you want.
Search anything – Instantly locate any message, file, link, emoji, notification or whatever you need to find. With Chanty's simple search feature it has never been so easy. If you sent it in Chanty, you'd be able to find it fast.
↓ 02 – Flock | Free / Paid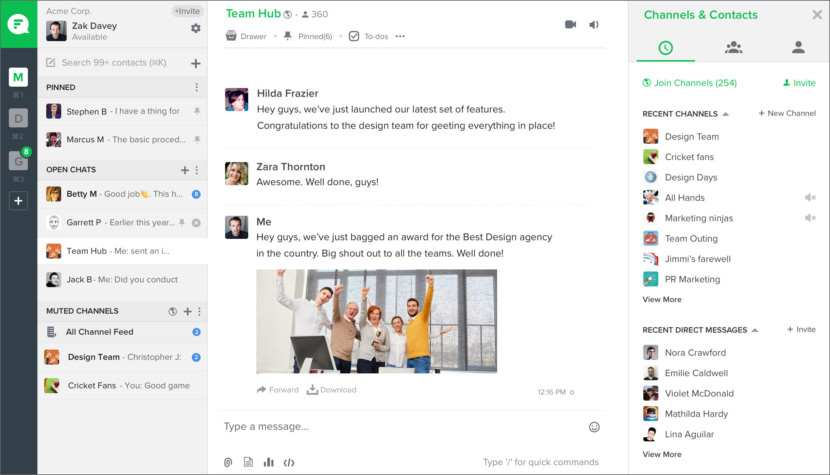 Today, your team's communication is scattered across emails, meetings, and multiple tools. Flock organizes all your conversations, productivity tools and apps in one place. So your team can focus on what they do best. Work better with Flock's project collaboration apps. Use their powerful suite of business collaboration tools – Shared To-Dos, Polls, Rich Note Sharing, Reminders and many more – to optimize project management.
Bring your team together with this team messenger – Team messaging with 1-1 or group discussions around your projects, department or common interests.
Easily find and share information – Find anything related to your project – messages, files and links – no matter who shared it or when on this work collaboration app.
Conduct virtual meetings with video + audio calls – Talk to remote teams with this online team collaboration platform. Share your screen to get into details.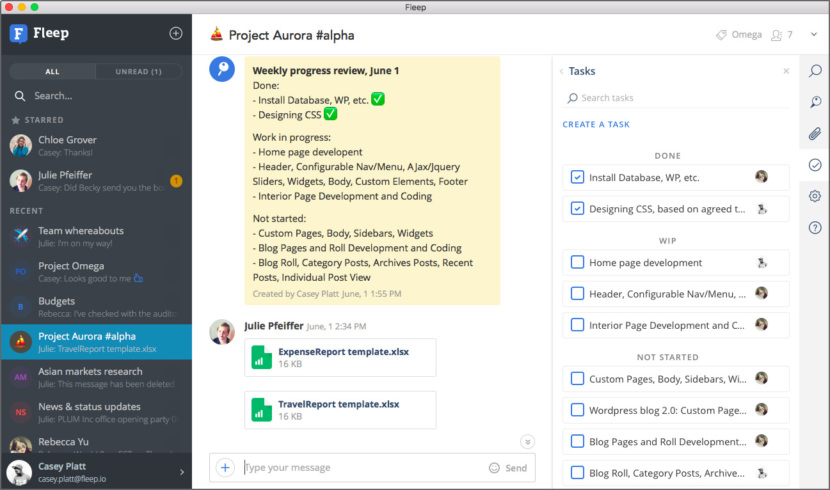 Get ready to work smarter, better, faster. Combining messaging with file sharing and tasks, Fleep has everything you need to coordinate your team's work from idea to execution. While Fleep's conversations are text-based, sometimes you need to have a call to discuss things. Fleep has an integration with appear.in, making it easy to have an audio or video call.
Conversations are at the heart of Fleep. Set them up around projects, teams or any specific topics to stay connected and discuss ideas. Highlight any decisions or plans on the conversation's Pinboard and create tasks to coordinate execution. Communicate with any other Fleep user or team, without having to sign out or sign in separately. Simply search for and add your partners or clients to the conversation. If they're not Fleep users yet, send them an invite to join you.
↓ 04 – Rocket.Chat | Self-Host Open Source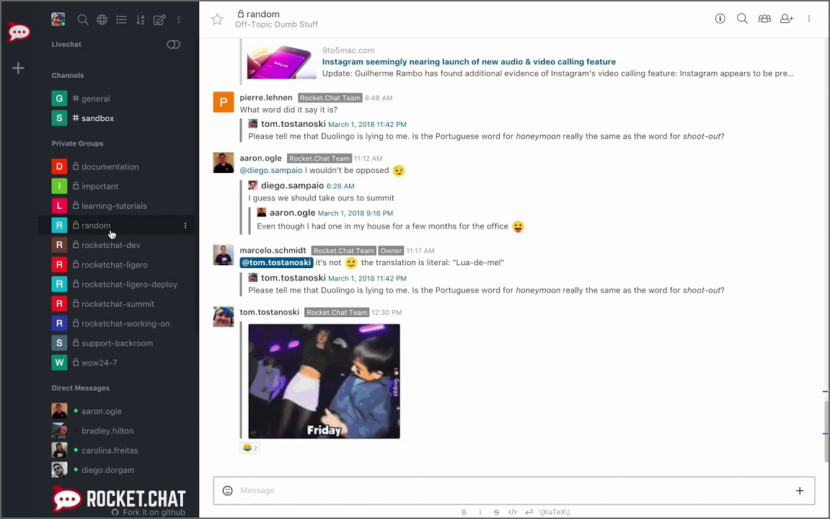 Rocket.Chat is free, unlimited and open source. Replace email, HipChat & Slack with the ultimate team chat software solution. What is Rocket.Chat? Communicate and collaborate with your team, share files, chat in real time or switch to video/audio conferencing. Free audio and video conferencing, guest access, screen sharing, file sharing, LiveChat, LDAP Group Sync, two-factor authentication (2FA), E2E encryption, SSO, and dozens of OAuth providers.
Replace Email – Open up the conversation and remove the need for CC/BCC by using Rocket.Chat Channels and Private Groups to speak to your team openly for greater transparency.
Team Chat – Communicate and collaborate using team chat and switch to video or audio calls with screen sharing for more efficient teamwork.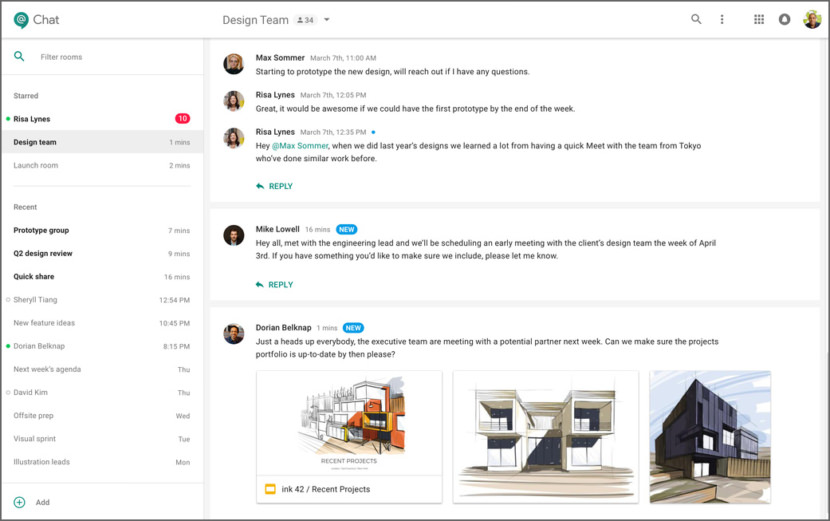 Hangouts Chat makes it easy for teams to be able to get their work done in one place. From direct messages to group conversations, Chat helps teams collaborate easily and efficiently. With dedicated, virtual rooms to house projects over time — plus threaded conversations — Chat makes it simple to track progress and follow up tasks. Chat currently supports 28 languages and each room can support up to 8,000 members.
Hangouts Chat is offered to G Suite customers at no additional cost. Upload items from Drive, collaborate on Docs, Sheets, or Slides, join online meetings with Hangouts Meet, or use Google's powerful search to look up room members, past conversations, and shared files. Drive bot lets you know when files are shared with you, comments are made, or when people request access to your docs. And Meet bot integrates directly with Calendar to schedule meetings for you.
↓ 06 – Slack | Free / Paid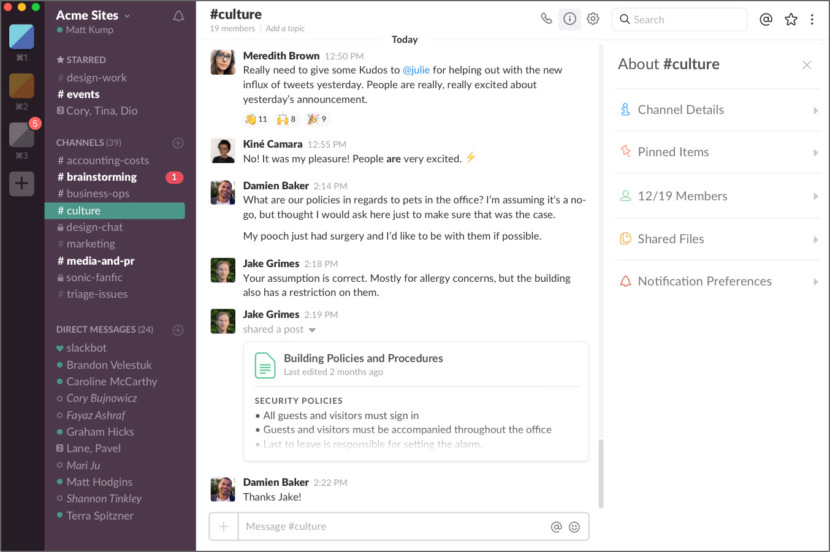 Slack for Teams is a single workspace for your small- to medium-sized company or team. It is a collaboration hub for work, no matter what work you do. It's a place where conversations happen, decisions are made, and information is always at your fingertips. With Slack, your team is better connected.
Collaboration beyond colleagues – Share channels with companies and businesses you regularly work with – like clients, vendors, and partners – to bring all the right people into the same room.
Face-to-face and screen – Talk it out over voice or video calls directly from Slack. And if you need to show your work, you can share your screen, too.
Integrated file sharing – Drag-and-drop PDFs, images, videos and other files directly into Slack. Get feedback on your work and create an archive of your progress.
Channels – Communication in Slack happens in channels, organized by project, topic, team, or whatever makes sense for you.
Search – Conversations in Slack are searchable by everyone, so you can tap into company knowledge and find information when you need it.
When you have a place to create and make decisions as a team, there's no limit to what you can achieve. Teams bring everything together in a shared workspace where you can chat, meet, share files, and work with business apps. Teams are designed for groups of all kinds. Get started with the free, no-commitments version. Or, for a more holistic solution, get Teams as part of the best-in-class suite of productivity tools with Office 365 Business Premium or Office 365 Enterprise E3.
Communicate more effectively – Get your team on the same page with group chat, online meetings, calling, and web conferencing.
Work better together – Collaborate on files with built-in Office 365 apps like Word, Excel, PowerPoint, and SharePoint.
Customize your workspace – Add in your favorite Microsoft apps and third-party services to keep the business moving forward.
Keep your team secure – Get end-to-end security, administrative control, and compliance—all powered by Office 365.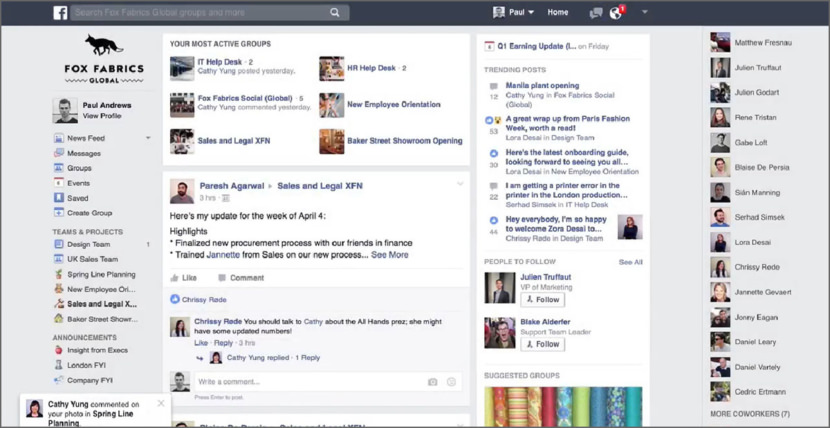 Work tools that change everything. Communicate, collaborate and connect across desktop and mobile, using familiar features like groups, chat and video calls. Because anything is possible when people work together. Their goal at Workplace is to build meaningful communities in the work environment. That's never more important than in moments of crisis. With Safety Check for Workplace, organizations can find, contact, and help their people faster than ever before.
Workplace is already the place for teams to connect and collaborate. Now get even more productive with integrations. Connect to the apps and services you already use to store information, develop your people and get things done. Workplace connects to the apps you already use. So whether you need to find files (Box), work together (Office 365, Quip) or track issues (Jira), you can get it all done in one place.
Live video streaming
Voice and video calls (desktop and mobile)
Workplace and Work Chat apps (iOS / Android)
Unlimited File, photo and video storage
Unlimited Team and project groups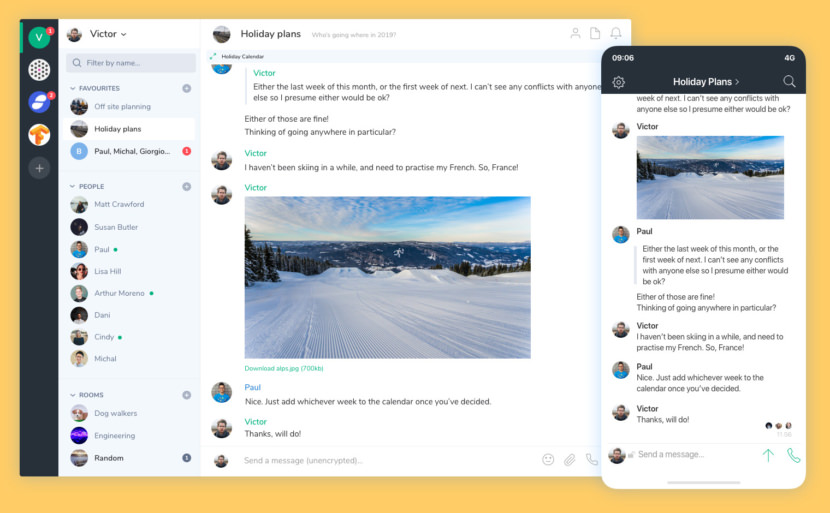 Riot is for everyone, from casual chat to high powered collaboration. It is a powerful chat app, under your control and entirely flexible. Riot lets you communicate the way you want. Made for [matrix] – the standard for open, decentralized communication. Get a free matrix.org account, get your own server at modular.im, or use another Matrix server.
Complete Communication – Build rooms around your teams, your friends, your community – however you like! Chat, share files, add widgets and make voice and video calls – all free of charge.
Powerful Integration – Use Riot.im with the tools you know and love. With Riot.im you can even chat with users and groups on other chat apps.
Private and Secure – Keep your conversations secret. State of the art end-to-end encryption ensures that private communication stays private.
Open Source – Built on Matrix. Own your own data by hosting your own server, or selecting one you trust.
Everywhere – Stay in touch wherever you are with fully synchronized message history across all your devices and online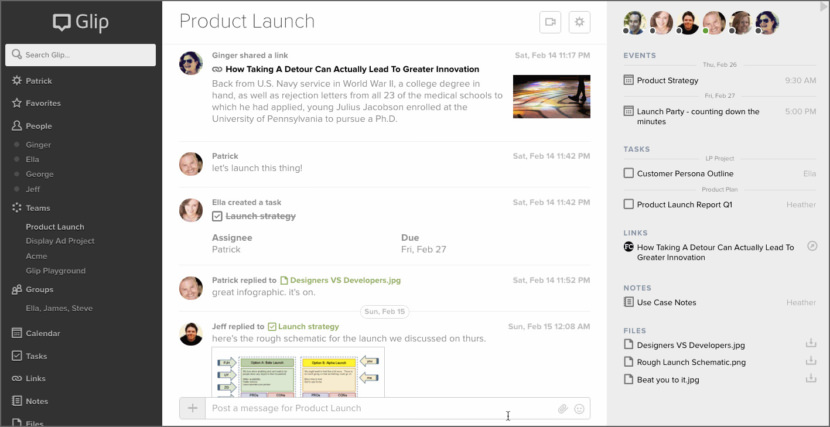 Glip now known as RingCentral is a better, faster team collaboration software with chat, file sharing, and task management to unlock your team's full potential. Glip is instant messaging for teams and businesses to communicate and get work done at the same time. In Glip you work where your conversations are, so you always know what your team is doing and what needs to get done next.
Video chat, manage team projects & tasks & team calendar, share files with automatic version control & annotations, edit interactive notes and more. And it's all fully searchable, so you'll never lose a thing. Glip is the only business messaging app with built-in productivity, in addition to integrations with the apps you already use like Dropbox, Google Drive, Mailchimp, Evernote, Asana, Trello, GitHub, Zendesk and many more.
Superior team messaging – Chat in real-time text, voice, or video. Collaborate easily from anywhere.
Share and collaborate on files – Add comments to shared files directly, and organize by project.
Create and manage tasks – Keep projects on track with action items and timelines. Assign teams specific names for easy identification.
Screen share in online meetings – Instantly share your screen and collaborate live with your teams and clients.
Unlimited access – Get access to free unlimited posts, users, storage, projects, and more.
Work on the go – Download the iOS®, Android™, web, and desktop apps to access Glip anytime and anywhere.
↓ 11 – Mattermost | Self-Host Open Source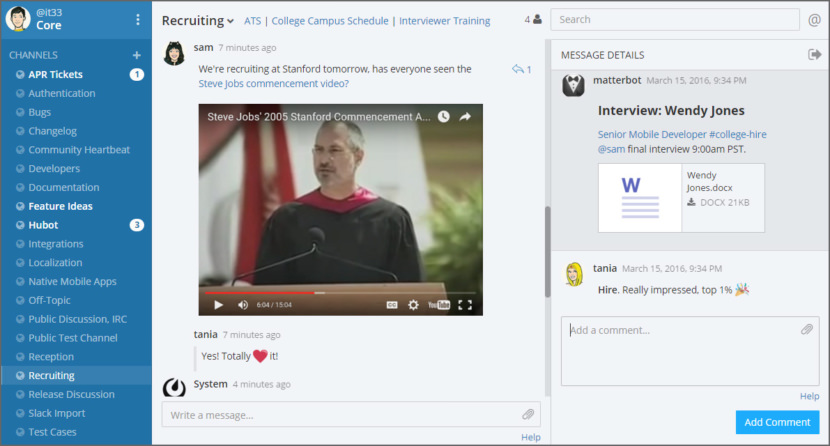 As an alternative to proprietary SaaS messaging, Mattermost brings all your team communication into one place, making it searchable and accessible anywhere. Mattermost is secure workplace messaging from behind your firewall.
Slack-compatible, not Slack-limited – Mattermost features rival Slack features, and support a superset of Slack's incoming and outgoing webhook integrations, including compatibility with existing Slack integrations. From your existing Slack teams, you can import users, public channel history and even theme setting colors into Mattermost.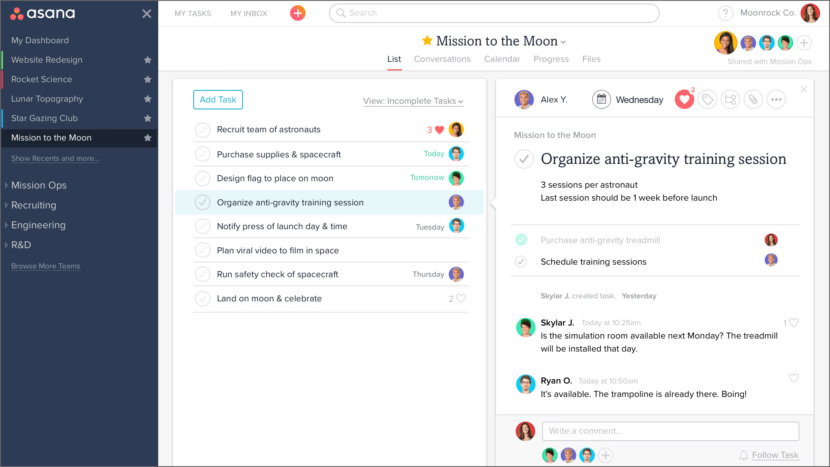 Make more time for the work that matters most. Asana is the work management platform teams use to stay focused on the goals, projects, and daily tasks that grow business. Whether you're between meetings or in line for a latte, use Asana to quickly capture tasks, to-dos, reminders, and ideas. Get updates from coworkers, organize tasks and projects for work, or manage your to-do list for the day. With Asana's mobile app, you can stay on top of your work from anywhere. Oh, and did we mention it's free to download and use?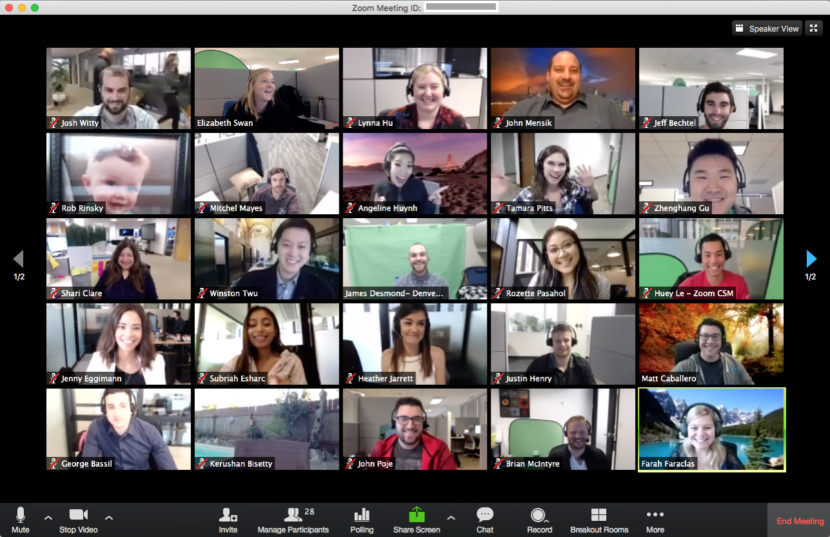 Zoom is a video communication company that provides remote conferencing services that combine video conferencing, online meetings, chat, and mobile collaboration. Zoom offers a way to start or join a 100-person meeting face-to-face video, screen sharing and instant messaging.
Host up to 100 participants
Unlimited 1 to 1 meetings
40 mins limit on group meetings
Unlimited number of meetings
Ticket Support
Video Conferencing
Web Conferencing
Group Collaboration