A crypto card is a credit card or debit card that lets you spend your cryptocurrency as well as earn cryptocurrency rewards. Instead of paying in fiat currency, you pay for your spending in whichever crypto you assigned to the card. Crypto credit cards work exactly the same as any other rewards credit card on the market, most crypto cards are either a Visa or Mastercard.
🤣😍😂 9 International Online Credit Cards & Prepaid Debit Cards
A crypto card is not to be confused with a crypto reward card, a crypto reward card basically rewards you with a certain amount of cryptocurrency for a certain amount of money spent. Forbes has an interesting article on the various type of crypto cards – Crypto Rewards Credit Cards vs. Crypto Rewards Debit and Prepaid Debit Cards. No doubt, cryptocurrencies are here to stay, but are they the way of the future?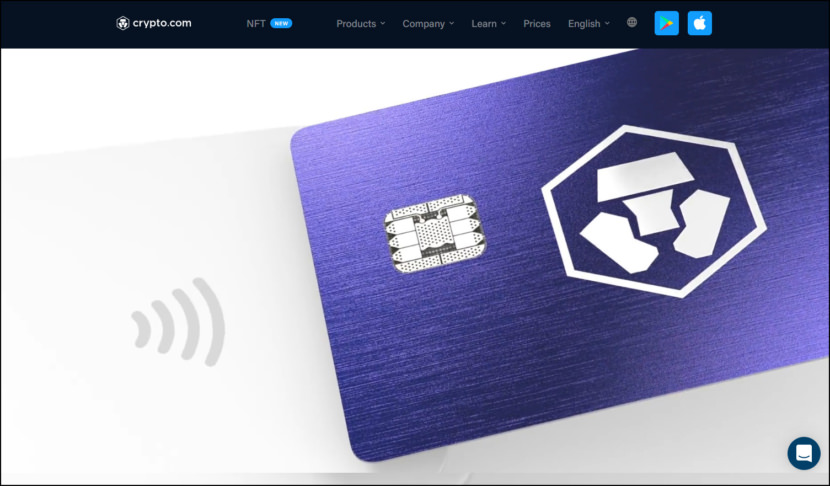 The Crypto.com Visa Card is a prepaid card. Broadly speaking, prepaid cards are the same as debit cards. The difference is that debit cards are linked to your bank account, but prepaid cards need to be topped up. In our case, you can top up using bank account transfers, other credit/debit cards, or cryptocurrency.
To apply for Crypto.com Visa Card, you need to stake CRO tokens for a period of 180 days to apply for a Crypto.com Visa Card. Cardholders cannot load cryptocurrency onto their Crypto.com Visa Card. All cryptocurrency will be converted to the respective market's currency and can be loaded onto the Crypto.com Visa Card for use in purchase and ATM withdrawals.
1 to 8% CRO rewards on card spending
Compatible with most cryptocurrencies
No fees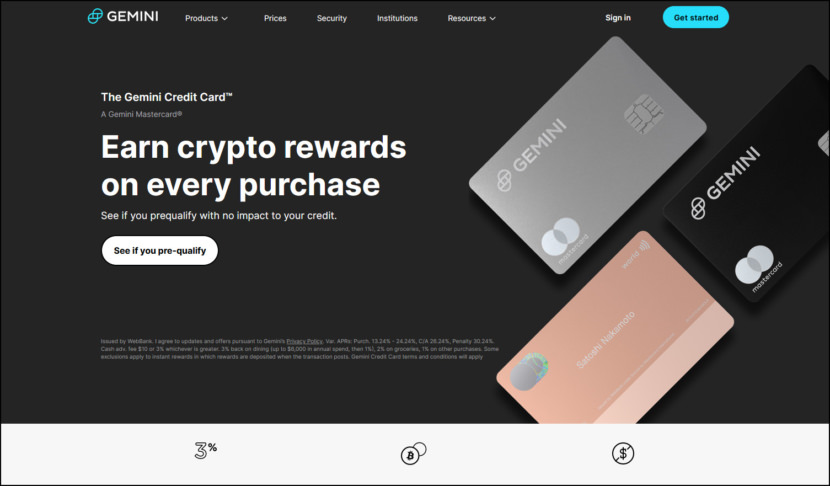 With the Gemini Credit Card, you can earn rewards in bitcoin, the best performing asset class of the last decade, or 60+ other cryptos currently available on Gemini. It's the only credit card that deposits your crypto rewards immediately. That means the crypto you earn lands in your Gemini account the instant you swipe, not a month later.
No need to time the market or pay trading fees. Earn bitcoin, ether, or any of your favorite cryptos simply by living your life, every day, every purchase. The only credit card that doesn't make you wait a month for your crypto rewards so you can benefit from any crypto price appreciation the moment you swipe.
No annual fee
Instant rewards the moment you swipe
Up to 3% back on dining,† 2% back on groceries, 1% back on all other purchases
No foreign transaction fees
Mastercard Zero Liability Protection on Unauthorized Transactions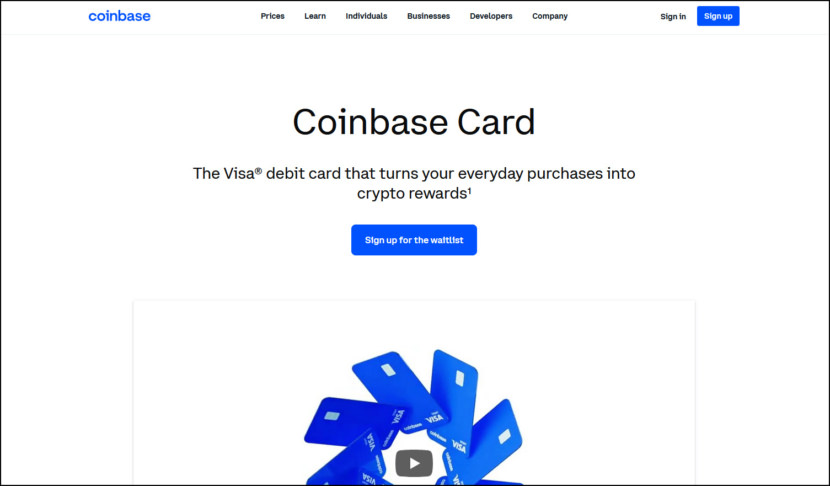 Founded in 2012, Coinbase was already a leading crypto exchange when it launched its Coinbase Visa card. The Coinbase Visa works like any other Visa card, except it's compatible with any asset in your Coinbase portfolio. The Visa® debit card that turns your everyday purchases into crypto rewards.
Coinbase Card has no annual fee
Earn up to 4% back on 
every purchase
There are no fees for spending US dollars (USD) or crypto, including USD Coin (USDC) with Coinbase Card.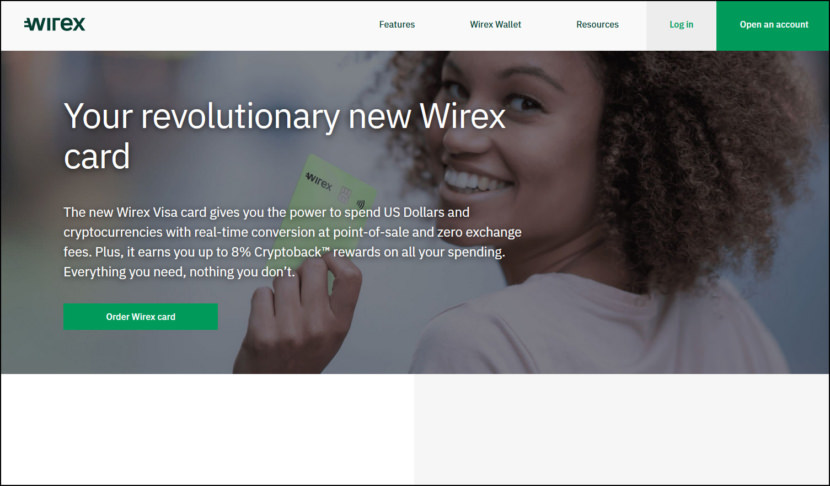 The new Wirex Visa card gives you the power to spend US Dollars and cryptocurrencies with real-time conversion at point-of-sale and zero exchange fees. Plus, it earns you up to 8% Cryptoback™ rewards on all your spending. Everything you need, nothing you don't.
Cryptoback™ rewards pay back up to 8% in X-Points on all spending, online and offline.
Multiple cryptocurrencies
Minimal fees
Up to $400 monthly ATM withdrawals and no monthly maintenance charge.
Spend 150+ currencies at live interbank rates at more than 80m locations worldwide.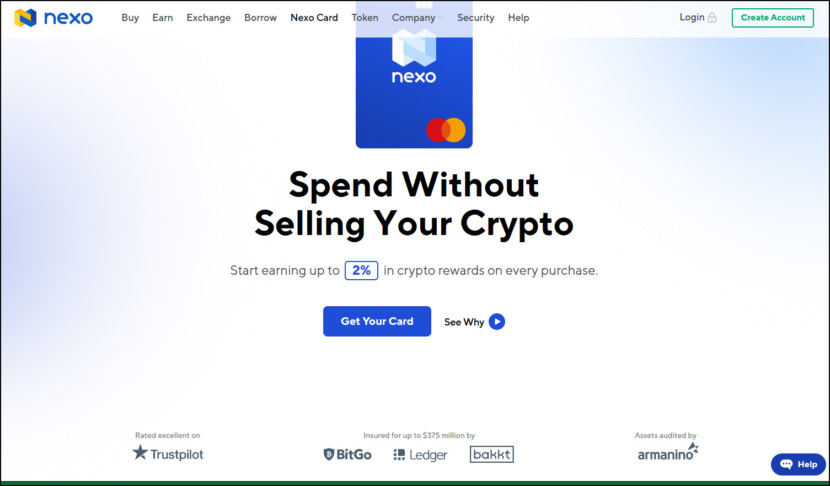 Unlike most crypto cards, the Nexo Card lets you retain the ownership of your crypto, rather than sell it. The card is tied to Nexo's Instant Crypto Credit Lines. All purchases are deducted automatically from your available credit line while your portfolio remains intact. Essentially, you use your digital assets as collateral with no credit checks while spending their fiat value at millions of merchants worldwide.
Earn up to 2% back in BTC or NEXO
Credit line rates starting from 0% APR1
No minimum monthly repayments
Apple & Google Pay integration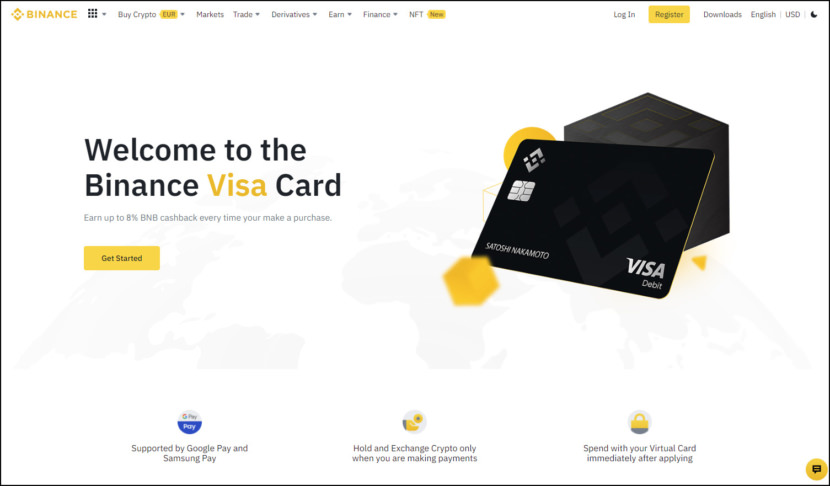 Binance Card enables real-time conversion of cryptocurrency to EUR currency when you make your transaction. EUR can also be spent directly from your Funding Wallet. Currently, they support the conversion and spending of BNB, BUSD, USDT, BTC, SXP, ETH, EUR, ADA, DOT, LAZIO, PORTO, SANTOS with your Binance Card.
All your cashback from eligible purchases are automatically deposited in your Funding Wallet so you only need to worry about spending your crypto. All your Binance Card funds and transactions are protected by Binance's world class secutiry. Sleep tight, we've got you covered.
Earn up to 8% BNB cashback every time your make a purchase
Supported by Google Pay and Samsung Pay
Hold and Exchange Crypto only when you are making payments
Use your Binance Visa Card in over 60+ million Visa merchants worldwide