Which CDN is the best for your WordPress site? It really depends on your server configuration and how tech savvy you are. If you are not knowledgable enough in tweaking your servers, Cloudflare is your number 1 go to. It is a one stop solution that takes care of everything, from CDN to DNS. It greatly speeds up your website, I dare say sometimes even faster than using a CDN. Cloudflare is a combination of many things, the only drawback is the lack of control. Some people do complain about the drop in traffic as you tend to share the same IP address with many other users, to be honest, I am not certain if Google looks into IP address as a ranking factor.
🤣😍😂 6 Free CDN For WordPress – Speed Up And Improve Blog's SEO
Anyway, comparing the best CDN providers is a time consuming task and can be challenging. For your information, we are using Amazon Cloudfront for our CDN needs, I like the pricing and stability it offers. Whether you're looking for a CDN for software distribution, game & app delivery, video streaming, ad serving, etc these two CDN comparison websites will greatly helps you to make the best decision. CDN benefits include:
Faster content delivery – a better user experience for your customers.
Less load on the origin – more resources for other tasks.
Increased reliability – handle traffic spikes and reduce system overload.
Reduced cost – bandwidth is expensive where CDNs offer better prices.
Scalability – Scale up or down within a short period of time.
Which is the best CDN? Cloudflare CDN vs Fastly Deliver, Akamai CDN vs Cloudflare CDN, Cloudflare CDN vs Google Cloud CDN, Cloudflare CDN vs CloudFront CDN, Akamai CDN vs CloudFront CDN? Most CDN review website comes with text, however these 2 website comes with real world data, and data doesn't lie. You can easily check which CDN has the lowest latency and best performance.
↓ 01 – CDNPerf | Compare Latency & Speed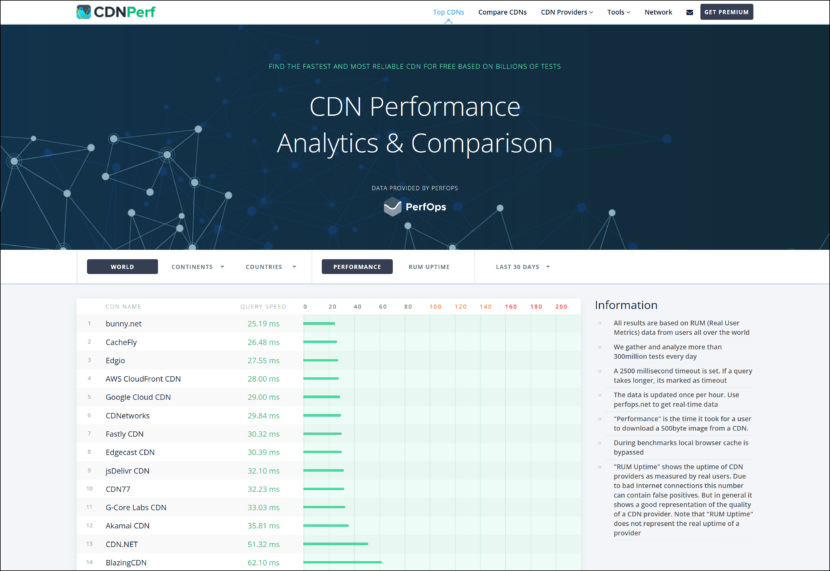 Find the fastest and most reliable CDN for free based on billions of tests with CDNPerf. All results are based on RUM (Real User Metrics) data from users all over the world, they gather and analyze more than 300 million tests every day. For accuracy, a 2500 millisecond timeout is set. If a query takes longer, its marked as timeout.
"RUM Uptime" shows the uptime of CDN providers as measured by real users. Due to bad Internet connections this number can contain false positives. But in general it shows a good representation of the quality of a CDN provider. Note that "RUM Uptime" does not represent the real uptime of a provider. Top 18 CDNs are bunny.net, CacheFly, Edgio, AWS CloudFront CDN, Google Cloud CDN, CDNetworks, Fastly CDN, Edgecast CDN, CDN77, jsDelivr CDN, G-Core Labs CDN, Akamai CDN, CDN.NET, BlazingCDN, Cloudflare CDN, OVH CDN, Microsoft Azure, and Medianova.
↓ 02 – CDN Comparison | Compare Features & Pricing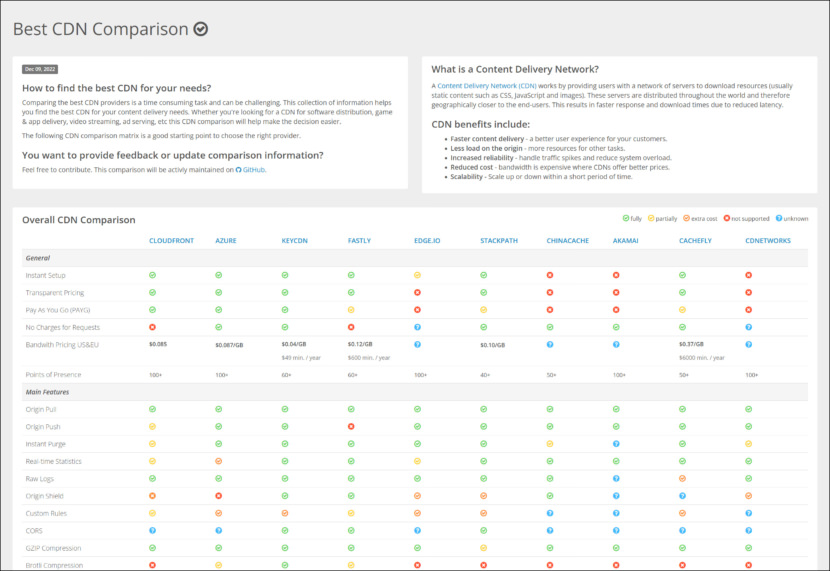 Instead of comparing CDN delivery speed, another factor to look into is features and pricing. It is pointless to have the fastest CDN but lacks the features required by your site or app. This detailed comparison will help you to find the best CDN for your needs. The following CDN comparison matrix is a good starting point to choose the right provider.
25 Startup & Business to Enterprise Class CDN Providers
A server optimally situated to deliver the best performance and fastest load times is determined algorithmically, with the goal of noticeably improving the end-user's experience (e.g. reduced page load time). This technology is becoming more essential as websites offer more streaming video, e-commerce and other applications where performance really matters.