A dental software for dentists is a specialized tool designed to streamline and enhance various aspects of dental practice management. It is tailored to meet the specific needs of dental professionals, helping them manage patient records, appointments, treatment plans, and other administrative tasks efficiently.
🤣😍😂 8 Free Powerful CRM Invoicing Software For Small Businesses
Dental software enables dentists to provide better patient care, improve office productivity, and maintain accurate and organized dental records. It enhances efficiency in dental practices, allowing dentists and their staff to focus more on delivering quality patient care and improving overall patient experience. The specific features and complexity of dental software can vary depending on the needs and size of the dental practice.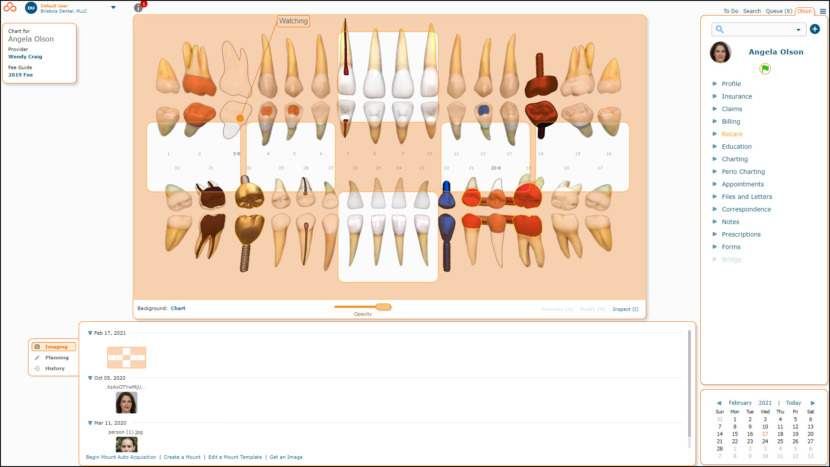 Curve SuperHero™ makes everything easy so you can focus on what's most important– improving the patient experience while retaining and attracting new patients.
From scheduling, billing, texting, patient engagement, imaging, charting, reports/dashboards, implementation, support, training, data conversion, and more, we're committed to delivering the industry's best all-in-one practice management solution for independent practices and Multisite / DSOs.
Charting – Explain treatment options clearly. Increase treatment acceptance. Ease parent/child apprehensions.
Scheduling – With Curve Dental's Hero Sidekick, manage appointments with ease, anywhere at any time.
Billing – Save time and get paid faster with effortless billing and configurable invoices.
Smart Forms – Eliminate tedious manual data entry with customizable online dental forms.
Patient Portal – Take the "wait" out of waiting room by giving patients a safe, low-touch/no-touch alternative.
Dental reporting – Choose from a large selection of standard dental reports written for you or easily customize them so you can view information the way you want it.
Files and Letters – File management that puts patient records in their own, easily accessible place.
Payment Processing – Reduce receivables and improve cash flow with fully integrated payment processing.
Imaging – Capture, store, and access your favorite smiles to and from the cloud in real-time.
Perio Charting – Our advanced graphical view includes teeth that are drawn anatomically correct, which allows for easier perio charting and increased input accuracy.
GRO™ Patient Engagement – Fewer no-shows, cancellations, and callbacks with this patient engagement tool.
Business Intelligence – Combine our standard dental reports, custom report functionality, and myPractice™ dashboards to provide actionable insights into finances and operations.
ePrescribe – Delivers legend drug and controlled substance prescribing, robust medication history data, an in-workflow prescription drug monitoring program (PDMP) checking, and at-a-glance allergy alerts — all in one app.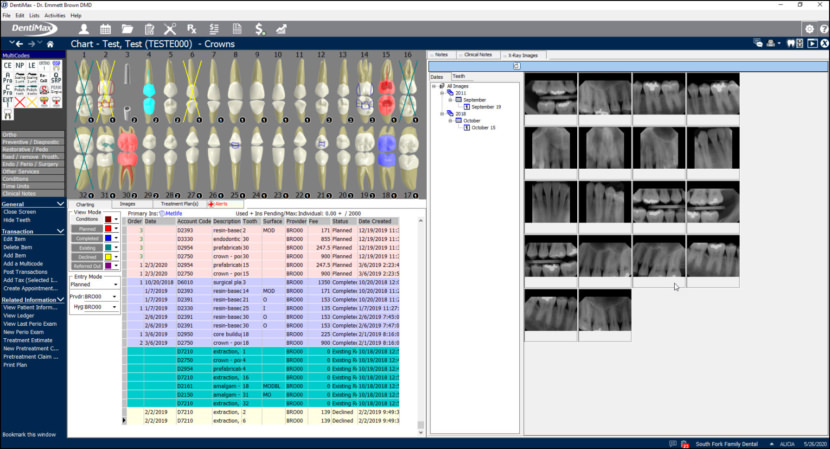 DentiMax has been recognized as one of the best dental office software on the market. Our commitment to delivering easy-to-use, powerful, and low cost practice management software has earned us several awards. Experience for yourself why DentiMax is the only advanced practice management software to have earned a perfect 5.0 score from Dental Product Shopper.
DentiMax is a Comprehensive software which has features like the ability to track employee time, verify patient insurance online, schedule appointments, process payments, maintain detailed accounting, electronically send prescriptions, patient communications and appointment reminders via text and more.
Dental Software for Patient Intake – Efficient Scheduling, Realtime Insurance Verification, Digital Patient Registration, and Automated Reminders.
Dental Billing Software – Patient and Insurance Billing, Insurance Claim Tracking, Line Item Accounting, and Collections.
Tools for Patient Management – Powerful Patient Charting, Automate Clinical Notes, Give All the Treatment Options, and Referral Tracking.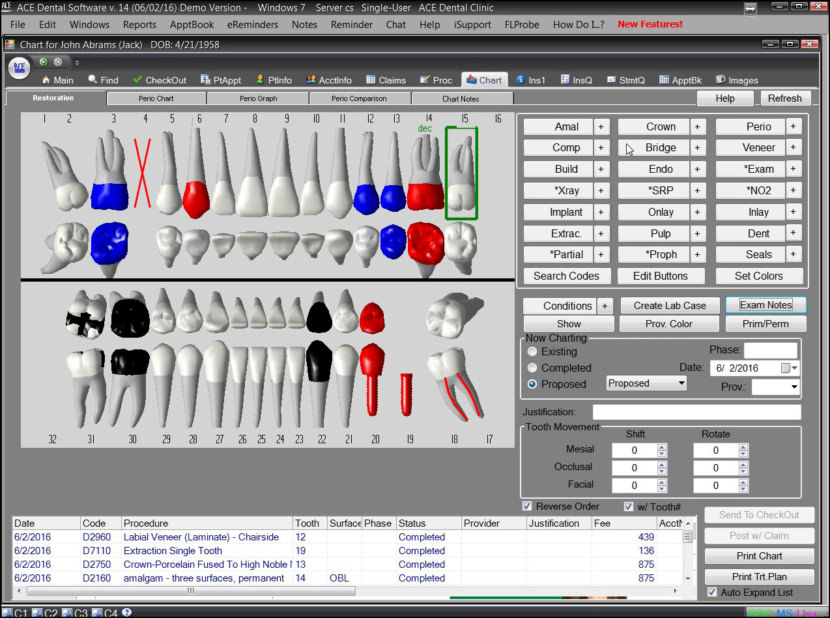 The ACE Dental practice management software is a very straightforward and easy-to-use software system that provides all aspects of dental office management. You can program it for one computer or install it on a network in order to accommodate multiple users at once, which is ideal for both small and medium-sized practices.
ACE Dental Software is the only dental software that uses exactly the same program whether the program is using a local database or a cloud database. This means both options offer exactly the same features. In addition, it means a user does not have to make a decision before the purchase. Many of our dental practice management software users start with a local database and migrate to the cloud when ready.
Patient and Family Ledgers
Paper and Electronic Insurance Claims
Appointment Scheduling
Appointment Pre-blocking
Word Processing with Mail Merge
Recall Management
Extensive Reports
Custom Report Writer
Patient Statements
Prescription Writer
Patient Images
Employee Time Clock
Lab Case Tracking
Email Appointment Reminders
Digital Signature Documents
Patient Monthly Payment Plans
Room to Room Chat
X-Charge Credit Card Integration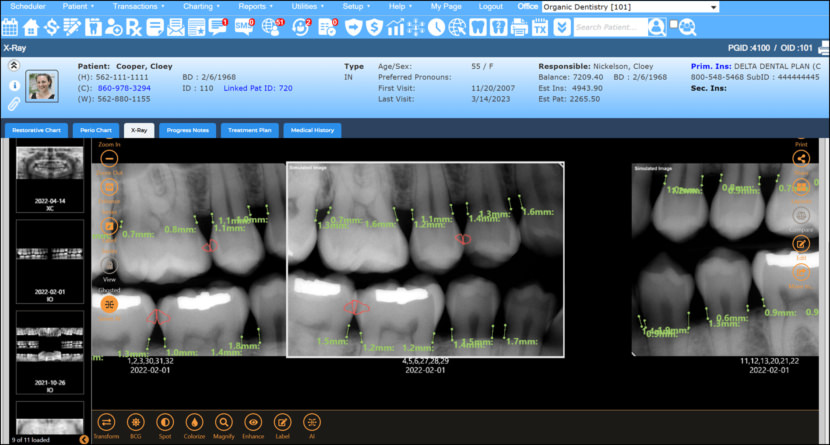 The premier, cloud-based practice management solution that enables dental practices to securely access patient data anywhere, anytime, centralize data and operations, and empower providers spend time on what matters most – taking care of their patients. The all-in-one, cloud-based dental practice management solution that ensures your practice has everything it needs to manage a practice and take care of your patients.
With Denticon you can track things like patients seen per day, number of new patients, number of hours worked per provider, how many canceled and missed appointments, production by provider, and so much more. At the front desk, you get a complete patient overview and scheduler, including check-in, check-out, co-pays due, and so on.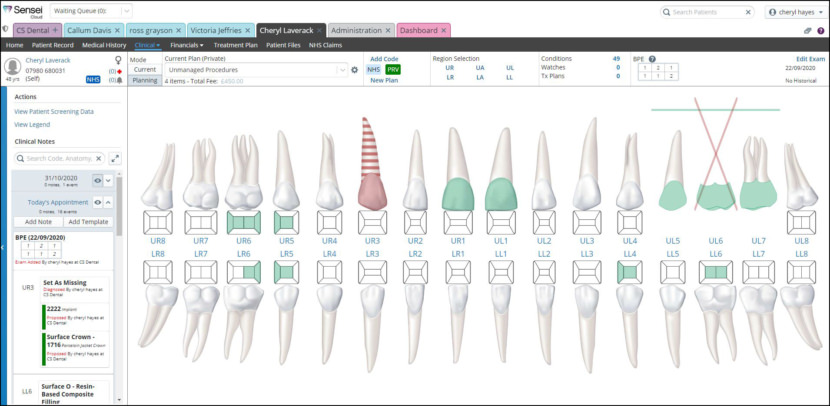 Whether you're in general or pediatric dentistry, orthodontics or oral surgery, your practice likely has to deal with complicated administrative workflows that can heavily restrict clinician productivity and practice efficiency. Not only does this limit the time doctors spend creating treatment plans and engaging with patients, it also inhibits practice growth.
Sensei Imaging – When you see more, you can do more. Sensei Imaging is the connection between your 2D and 3D patient images and the rest of your clinical data in the cloud, so you can streamline your workflow and provide a better experience for your patients.
Sensei Oral Surgery – Imagine a completely integrated, turn-key cloud solution that addresses the unique needs and pain points for oral surgery practices, such as multiple locations and specialties, accelerating growth and the administrative and clinical aspects of your practice, all the while ensuring optimal patient care.
Sensei enterprise – Group practices and DSOs have unique needs: The pace is faster, patient volume is higher and the staff is larger. Sensei Enterprise is designed especially for your Dental Service Organization (DSO) or emerging group practice, with features specifically built to solve issues for the modern dental enterprise.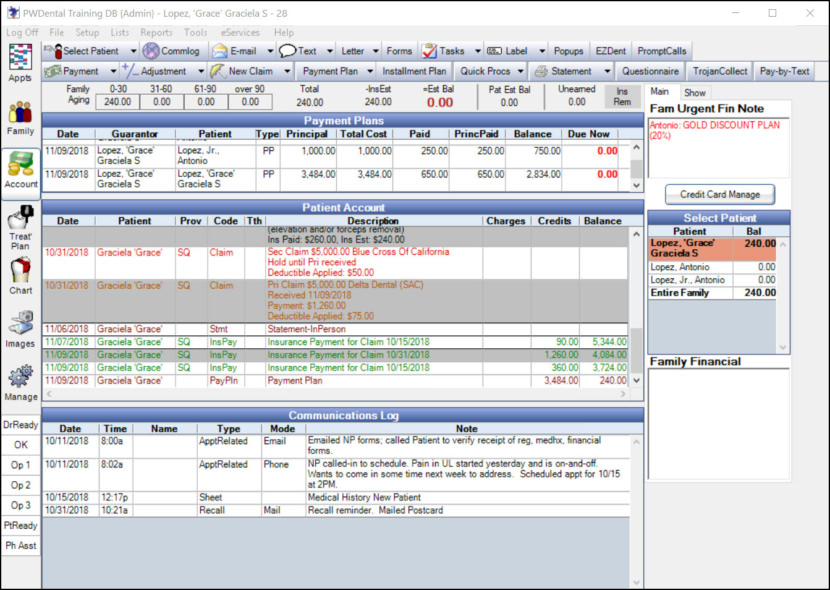 Practice-Web is a comprehensive practice management solution designed for today's modern dentist. Whether you are looking for effective scheduling, detailed charting, billing that improves your bottom line, or the best patient communication tools, we have your solution.
Practice-Web has been serving the dental community since 1988. Our experienced and friendly team of support specialists is ready to help you during the life of your practice. We have more than 1,700 highly successful clients around the country. All this at a fraction of the cost you would pay for a similar solution (or multiple solutions) elsewhere!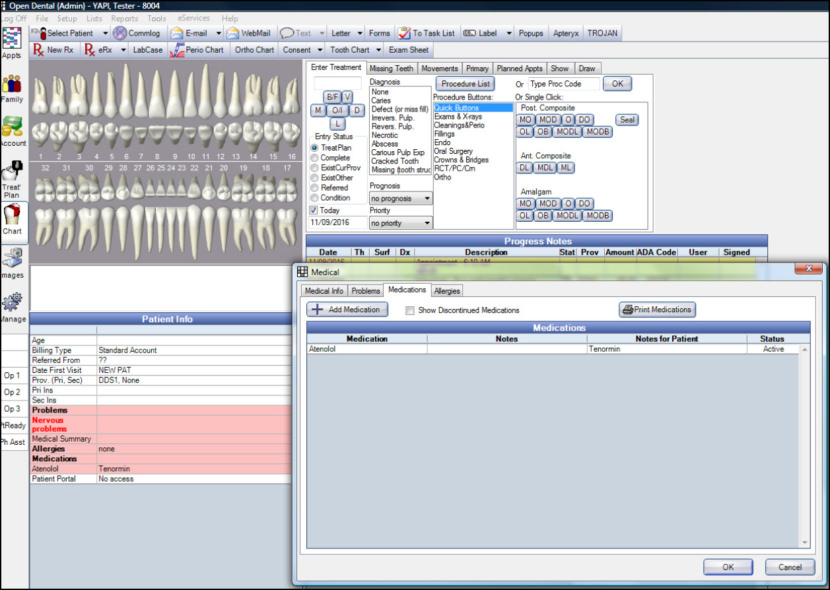 Provide a better patient experience with modern technology. Grow your practice with new patients, and retain existing patients. Reduce no-shows and streamline appointment confirmations. From online scheduling to paperless forms, patient communication, and office coordination – Yapi has you covered!
Online Scheduling – Let your patients quickly book online, anytime and anywhere.
Paperless Forms – Reduce in-office wait times with modern digital forms.
Automated Text Reminders – Give your patients convenient reminders and text confirmations.
Reputation Management – Boost your online presence and attract more new patients.
Reduce missed calls and save time on the phone – Scheduling over the phone takes an average of 7 minutes per call, and an average 33% of calls are missed due to busy lines.
Eliminate the hassle of paper forms – Get back the hundreds of hours your staff might spend on printing, data entry, scanning, shredding, and filing.
Save time with automated appointment confirmations – Let your tech-savvy patients confirm via text and email, so your staff can focus on patients who appreciate the personal touch.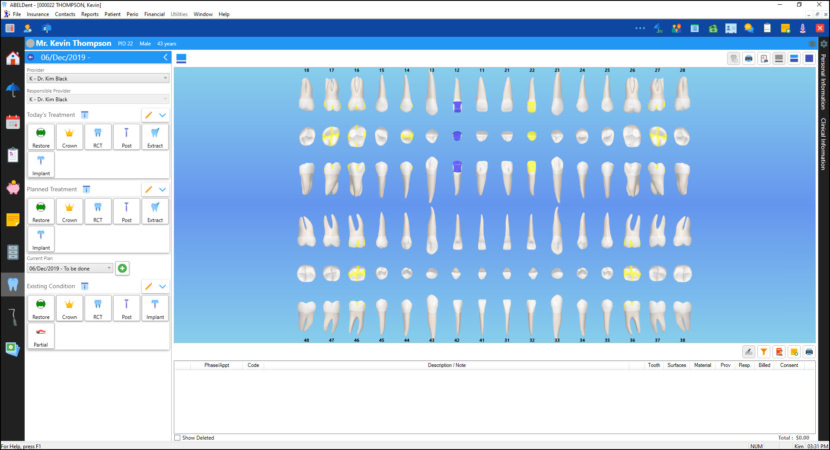 ABELDent is an award-winning, all-encompassing software for dental offices that offers a complete patient communications & management platform with scheduling, automated messaging, recall reminders, and much more.
Improve our patient satisfaction, increase your patient flow and start building stronger patient relationships today with our one-of-a-kind software for dentists. Used by thousands of dentists across North America, ABELDent is designed keeping in mind our clients' needs and expectations. We take pride is providing a dental office software that has proven, time and again, to help our clients improve their practice and take their business to the next level.
All versions include automated patient communication, appointment scheduling, treatment management, electronic claims, and advanced reporting. The charting function includes an odontogram display and custom clinical note templates and also offers integration with administrative functions and automated data entries. Its appointment scheduler can serve as the administrative hub for performing daily tasks.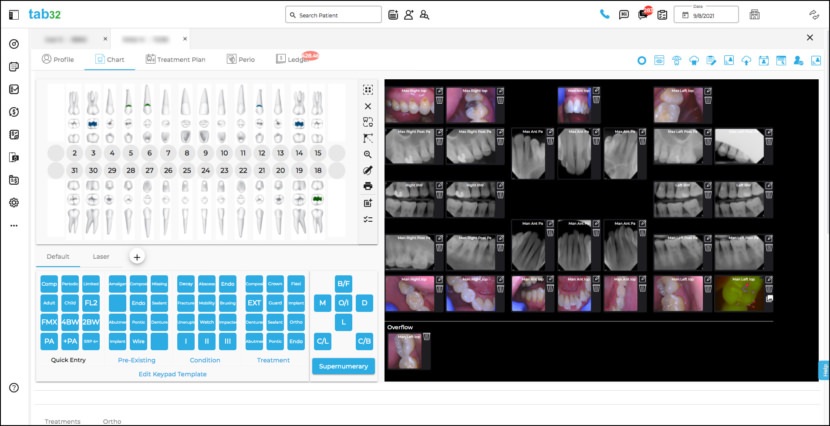 tab32 is the leading innovator of dental practice management technology, delivering a comprehensive and cohesive picture of patient health. Create engaging experiences by streamlining all patient touchpoints–pre-visit, during the visit, and post-visit.
tab32 dental practice software provides more efficient workflows–resulting in better experiences, more referrals, and ultimately, more revenue.
Practice Management
Payment Plan
Billing
Tele-Dentistry
Patient Communication
Dental Analytics
Clinical
Imaging Studio
Revenue Discovery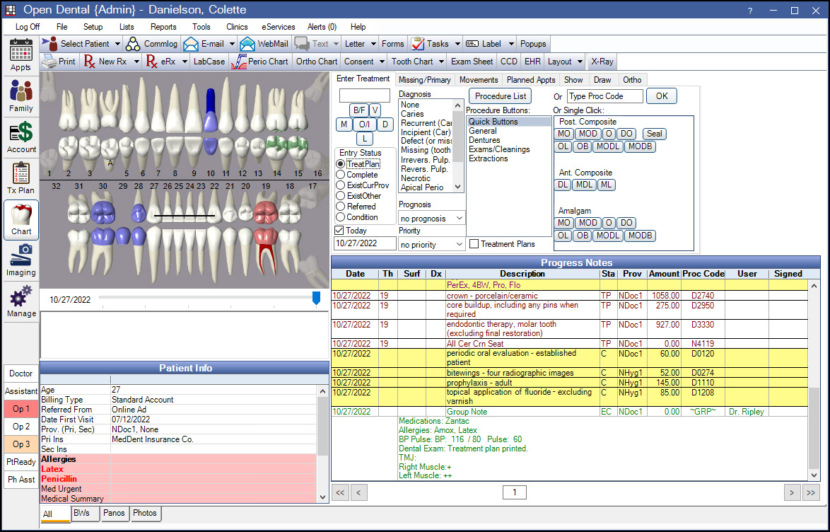 Comprehensive, highly customizable dental practice management software at an affordable price for practices of any size. Open Dental is a robust practice management software that is suitable for single offices or multi-clinic locations. Open Dental is separated into seven modules: Appointments, Family, Account, Treatment Plan, Chart, Imaging, and Manage.