What you need is a full-fledged CRM? Customer Relationship Management is the answer you are looking for. If you find yourself wondering, aren't CRMs just for corporations with large sales teams? The reality is, you don't have to be a big enterprise to benefit from a CRM. Implementing a CRM for your small business can help you not only organize your contacts, leads and deals, but also automate time-consuming processes like data entry, and instead focus more attention on forming strategies and interacting with customers.
🤣😍😂 20 Famous Jeff Bezos Quotes on Innovation, Business, Commerce and Customers
As a small business with a small sales team, you need to ensure productivity stays streamlined. This way, all their time and effort is spent on where it matters the most—delivering a stellar customer experience, and building brand loyalty. A customer relationship management platform, better known as CRM, is a cloud-based software tool that helps organizations keep track of customers, prospects and other stakeholders and their interactions with your company.
Your team can access this data to better understand your relationship with different individuals and businesses. CRM software offers a more comprehensive, customizable way of managing customer data beyond a spreadsheet or database. As an automated system, it constantly updates based on your ongoing business interactions and communications.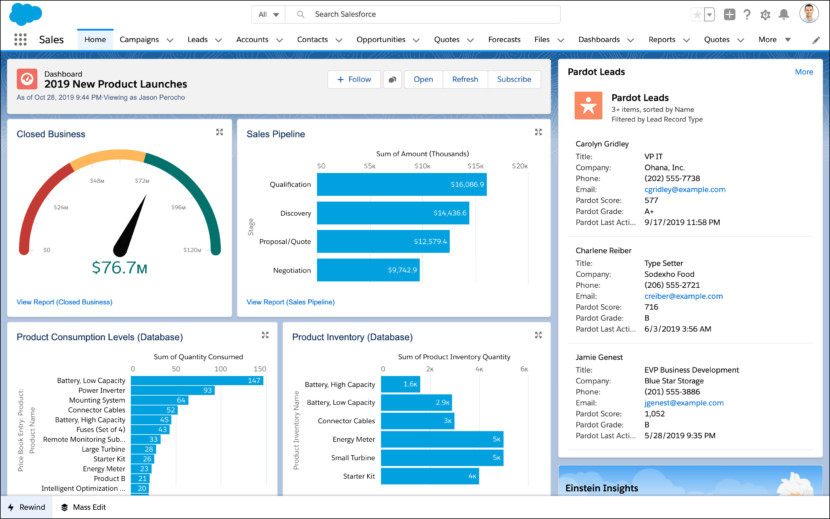 Sell faster, smarter, and more efficiently with AI + Data + CRM. Boost productivity and grow in a whole new way with the #1 AI CRM for sales. Salesforce platform has CRM capabilities that include lead management, marketing automation, and contact management. These applications help organizations to manage customer accounts, track sales leads, conduct and monitor marketing campaigns and provide service post-sale.
Salesforce Lightning Experience is upgraded CRM version of Sales Cloud that streamlines the sales process by allowing any sales rep to generate and follow-up on leads, manage account activity, track the status of each campaign, and create reports without hassle.
Sales AI – Trusted, built-in generative and preditictive AI to magnify seller impact at every step of the sales cycle.
Sales Engagement – Accelerate sales with engagement built directly into your CRM. Connect with buyers and drive action.
Enablement – Boost seller efficiency and productivity with outcome-based enablement – all in the flow of work.
Buyer Engagement – Grow efficienctly and close deals faster by aligning marketing and sales.
Sales Analytics – Drive forecast accuracy, grow pipeline, and optimize revenue with Sales Cloud and Tableau insights.
Revenue Intelligence – Close faster by equipping sales with purpose-built analytics and actionable insights throughout the sales cycle.
Revenue Optimization – Connect revenue management processes to accelerate new streams and boost efficiency with Revenue Cloud.
Sales Performance Management – Unlock peak performance with automation and actionable insights at every step – from sales planning to execution.
Partner Relationship Management – Drive channel sales and partner performance by easily managing resellers, distributors, brokers and more.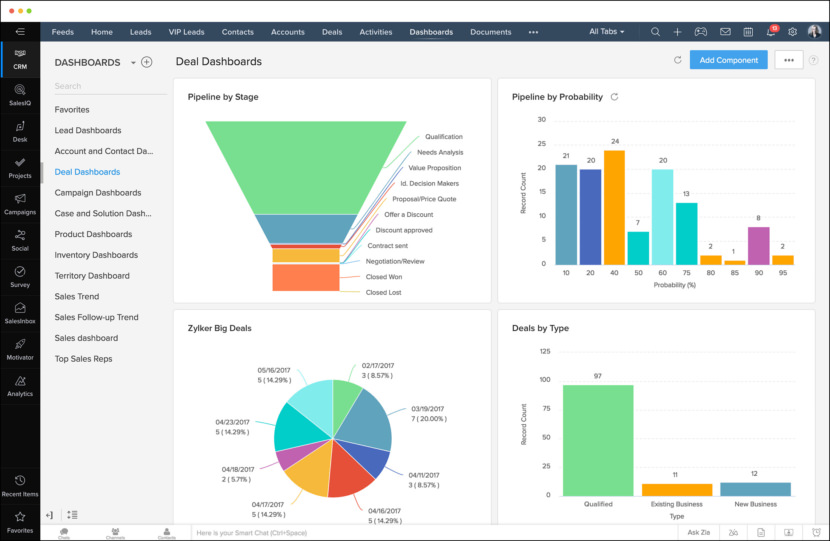 The Best CRM Software for Small Businesses! Why is Zoho CRM the best choice for small businesses? Zoho CRM offers a vast number of customization options that can be leveraged to fit your business processes without coding knowledge or the help of a technical team. Zoho CRM integrates with the solutions you already use in your business process, from office suites like GSuite, Microsoft 365, and Outlook to telephony and productivity apps such as Twilio, Slack, and Zapier.
To succeed in today's competitive landscape, small and medium-sized businesses should have a powerful social media presence. Zoho CRM allows you to integrate your company's Twitter, Facebook, or LinkedIn accounts with your CRM, so you can reach out to prospects and engage them at the right moment. SalesSignals sends your customer-facing teams real-time notifications when a customer interacts with you or your company on social media, so they can respond right away. Ideal for the following industries:
Automotive CRM
Life Sciences
Financial Services
Real Estate
Retail
Insurance
Services
Startups
Non-Profit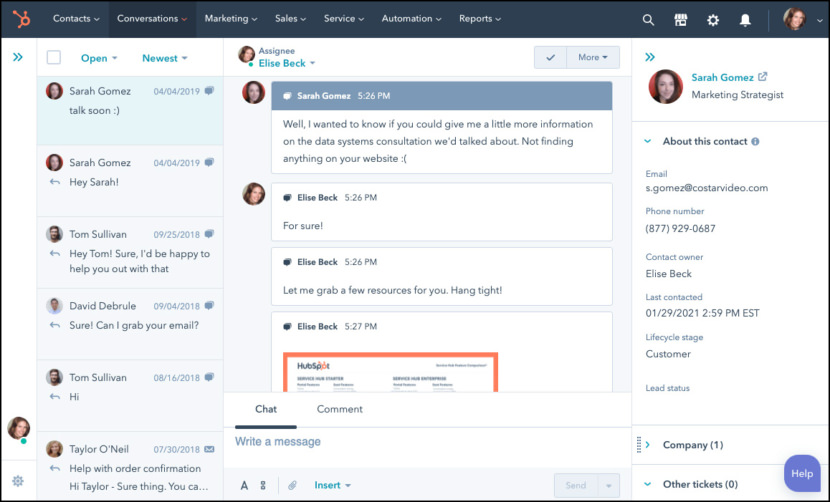 With the easy-to-use HubSpot CRM, you'll never have to manually update reports or wonder how your team is tracking toward quotas. Because you have more important things to do. HubSpot is suitable for any B2B or B2C business in a variety of segments, including accounting, marketing, sales, construction, retail, real estate and more.
It offers features including outbound and inbound marketing, sales automation, sales pipeline management, customer relations management, email tracking, lead management, contact management and more. HubSpot's CRM platform also offers enterprise software for marketing, sales, customer service, content management, and operations. Get premium versions of all the free features you see here — and much more! Ideal for the following profession:
Sales Leaders
Salespeople
Marketers
Customer Service Teams
Operations Managers
Business Owners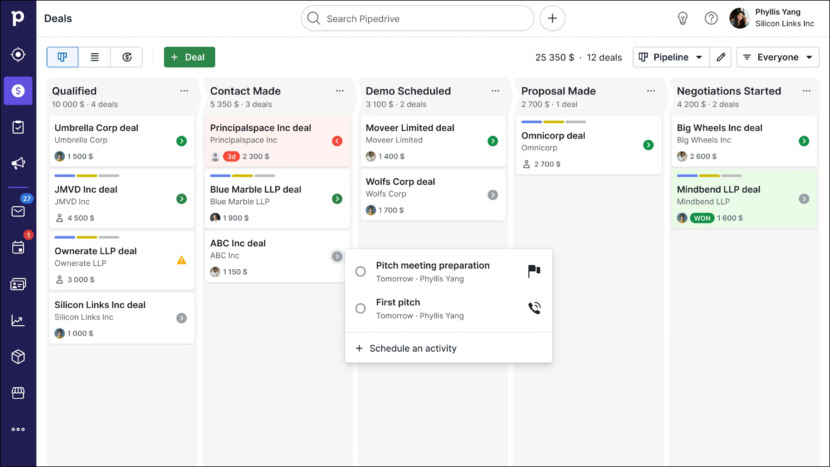 The CRM platform to grow your business. The first CRM designed by salespeople, for salespeople. Do more to grow your business. Pipedrive is a web-based Sales CRM and pipeline management solution that enables businesses to plan their sales activities and monitor deals. Built using activity-based selling methodology, Pipedrive streamlines every action involved in converting a potential deal into a successful sale.
Simplicity – Thanks to the kanban-style visual pipelines, easy data migration with Import2, and a friendly, intuitive user interface, getting up and running with Pipedrive is as easy as clicking, dragging, and dropping.
Versatility – Whether you're getting ready to scale your business or you just need a way to customize a CRM to your particular industry, Pipedrive's got you covered with a wide range of fully customizable features, fields, and options.
Leads Inbox – Don't let static deals skew your conversion data. The leads inbox stores your leads until they're good and ready for your pipeline.
Full email sync – Pipedrive syncs with Gmail, Outlook, Exchange, Yahoo, iCloud and even custom IMAP email addresses so you never have to miss a trick again.
Data security – Set up alerts, monitor security rules, and keep all your data safe with 2FA and single sign-on.
Activity management – Track calls, emails and tasks in your pipelines so you can take immediate action on rotting deals and hot leads.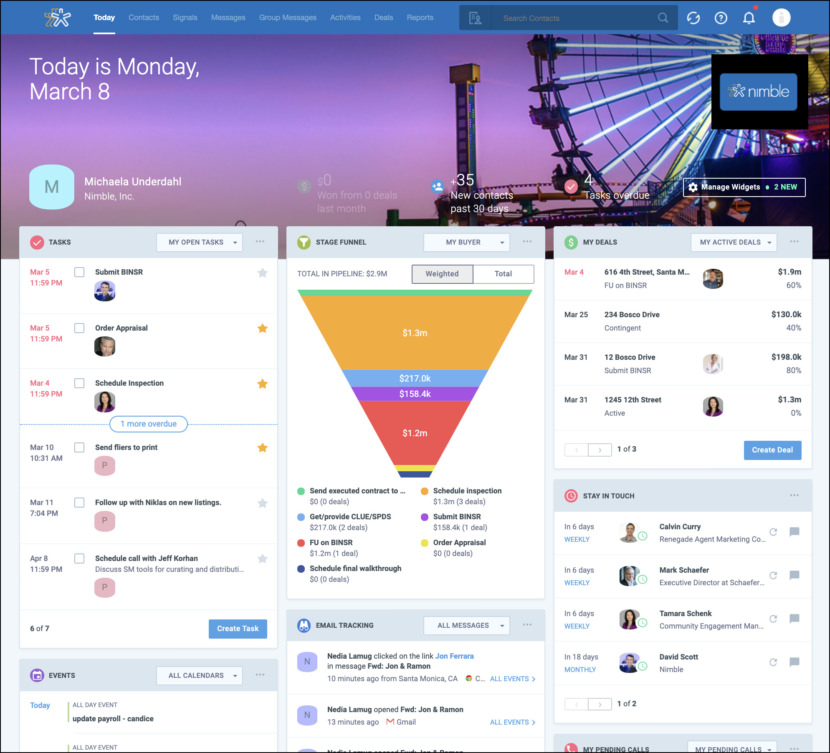 Nimble CRM enriches contacts with social and business data, streamlines workflows, and works across all channels. Ideal for relationship-focused sales professionals, solopreneurs, and business teams. In addition to contact and pipeline management features such as deal tracking, task management, and alerts, Nimble also includes integrated social listening to keep customer profiles updated.
The Nimble Prospector lets you access the benefits of your CRM from everywhere you work – including inboxes, social platforms, and any web browser app. Also available for Outlook.
Unify your contact data – Automatically combine contacts, social media connections, communications, inboxes, calendar appointments and contacts from your favorite SaaS business apps into one unified relationship manager.
Actionable, accessible contact records – Easily locate contact information and team's interaction history to access a 360-degree view of your customers and leads. You can also add notes to a record, update deal status, and access social handles.
Stay organized – Segment your contacts into lists to take actions such as sending group emails to a list of contacts and more.
Engage at scale – Send personalized, templated group emails with tracking, analytics, and reporting from your personal email.
Manage your team's to-do's – Stay on top of your team's tasks, events, calls, and more with one unified activity tracking dashboard.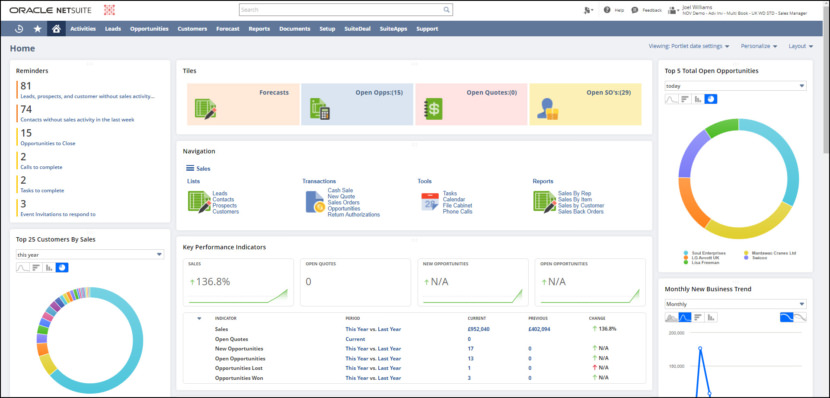 NetSuite is an all-in-one cloud business management solution that helps more than 36,000 organizations operate more effectively by automating core processes and providing real-time visibility into operational and financial performance.
With a single, integrated suite of applications for managing accounting, order processing, inventory management, production, and supply chain and warehouse operations, NetSuite gives companies clear visibility of their data and control of their business.
NetSuite's Customer Relationship Management (CRM) solution helps companies manage interactions with current and potential customers, partners and suppliers in a single place. With all the capabilities of a traditional CRM solution, such as sales force automation (SFA), customer service management and marketing automation, plus the ability to manage quotes, commissions, sales forecasts and partner relationships, NetSuite CRM provides a seamless flow of information across the entire customer lifecycle — from lead all the way through opportunity, order, fulfillment, renewal, upsell, cross-sell and support.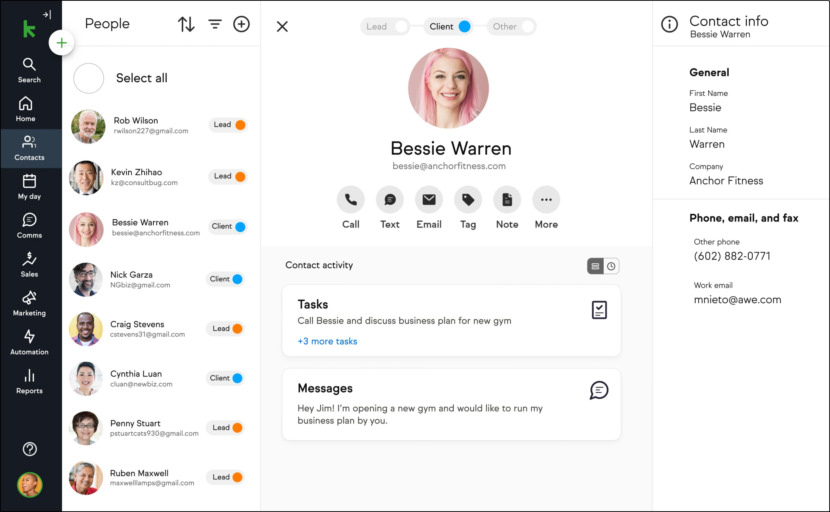 Upgrade your small business CRM. With Keap, you get the all-in-one sales and marketing automation platform designed to help your small business grow. Keap (formerly Infusionsoft) is a cloud-based sales and marketing solution that offers customer relationship management (CRM), marketing automation, and e-commerce functionalities in one suite.
Meet your all-in-one system for creating predictable business growth. Keap's features combine CRM, marketing automation, sales automation, payments, and much more in a single, integrated platform, so you can consistently convert more clients and grow your business.
Appointments
Automation
CRM
Ecommerce & payments
Email marketing
Integrations
Keap Business Line
Landing pages & forms
Lead management
Reporting & analytics
Sales pipeline
Text marketing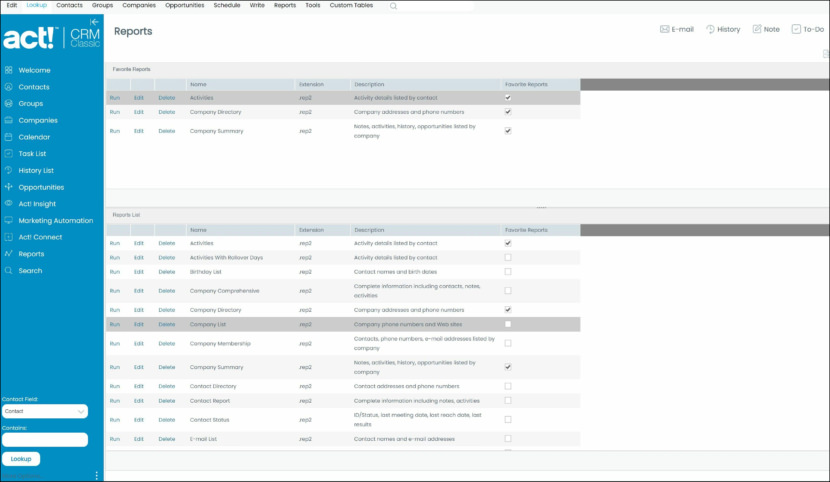 Act! is perfect for small and midsize businesses looking to market better, sell more, and create customers for life. With unparalleled flexibility and freedom of choice, Act! accommodates all the unique ways you do business.
With unparalleled flexibility and freedom of choice, Act! Premium accommodates the unique ways you do business, whether it's on-premises (Act! Premium Desktop), in the cloud (Act! Premium Cloud), or, you can leverage a hybrid deployment for maximum flexibility! Act! also offers customizations to fit your specific business or industry processes or your preferences for deployment and access, the possibilities with Act! Premium are limitless.
Opportunity tracking – Keep every detail of each sales opportunity at your fingertips – in the office or on the road.
Pipeline management – Assess your sales pipeline by product, territory, sales stage, agent, region and more.
Sales process management – Advance deals through stages of custom or out-of-the-box sales processes.
Actionable insights – Focus your time where it counts with insights from interactive visual dashboards.
Personalized campaigns – Use turnkey templates or design your own for maximum impact.
Automated workflows – Define outreach strategies to effortlessly stay engaged with prospects and customers.
Landing pages – Capture leads with high-converting landing pages and web forms.
Real-time metrics – Know what's working instantly and prioritize follow-ups.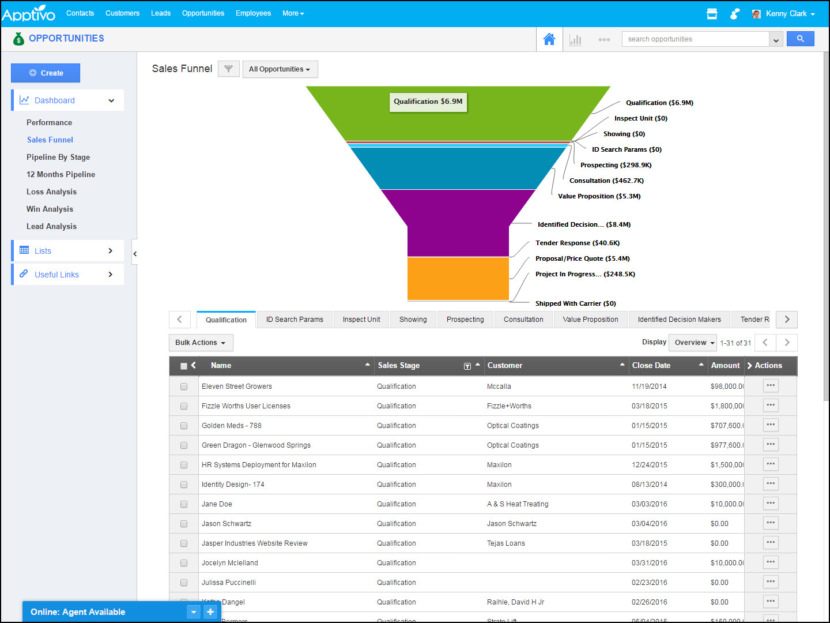 Apptivo is a cloud-based suite of applications designed to help small businesses manage a range of functions including financials, human resources and supply chain management.
Apptivo's mission is to create an affordable and easy to use software for small businesses to run their business on and help them collaborate with their customers, partners and also compete against large competitors who may be much better equipped than them.
This is not an easy problem to solve — but one that we believe needs to be solved to help small businesses compete with the giants. They believe that the least we can do to help tomorrow's economy is to level the playing field between large and small businesses in terms of the software they use to run their business on. We want small businesses that are the engine of economic growth, to have the same tools that large companies have.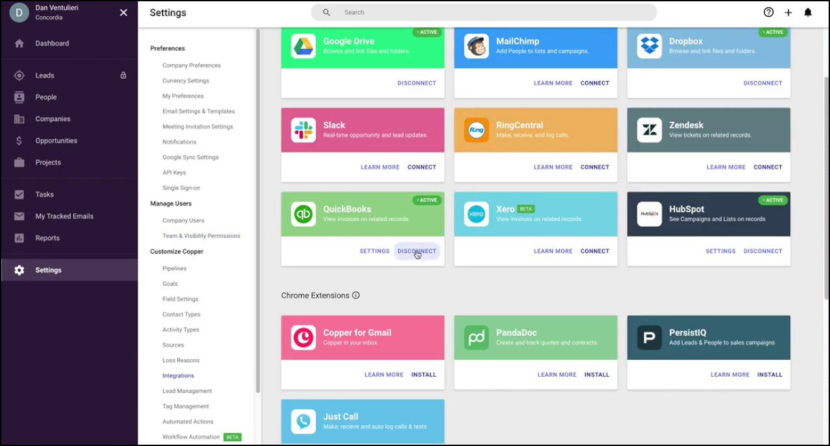 Focus on what matters most: growing your business. Copper will take care of the rest. Copper is an easy-to-use CRM for small and medium-sized businesses that need a better way to manage leads & grow customer relationships. If you don't have time for data entry, tedious admin tasks, or overly complex tools, Copper just might be for you.
Copper is a customer relationship management (CRM) platform built for businesses that use Google Workspace. Our flexible CRM software was designed to be easy to launch and use, whether it's your first time using CRM or you're an expert. Relationship-oriented organizations love Copper because it's customizable to their unique sales and customer journeys. Easily integrate your CRM platform with Google Workspace:
Track your Gmail activity with automatic inbox sync to Copper
Instantly access contextual information about your Google Calendar meeting attendees
Automatically attach and view files you send to customers and prospects
Connect Google Sheets directly to Copper for analysis, reporting and charting of your data.
Prospect smarter with a LinkedIn CRM integration with Copper. Profiles at your fingertips without a lick of data entry.
Copper CRM integrates with DocuSign to auto-fill templates that make it easy to send and sign e-documents.
Dropbox is the one place to keep life organized and keep work moving. We're on a mission to design a more enlightened way of working.
Square Payments is a payment processing software that allows small businesses to get paid faster with secure payment processing solutions.
Slack is a new way to communicate with your team. It's faster, better organized, and more secure than email.
Copper integrates with Gmail, Google Calendar, Google Contacts and Google Drive.
Transparency between sales and finance is key to smoothing out the customer buying experience. The Copper and QuickBooks integration can help with this process.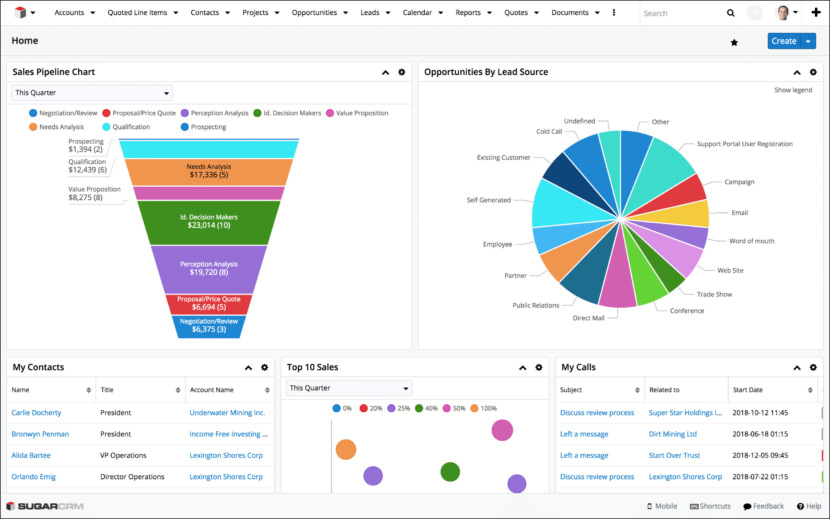 Automate anything. Accelerate everything. Predict what's next.​ Let the platform do the work. ​SugarCRM is a Customer Relationship Management (CRM) platform, expertly crafted to enhance interactions with prospects and customers while accelerating sales success. Renowned for its cost-effectiveness, this potent solution enables users to reduce the total cost of ownership by up to 32% according to Nucleus Research*, all the while providing contemporary features that align with evolving needs.
SugarCRM connects your sales, marketing, and service teams by letting the platform do the work so they can focus on boosting productivity, business growth and engaging customers in moments that matter.
Upsert® Microsoft Teams Connector – Send messages from Sugar to Microsoft Teams. Create meeting links for your scheduled meetings and create and relate Teams channels to your SugarCRM
Ringover – Connect Sugar with Ringover to synchronise all your call data and make unlimited international calls with ease, saving you time and boosting your team
Sugar Integrate for Salesloft – Sugar Integrate for Salesloft automates manual processes and streamlines interactions and data flows between Sugar Sell/ Enterprise
Better Zoom Meetings – Gondola for Sugar – Spend less time drowning in busy work, and more time focused on activities that actually deliver revenue! With Gondola, you can update your SugarCRM
Aircall – Sugar Integration – The Aircall Integration for Sugar Sell is a quick and efficient way to connect your cloud-based phone system with your CRM instance.
Ringover – Connect Sugar with Ringover to synchronise all your call data and make unlimited international calls with ease, saving you time and boosting your team
ChatGPT Integration for SugarCRM – Integrating ChatGPT into SugarCRM can provide a significant boost to your business processes and improve your user experience.
Implicit integration of MS Teams with SugarCRM – Implicit's deep integration with Microsoft Teams turns it into an efficient and productive CRM collaboration platform.
Commercient SYNC for Acumatica ERP – ETL tool sets are difficult and fail often, which is not an option for your growing small and medium sized businesses. Commercient created an app
Upsert® Timesheets – Upsert® Timesheets lets you log time against any Sugar record for tracking SLAs, billable hours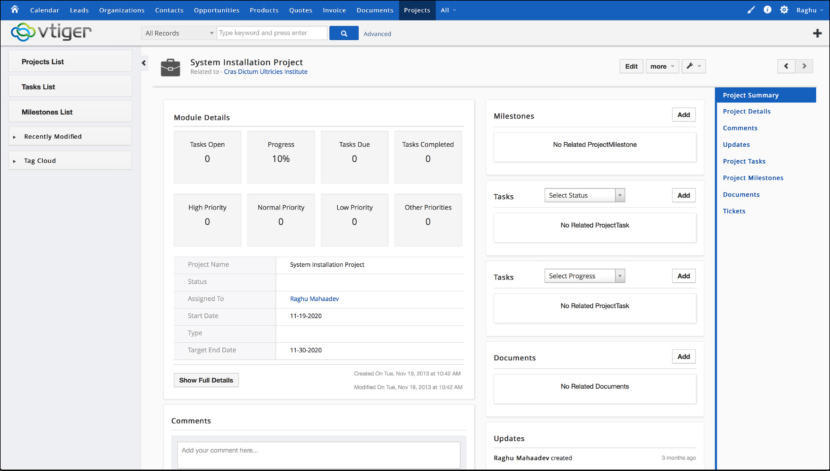 Maximize Growth with the best AI-powered CRM and GPT. Vtiger all-in-one CRM empowers you to align your marketing, sales and support teams with unified customer data powered by One View. CRM made easy. Vtiger brings all your teams on the same page at every step in the customer journey.
Deliver an outstanding sales experience for your potential customers with advanced lead routing, segmentation, and integrations with tools your sales teams already use. Build playbooks and track progress along the entire timeline with advanced automation and artificial intelligence driven insights.
Vtiger CRM helps businesses streamline their operations and enhance performance by providing quality tools and functionality across Sales, Help desk, and Marketing teams.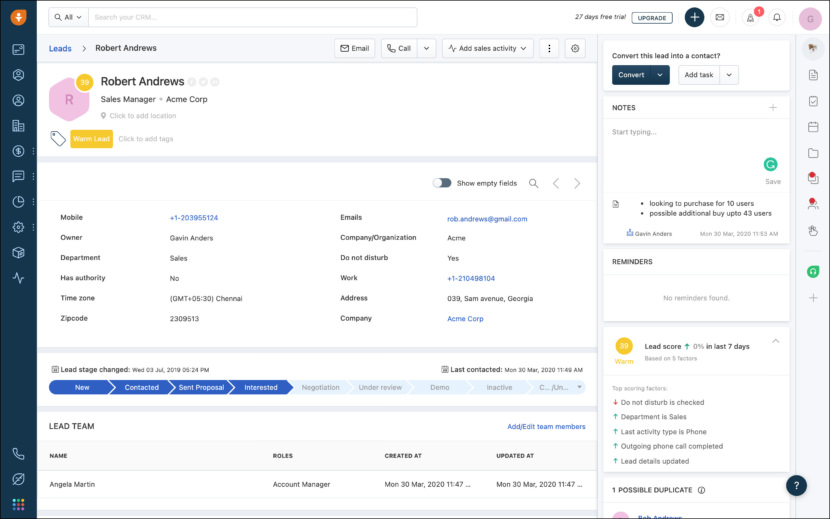 Build a high-performing sales team and grow your revenue. Drive productivity and revenue growth with the ultimate sales tech stack. Freshsales allows teams to create custom sales pipelines based on geographies, team, processes or other criteria and maintain a product catalogue with pricing, discount and tax information. It offers a host of features like customizable email templates, sales goals management, predictive contact scoring, sales forecasting, audit logs, role-based access and more.
Connect the CRM with your favorite apps. Freshsales is built to integrate with applications that you use every day. Integrate your account with third-party applications and connect to multiple data sources. Scale with the Freshworks platform. Bring in Slack, Gong, G Suite, Xero, Outlook, and other apps into your CRM.
Trello – Collaborate and keep your teams in sync by creating and linking tickets into Trello cards.
Freshdesk – Extend support to your contacts from within the CRM by integrating with Freshdesk Support Desk.
Google Calendar – Easily schedule and manage meetings by bringing the power of Google Calendar within Freshdesk.
Slack – Improve collaboration between your agents and internal teams through real time Slack notifications
Microsoft Teams – Simplify cross-team collaboration and enable contextual customer support with Microsoft Team
Shopify – Deliver personalized support with instant access to customers' recent orders within Freshdesk
Office 365 – The Office 365 app for Freshdesk allows you to change ticket priority, assign agents.
Mailchimp – Sync marketing leads from Mailchimp with your CRM contacts.
TeamViewer – Provide remote assistance to requesters using TeamViewer App for Freshservice
Kanban Board – Lend a visual and intuitive look to Freshdesk to view ticket properties without opening a ticket.
SMS – Send personalized SMS in bulk or to individuals and receive responses via Twilio, Zipwhip, and ClickSend.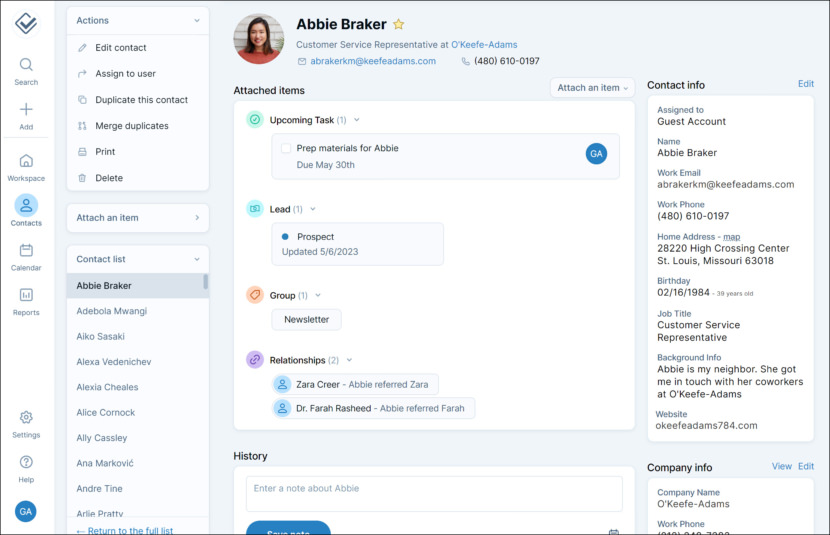 Less Annoying CRM is a customer relationship management solution built for small businesses. It offers cloud-based deployment, various configuration options and a dashboard that provides an overview of contact information, projects, files and other information.
With Less Annoying CRM, you'll finally have a place to store everything you need to know about your contacts. From one simple screen you can see all of the notes, files, tasks, events, and pipeline information related to a contact. Plus, with our simple search feature, you'll never have trouble finding a contact again.
Less Annoying CRM is entirely web-based, which means that you can access it from any computer, tablet, or smartphone, anywhere in the world. Also, we handle all of the security, data backups, and software updates so that you don't have to worry about the boring technical stuff anymore.
EngageBay's free CRM (Customer Relationship Management) system offers powerful CRM features like targeted marketing, workflow automation, visual deals pipeline, automatic data entry, & more. Eliminate miscommunication and misalignment between your Sales & Marketing teams when you use the integrated EngageBay CRM platform.
Pass on the leads from Marketing to Sales seamlessly. No more confusing metrics and complex handovers. When aligned, Sales and Marketing teams can work effortlessly as a single team and win customers like never before. EngageBay's free Small Business CRM with marketing automation facilitates better alignment between the Marketing and Sales teams, streamlines all processes, and enhances revenue growth. Work in sync for the best results!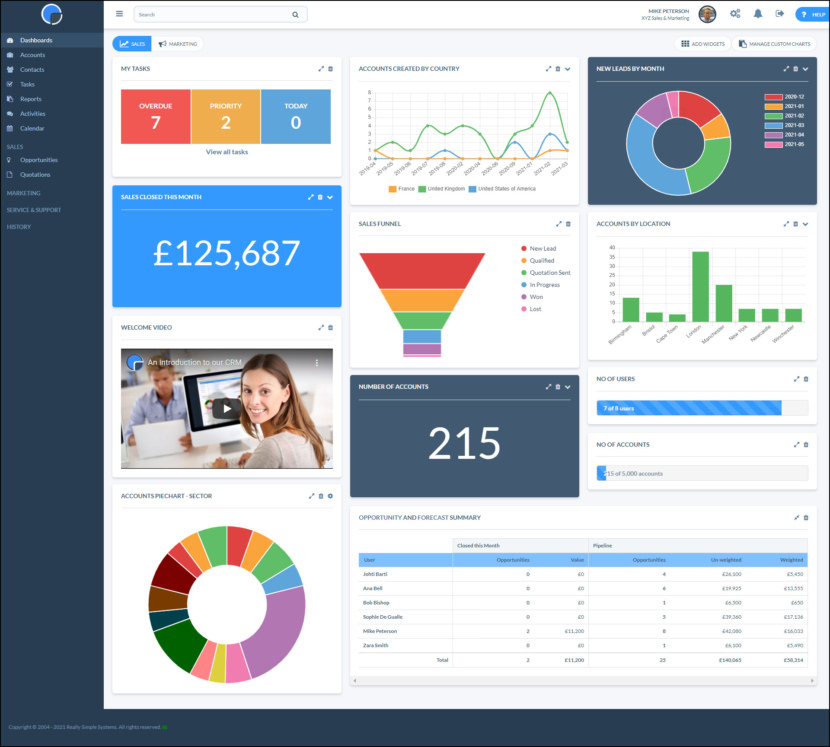 Build long lasting relationships, save time and make more sales with the simple CRM software that's designed for growing teams working B2B. CRM software for financial services with everything you need to manage your sales, marketing and customer service. Their integrated CRM and marketing solution lets you build campaigns and send emails directly from your CRM, using your data to personalize and segment.
Use their CRM integrations to connect the tools you use for a streamlined office and a stress-free working day. They connect seamlessly to many other great tools in order to make your working day as simple and stress-free as possible.
Xero small business accounting software includes everything you need to manage your numbers effortlessly
QuickBooks is the award-winning accounting software that's designed to support small businesses.
The integration platform that lets you to pass data between your cloud applications, automating tasks and saving you time.
Google Sheets lets you create, edit and share online spreadsheets in real-time on any device.
An access management tool for Single Sign-On that adds security and convenience for all your cloud apps.
Leadinfo is the lead gen tool that helps you recognise B2B website visitors, giving you access to valuable data.
The access management platform lets you to control access to all your web applications from a single user interface.
Osano is the leading data privacy platform, helping you comply with data protect laws worldwide.
Sage Business Cloud accounting software makes quick work of the daily tasks you know you need to get right.
Accounting software designed to save you time and effort by letting you manage your accounts anytime, anywhere.
LeadGen is an online web form builder that let you easily create web forms to collect data and manage your leads.
The integration platform that sets up integrations with your apps with just one click.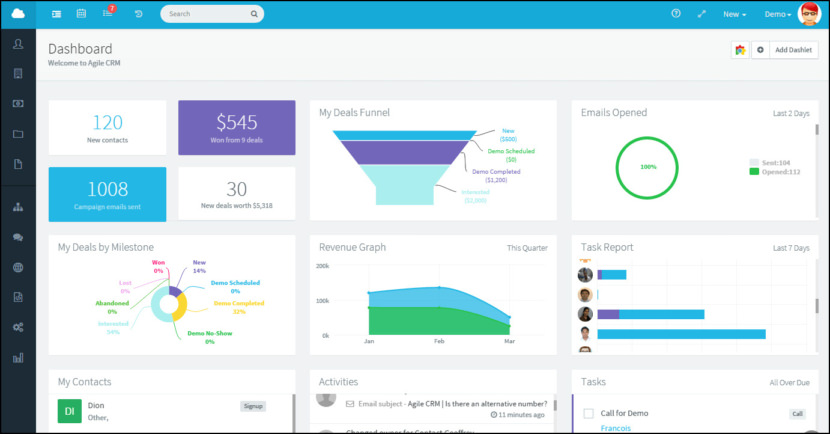 Agile CRM is a cloud-based customer relationship management (CRM) solution designed for small and midsize businesses. It offers contact management, telephony tools, appointment scheduling, marketing automation, project management, a landing-page builder and knowledge base functionalities.
The contact management module lets users record and access customer data such as contact information, interaction records, social-media accounts and lead scores. The software also offers email integration, which allows users to sync data with email services including Gmail, Microsoft Exchange and Office 365 and IMAP services.
Twitter – Connect with your contacts, schedule tweets and automate social interactions.
Facebook – Engage with your contacts on Facebook and post to their walls from Agile.
Google Apps – Agile integrates with your favorite Google Apps for complete sales enablement.
Twilio – Make and receive calls, record calls, track conversations and more.
RingCentral – Turn your calls into deals with the best integration in the industry.
LinkedIn – Connect with contacts, get updates and send messages on the professional social network.
Zendesk – Manage Zendesk support tickets from Agile and push Agile contact info into Zendesk.
ClickDesk – Easily convert customers from live chat sessions into CRM contacts. Capture leads and track every conversation.
HelpScout – Manage conversations and provide outstanding support to your customers with HelpScout integration.
LiveHelpNow – Automatically push new LiveHelpNow contacts into Agile CRM. Increase sales and conversions.
Tidio Chat – Push leads from Tidio Chat sessions directly into your Agile CRM account.
UserVoice – A one of the leading SaaS provider, is a tool that helps in customer support and product management.
WooCommerce – Take your WooCommerce store to the next level with the best sales and marketing automation CRM plugin.
Magento – Integrate Magento with Agile CRM to reduce cart abandonment, increase sales and supercharge your online store.
WordPress – Integrate Agile CRM with your WordPress site for web popups, visitor tracking, and sales and marketing automation.
Stripe – Sync contacts and payment histories between Stripe and Agile. See subscriptions in the CRM.
FreshBooks – See billing histories on contact pages, create invoices, track payments and more.
QuickBooks – Manage QuickBooks payments and invoices from Agile contact pages.
Braintree – Braintree integration helps you to sync your billing and payments to maintain seamless accounts.
Amazon SES – Harness Amazon SES technology to send transactional and promotional emails from Agile CRM.
VoIP – Make and receive calls directly from Agile by integrating your VoIP account.
RingCentral – Turn your calls into deals with the best RingCentral integration in the industry.