Bad sectors are basically sections of the hard disk that are inaccessible by the drive due to corruption or physical damage (not repairable via software) of the disk, they are possibly caused when the hard disk was dropped during operation. Because that particular section is accessible, it can cause the operating system to crash (Blue Screen of Death, aka BSOD), files missing for no reasons or frequent application crashes.
See More ▼ 20 Free Bad Sector, Corrupted, Damaged Hard Disk Data Recovery
If the bad sector is due to physical damage, the only solution is to backup the hard disk and replace it. If it is due to software corruption and it affects the MBR (Master Boot Record), it can be easily fixed with a HDD regenerator software. Every Microsoft Windows comes with a tool to check for system error due to bad sectors. You can help solve some computer problems and improve the performance of your computer by making sure that your SSD or HDD hard disk has no errors.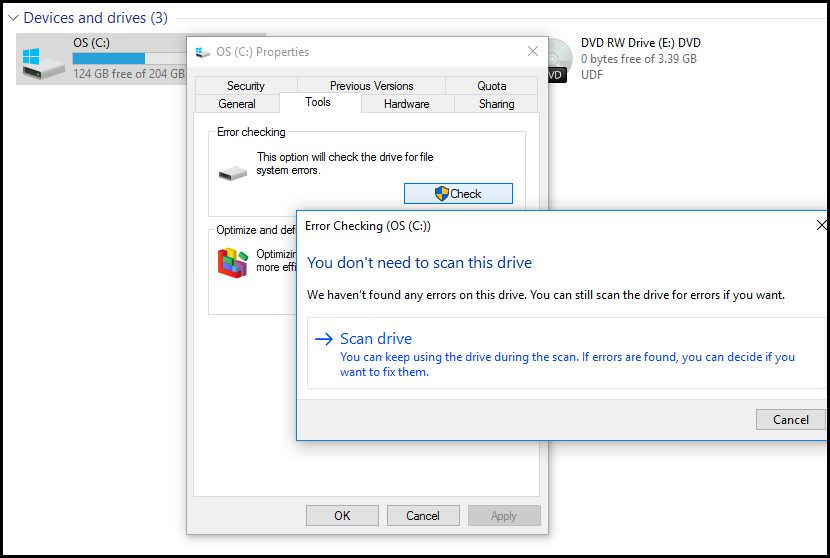 Depending upon the size of your hard disk, this may take several minutes. For best results, don't use your computer for any other tasks while it's checking for errors. To perform this task, right click 'C' drive, go to 'Properties', then select the 'Tools' tab and click on the 'Check' button.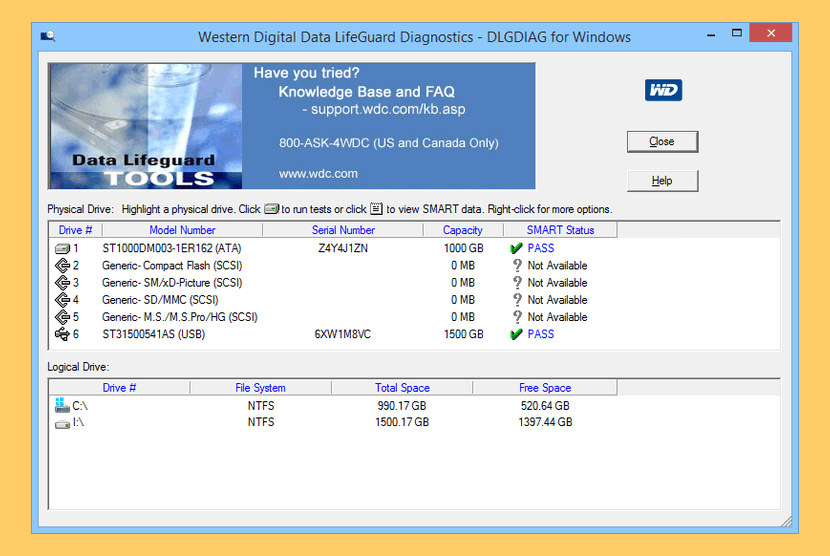 [ For Western Digital Hard Disk Only ] This is a Windows version of the Data LifeGuard Diagnostics. It will test WD internal and external drives. In addition, it can provide you with the model and serial of WD drives attached to the system. You will see the following options:
Quick Test – performs SMART drive quick self-test to gather and verify the Data Lifeguard information contained on the drive.
Extended Test – performs a Full Media Scan to detect bad sectors. Test may take several hours to complete depending on the size of the drive.
Write Zeros – writes zeros to the drive with options of Full Erase and Quick Erase. File system and data will be lost.
View Test Results – displays the latest test results.
My Book AV-TV, My Book, My Book Duo, My Book Pro, My Book, My Book Duo, WD Elements Portable, WD Elements Desktop, WD AV, WD Blue, WD Black, WD RE / WD RE4, WD Red, WD S25, WD Se, WD Purple, WD Red Pro, WD Ae, WD Re+, WD Gold, WD Blue (Mobile), WD Black (Mobile), WD Red (Mobile), G-RAID Studio, WD Black SSHD, WD Blue SSHD, WD Laptop Mainstream , WD Desktop Mainstream , WD Desktop Performance, My Passport Air, My Passport Pro, My Passport Ultra Metal, My Passport Ultra (WD Backup), My Passport, My Passport SSD, My Passport Ultra, My Passport (Works with PlayStation 4), WD Elements SE, My Passport Ultra (USB-C), My Passport Ultra for Mac (USB-C), WD Gaming Drive (Works with PlayStation 4) .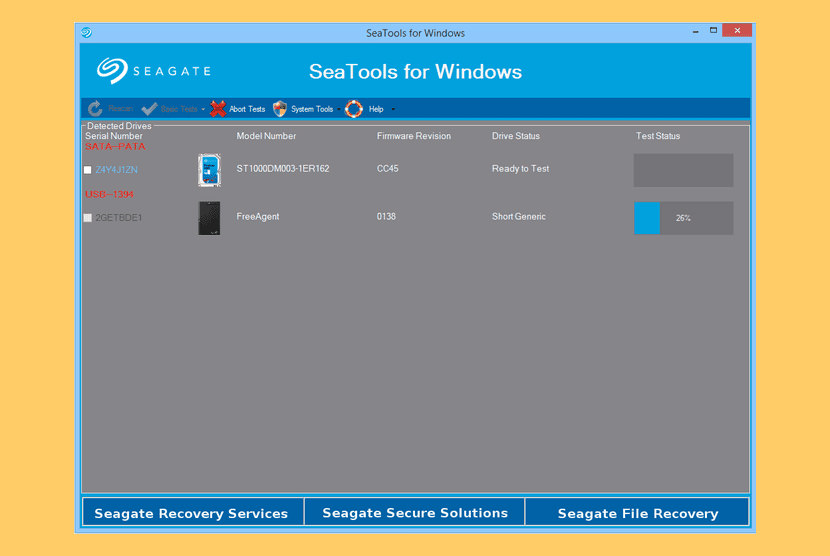 [ For Seagate Hard Disk Only ] SeaTools for Windows is a comprehensive, easy to use diagnostic tool that helps you quickly determine the condition of the disk drive in your external hard drive, desktop or notebook computer. It includes several tests that will examine the physical media on your Seagate, Maxtor or Samsung disk drive and any non-Seagate disk drive. SeaTools for Windows should run on both internal and external hard drives.
After testing, a large percentage of the drives returned to Seagate for warranty replacement are perfectly good drives with "No Problem Found" (NPF). Returning a drive for warranty service means system downtime and inconvenience for you in packing and returning your drive product. Before you send in a drive, it is in your best interest to determine if a replacement drive is really necessary. This hard disk diagnostic utility will help you make that determination and possibly save you time and money and preserve your data. Some typical reasons for No Problem Found are:
File System Corruption
Driver Corruption
Broken Master Boot Record
Virus and Trojan Attack
Spyware, Adware and Keystroke loggers
Hardware Conflicts
In addition to diagnostics tests, SeaTools also offers several features to help you manage your storage product. Seagate Instant Secure Erase is available for Self Encrypting Drives (SED), providing U.S government accepted media sanitization. See section 3.Advanced Tests and Features.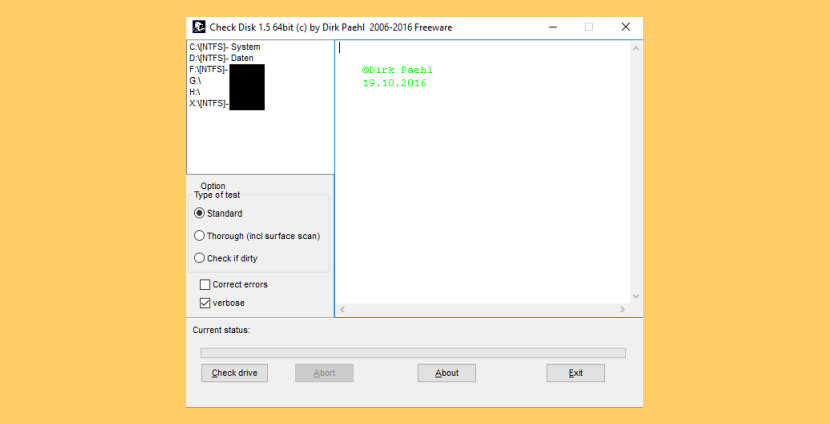 CheckDisk is a powerful tool for searching and repairing disk errors. It is quite similar to the ScanDisk tool or chkdsk.exe, supplied with the Windows operating systems (Windows 2000,XP,Vista,7,8,10 Server 2012 (possible 2016) and admin rights). You can select either standard or full tests.
The full test additionally performs a sector check. It is capable of finding bad sectors on your disk and marking them as such. The program works both with hard disks (including SCSI and RAID) and removable media. Work on CDs too. With german manual. Multilingual: English, German, Czech, Spanish, French, Italien, Polish, Japan, Slovak, Chinese and Norwegian.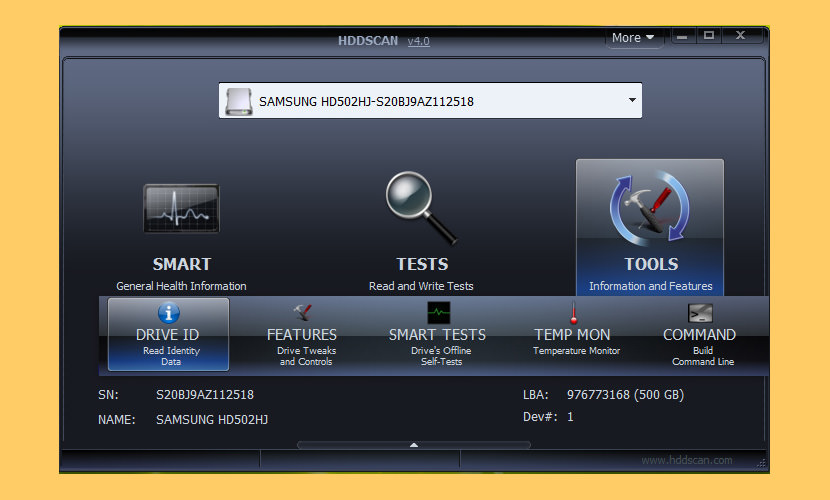 HDDScan is a freeware software for hard drive diagnostics (RAID arrays servers, Flash USB and SSD drives are also supported). The program can test storage devices for errors (Bad-blocks and bad sectors), show S.M.A.R.T. attributes and change some HDD parameters such as AAM, APM, etc.
Supported storage devices – IDE (ATA) and SATA HDD, SCSI (SAS) HDD, External USB drives and all major USB boxes (see Appendix A), FireWire or IEEE 1394 HDD (see Appendix A), RAID volumes made of ATA (IDE) / SATA / SCSI HDDs (surface tests only), USB Flash (pen drives) – surface tests only, and SATA / ATA SSD – solid state drives.
Reading and analyzing identity information from ATA/SATA/USB/FireWire/SCSI HDD.
Changing AAM, APM, PM parameters on ATA/SATA/USB/FireWire HDD.
Reporting defect information on SCSI HDD.
Spindle start/stop function on ATA/SATA/USB/FireWire/SCSI HDD.
Reports can be saved in MHT format.
SSD SMART and Identity reports.
Hard disk bad sector is the most common problem and the disk is not safe to store data any longer. Bad sectors will cause the important data loss and blue screen error sometimes, and even slow disk space. Macrorit Disk Scanner is a third party disk surface portable tool for scanning disk bad sectors which provides you with better options and better performance than Windows native disk scanner.
With the fastest algorithm, this disk scanner free software usually could reach the maximum speed that was supported by the device. It is compatible with all recent versions of Microsoft Windows – both client and server, and supports major storage device types such as IDE and SATA HDD and SSD, SCSI, FireWire, hardware RAID, flash cards and a lot more.
Supported Storage Devices: DE HDD, SATA HDD, SCSI HDD, FireWire HDD, SSD, USB HDD, External HDD, Hardware RAID, Floppy drive, USB flash drive, Compact flash card, Secure Digital card, Memory card/Memory stick, Micro card, Zip drive, IPod, Other storage devices
Supported OSs: Windows Server 2003/2008/2012, SBS 2003, 2008, 2011,2012, Home Server 2011 & Windows XP, Vista, 7, 8 (Both 32& 64 bit)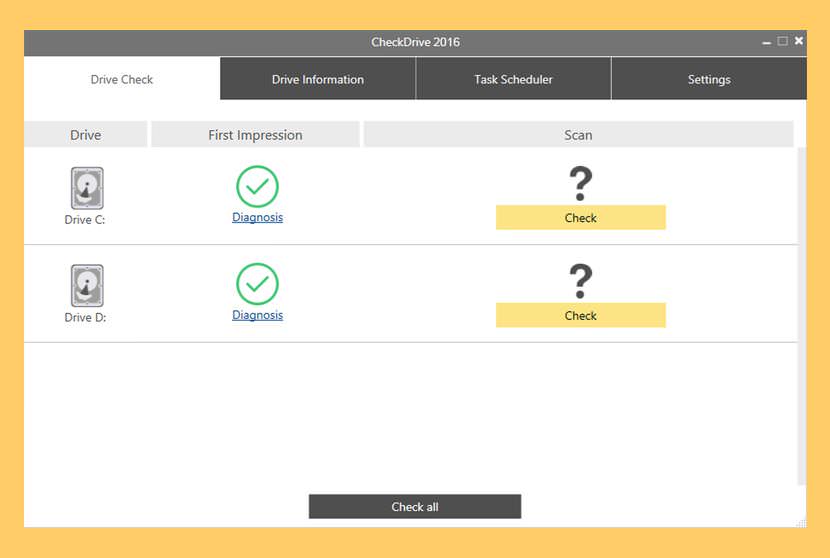 CheckDrive works as a "Disk Doctor" to scan for symptoms: typical hard disk failures. If issues are discovered, the tool acts immediately. If the error is not repaired in time, the affected computer can work unstable and crash frequently. The worst case occurs when hard drives fail completely – and the user suffers a lot when all the data stored is lost forever. CheckDrive analyses all the hard drives installed on the computer, in order to increase the security of the data storage. The tool displays the so-called S.M.A.R.T. data and other functions and also calculates the health status of the hard disks.
Check hard disks for errors – CheckDrive offers you an easy way of checking your PCs hard drives for errors. Even Solid-state drives (SSD) are supported.
Shows drive information – CheckDrive shows info about your drives and determines if your hard drive needs to be cleaned or defragmented.
Monitors hard disks in real-time – The CheckDrive Background Guard monitors all the time the values of your hard drives.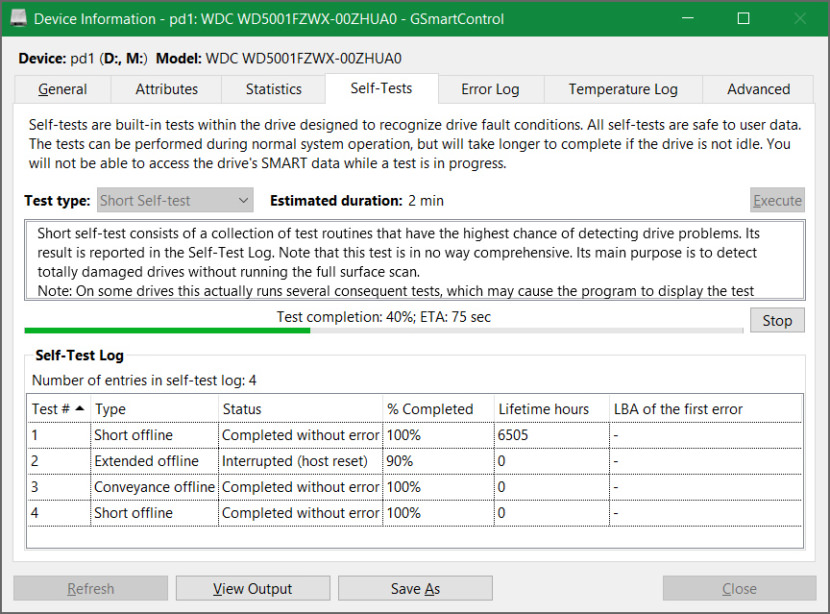 Hard disk drive and SSD health inspection tool. GSmartControl is a graphical user interface for smartctl (from smartmontools package), which is a tool for querying and controlling SMART (Self-Monitoring, Analysis, and Reporting Technology) data on modern hard disk and solid-state drives. It allows you to inspect the drive's SMART data to determine its health, as well as run various tests on it.
Automatically reports and highlights any anomalies.
Allows enabling/disabling SMART.
Allows enabling/disabling Automatic Offline Data Collection – a short self-check that the drive will perform automatically every four hours with no impact on performance.
Supports configuration of global and per-drive options for smartctl.
Performs SMART self-tests.
Displays drive identity information, capabilities, attributes, device statistics, etc.
Can read in smartctl output from a saved file, interpreting it as a read-only virtual device.
Works on most smartctl-supported operating systems.
8. EaseUS Partition Master (Surface Test Feature)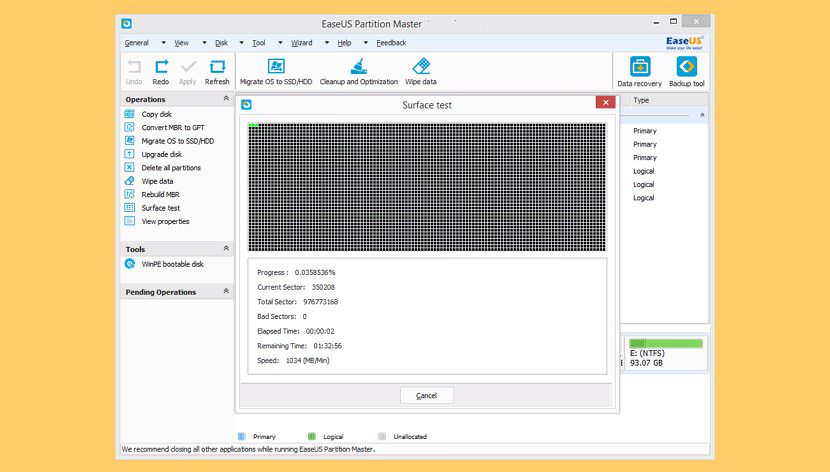 EaseUS Partition Master, its Surface test is available for computer users. It can identify bad sectors by reviewing the hard drive. When it finds bad sectors, it will mark those sectors as bad with red color so that the system knows not to use them. It may allow them to be read, in case the data stored on the bad sector is still accessible, but they cannot be written to.