Updated: April 23, 2015 / Home » Computer and Internet Security » Parental Control
How to block porn on android and Smartphone? How to filter the internet or certain websites for the entire family? It does not make sense to filter the internet via the computer because in today's world everyone has a Smartphone, Android tablet or iPad that can access the internet. The only way to filter the internet or block torrent is to filter it at the router, which can only be done via OpenDNS.
Below is a simple step by step tutorial on how to filter the internet for your iPhone, iPad, Android smart phones and Windows 8 Tablet for the entire family.
Recommended Reading:How to Access YouTube If It Is Blocked or Filtered By Government Censorship
Method 01 – Block Porn Only
This method is a set once and forget about it. No manual update, no software and no hardware. Enter the following DNS IP addresses in the Primary and Secondary fields. 208.67.220.123 (Primary) and 208.67.222.123 (Secondary). OpenDNS is one of the many DNS provider, there are 8 more free DNS – visit our previous article – 8 Free Parental Control – No Software and No Download
The tutorial below is shown on an Apple iOS powered iPad, which is the same for iPhone. This DNS works on Android smartphones and tablets too, from Samsung to HTC, from Sony to Nokia. The user interface for Android and Windows OS may differ from one another, they key ingredient is to input the DNS.
This is the simplest parental control method ever, protect your children now!
Method 02 – Advanced Blocking with Customization Block P2P Torrent and more
This method gives you a lots of control on which content to be blocked from your kids' devices, from downloading illegal torrent, watching movies, visiting gambling sites, porn, gambling, dating, racist, hate sites or visiting social media sites. The drawback is if you have dynamic IP address, you will have to update the IP address every time you switch off and on the router.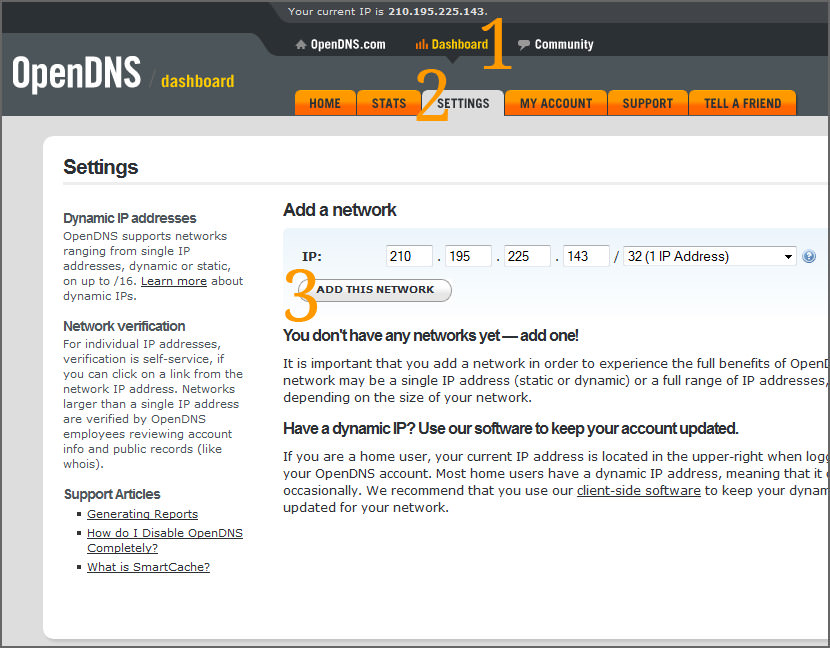 First, you will have to sign up with OpenDNS for their free account. The free account is limited to only 1 IP Address. When you are done verifying, login in.
Step 1 – Click on the 'Dashboard' tab.
Step 2 – Select the 'Settings' tab.
Step 3 – OpenDNS will automatically detect your IP address, if not, input your IP Address. Click on the 'Add This Network' button to add your IP address.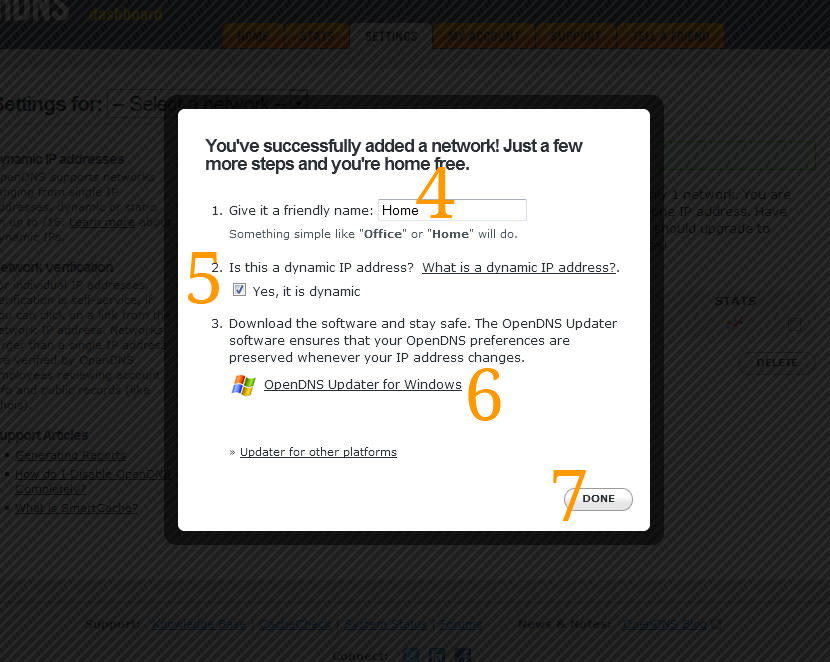 A window will pop up, follow the procedure:
Step 4 – Give a name
Step 5 – If you are subscribing a home package, not a business internet package, chances are it is a dynamic IP.
Step 6 – Since it is a Dynamic IP, it will change everytime you turn off the router, thus by downloading the 'OpenDNS Updater', the software will automatically detect and update the dynamic IP address.
Step 7 – Click on the 'Done' button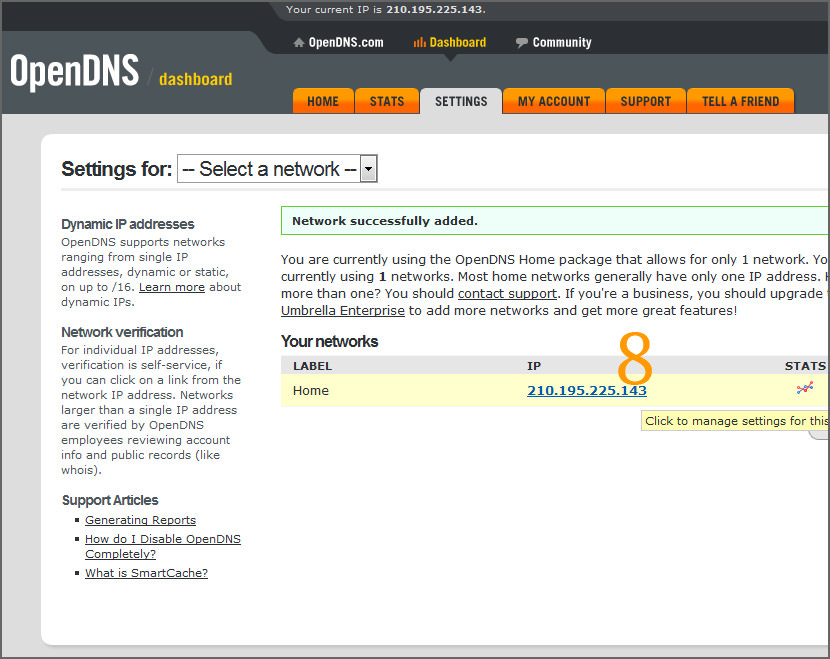 Step 8 – The page will refresh. Click on the IP link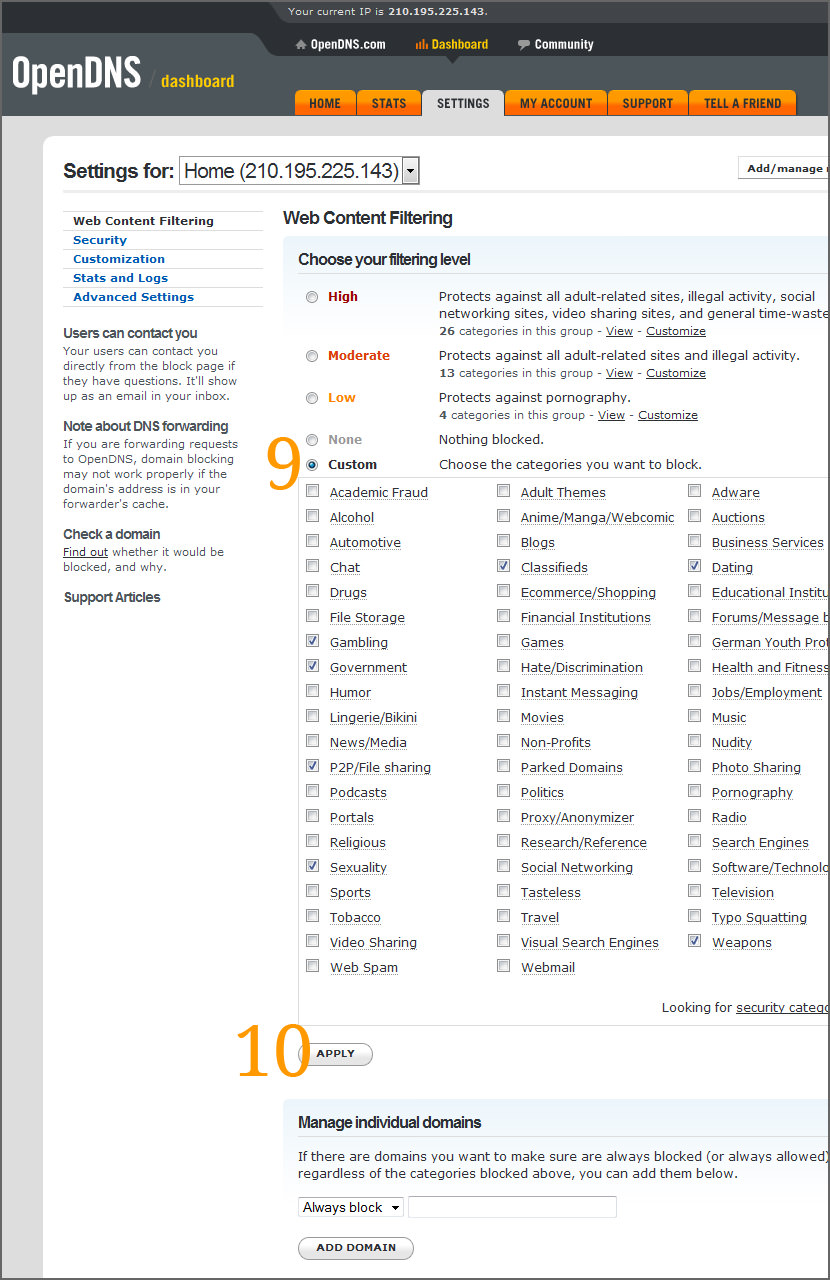 Step 9 – Click on 'Custom' to individually select the type of sites to block.
Step 10 – Click on 'Apply' to block the specific sites.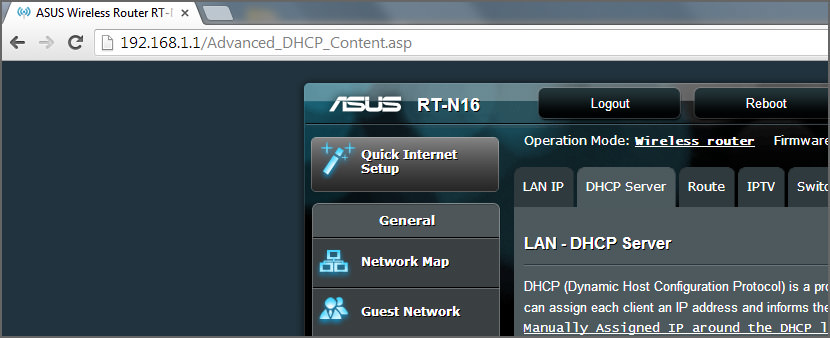 The next time varies from one router to another. To enable filtering on the entire internet in the house, you will have to set the DNS in your router. Different manufacture uses different user interface, thus we are not able to show you. To access your router, type 192.168.1.1 into your browser and login in. In most cases, the username and password are both "admin".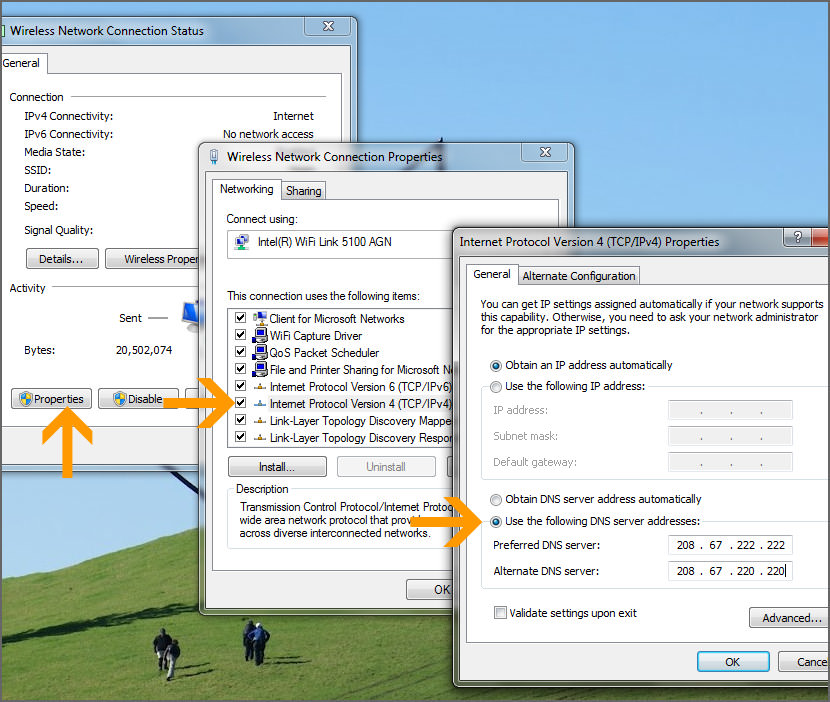 Alternatively, if you only have 1 PC with no tablets or smartphones with internet access, you can set the DNS on Windows by changing the DNS. The DNS for OpenDNS are 208.67.222.222 and 208.67.220.220. And the results: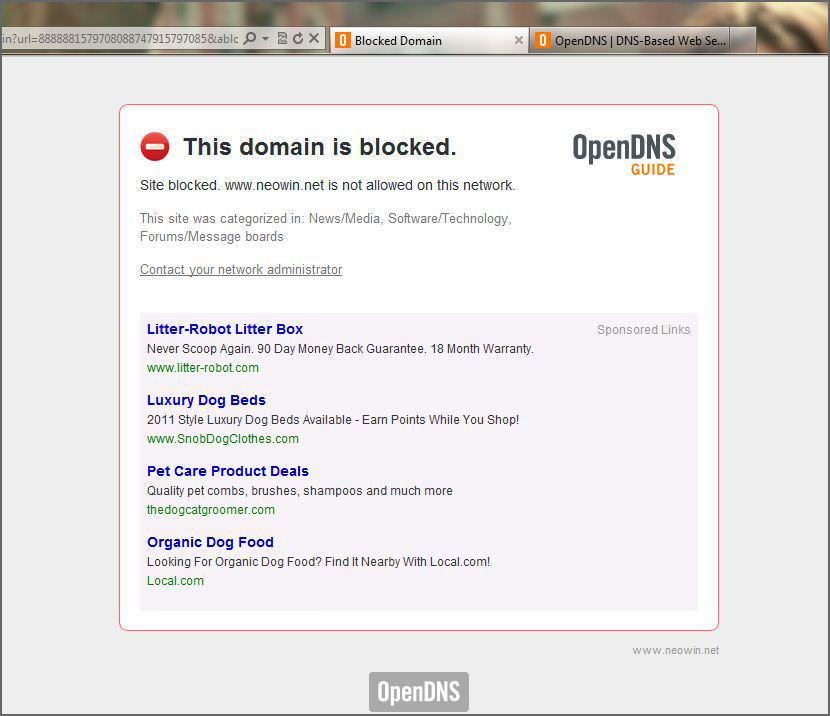 There you go, why pay for an expensive hardware when OpenDNS has the ability to transform your cheap router into a powerful web filtering content system. OpenDNS has more on how to change your DNS settings for various router such as Huawei, Apple, D-Link, NetGear, 3 Com, Belkin and more.