My first laptop was an Acer Aspire, I bought that laptop because I was about to further my studies in Australia, thus mobility is the primary reason for choosing a laptop over desktop. Fast forward 3 years later, my Acer laptop died, by that time I've finished my studies and I am back in my own country. I bought a Sony laptop because I was in the process of moving and searching for a house, therefore mobility is yet again the primary factor.
😭 😍 😂 21 Inspirational Entrepreneur Quotes by Famous Billionaires and Business Icons
6 years later, my Sony laptop is dying. There are spots of dead pixels on the screen and the overall system is very sluggish even after a clean format. I even went to the extent of vacuuming the internal components of dust but it remains sluggish.
This is when I decided to buy a desktop, I've been eying the Dell XPS 8700 for quite some time. 2 weeks ago I made the fateful decision to buy it. Dell XPS8700 is a good multimedia desktop, but not good enough for me. I've decided to upgrade a few key components to make it even better.
Samsung 850 Pro SSD
Based on various benchmarks and reports, this is by far the fastest SSD in the market. It comes with a 10 year limited warranty. It is not cheap, for the same price, one can easily own a 512 GB Kingston SSD. Since speed is more important than storage, I've decided to go for Samsung 850 Pro SSD, to compensate the limited storage capacity, I installed a secondary Western Digital 1TB Black hard disk. The SSD Boot Up speed is simply amazing, worth the price.
Reason for choosing – It is the fastest SSD in the market, after all, the reason for using a SSD over hard disk is speed.
ASUS Strix GeForce GTX 970 Graphic Card
I play Dota 2 and occasionally do some video editing for my YouTube. A good graphic card means faster processing speed and better graphics for Dota 2 (50 Beautiful Dota 2 Heroes Silhouette 1920×1080 HD Wallpapers). Problem arose when my Dell XPS8700 failed to boot up and showed a black blank screen. This is because Asus Nvidia GeForce GTX 970 is not compatible with Dell XPS 8700's A09 Bios, Dell was made aware of this and they released a new A10 Bios.
If you're having the same problem such as a blank screen or not being able to boot up your computer, download and upgrade your motherboard's bios. Visit Dell's forum for more info – XPS 8700, GTX 970/980, Black Screen on Boot, Bios A10 released.
Reason for choosing – Asus Strix GeForce GTX 970 uses less watt, generates less heat and comes with a 0db fan. Lets you enjoy light games in complete silence, and hardcore gaming 30% cooler with 3X-quieter performance!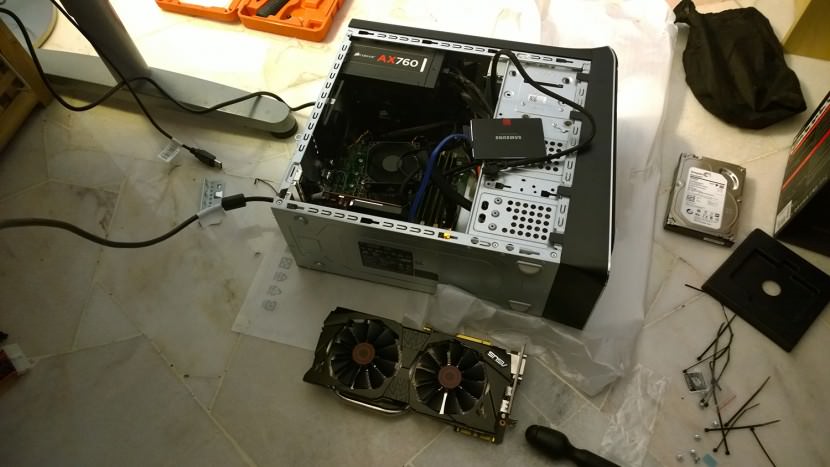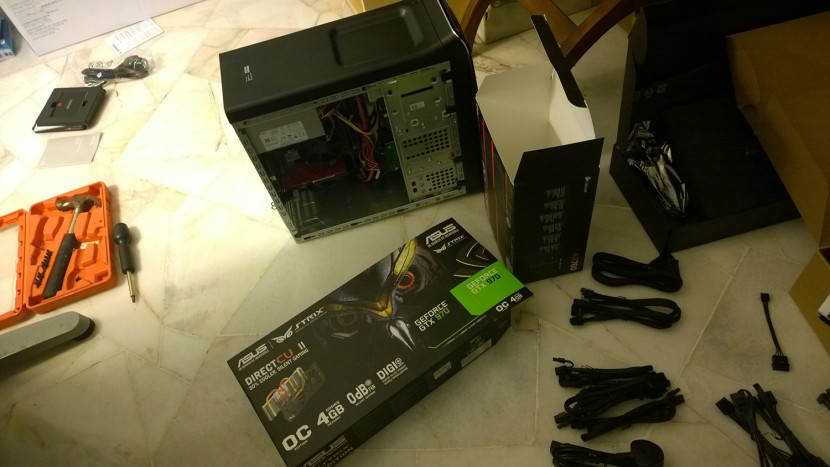 As shown in the photos above, the graphic card is huge, so huge that I have to purchase 2 new 1 meter long SATA cables for my DVD drive and WD hard disk. The Dell's SATA cables are not long enough to go around the graphic card.
Corsair AX760 Power Supply Unit
The PSU (Power Supply Unit) that comes with Dell XPS 8700 is a 460 watt unit. The graphic card I am upgrading to requires a minimum 500w PSU. From what I read online, some people have no problem running their GTX970 on a 460 watt PSU. Just to be safe, I decided to upgrade my PSU to Corsair AX760 ATX Power Supply — 760 Watt 80 PLUS® Platinum Certified Fully-Modular PSU.
Reason for choosing – Less heat generation and lower operating costs with their 80 PLUS Platinum certified efficiency. All components are from Japan and 0 RPM mode for silent operation at low loads. It is quiet.
Asus Xonar DX Sound Card
Crazy as it sounds, installing a sound card on your desktop doesn't make any sense. Since I own an expensive Sony Headphone, I find the sound quality of the on board sound system below average. This is when I decided to buy an Asus Xonar DX sound card. It is powered by complete Dolby Home Theater technologies. There is a slight difference, not recommended for those not without an expensive headphone.
Reason for choosing – Dolby Home Theater technologies
Dell Wireless Keyboard and Mouse Combo – KM714
I dislike the bundled keyboard and mouse, thus I decided to upgrade it to a better quality keyboard and mouse. Initially I thought I was having a battery issue, after swapping another set of batteries, the sluggishness and lagging by both keyboard and mouse in terms of responsiveness continues. It could not have been the CPU because the YouTube video was playing in the background with no sign of lag.
After much research, I discovered the Unifying receiver is interfering with my Router's Wifi. Dell KM714 uses Logitech Unifying technology, and since both my router and Unifying runs on 2.4GHz frequency, it is causing unwanted interference. Unfortunately there's no option to change the channel that the Unifying device uses. I tried solving this problem by placing the unifying receiver away from the wireless router. and I changed the channel of the WiFI router. If you own a router that has a 5Ghz frequency, I suggest switching off the 2.4GHz and use only the 5GHz.
Reason for choosing – Sleek, clean simple design.
Dell UltraSharp U2913WM 29" Ultrawide Monitor
As for monitors, I chose Dell's Ultrawide Monitor because I love multitasking. My normal routine involves editing photos or blogging or surfing the internet while watching YouTube. This Ultrawide monitor is the best, it is probably the least expensive component but it is my favorite component. For those unsure of which port to use, always choose Displayport. Displayport is far better than HDMi and DVi ports.
Reason for choosing – It is like have a dual monitor setup.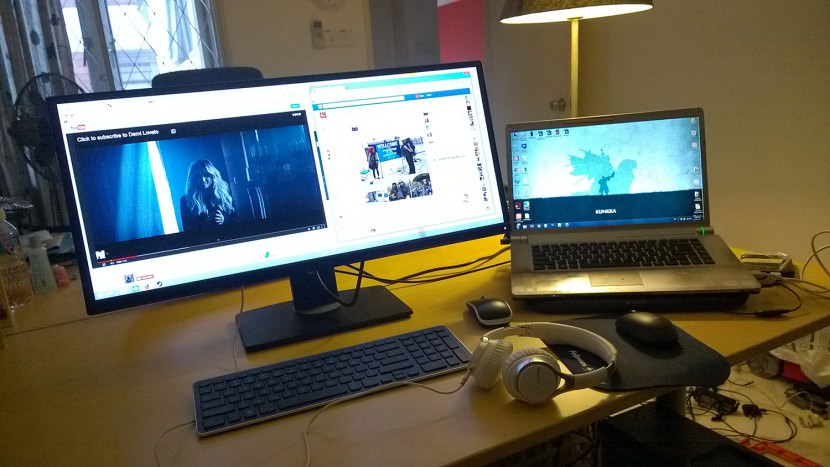 As shown in the photo above, that's my old trusty Sony laptop and a very good Sony headphone.
My Dell XPS 8700 Specs and Quick Review
My Dell XPS 8700 comes with 4th Generation Intel Core i7-4790 processor (8M Cache, up to 4.0 GHz) and a 16GB Dual Channel DDR3L 1600MHz (4GBx4) upgradable to 32GB. Overall, I am really happy with my new desktop. I can't say this is the best desktop but it is definitely a huge upgrade for me in terms of speed.