Words of encouragement are important when someone is going through a rough time, however, over encouraging is bad. Sometimes it is good to discourage someone if you know he or she is going down the wrong path. For instance, your friend that can't sing and doesn't have good looks with a dream to be a singer, not impossible but almost unrealistic.
See More ▼ 7 Characteristic of Successful vs Unsuccessful Person in Business and Life
"Don't praise me, praises kill my determination. Don't back stab me, because you are pushing yourself to the end. Don't support me, critique me, I need that to complete myself." Without further ado, here are some of the best Words of Encouragement quotes for those that almost made it to the finishing line.
You can't have life without death, nor can you have success without failure. This is where the concept of Yin and Yang comes into play, yin and yang describes how opposite or contrary forces are actually complementary, interconnected, and interdependent in the natural world, and how they give rise to each other as they interrelate to one another. Everything has both yin and yang aspects, for instance shadow cannot exist without light. Just like the philosophy of Buddhism, the path to enlightenment lay along the Middle Way, if the Sita's string is too tight, it will snap and the music dies, if the Sita's string is too loose, there will be no sound.
Remember that when you are failing, instead of giving up, take a look at the situation, are you too extreme or too slacking on the problem? If so, take a step back and move towards the middle path. The Buddha describes the middle way as a path of moderation, between the extremes of sensual indulgence and self-mortification. This, according to him, was the path of wisdom, it gives vision, gives knowledge, and leads to calm, to insight, and to enlightenment.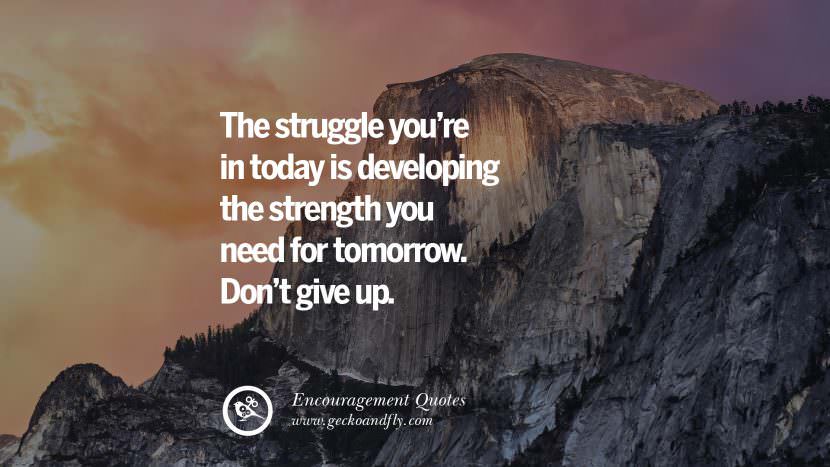 The struggle you're in today is developing the strength you need for tomorrow. Don't give up.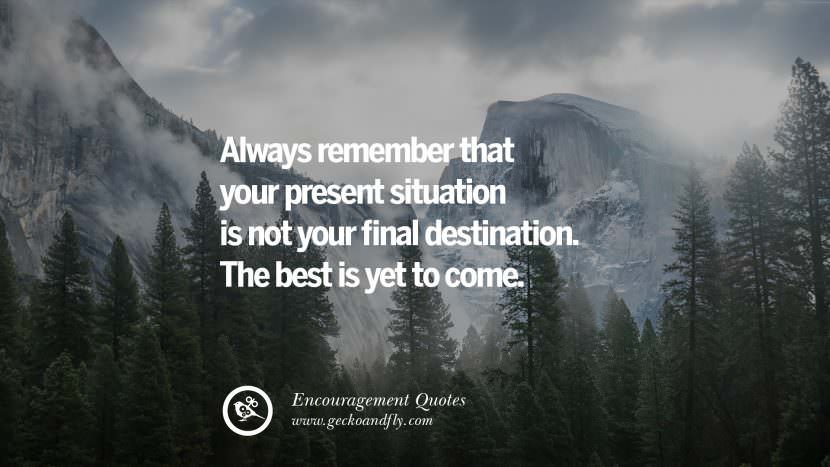 Always remember that your present situation is not your final destination. The best is yet to come.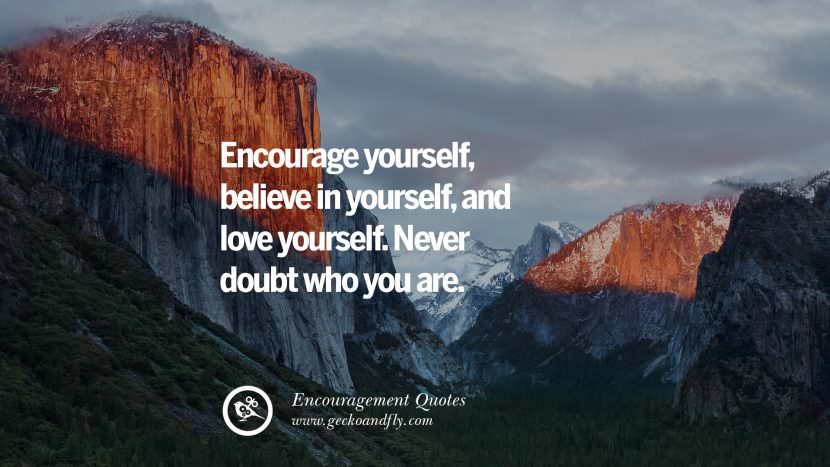 Encourage yourself, believe in yourself, and love yourself. Never doubt who you are.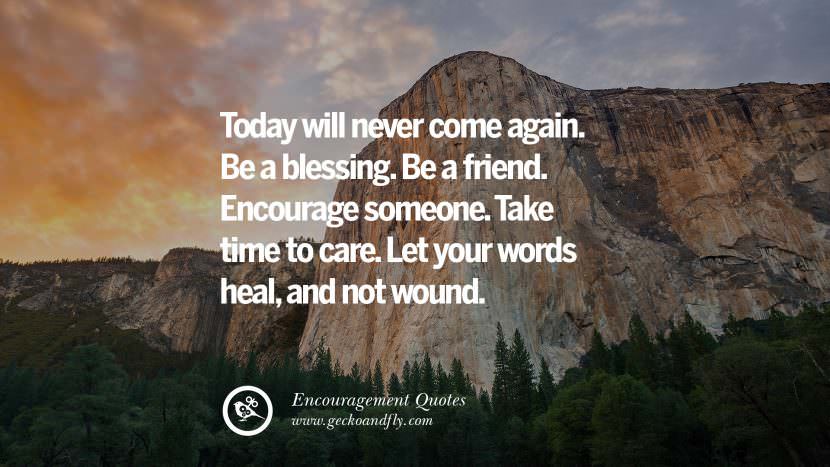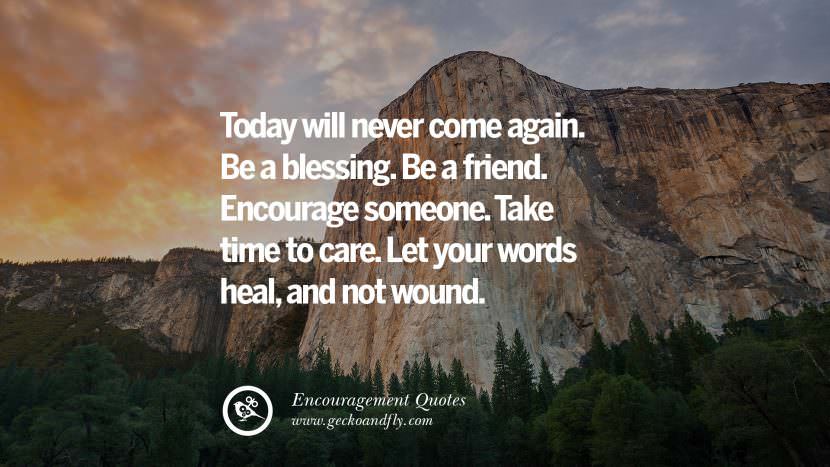 Today will never come again. Be a blessing. Be a friend. Encourage someone. Take time to care. Let your words heal, and not wound.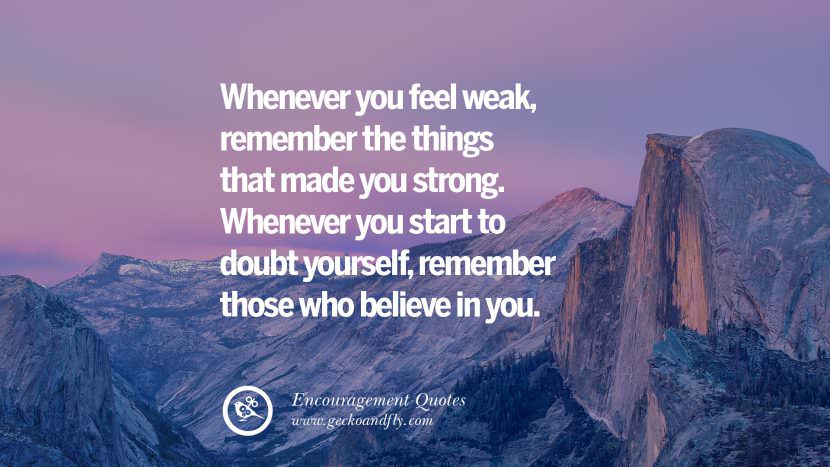 Whenever you feel weak, remember the things that made you strong. Whenever you start to doubt yourself, remember those who believe in you.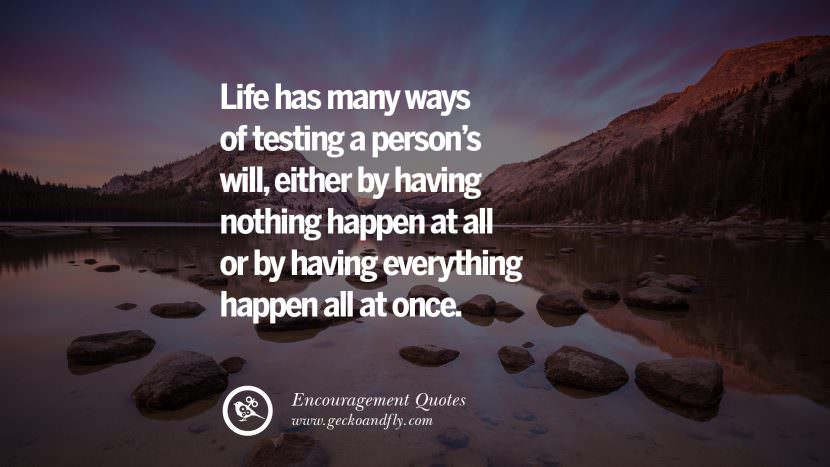 Life has many ways of testing a person's will, either by having nothing happen at all or by having everything happen all at once.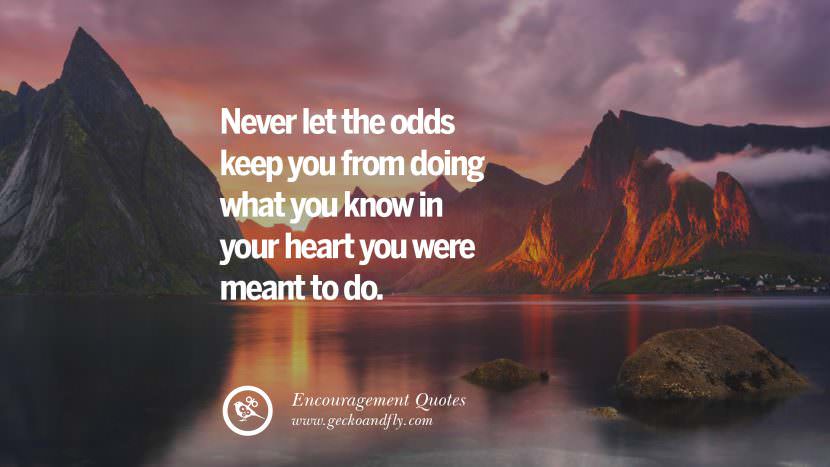 Never let the odds keep you from doing what you know in your heart you were meant to do.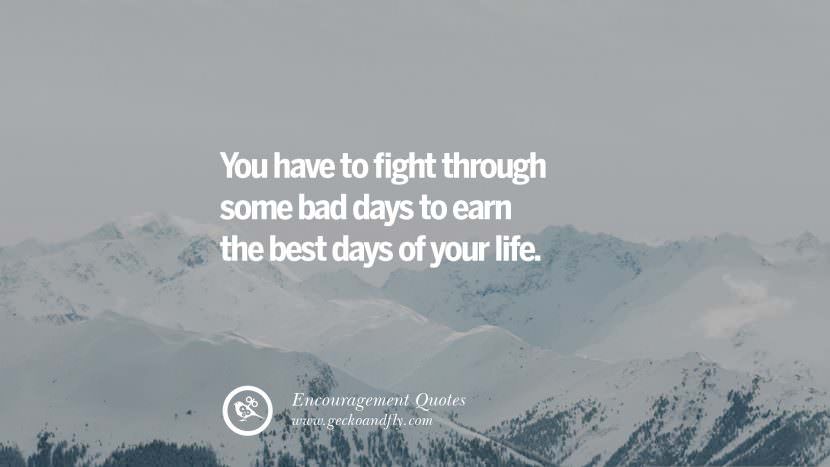 You have to fight through some bad days to earn the best days of your life.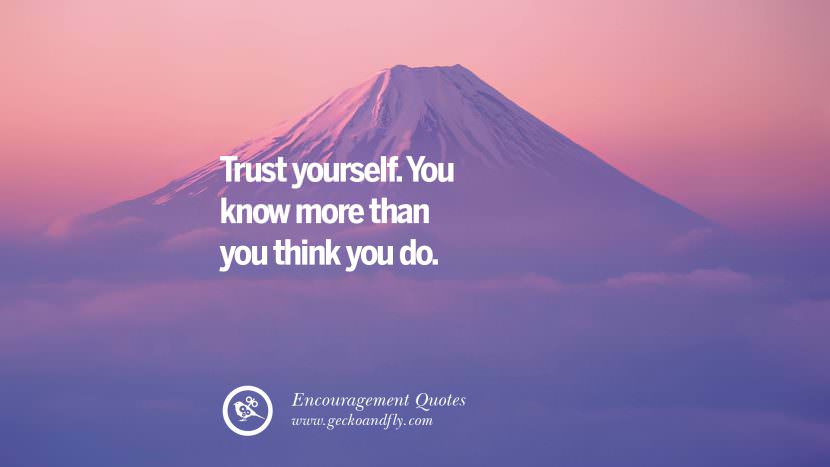 Trust yourself. You know more than you think you do.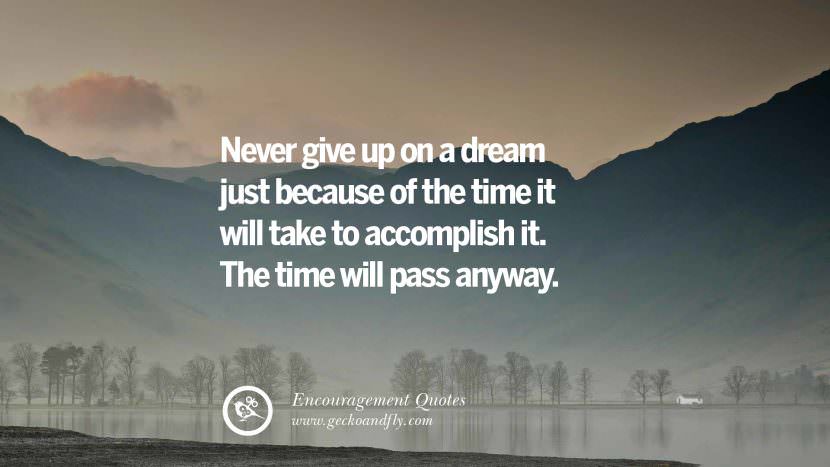 Never give up on a dream just because of the time it will take to accomplish it. The time will pass anyway.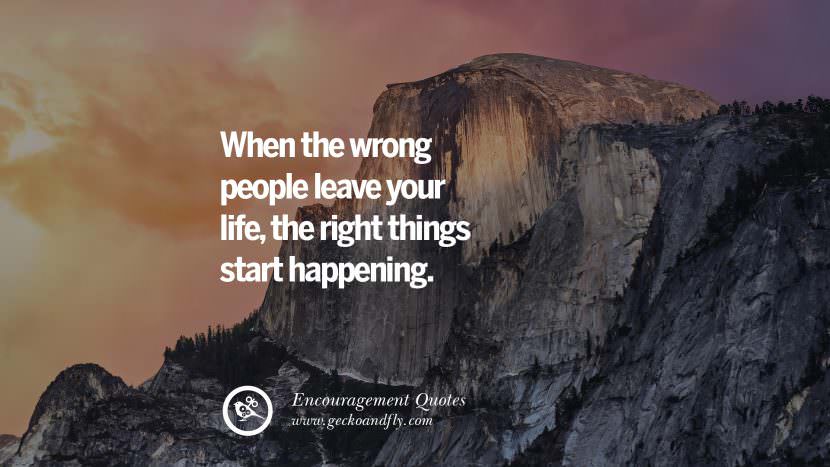 When the wrong people leave your life, the right things start happening.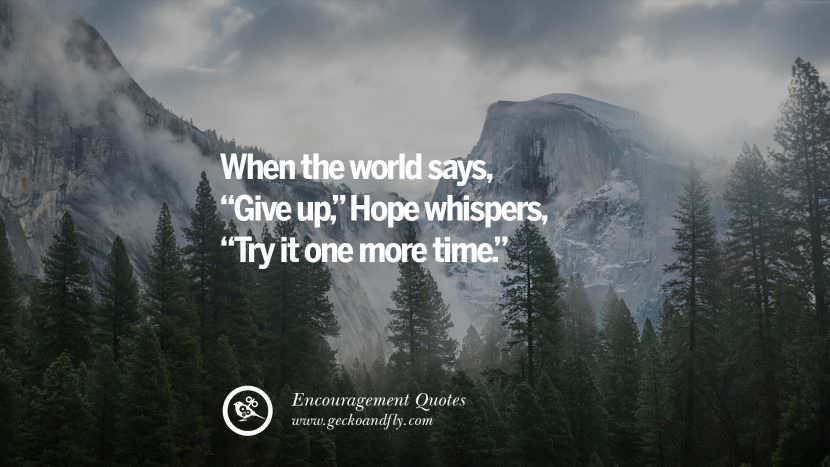 When the world says "Give up," Hope whispers, "Try it one more time."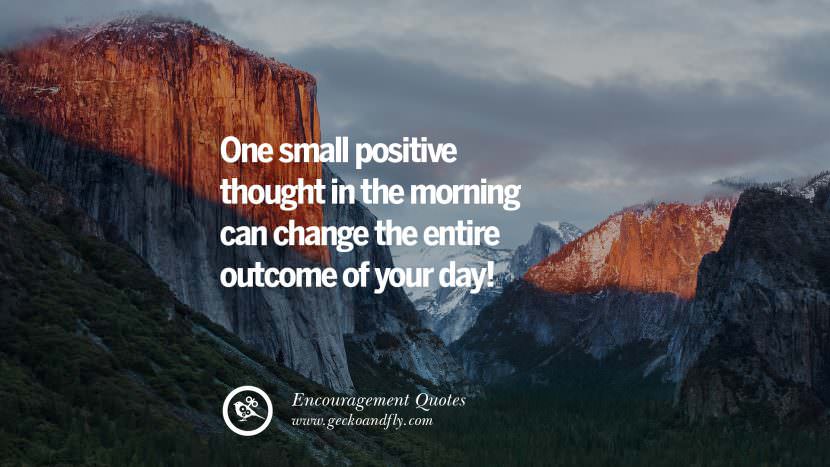 One small positive thought in the morning can change the entire outcome of your day!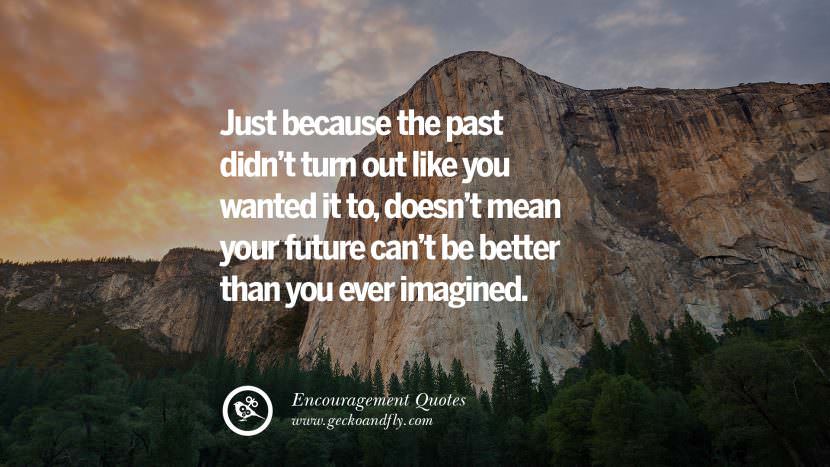 Just because the past didn't turn out like you wanted it to, doesn't mean your future can't be better than you ever imagined.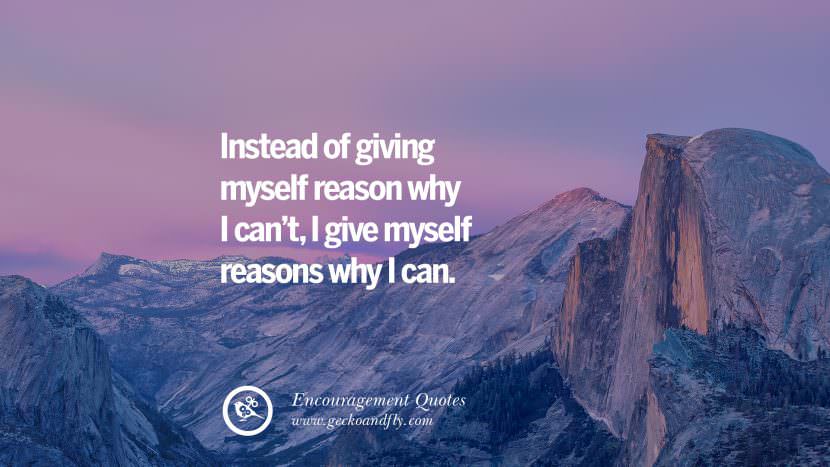 Instead of giving myself reason why I can't, I give myself reasons why I can.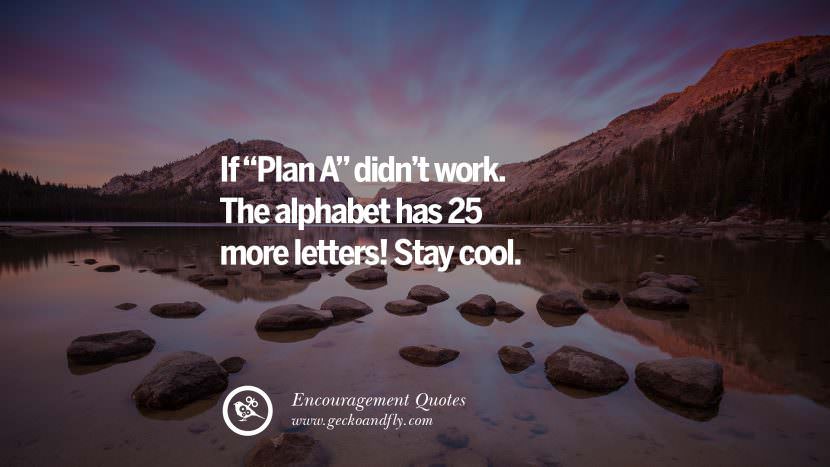 If "Plan A" didn't work. The alphabet has 25 more letters! Stay cool.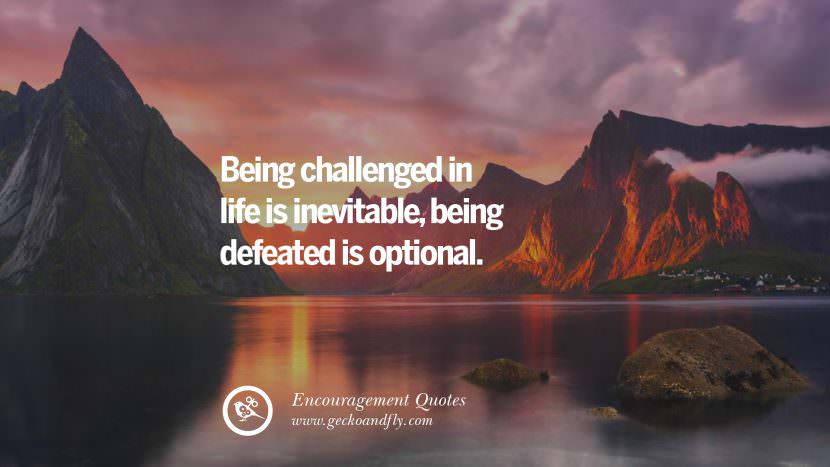 Being challenged in life is inevitable, being defeated is optional.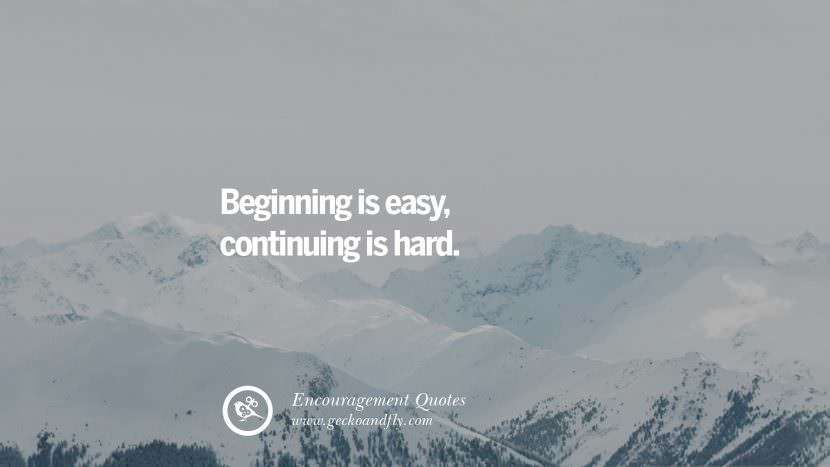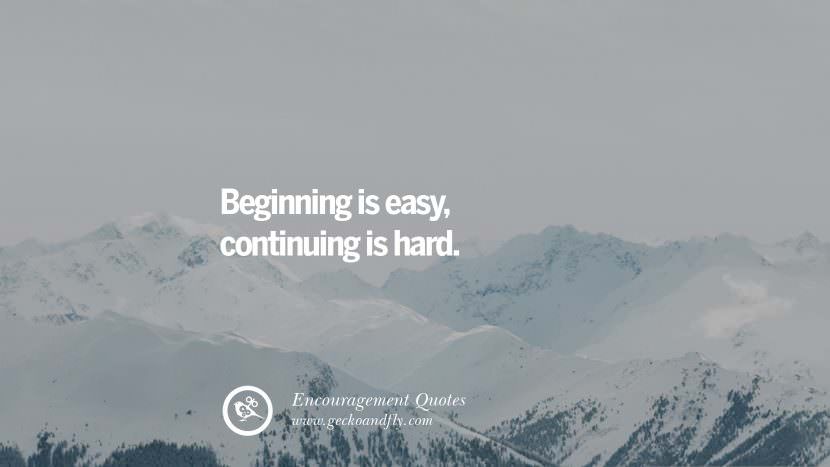 Beginning is easy, continuing is hard.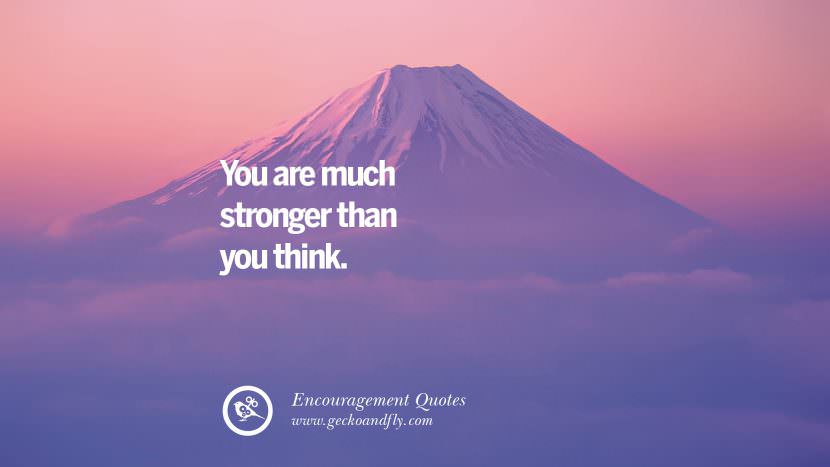 You are much stronger than you think.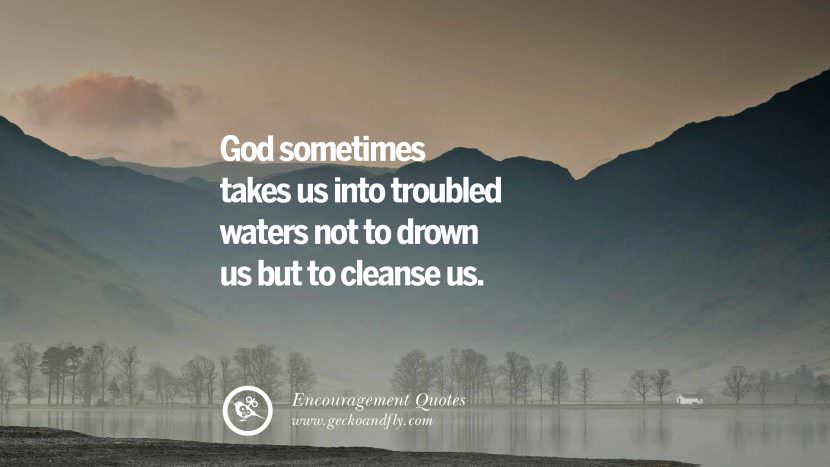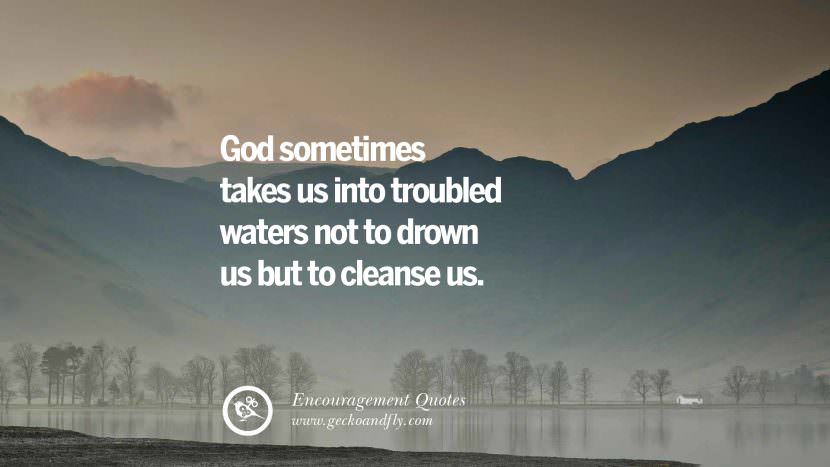 God sometimes takes us intro troubled waters not to drown us but to cleanse us.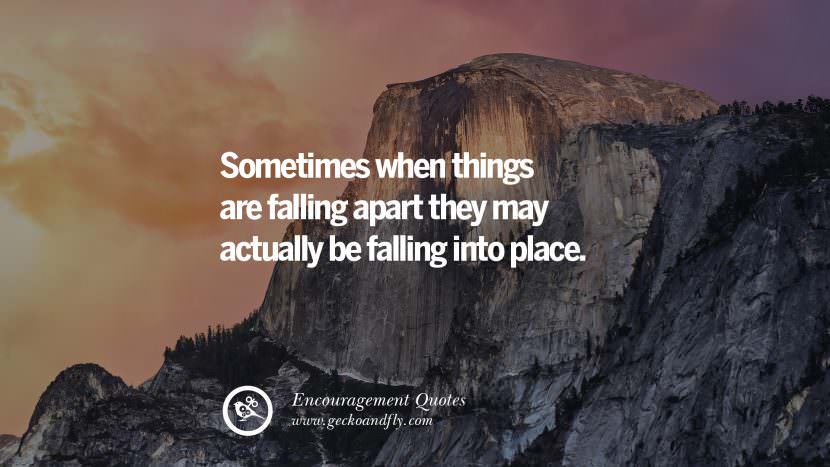 Sometimes when things are falling apart they may actually be falling into place.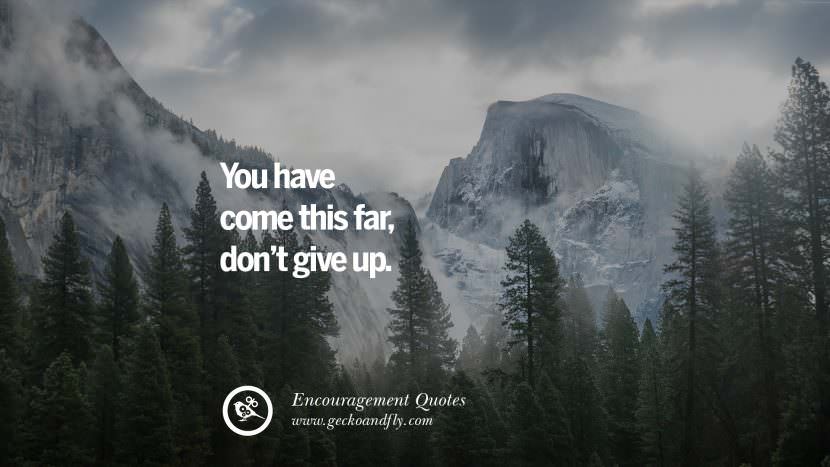 You have come this far, don't give up.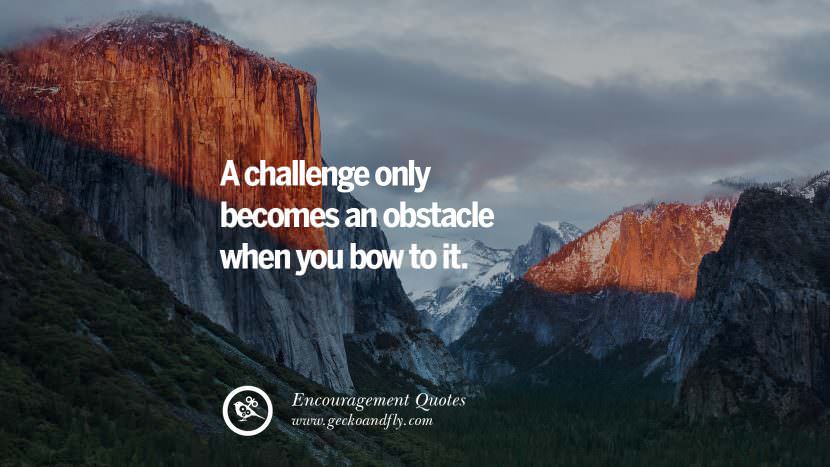 A challenge only becomes an obstacle when you bow to it.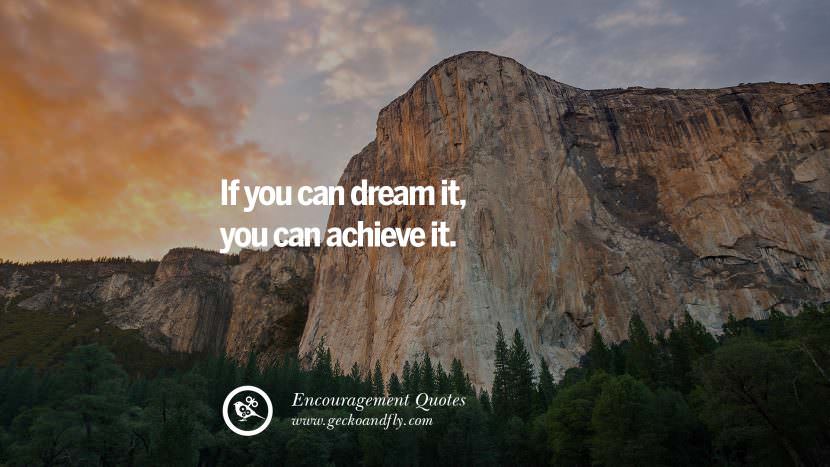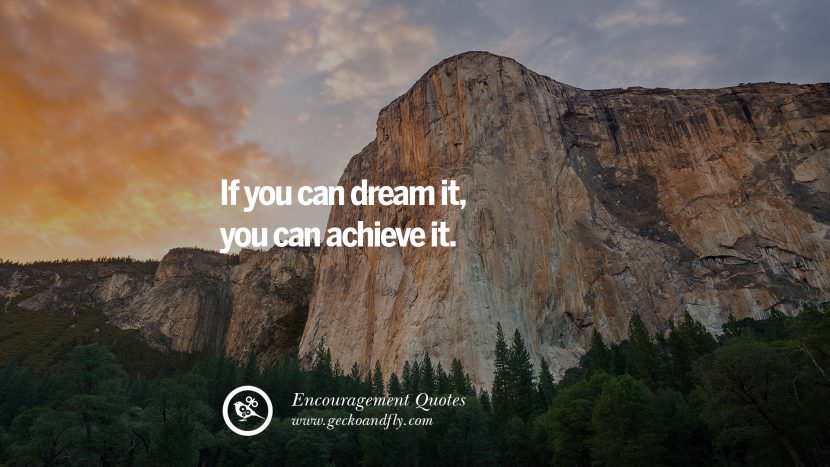 If you can dream it, you can achieve it.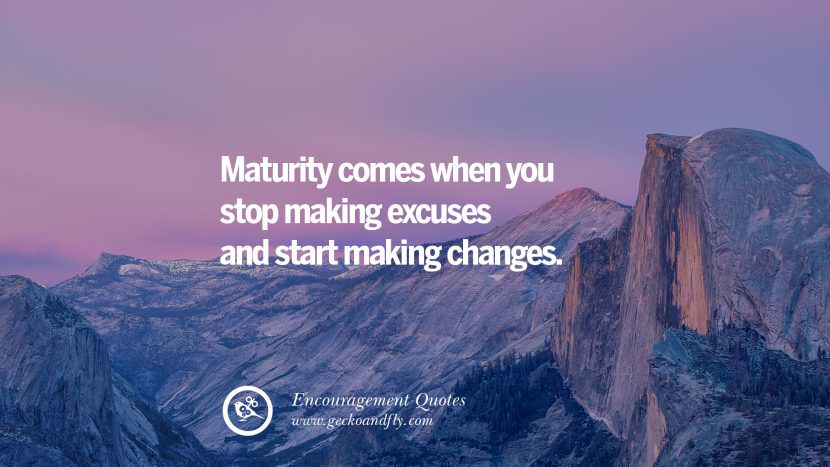 Maturity comes when you stop making excuses and start making changes.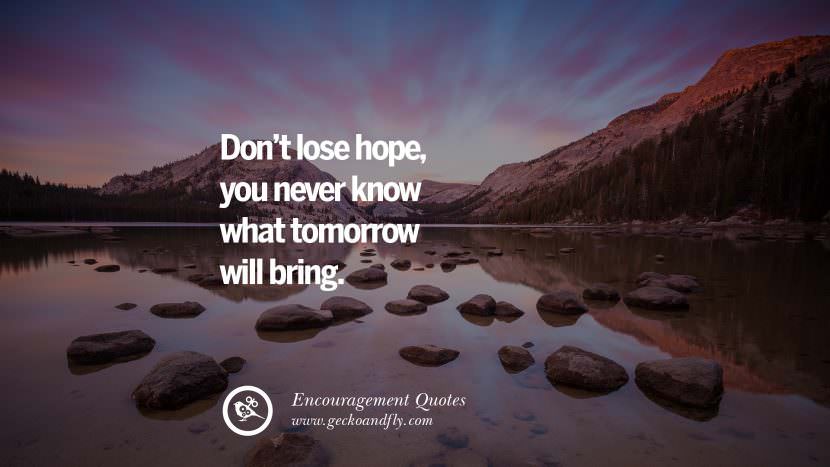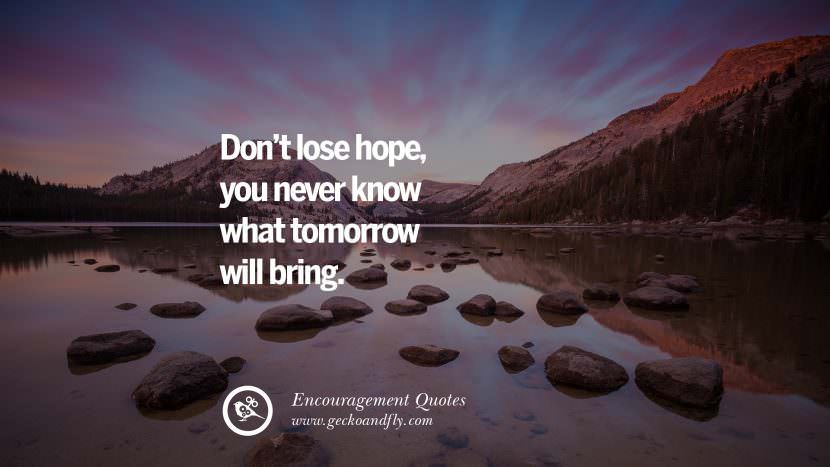 Don't lose hope, you never know what tomorrow will bring.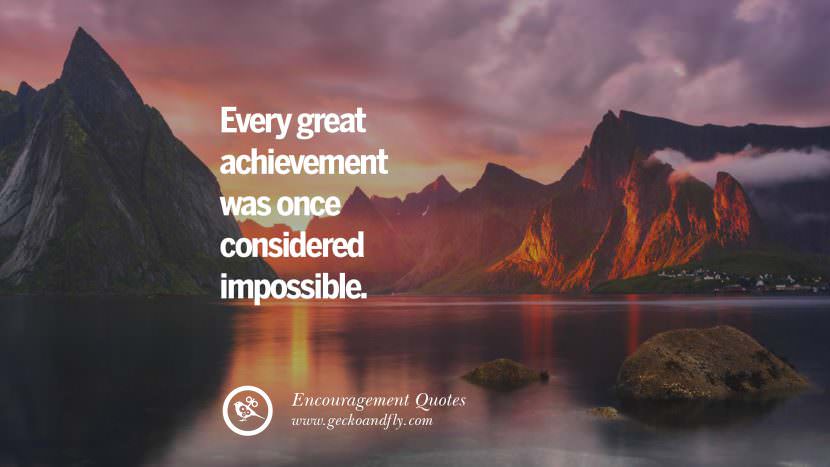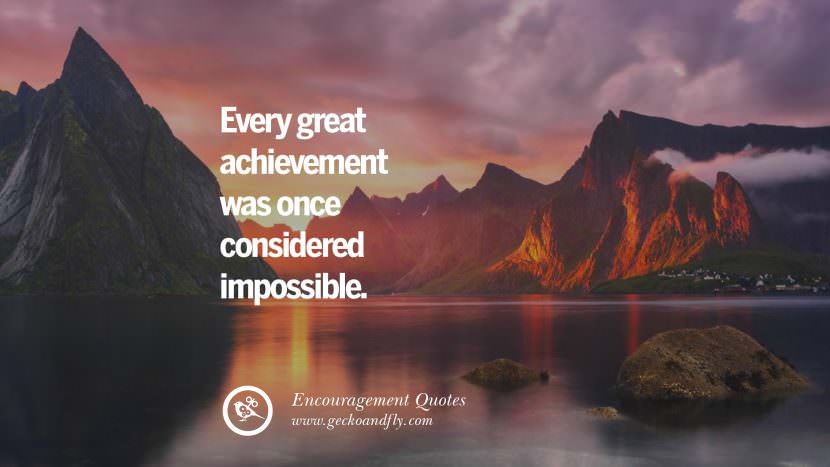 Every great achievement was once considered impossible.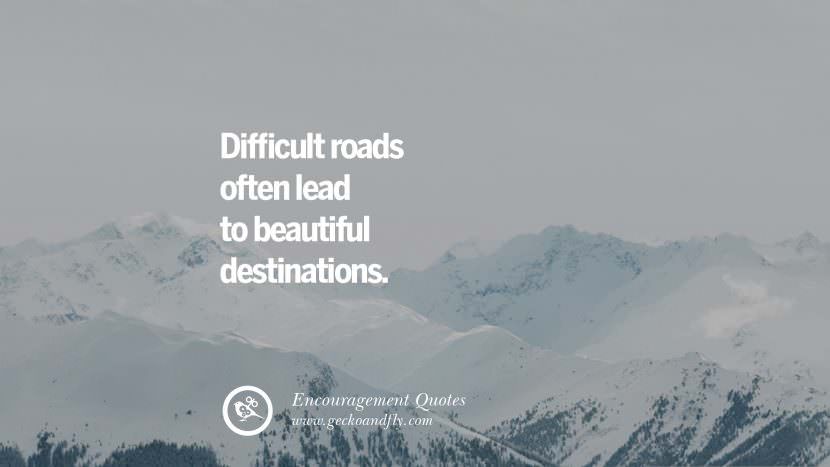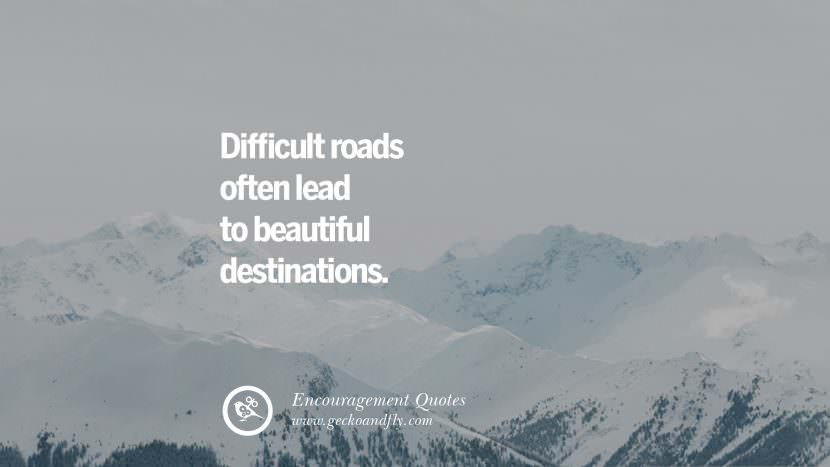 Difficult roads often lead to beautiful destinations.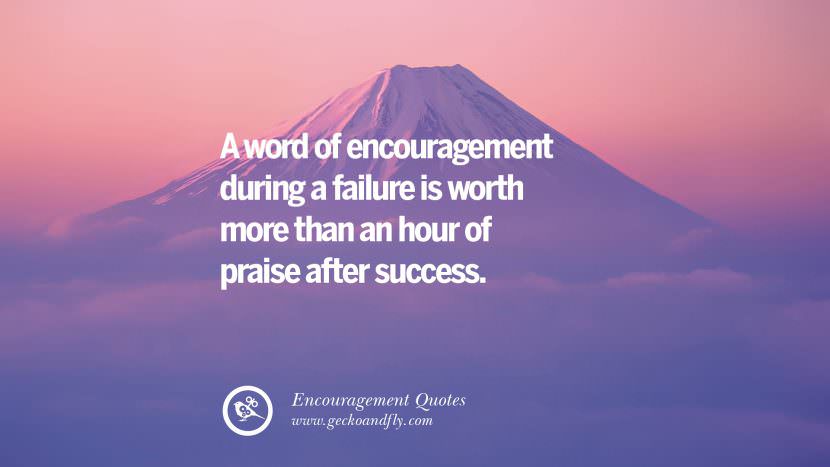 A word of encouragement during a failure is worth more than an hour of praise after success.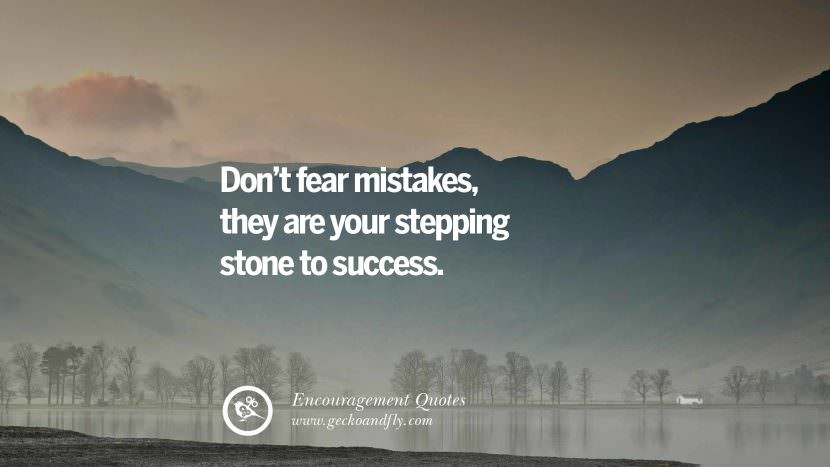 Don't fear mistakes, they are your stepping stone to success.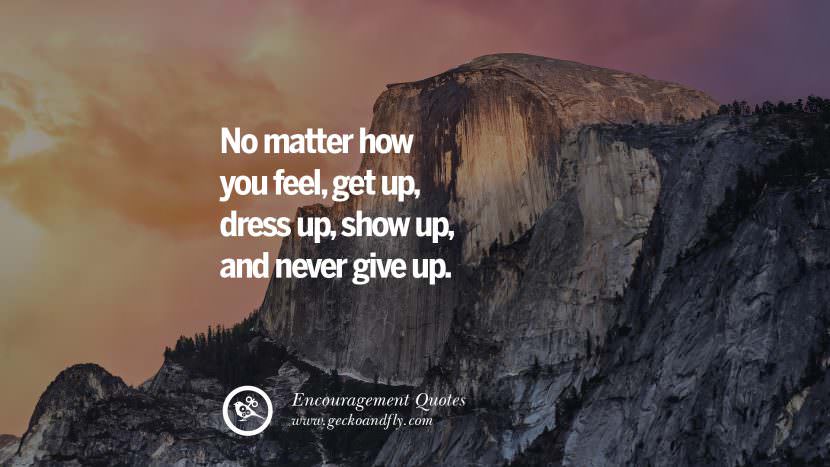 No matter how you feel, get up, dress up, show up, and never give up.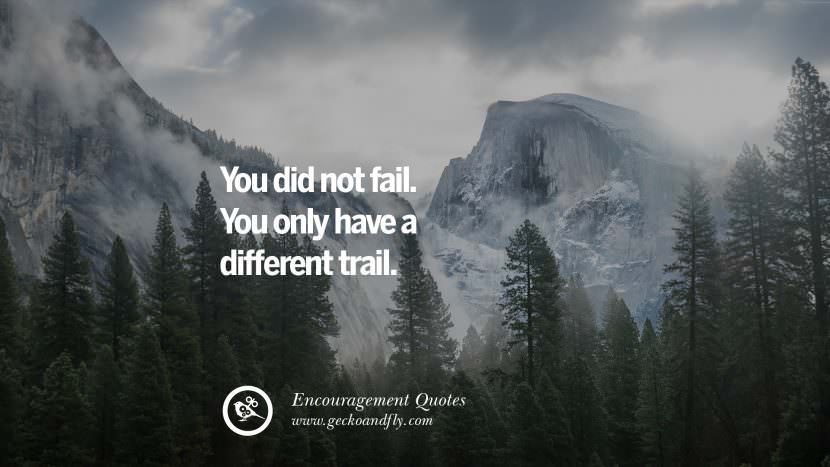 You did not fail. You only have a different trail.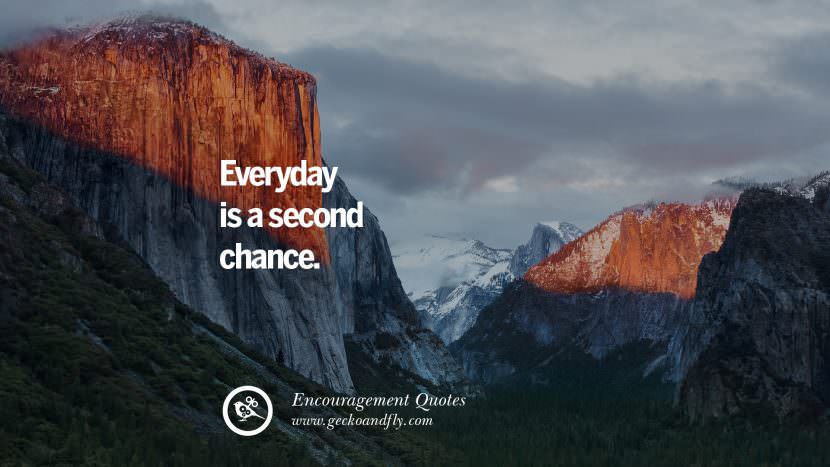 Everyday is a second chance.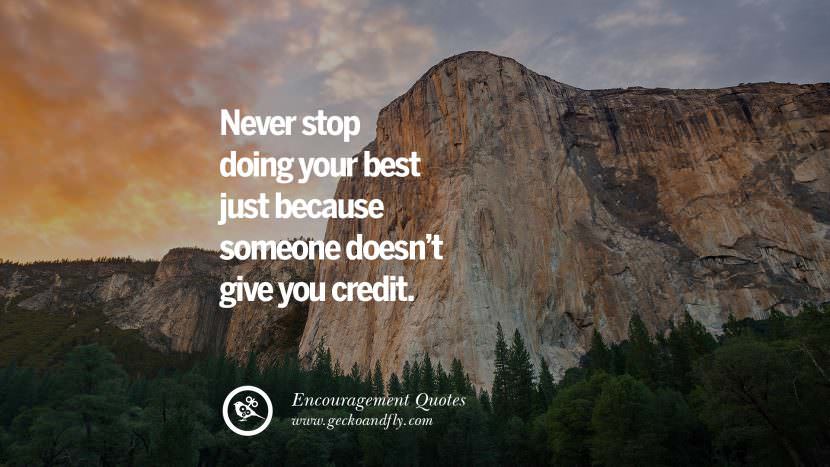 Never stop doing your best just because someone doesn't give you credit.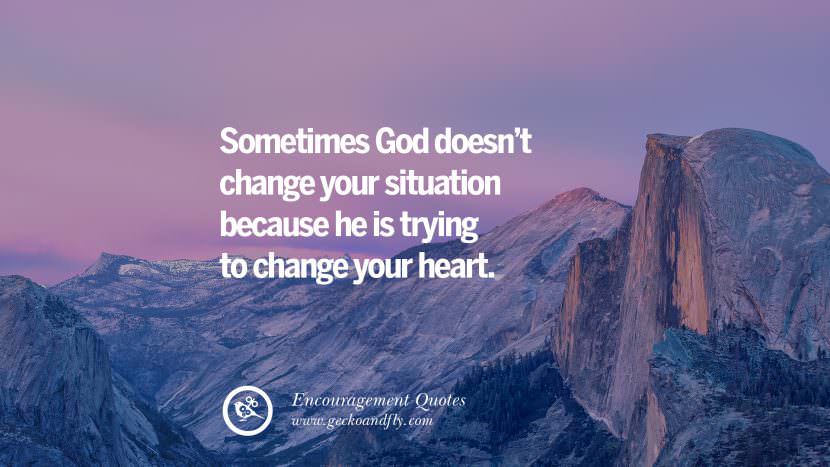 Sometimes God doesn't change your situation because he is trying to change your heart.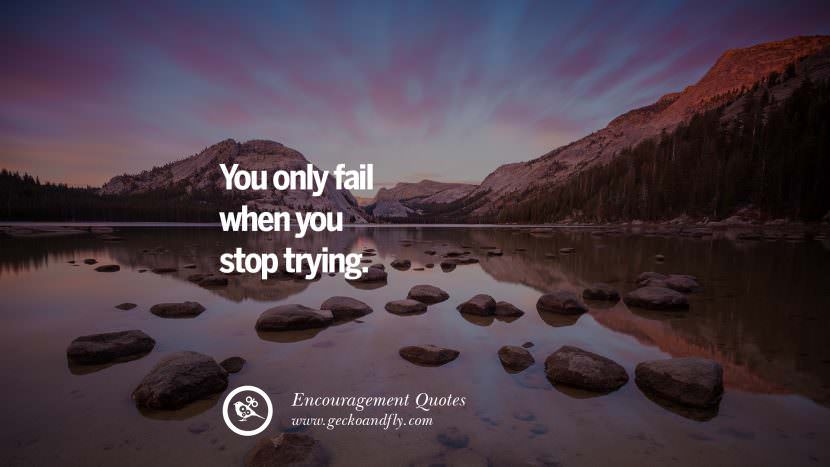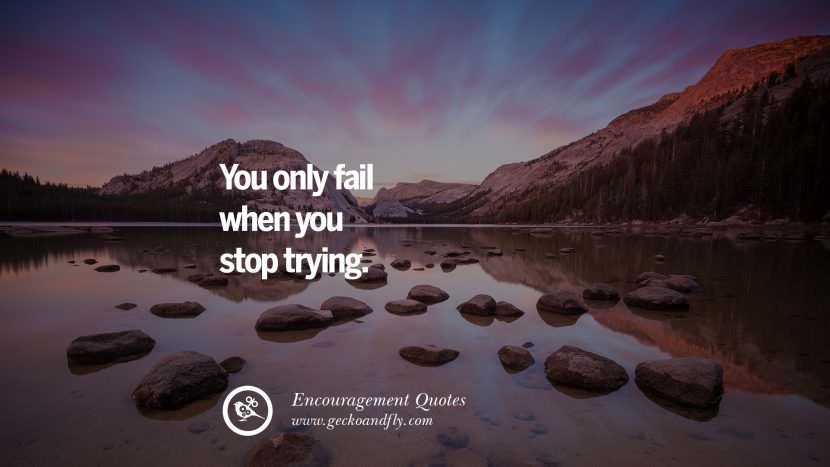 You only fail when you stop trying.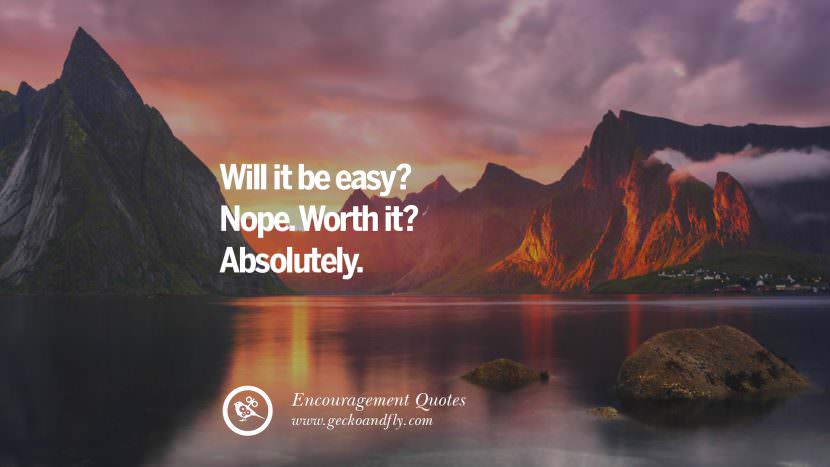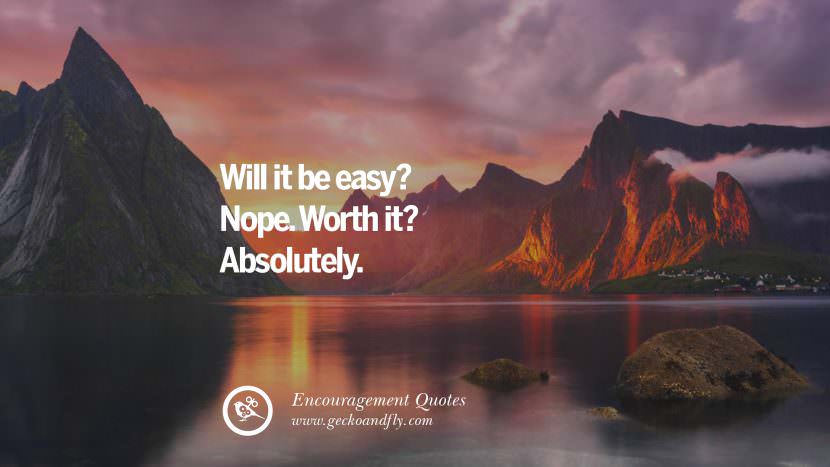 Will it be easy? Nope. Worth it? Absolutely.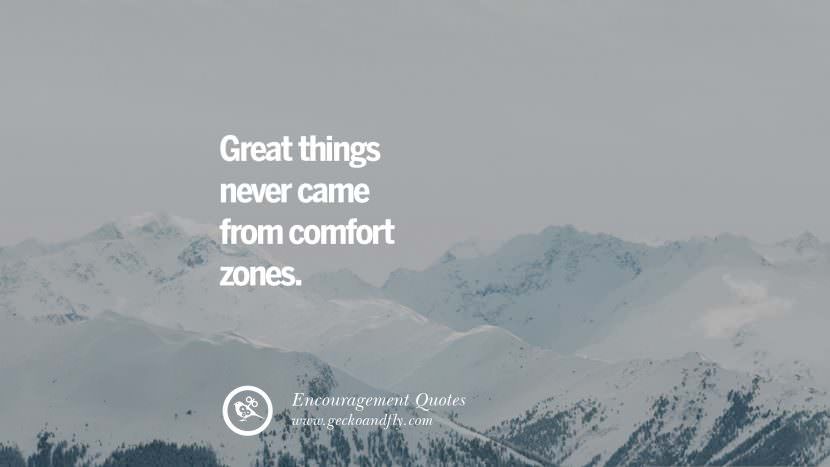 Great things never came from comfort zones.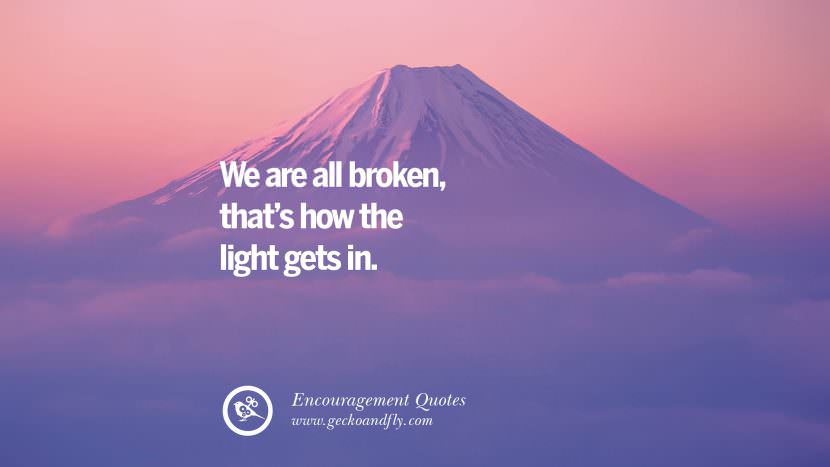 We are all broken that's how the light gets in.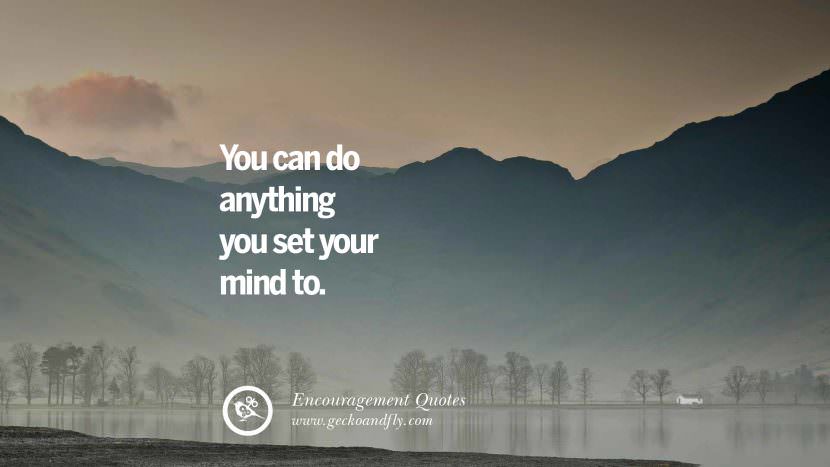 You can do anything you set your mind to.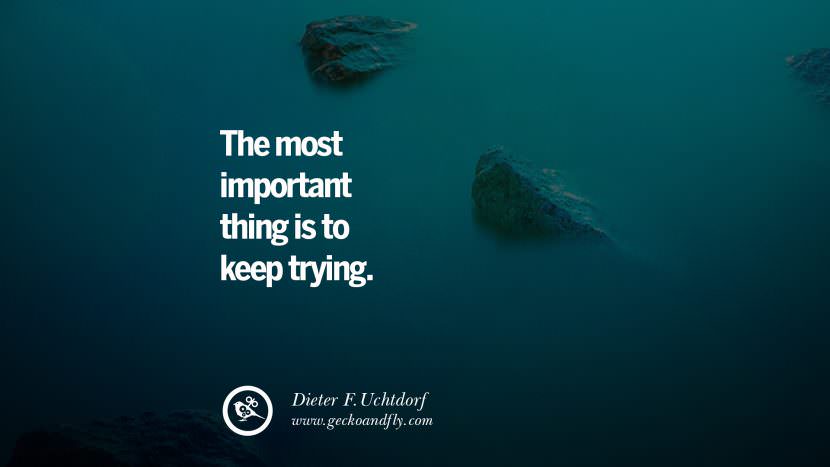 The most important thing is to keep trying. – Dieter F.Uchtdorf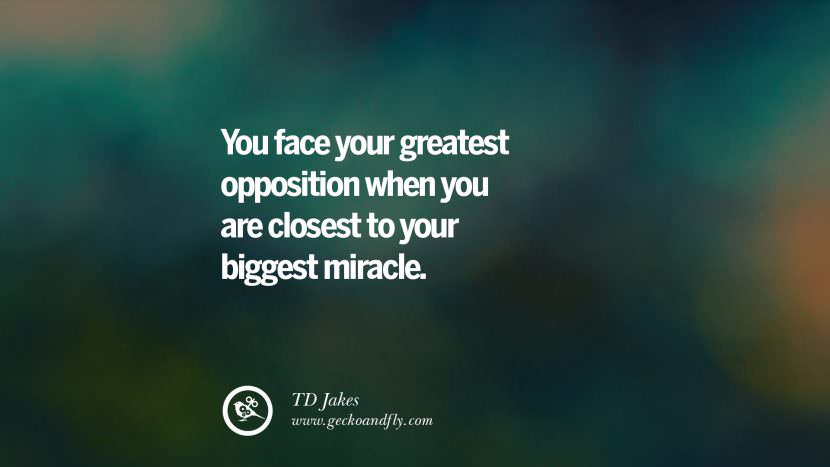 You face your greatest opposition when you are closest to your biggest miracle. – TD Jakes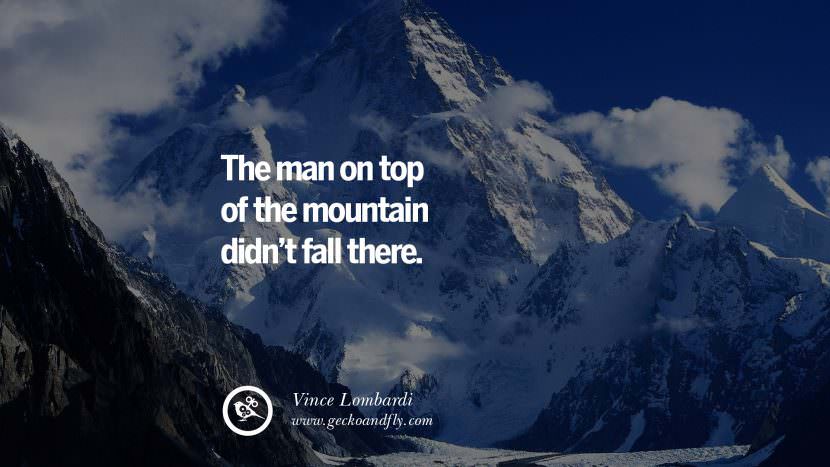 The man on top of the mountain didn't fall there. – Vince Lombardi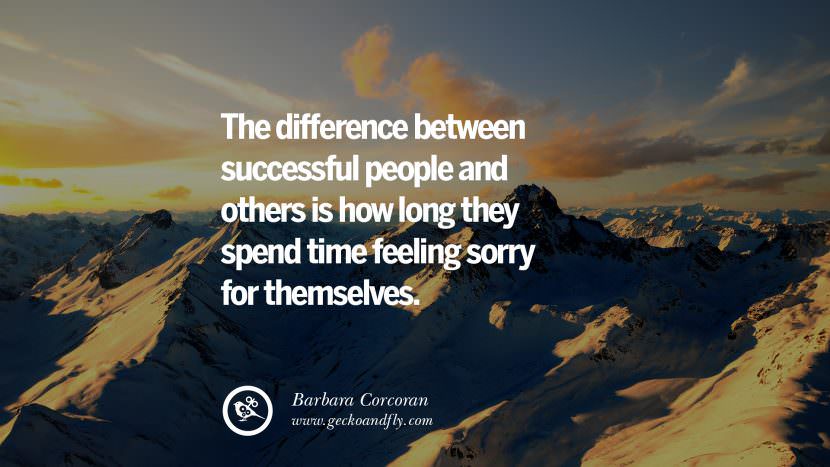 The difference between successful people and others is how long they spend time feeling sorry for themselves. – Barbara Corcoran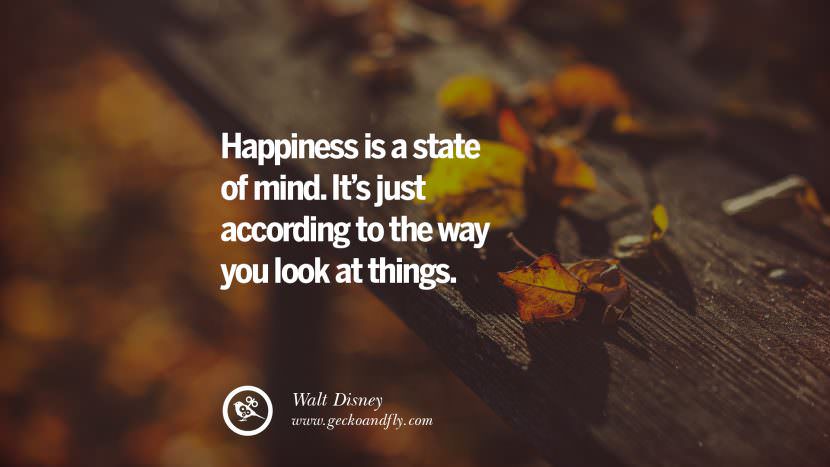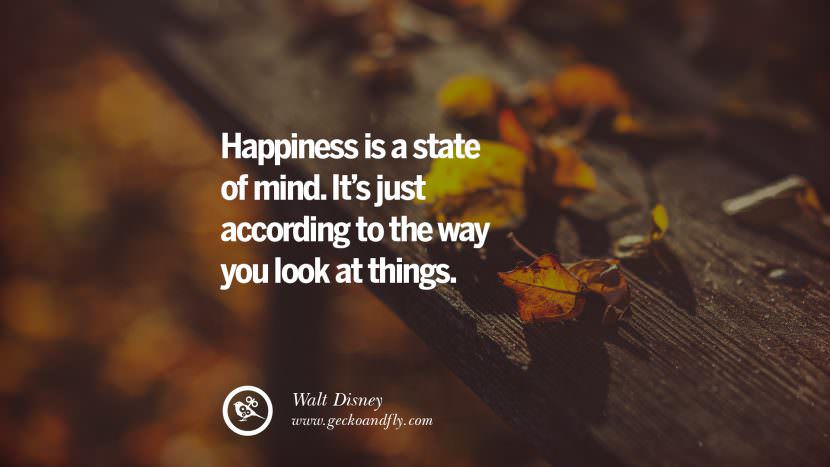 Happiness is a state of mind. It's just according to the way you look at things. – Walt Disney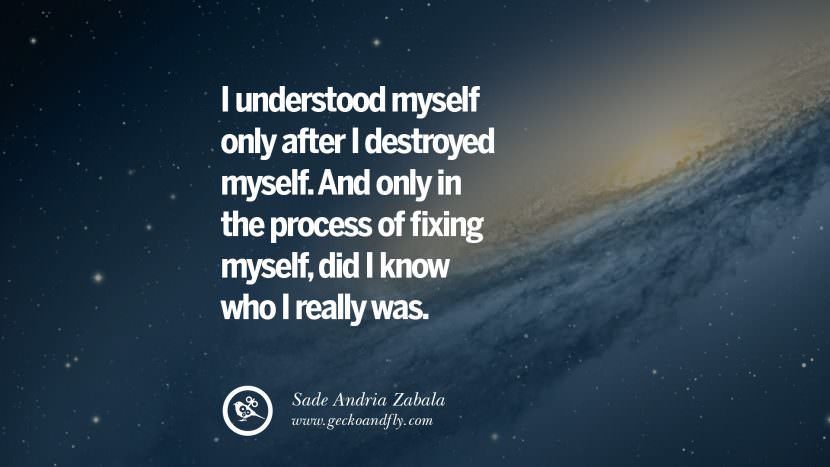 I understood myself only after I destroyed myself. And only in the process of fixing myself, did I know who I really was. – Sade Andria Zabala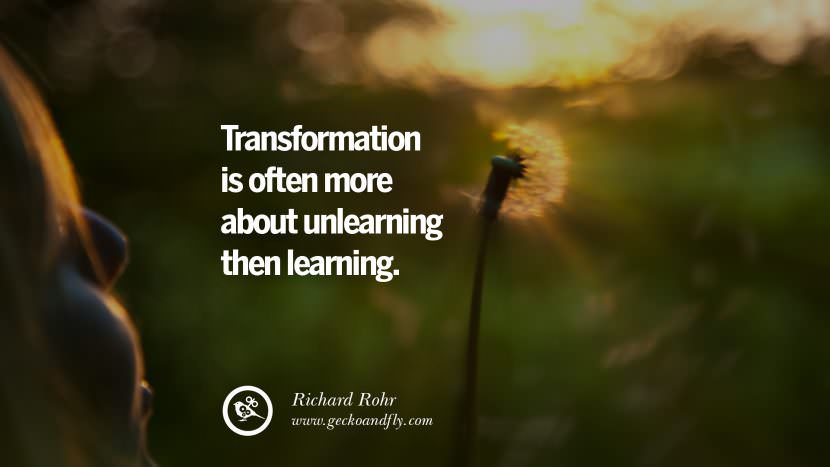 The transformation is often more about unlearning then learning. – Richard Rohr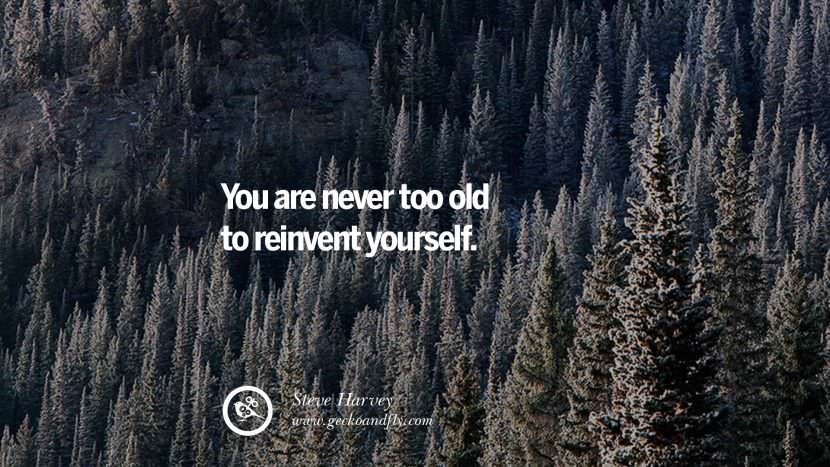 You are never too old to reinvent yourself. – Steve Harvey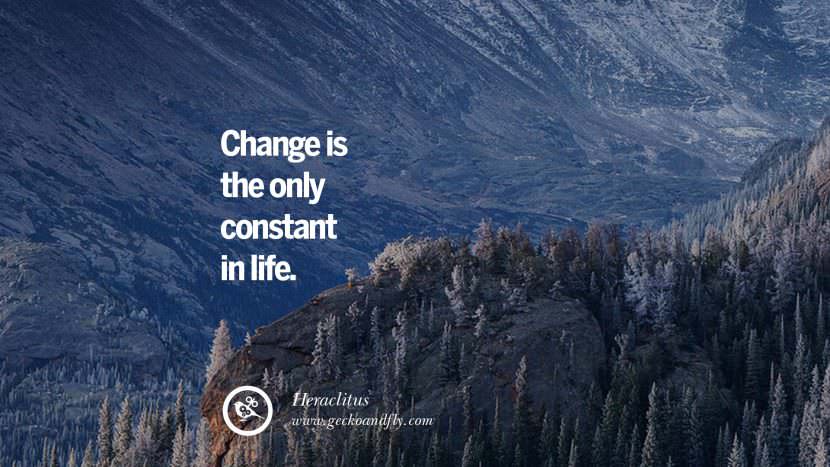 Change is the only constant in life. – Heraclitus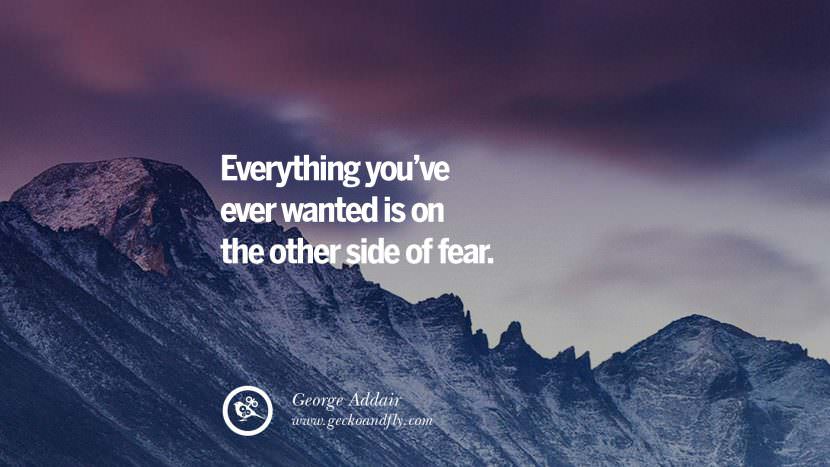 Everything you've ever wanted is on the other side of fear. – George Addair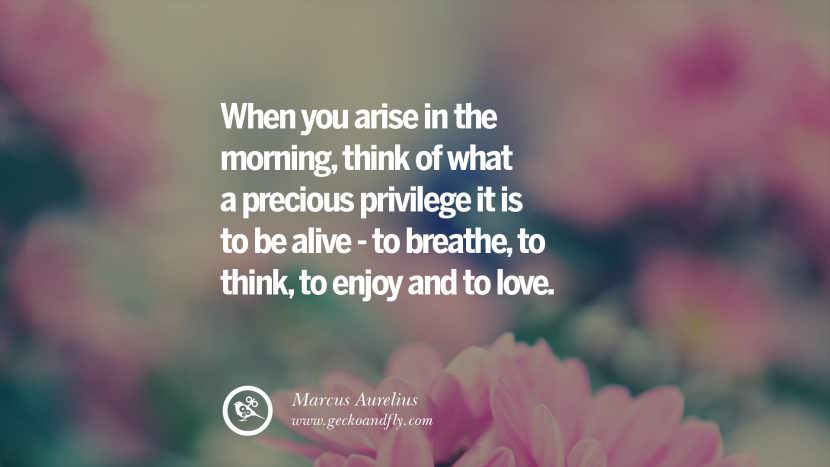 When you arise in the morning, think of what a precious privilege it is to be alive – to breathe, to think, to enjoy and to love. – Marcus Aurelius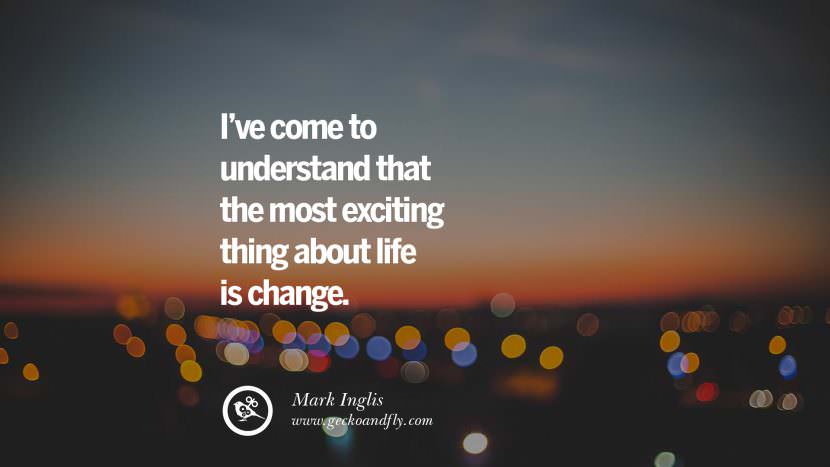 I've come to understand that the most exciting thing about life is change. – Mark Inglis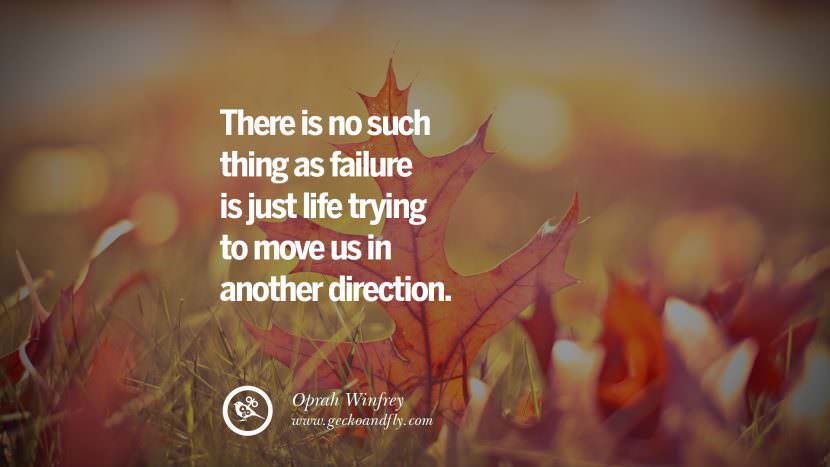 There is no such thing as failure is just life trying to move us in another direction. – Oprah Winfrey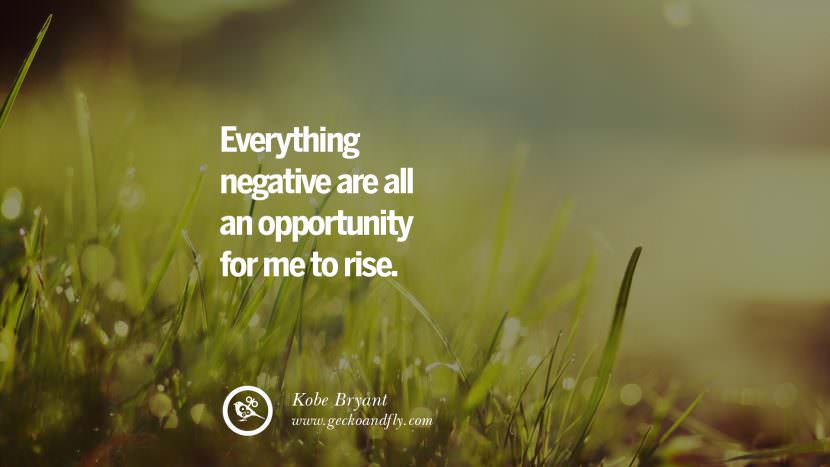 Everything negative are all an opportunity for me to rise. – Kobe Bryant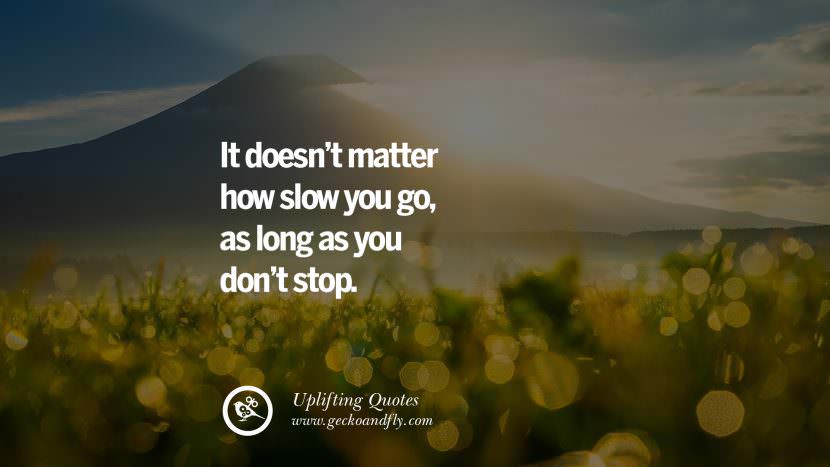 It doesn't matter how slow you go, as long as you don't stop.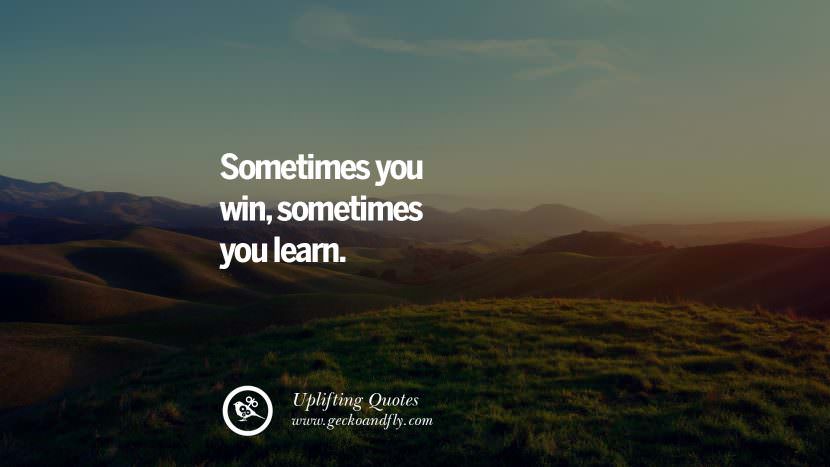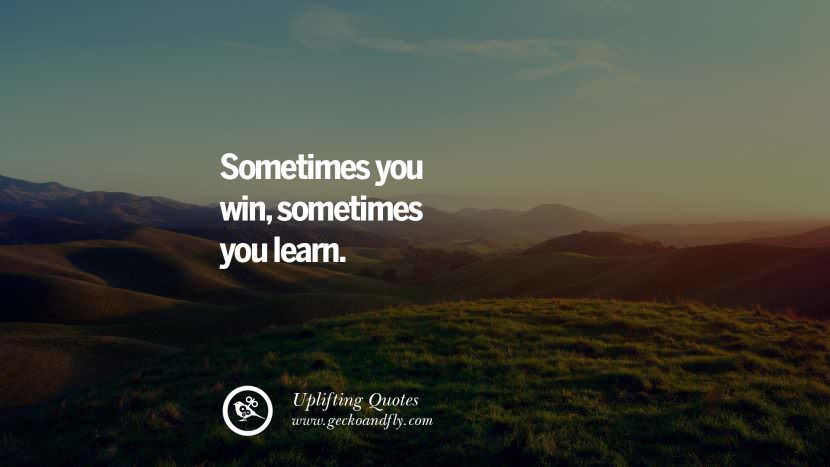 Sometimes you win, sometimes you learn.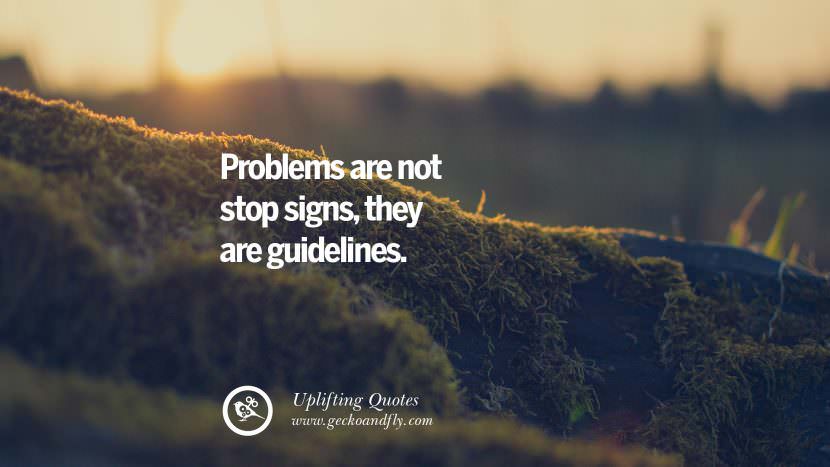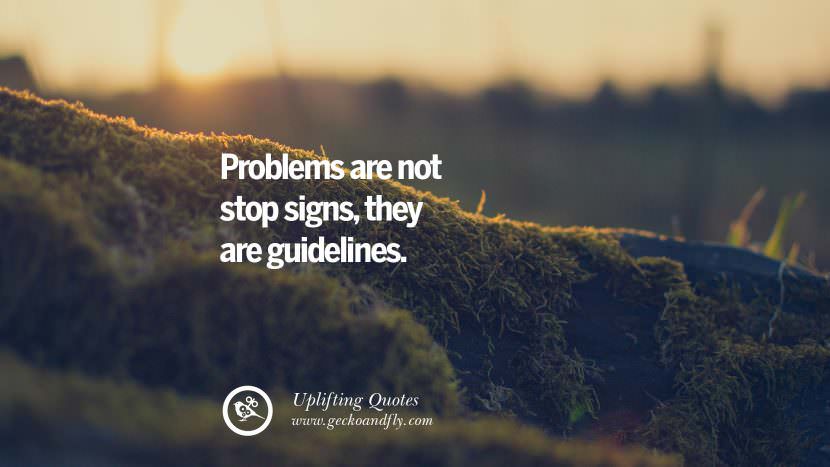 Problems are not stop signs, they are guidelines.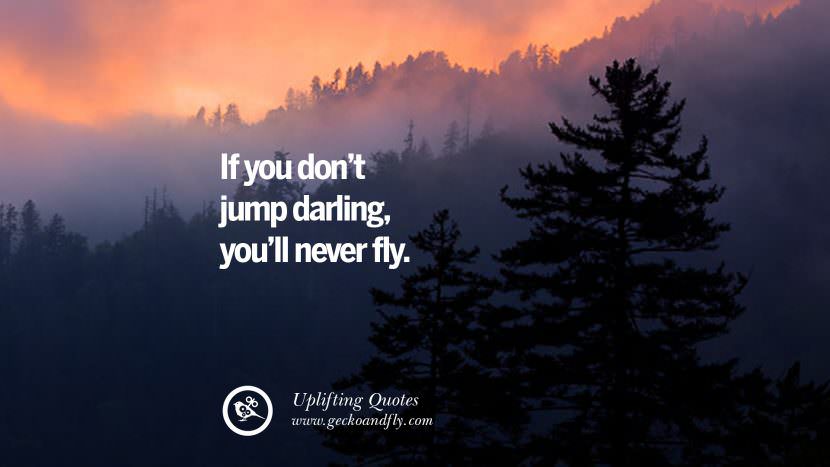 If you don't jump darling, you'll never fly.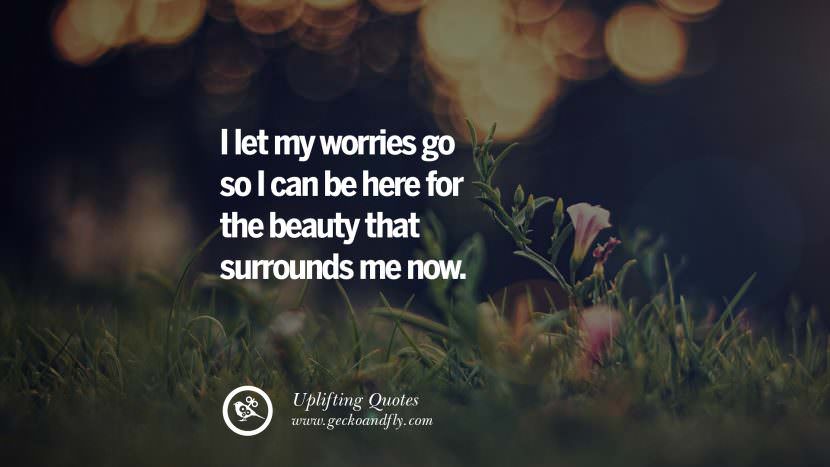 I let my worries go so I can be here for the beauty that surrounds me now.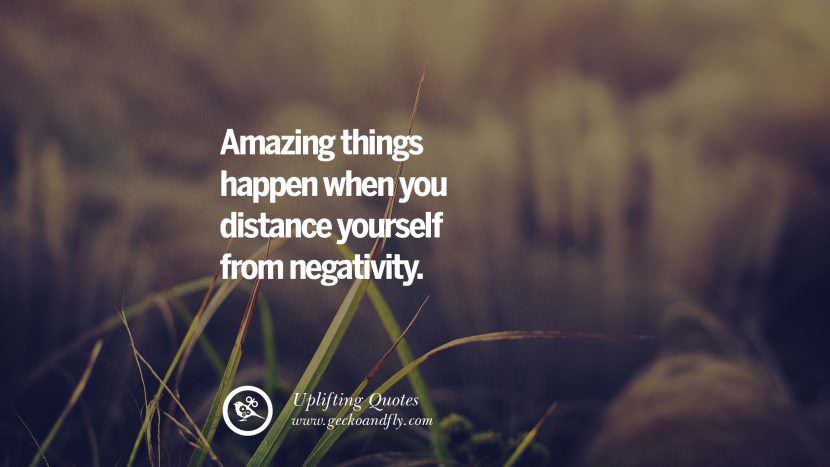 Amazing things happen when you distance yourself from negativity.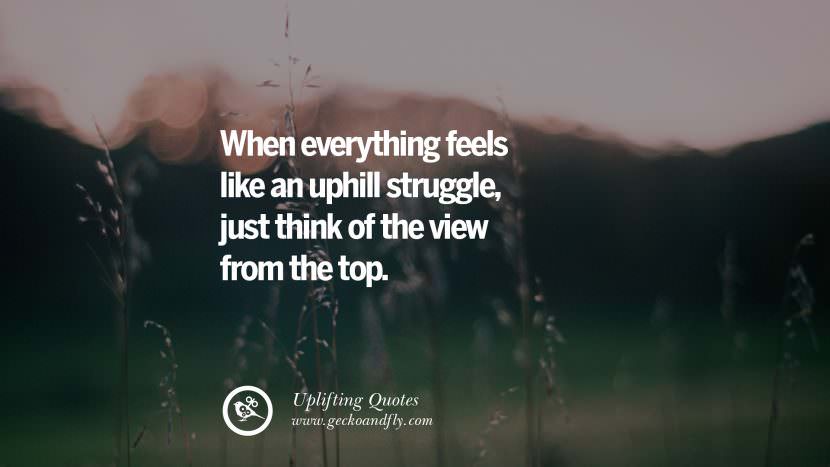 When everything feels like an uphill struggle, just think of the view from the top.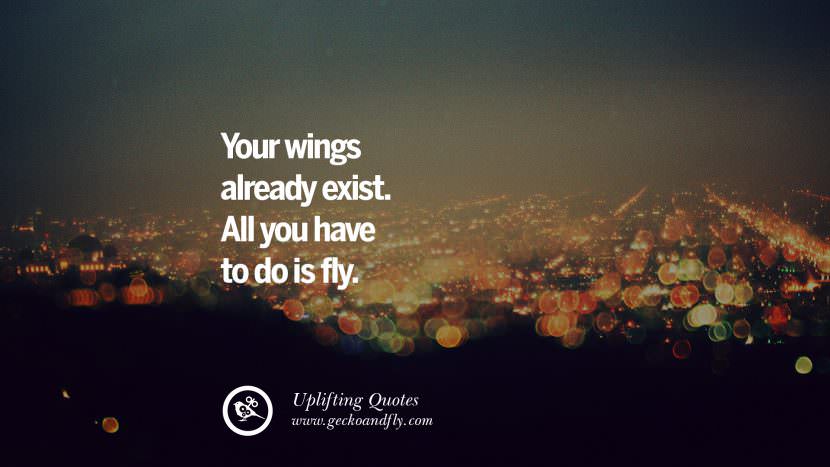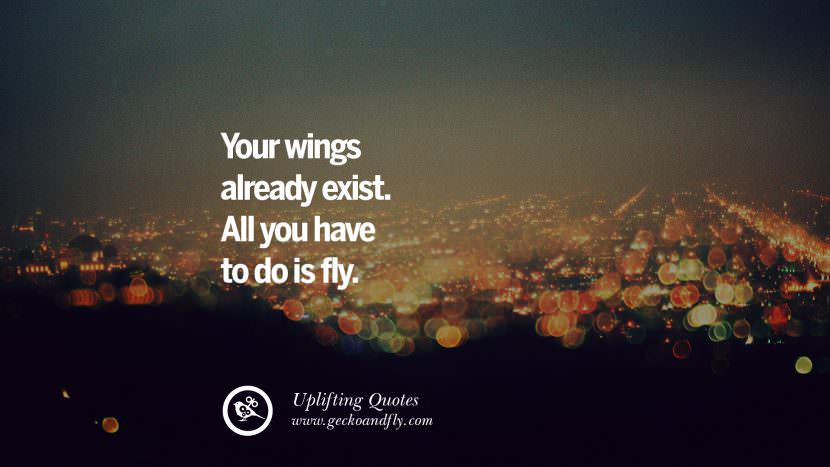 Your wings already exist. All you have to do is fly.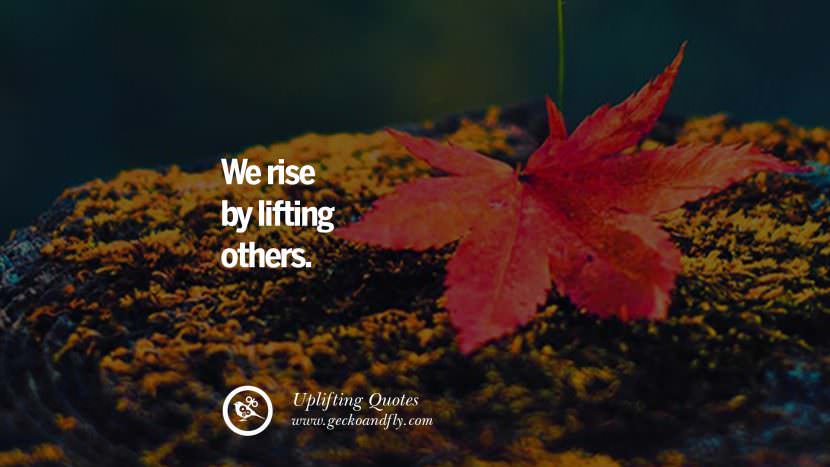 We rise by lifting others.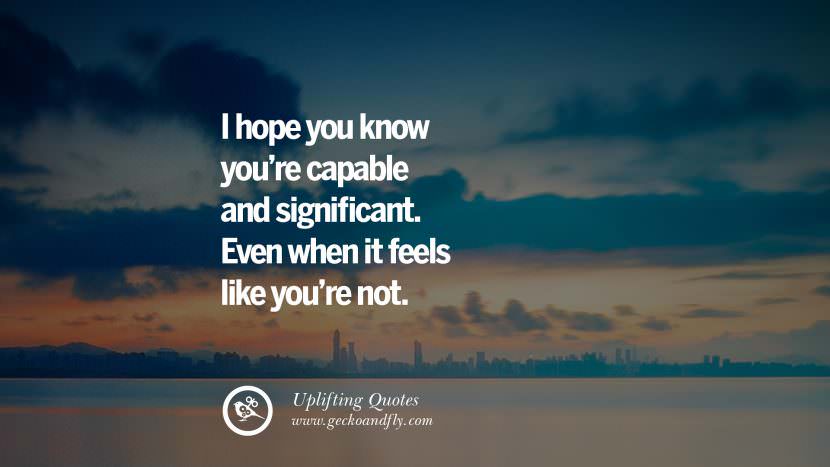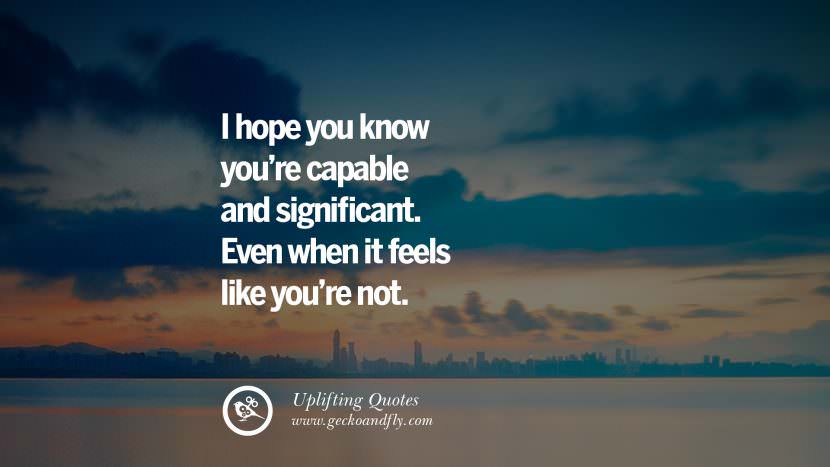 I hope you know you're capable and significant. Even when it feels like you're not.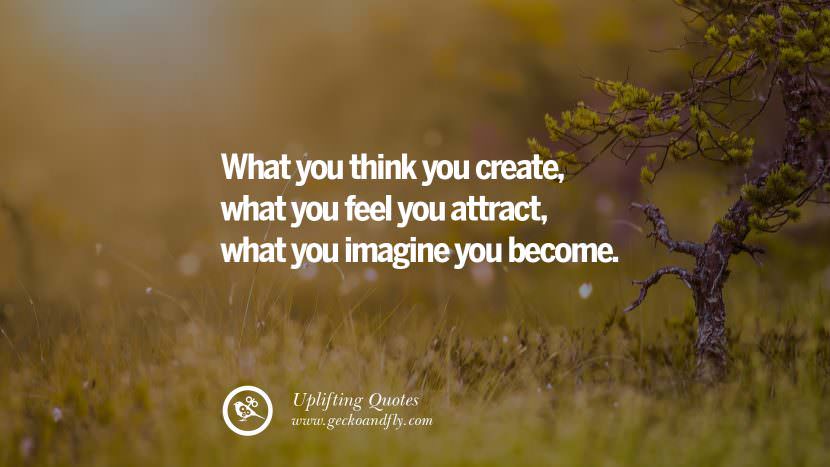 What you think you create, what you feel you attract, what you imagine you become.

The difference between the novice and the master is that the master has failed more times than the novice has tried.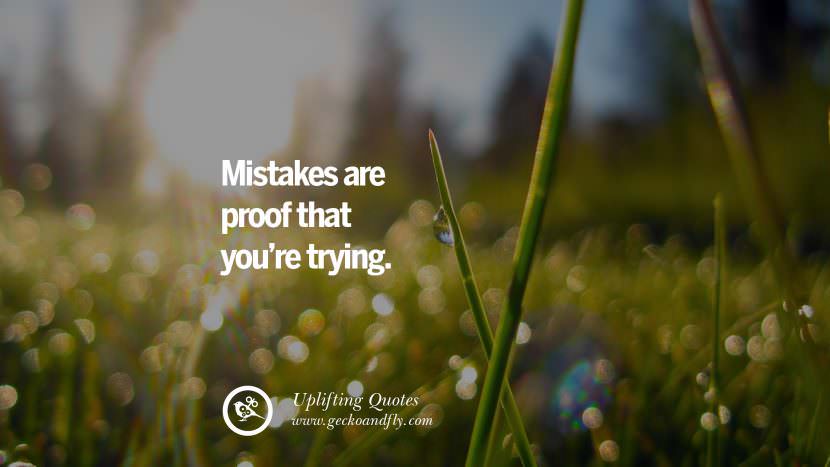 Mistakes are proof that you're trying.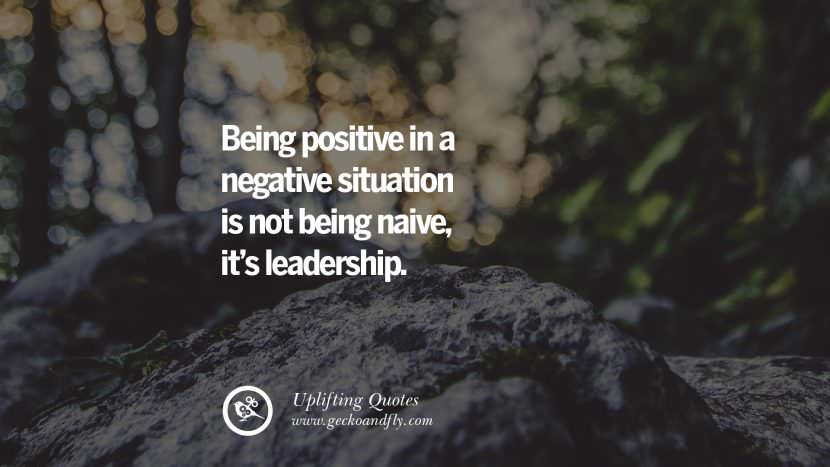 Being positive in a negative situation is not being naive, it's leadership.

Don't stop until you are proud of yourself.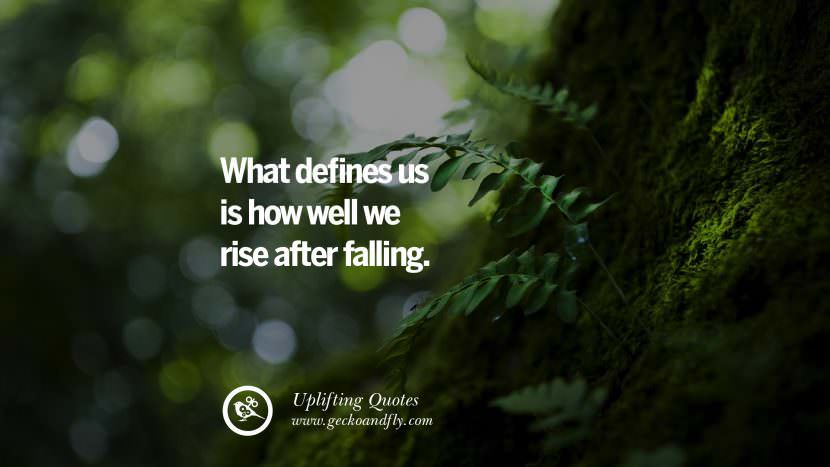 What defines us is how well they rise after falling.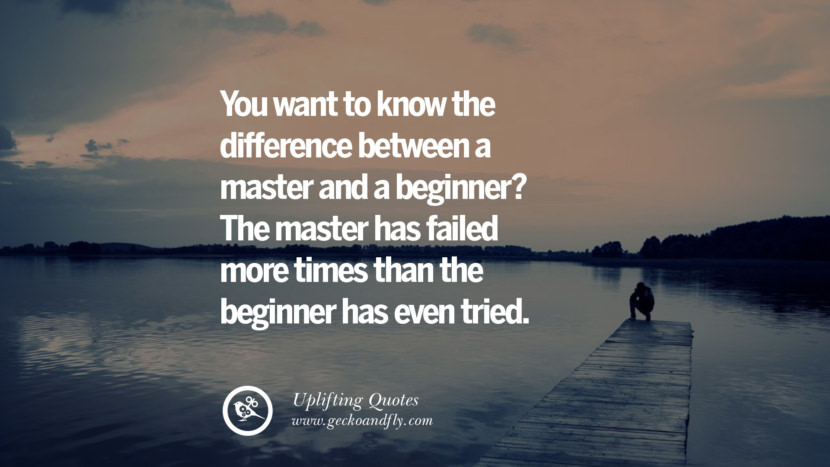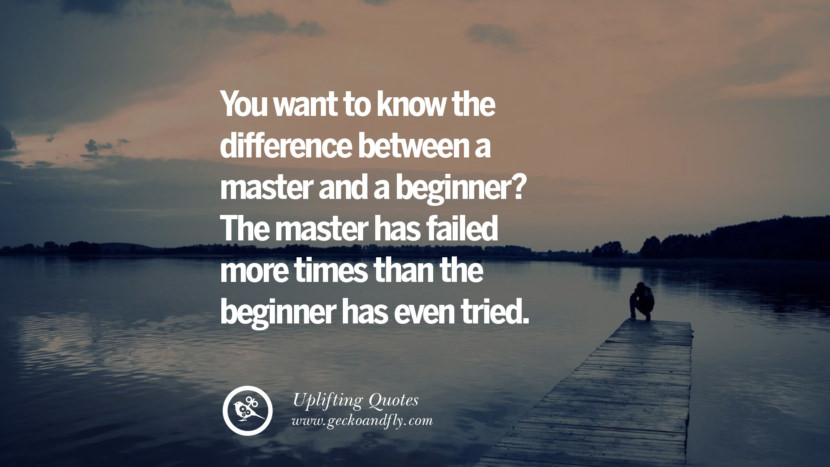 You want to know the difference between a master and a beginner? The master has failed more times than the beginner has even tried.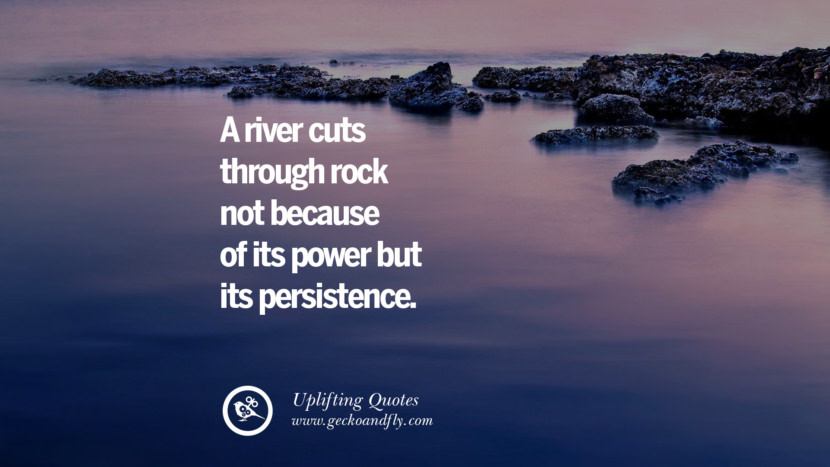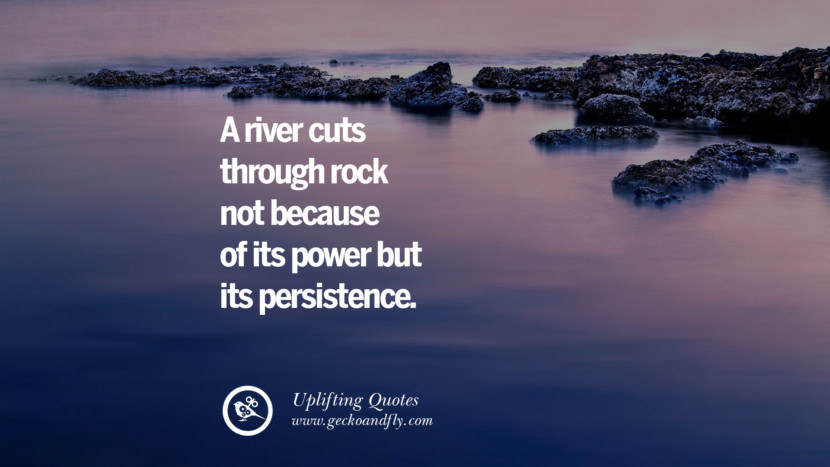 A river cuts through rock not because of its power but its persistence.

Do what you have to do until you can do what you want to do.