If English is not your mother tongue, just like me, you will find these tools helpful in your daily writing needs. While these tools easily correct all grammar errors and enhance your writing with better vocab suggestions, they are still not 100% accurate. Afterall, language is a human creativity thing, something a computer or Artificial Intelligence will find hard to replicate.
🤣😍😂 4 Free Tools To Repair And Recover Corrupt Microsoft Office Word Doc DocX Documents
Without further ado, here are 9 grammar checkers for WordPress, Microsoft Office, Windows, Google Chrome, Mozilla Firefox and many more. These free grammar checkers are the perfect way to produce polished content free of grammatical, syntax, or punctuation errors.
↓ 01 – Grammarly | Free / Paid [ USD140/year ]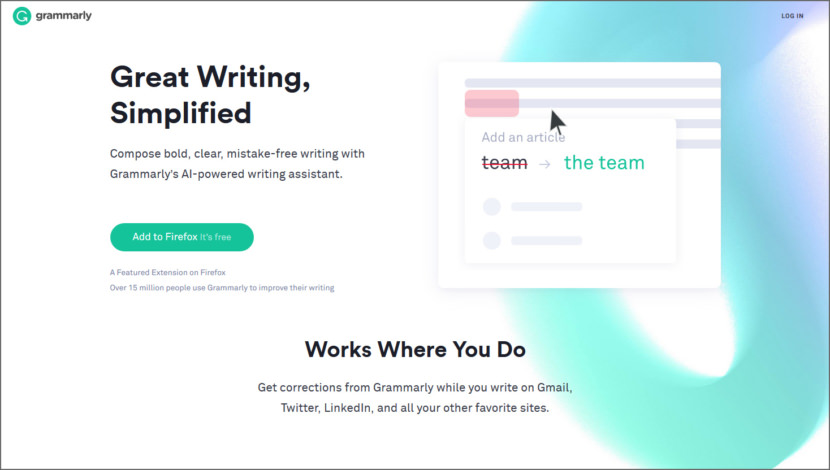 Compose bold, clear, mistake-free writing with Grammarly's AI-powered writing assistant. There are 3 versions, the free version comes with basic correction. Grammarly Premium offers advanced suggestions about word choice, vocabulary, conciseness, tone, and more. Grammarly comes with many versions, from online web to browser plugins for Google Chrome and Mozilla Firefox. It even works with Microsoft Office, Outlook and many more.
Eliminate grammar errors – With a free grammar check, you can scan your writing for hundreds of types of English grammar mistakes. Apply suggested corrections instantly and enjoy the confidence of knowing your work is polished and error-free.
Fix tricky spelling errors – A regular spell-check can catch misspelled words, but Grammarly goes further. In addition to misspellings, our free grammar checker catches commonly confused words when they're used in the wrong context.
↓ 02 – Ginger | Free / Paid [ USD60/year ]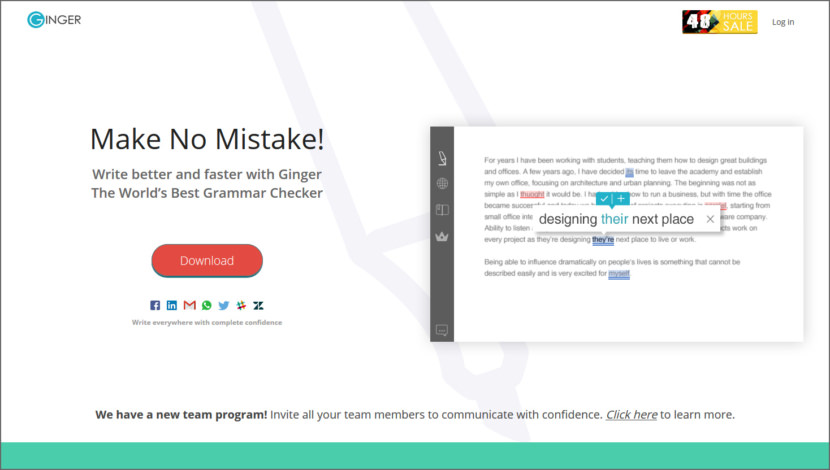 Ginger corrects all types of grammatical mistakes including punctuation, sentence structure and style. Everything from misused words to subject-verb agreement to contextual spelling. Whether you're writing for business, sending an email, completing school assignment or posting an important status update – Ginger will be there to make sure your text is clear and is of the highest caliber. Go beyond the basic spell check and grammar check, get quick access to complementary writing tools like translation, definition, contextual synonyms and sentence rephraser.
Proofread your text as you type and correct a vast range of writing errors.
Rephrase sentences to improve clarity and style with context optimized alternatives.
Quickly translate your text between over 60 languages.
Write everywhere with complete confidence using Ginger for Desktop, Microsoft Office®, Chrome, Safari, Android and iOS.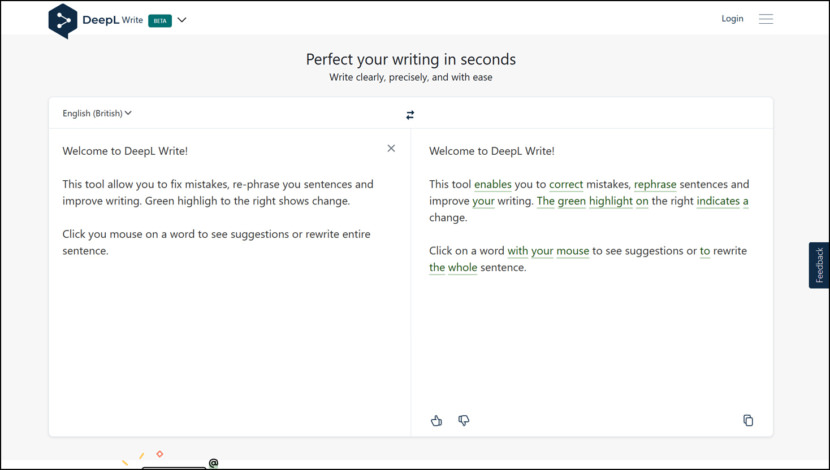 DeepL Write enables you to correct mistakes, rephrase sentences and improve your writing. The green highlight on the right indicates a change. Click on a word with your mouse to see suggestions or to rewrite the whole sentence. Improve your writing in just one click.
Fix grammar and punctuation mistakes
Choose your tone of voice
Be creative and rephrase entire sentences
Express nuances through Write suggestions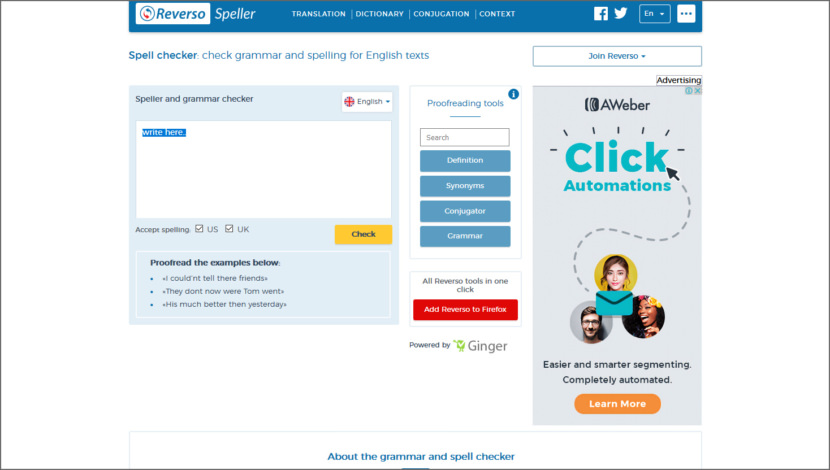 Reverso grammar and spell checker enables you to correct the most cumbersome mistakes, with a high degree of accuracy and speed, and to improve your written English. When several corrections are possible, you are prompted to choose one of them. There are cases when mistakes are skipped in order to limit the display of warnings or when the suggested corrections are not perfectly adapted to the context.
↓ 05 – PaperRater | Free / Paid [ USD72/year ]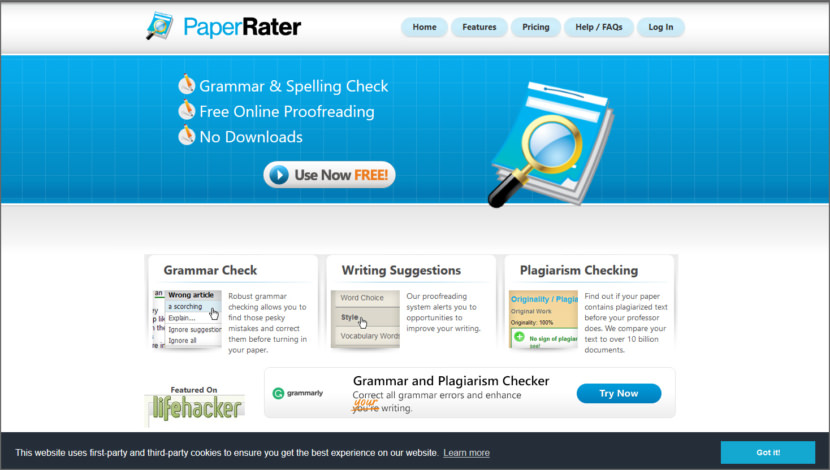 PaperRater has a patented, cloud-based system developed through several years of research that identifies errors contextually using machine learning and statistical models. In addition to flagging grammar and spelling errors, our automated proofreader includes various modules that present analyses of the text and comparison with other students at the same education level. Some of the modules include:
Vocabulary usage
Sentence length and variability
Phrases to avoid
Passive voice detection
Readability statistics
Analysis of sentence beginnings
↓ 06 – WhiteSmoke | Free / Paid [ USD50/year ]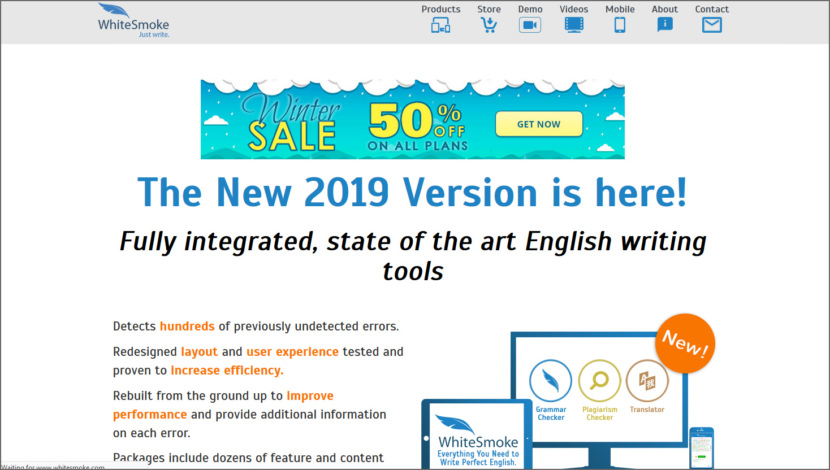 WhiteSmoke renders you with the highest quality proofreading abilities available, correcting not only simple spelling mistakes like old fashioned word processors, but everything from grammar, word choices and even style mistakes, all without breaking a sweat. Grammar plays an important role in what kind of impression you give – in some cases, it could cost you your job.
WhiteSmoke's artificial intelligence enables the wide detection of errors in many different contexts. What's more – it works everywhere you type: in MS-Word, Outlook, web browsers and other text editing programs!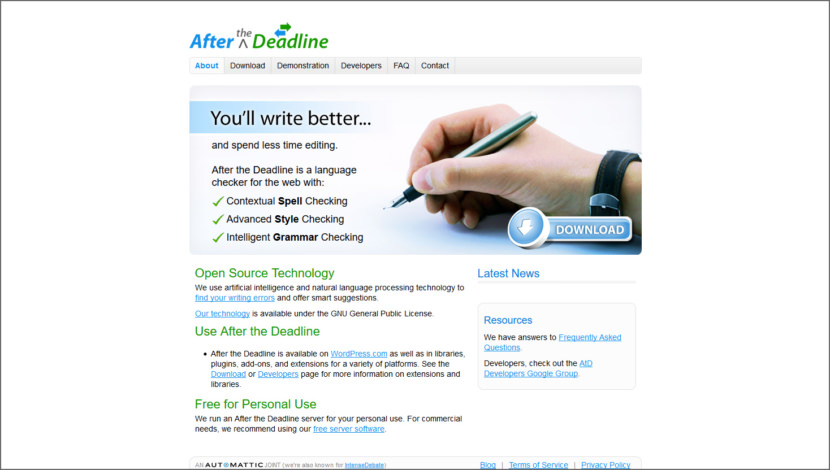 After the Deadline is a language checker for the web with Contextual Spell Checking, Advanced Style Checking, and Intelligent Grammar Checking. It uses advanced artificial intelligence and natural language processing technology to find your writing errors and offer smart suggestions. Their technology is available under the GNU General Public License. They have a plugin that works on Chrome and Firefox, it also works on OpenOffice, a free and Open Productivity Suite.
↓ 08 – LanguageTool | Free / Paid [ USD60/year ]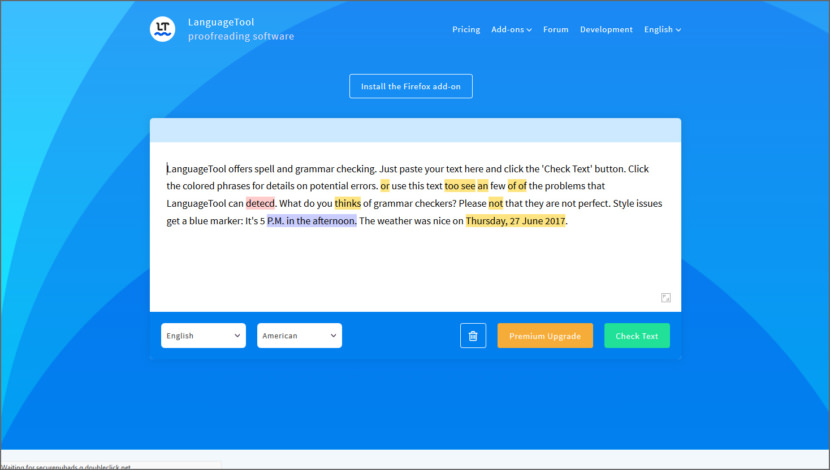 LanguageTool checks the spelling and grammar of almost any text you type on the web. It is compatible with almost all text, regardless of source, including social networks such as Twitter or LinkedIn and online email services, such as Gmail. With LanguageTool you can check text with the free style and grammar checker LanguageTool. LanguageTool finds many errors that a simple spell checker cannot detect, like mixing up there/their, a/an, or repeating a word, and it can detect some grammar problems.
Free proofreading tool for LibreOffice, Apache OpenOffice, Microsoft Word, Ulysses, Mozilla Firefox, Microsoft Edge and Google Chrome. Also available as a standalone application. Supports about 20 languages (on different levels) and allows customization. It supports more than 25 languages, including English, Spanish, French, German, Polish, and Russian.
↓ 09 – Hemingway | 100% Free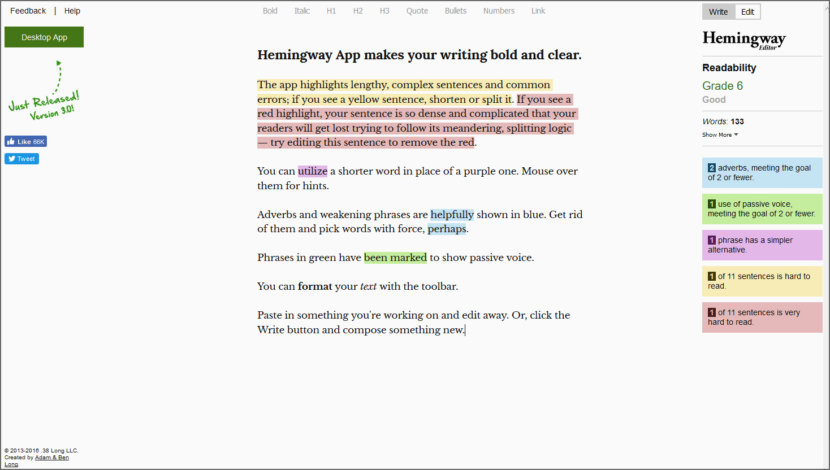 Hemingway makes your writing bold and clear. It's like a spellchecker, but for style. It makes sure that your reader will focus on your message, not your prose. Too often, our words are like our thoughts — innumerable and disorganized. Almost any bit of writing could use some cutting. Less is more, etc. The Hemingway Editor will highlight where your writing is too dense. Try removing needless words or splitting the sentence into two. Your readers will thank you.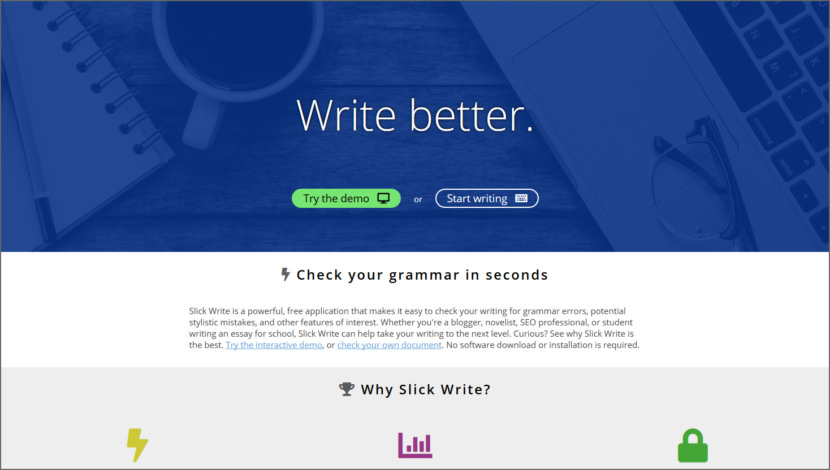 Slick Write is a powerful, free application that makes it easy to check your writing for grammar errors, potential stylistic mistakes, and other features of interest. Whether you're a blogger, novelist, SEO professional, or student writing an essay for school, Slick Write can help take your writing to the next level. Using an extension is the easiest way to submit your work to Slick Write. They are available for Chrome and Firefox.
Improve your resumé – The job market is competitive. Gain an advantage, impress employers, and land more interviews by demonstrating professionalism and superior communication skills on your resumé.
Inspire confidence – English is a difficult language, so using correct grammar and diverse vocabulary will set you apart from the crowd. Using good sentence structure and wording improves your content's impact and readability while building your readers' trust.