WordPress is the most versatile, flexible, compatible and expandable CMS for blogs. Just like Microsoft Windows, due to its popularity, hackers tend to scan the web for outdated WordPress Core, Plugin and Themes, therefore your chances of being hacked is higher. This is why some people choose lesser known CMS simply because they only want a simple blog.
Related Article 2019 ➤ 10 Cheap Yet Reliable Shared Web Hosting For WordPress
Drupal and Joomla are both somewhat popular but not below the radar of hackers. Just like WordPress, they are expandable with many plugins and themes to choose from. What's we are interested is really simple CMS for blogs, light and easy on resources and falls under the radar.
↓ 01 – Ghost | Light And Simple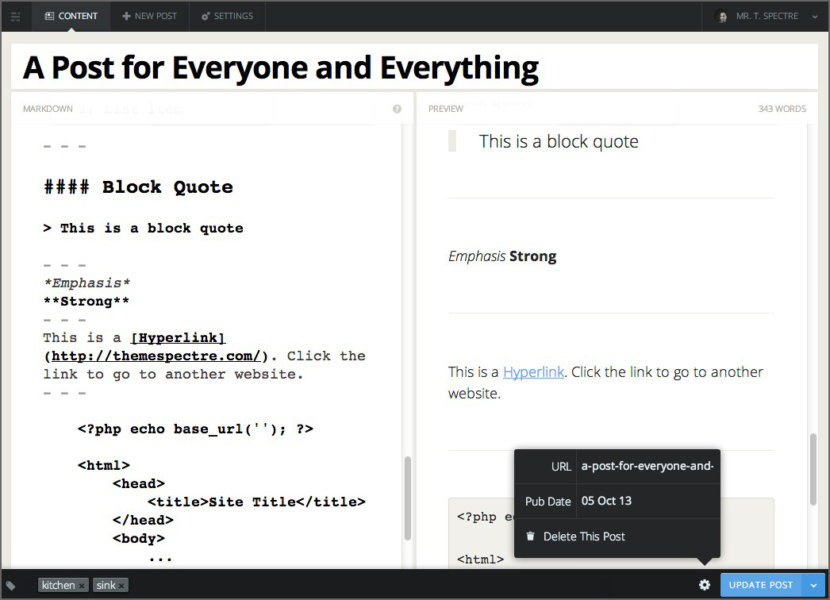 Privacy, security and speed are some of the most common reasons for why large companies and publications favour Ghost for their publishing needs. It is a beautifully designed platform dedicated to one thing – Publishing. Ghost is an Open Source application which allows you to write and publish your own blog, giving you the tools to make it easy and even (gasp) fun to do.
Ghost is a fully open source, adaptable platform for building and running a modern online publication. They power blogs, magazines and journalists from Zappos to Sky News. It's simple, elegant, and designed so that you can spend less time messing with making your blog work – and more time blogging.
Search engine optimisation – Proper SEO built in directly, with semantic markup, permalinks, XML sitemaps, canonical tags and automatic meta data with manual overrides.
Accelerated Mobile Pages – With integrated AMP support, your site will rank higher and load in a fraction of a second from Google mobile search results.
↓ 02 – Grav | No Database Required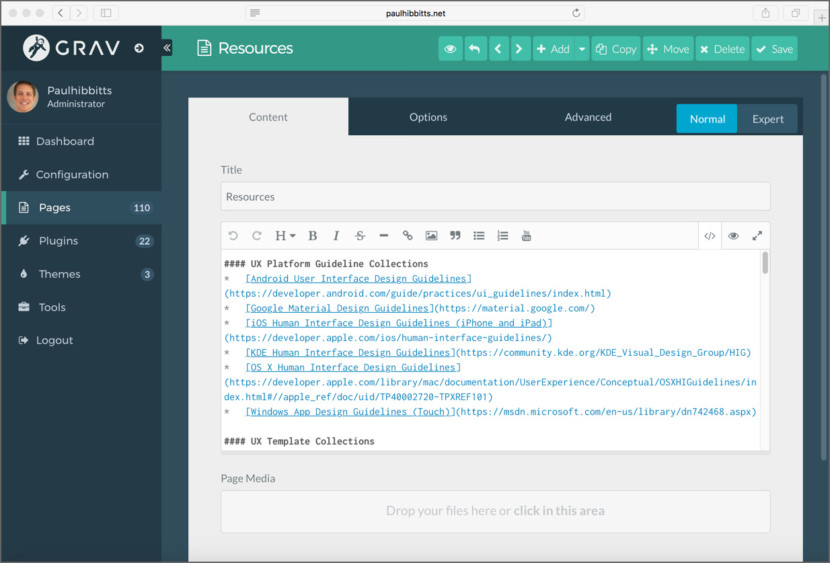 Grav is an easy to use, yet powerful, opensource CMS that requires no database. In a nutshell, installing Grav is a matter of unzipping the file. It is fast, has sophisticated caching, and a light footprint for optimal performance. Content is just simple markdown files in folders, with no complicated databases to deal with. A powerful API and extensive hooks allow for plugins to extend Grav. Flexible Twig templating allows easy realization of your designs.
Stellar Performance – Grav intelligently caches content to deliver great performance, regardless of hosting
Image Media Processing – Dynamic image manipulation to resize, crop, resample, and effects all with automatic caching of images
SEO Friendly – Human-readable URLs along with site-wide and per-page metadata provide fantastic SEO capabilities.
ProcessWire is designed to have an approachable simplicity that is retained regardless of scale. Simplicity often implies reduced capability, and this is not the case with ProcessWire. From the surface, there is very little complexity and the application requires no training. But open the hood, and you have a lot of horsepower at your disposal for just about any content need. The goal is jQuery or Google-like simplicity (a simple interface to powerful engineering).
↓ 04 – October | Laravel PHP Framework
October is a free, open-source, self-hosted CMS platform based on the Laravel PHP Framework. A simple and modular CMS that grows with you, with a precise and beautiful interface that comes as second nature.
File-based templates – CMS pages, layouts and partials are just files, one file per template. This makes the website themes completely manageable with Content Version Systems like Git or SVN.
Built-in asset combiner – CSS and JavaScript assets can be combined and minified with just a single tag in your CMS templates. Combined assets reduce the pages loading time and your server traffic.
↓ 05 – Plone | Enterprise CMS
Plone is an open source content management system based on the Zope application server, written in python. Its known to be powerful, reliable, secure and easy to use. Plone excels when compared to other content-management systems in standards conformance, access control, internationalization, aggregation, user-generated content, micro-applications, active user groups and value. Plone website editing gives you more of a "wysiwyg" feel than most content management systems.
↓ 06 – Fork CMS | For Marketing
Fork CMS is dedicated to creating a user friendly environment to build, monitor and update your website. We take great pride in being the Content Management System of choice for beginners and professionals. Fork CMS is jam-packed with cool apps. It comes with the territory of being a kick-ass Content Management System.