When working on a project or writing the same email over and over again with similar messages or status updates several times throughout the day, it can be mentally tiring without a way to shorten what you have to type to get the same result. But the job requires that you can't use an acronym. That's where text expanders come in to replace your own custom acronyms or other methods of shortening the way you type things out with their original longer equivalents.
🤣😍😂 9 Free Note Taking Software For Windows – Evernote Alternatives
Here are some of the best and free autoKey, this desktop automation utility allows you to manage collections of custom hotkeys and assign abbreviations allowing you to execute them on demand in whatever program you are using.
↓ 01 – AutoHotkey | Open Source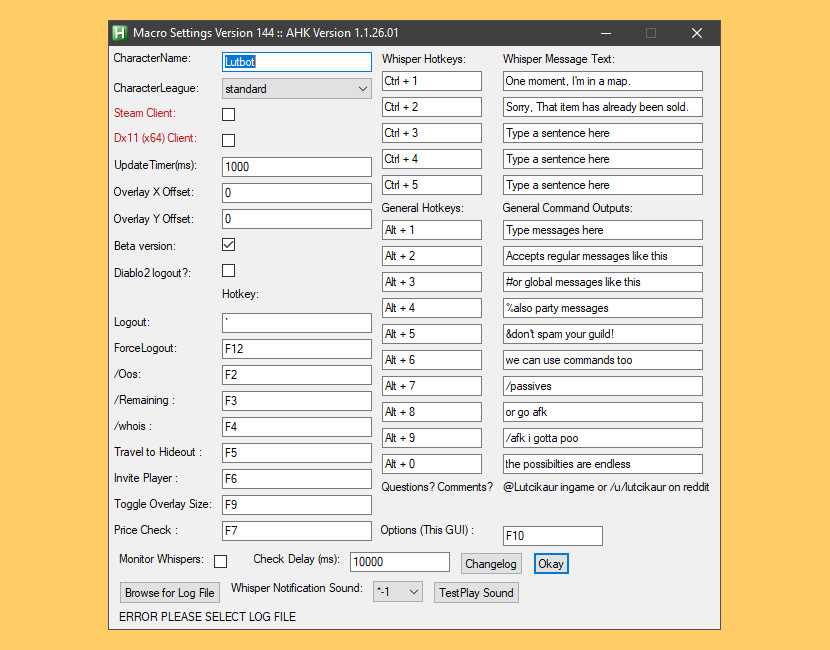 AutoHotkey is a free, open-source scripting language for Windows that allows users to easily create small to complex scripts for all kinds of tasks such as: form fillers, auto-clicking, macros, etc. AutoHotkey provides a simple, flexible syntax allowing you to focus more on the task at hand rather than every single little technicality. It supports not only the popular imperative-procedural paradigm, but also object-oriented and command-based programming.
Automate almost anything by sending keystrokes or mouse clicks, or via COM.
You can write a mouse or keyboard macro by hand or a recorder.
Create hotkeys for keyboard, joystick, and mouse.
Remap keys and buttons on your keyboard, joystick, and mouse.
Expand abbreviations as you type them.
Convert any AHK script into an executable file that can be run on computers where AutoHotkey is not installed.
Create custom data-entry forms, user interfaces and menu bars.
Automate data entry jobs by reading data from text files, XML, CSV, Excel and various database formats.
Read signals from hand-held remote controls via the WinLIRC client script.
Use the Component Object Model (COM).
Use arrays, structures, matrices, and objects.
Use variadic functions.
Use DLL calls and Windows Messages.
Use Perl Compatible Regular Expressions (PCRE).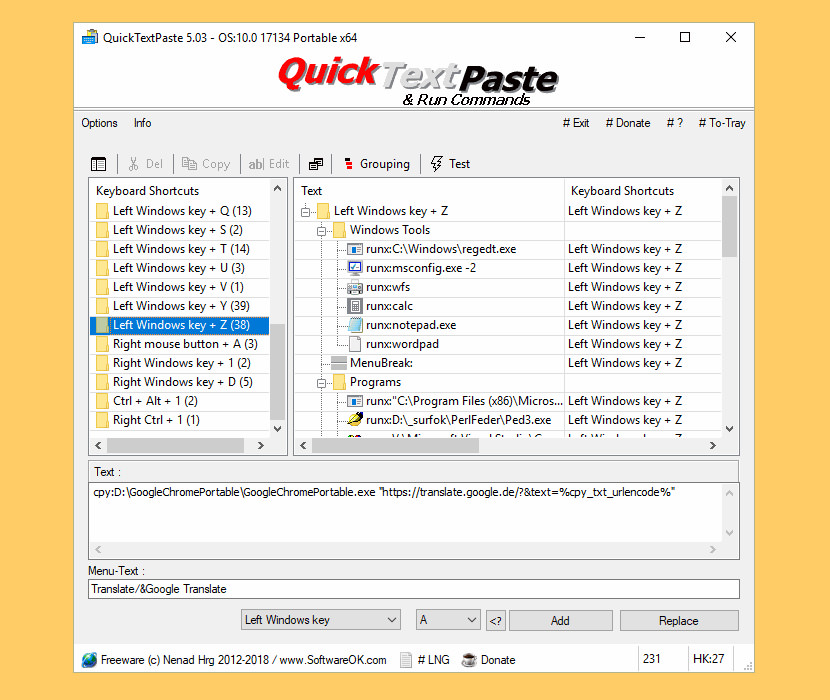 Quick paste text is a small portable program that allows you to insert (paste) quickly predefined text in any Windows applications via keyboard shortcut. This program also allows you to run commands and programs via keyboard shortcut. Save time and spelling errors with this small Desktop Tool for all Windows OS.
↓ 03 – Beeftext | Open Source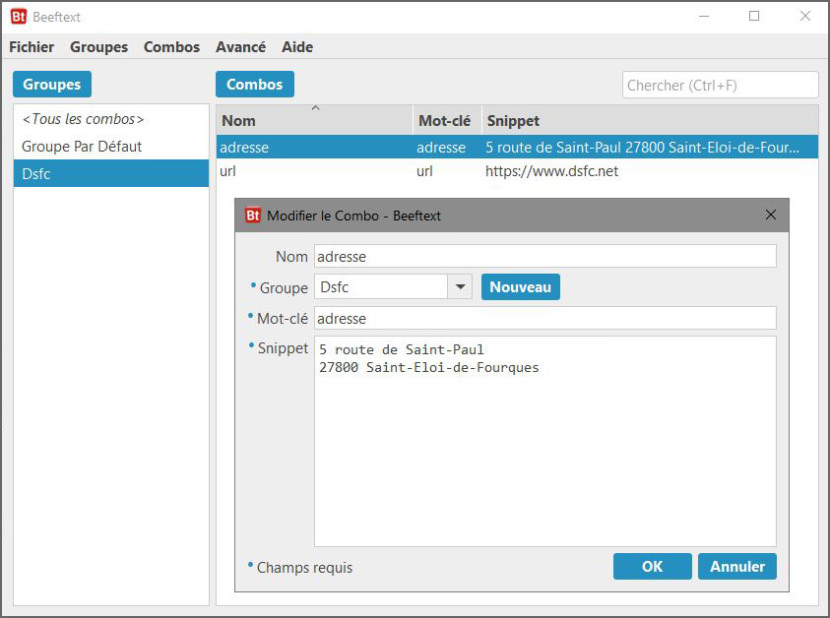 Beeftext is made for you. Beeftext allows you to define combos. A Combo associates a short word that you are unlikely to type in a normal situation (a keyword) with a piece of long or complex text you often need to type (a snippet). From now on, every time you type the keyword, in any text area of any application that supports copy/paste (99.9% of them do), the combo is triggered and Beeftext automatically replaces the keyword by its associated snippet. Thanks to Unicode encoding, this text can be in any language, using any kind of characters, even exotic ones.
↓ 04 – AutoText | Free For Personal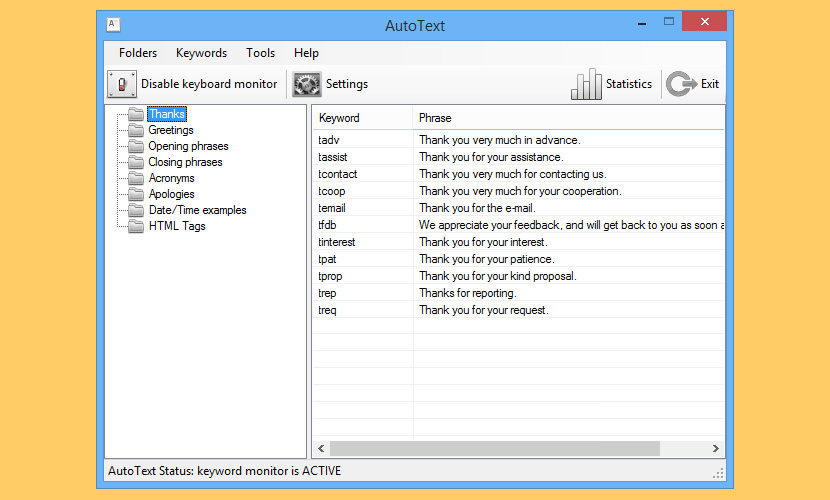 Text Expander for Windows. Assign acronyms to frequently used text snippets and AutoText will auto-type a snippet when you type the acronym. Jitbit AutoText is an automatic typing software – it autotypes the same text snippet over and over with less keystrokes. Think of it as a Text Expander for Windows. You assign a keyword (an abbreviation) for a frequently used text snippet, phrase, sentence or paragraph, and AutoText will auto-type this snippet each time you type the abbreviation in ANY program.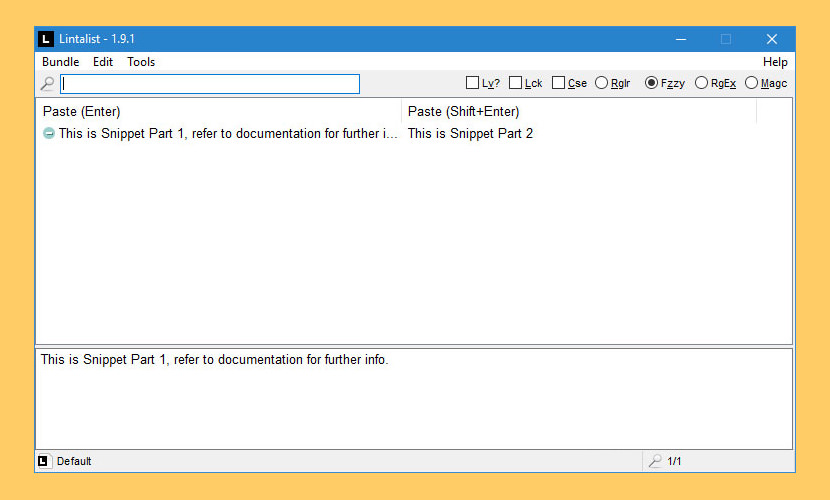 Lintalist allows you to store and (incrementally) search and edit texts in bundles and paste a selected text in your active program. The text can be interactive, for example you can automatically insert the current time and date, ask for (basic) user input or make a selection from a list etc and finally it can also run a script. You can use keyboard shortcuts or abbreviations to paste the text (or run the script) without opening the search window.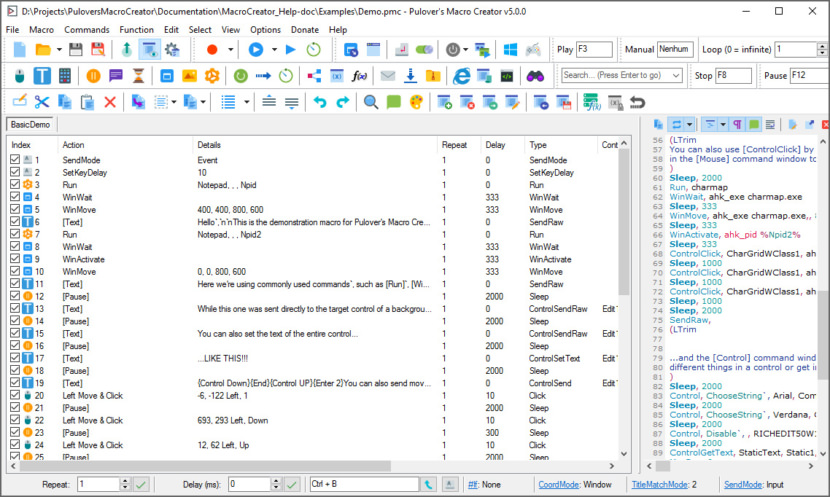 Pulover's Macro Creator is a Free Automation Tool and Script Generator. It is based on AutoHotkey language and provides users with multiple automation functions, as well as a built-in recorder. You can add not only keystrokes and mouse actions to your scripts but also manage windows, controls, files, strings, search images/pixels and even create If/Else Statements to control the flow of your macros! From simple repetitive tasks to complex automation projects, Pulover's Macro Creator will save you hours of monotonous work. Everything with a friendly and intuitive interface.
↓ 07 – WordExpander [ PhraseExpress ] | Not Free Anymore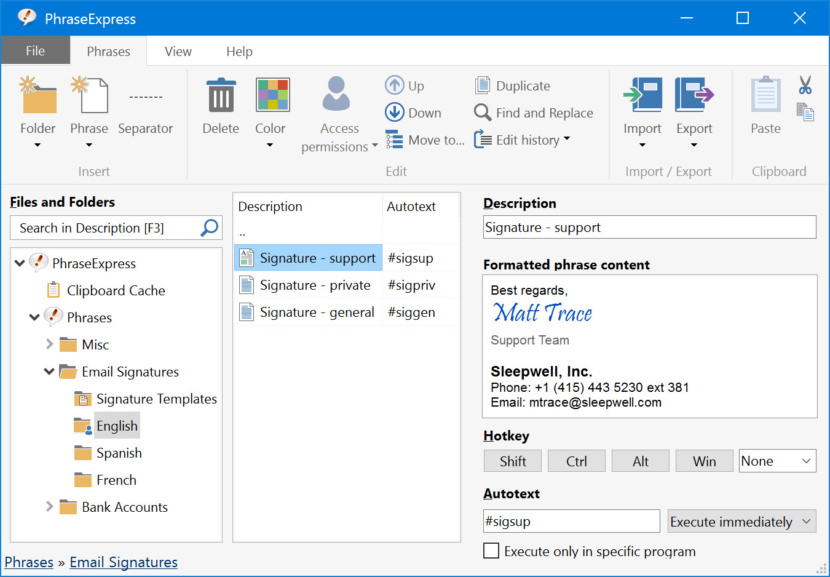 WordExpander is provided free-of-charge as a complimentary test version as a showcase of our expertise in the field of phrase expander software. We have to state it this way for legal reasons: As it is a test version, no warranties whatsoever are made. Use at your own risk. This test software includes all features and does not expire.
Organize frequently used phrases in a customizable folder structure.
Call phrases by autotext shortcuts, hotkeys or from a handy popup menu.
Autocomplete frequently used text as-you-type.
Sync your templates between Windows, Mac and iOS or Windows and Android.
Share phrases with other users with a SQL server, a local shared file or in the cloud of your choice.
Automate repetitive tasks with a powerful macro language and integration of the free macro recorder "Mouse Recorder".
Create whole documents in a snap with the Document Generator.
Speed up replying to emails with the Outlook Add-In.
Get your clipboard a memory with the built-in Clipboard Manager.