Supply chain software is a software program or module designed to control end-to-end business processes across the supply chain, perform demand planning and forecasting, and manage supplier relationships. These practices aim to optimize the flow of products from the point of production to the point of consumption, ensuring efficient and cost-effective movement throughout the supply chain.
🤣😍😂 5 Free & Powerful Human Resource Management Software For SME
Many supply chain management systems include forecasting, which helps companies manage the fluctuations in supply and demand by using sophisticated algorithms and consumption analysis to evaluate buyer histories. Supply chain optimization software can be an invaluable tool in maximizing production efficiency and planning for the future.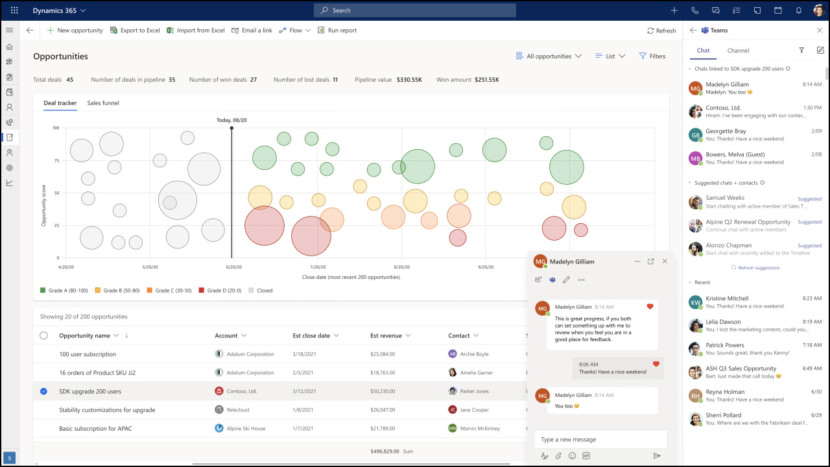 Drive more efficiency, reduce costs, and create a hyperconnected business that links people, data, and processes across your organization—enabling every team to quickly adapt and innovate. Microsoft Dynamics 365 is a cloud-based CRM ecosystem for small, medium and enterprise organizations, with a focus on Sales, Field Service, Customer Service complete with strong integrations with Microsoft's other Office 365 offerings like Teams, Outlook, Excel & Word.
Adapt and thrive with a digital supply chain. Predict and overcome disruptions fast to meet customer demand and stay profitable. Perform predictive maintenance with AI-powered scheduling, sensor data intelligence, and mixed reality. Optimize spare parts inventory and automate work orders.
Maximize asset performance – Improve overall equipment effectiveness (OEE) and reduce downtime.
Transform manufacturing operations – Innovate with mixed reality and other advanced technologies.
Meet growing digital commerce needs – Automate order fulfillment with AI and real-time inventory.
Reduce risk – Predict and overcome supply chain disruptions with enhanced visibility and actionable insights.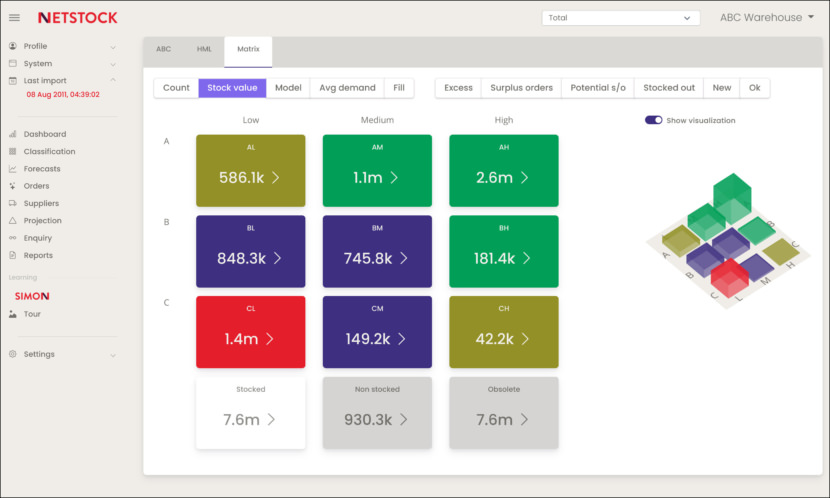 Netstock's Predictive Planning Suite™ helps you unlock operating cash and enables increased visibility and collaboration across your business. Quickly respond to change and access powerful intelligence by leveraging data directly from your ERP.
Ensure your business remains agile, responsive, and profitable. Each product delivers intelligent capabilities to enhance your planning.
Increase inventory visibility with powerful insights and trusted recommendations to balance your inventory investment and allocate resources to your high-performing, profitable products. Working from a personalized dashboard, you can quickly see all your critical KPIs, enabling rapid response to changes in supply or demand.
Automate ordering – Netstock automatically generates optimal orders based on your data-driven inventory policy — and seamlessly feeds that order information back into your ERP system.
Optimize ordering – Set ordering policies that balance dynamic lead times and supply risk to order the right amount at the right time to hit fill rate targets.
Automatic inventory classification – See the business value of every item in the warehouse. Netstock automatically classifies every item based on sales value and sales velocity, creating an intuitive matrix of product importance.
Prioritized dashboard – Netstock's personalized and prioritized dashboards are pre-configured to show you the KPIs and metrics that matter most for your business and easily track performance.
Accurate planning – Efficiently replenish stock while reducing operating costs through multi-tiered distribution channels with material requirements planning that comply with ordering constraints such as MOQs, vehicle loading, lot sizes, and lot expiration dates.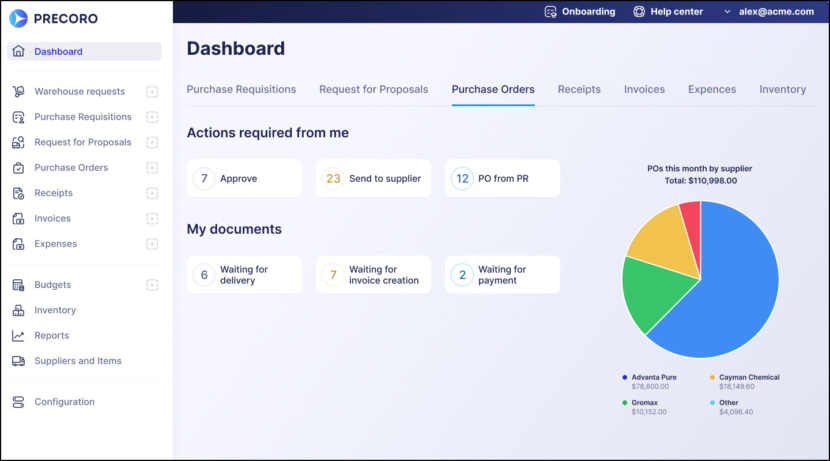 Precoro helps companies spend smarter. Request. Approve. Order. Control. Bring transparency and predictability to your company's spending workflows. For minor company expenses, you might utilize a spend management solution or track everything in spreadsheets. For everything more, you'll need Precoro.
We help companies achieve procurement excellence and budget efficiency by building transparent, predictable, automated spending workflows. Improve cash flow transparency and control corporate expenses in real time. Say no to maverick spending and exceeded budget limits. Precoro enables users to:
Create free purchase requests, set automated approval routing, and receive purchase orders.
Store supplier information including addresses, contact information, and payment terms.
Visualize the overall spending status across all purchase orders with Precoro's real-time dashboard.
Track all of the spendings at a glance, filter visual reports by departments and projects.
Create and manage lists of products from vendors.
Keep all information in one place; track requisitions, approvals, budgets, and orders.
Set request due dates according to their priorities.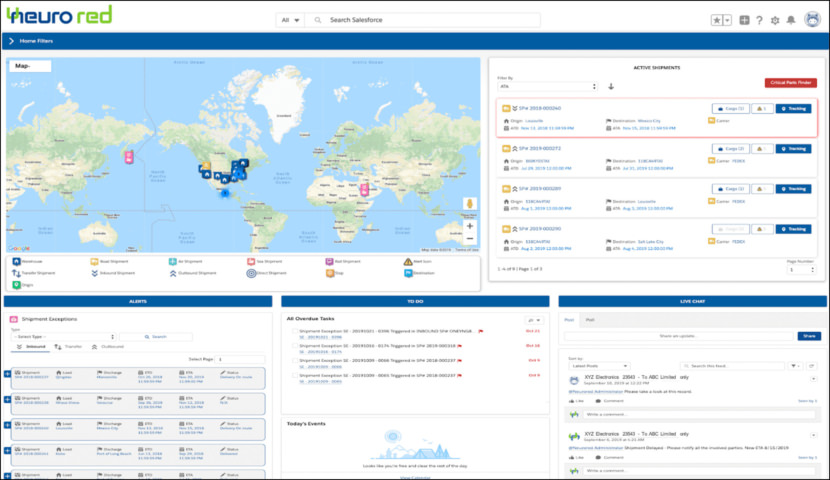 One-stop-shop to efficiently manage your global supply chain and multimodal transport requirements on the same leading cloud platform where you will find solutions for all your business systems. Prepare to catapult your operations into a thrilling new age of logistics with Neurored's TMS (Transportation Management System) & SCM (Supply Chain Management) solutions.
CRM + SRM for Global Trade & Logistics – Integrate your data to the cloud to manage ordering processes and customer & supplier relationships
Freight Rates Management Software – Empower your customers with self-service quoting and booking and improve quoting efficiency by 50%
Supply Chain Visibility Software – Empower all your supply chain stakeholders with best-in-class supply chain visibility solutions
Multimodal Transportation Optimization Software – Improve efficiency by 54% using Advanced Routing, cargo-loading, and Resource Optimization tools
Stevedoring and Warehousing Operations Software – Maximize productivity and end-to-end visibility in stevedoring, warehousing, & terminal operations.
Automation & AI for Back-Office Operations – Save time, reduce costs, and improve efficiency with Artificial Intelligence and Process Automation.
Demand Forecasting and Supply Chain Synchronization – Generate demand forecasts collaboratively and optimize your end-to-end supply chain operations
Supply Chain Collaboration Portals – Enable Global Trade by connecting all the stakeholders through a trusted member network digitally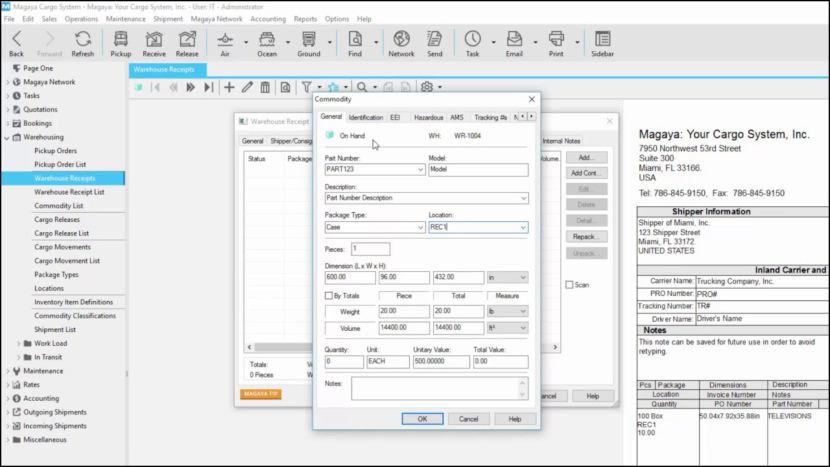 The all-in-one solution for modern logistics and supply chain management. Magaya Supply Chain is a comprehensive logistics platform that adapts and scales to your needs, setting you up for success in an increasingly competitive market.
Seamlessly exchange data in real-time and manage all your logistics operations in a single system, from creating a freight quote to completing the necessary customs documentation, performing warehouse management procedures, and last-mile logistics. Avoid double data entry by creating bookings, pickup orders, warehouse receipts, shipments, invoices, directly from one system.
Shipping & Freight Forwarding – Create bookings, pickup orders, warehouse receipts, shipments, and invoices by pulling information directly from quotes, saving time by avoiding extra keystrokes.
PO Management – Automatically convert the information in POs into pickup orders, warehouse receipts, or bills to foster collaboration between departments and with your partners.
Warehouse Management – The built-in warehouse management system enables seamless workflows between warehousing, receiving, and shipping to get cargo where it needs to go faster.
Accounting – Automate your accounting workflows, including recurring billing and periodic invoices.
Magaya Network – Grow your business by joining an electronic network of thousands of other forwarders and agents worldwide.
Productivity and Integrations – A collection of apps and extensions plus Magaya's open API allow you to scale the system to meet your unique needs.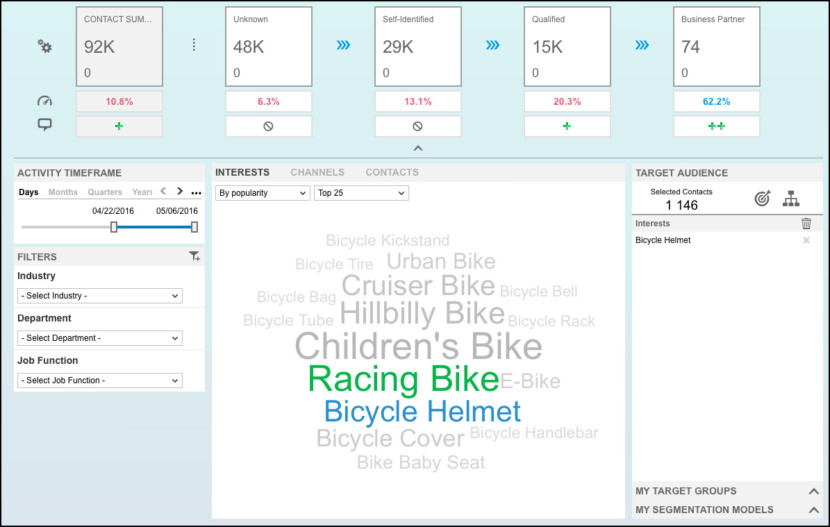 SAP S/4HANA Cloud is a cloud-based and on-premise enterprise resource planning (ERP) solution. It is suitable for small, midsize and large businesses in industries such as automotive, engineering, construction, mining, research and development, retail, wholesale, public sector and utilities. Primary features include finance performance measurement, supply chain management, purchasing, contract management, lifecycle management, production cost management and accounting.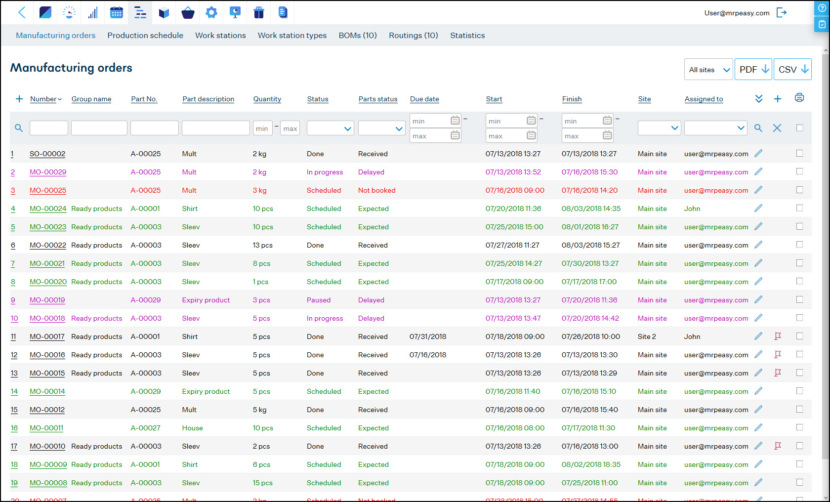 MRPeasy is a seriously powerful and easy to use manufacturing software. It gives you everything you need to manage your manufacturing and distribution. Their suite comprises production planning, CRM, procurement, supply chain management, and inventory control modules, all of which are essential for optimizing operations and driving profitability.
Accurate production planning and reporting – Always promise an accurate lead time when quoting. Improve equipment utilization and efficiency by adopting real-time reporting.
Real-time inventory overview – Prevent stock-outs, lower inventory levels, automate inventory transactions, view purchase requirements, track lots, and more.
Precise, on-time deliveries – Improve customer satisfaction, estimate costs and lead times, shorten lead times and ship promptly.
Stock – Inventory management, stock movements, batch and serial number tracking. Set and optimize stock levels and avoid stock-outs. Maintain a clear history of your stock operations.
Purchasing – Manage purchases and raise pre-filled purchase orders with a single click. Vendors, pricing, lead times – it's all there. Manage your supply chain using accurate statistics and forecast your procurement needs.
Production Planning – Benefit from accurate automatic planning and a realistic production schedule. Reschedule dynamically by dragging & dropping manufacturing orders and operations in the calendar or Gantt chart.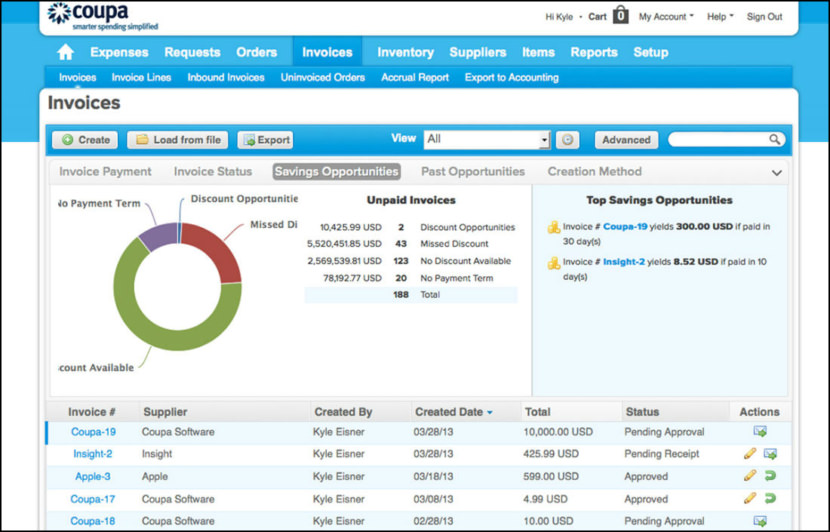 The Coupa platform allows you to take control of your spend and position your business for resilience and growth. Start your spend management practice with the areas that are most important to your business today, and grow on the platform as your needs change. Gain unparalleled control and visibility by having a single source for all your spend management needs.
You strive to meet your business objectives while making your supply chain more efficient, resilient, and sustainable. You boldly lead your organization through disruptions, changing regulations, and a demand for greater sustainability while delivering to your customers on time, against all odds, and within budget. But it's tough to get ahead.
Scenario planning helps you predict and adapt quickly to any number of changes on the horizon, so you can get ahead of disruption and build a resilient supply chain.
Gather the right data and model your ideal supply chain to reach desired outcomes. Put AI to work to help you make evidence-based decisions that move your business forward.
Optimize your supply chain with complex tradeoffs in mind to align cost savings, profitability, efficiency, quality, and sustainability.