While you can track inventory in Excel, spreadsheets only work for periodic inventory counts (i.e., the inventory system is only updated at intervals, say after physical stock counts). Inventory software is necessary to enable a true dynamic inventory system, where stock levels are updated continuously as sales are made and goods are received.
🤣😍😂 8 Free Powerful CRM Invoicing Software For Small Businesses
As a business owner, you need a good inventory management system that offers you a competitive edge. For e-commerce retailers, logistics providers, and businesses in other industries where margins can be razor-thin, you need inventory software that works hard for you.
Inventory management software streamlines inventory workflows, reduces the risk of stockouts or overstocking, and ultimately helps businesses improve their overall supply chain management and customer satisfaction. The specific features and complexity of inventory management software can vary depending on the needs and size of the business.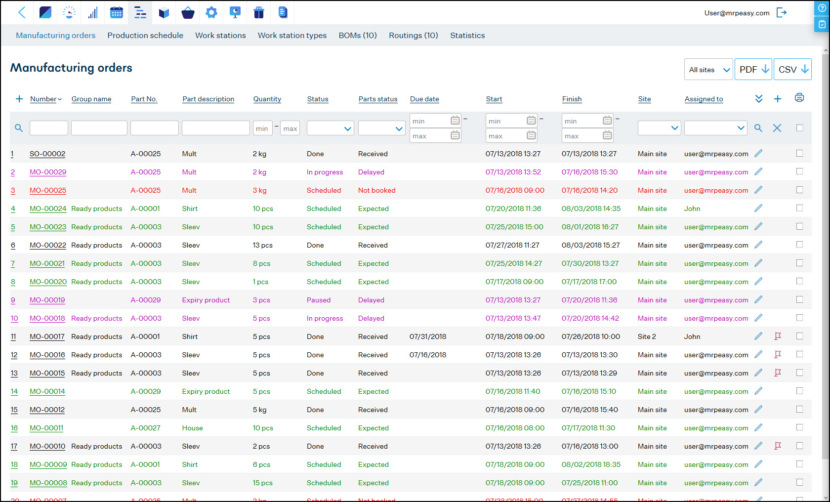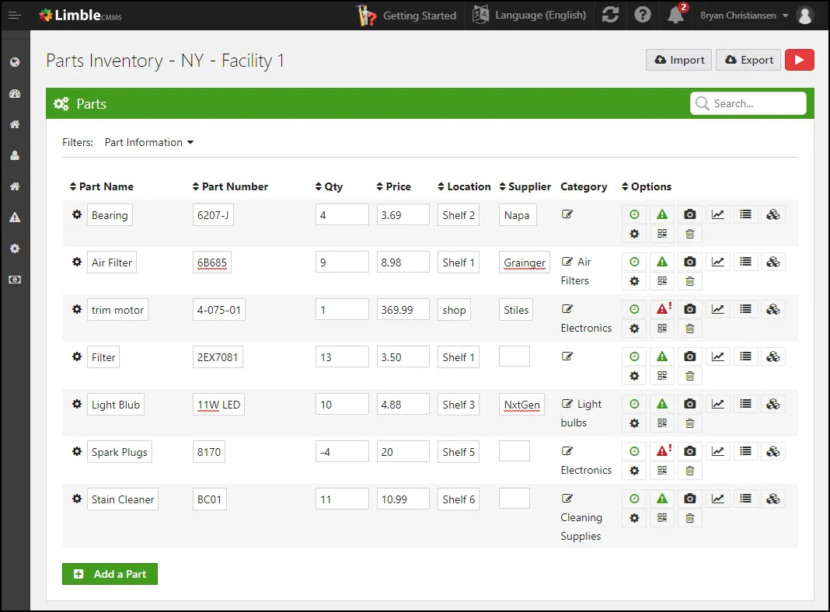 Organize your spare parts to know what is in stock, where it is, and when it will run out to ensure your technicians have the parts they need to do the job. Limble parts management allows you to track your inventory and its usage to optimize your workflow and make the most of your resources.
Barcode lookup to easily check part stock and location
Instant push and email notifications when parts are low or new parts are received
Check parts reserved for real-time updates and more accurate inventory status
Real-time reports that show parts used and associated costs
Automatic parts usage tracking built into work orders and PMs
Usage and inventory forecasting to optimize stock levels and plan for future parts needs
Unused parts tracking that tells you when items have gone stale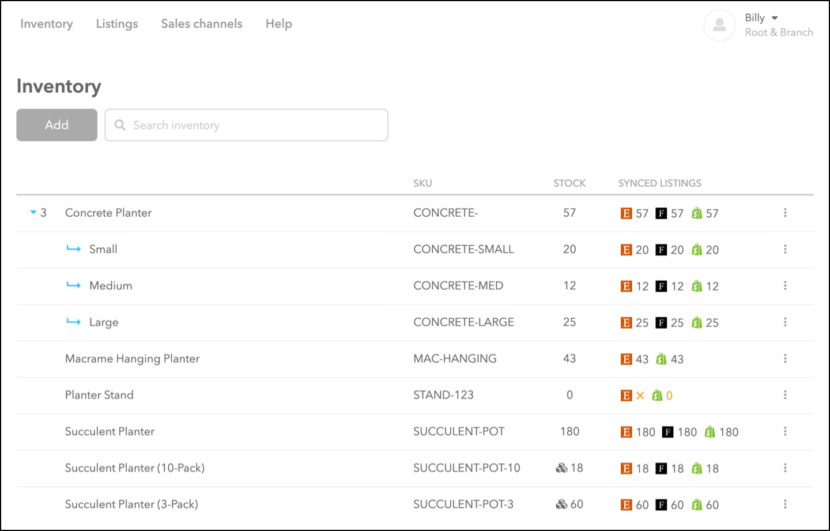 Trunk is a cloud-based solution that helps small to large enterprises manage inventory and list products across multiple sales channels, streamlining business operations. It enables users to automatically link product listings with stock-keeping units (SKU) to prevent duplicate entries and optimize workflow processes.
Just connect all your sales channels and Trunk will build its own centralized inventory from your listings. Those that share the same SKU will automatically be linked to each other! And like a good assistant, Trunk will continually monitor your sales channels for any new, updated, or removed listings so that everything is always up-to-date. They currently beta testing or have plans to integrate these in the near future:
AIMS360
ApparelMagic
BigCommerce
Bonanza
Facebook Shops
Google Shopping
Houzz
Magento
NetSuite
Storenvy
Tundra (BETA)
Walmart
Wix
Xero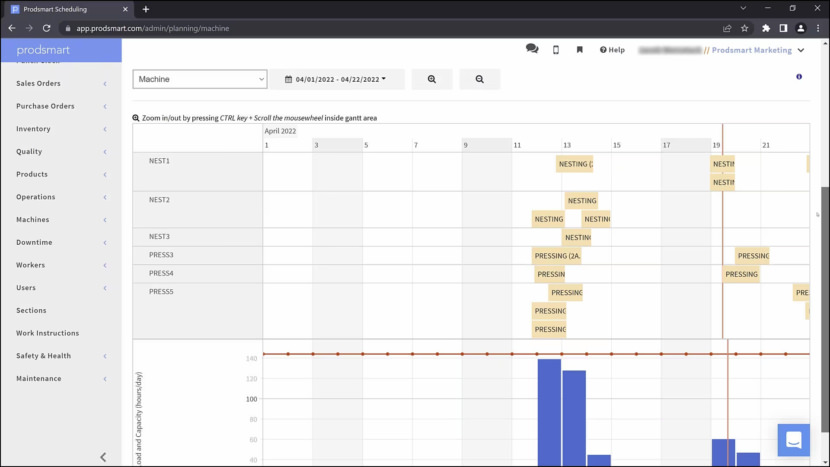 Prodsmart provides manufacturers and fabricators, from small to large-scale, the power to manage every aspect of their production floor. You can use it to get insights into your production flow, identify where waste occurs, predict maintenance, and keep on top of employee performance.
Prodsmart is a multi-capable tool used by operations managers, production managers, schedulers, packaging specialists, fulfillment operators, QA teams, and shop floor fabricators. A Manufacturing Execution System, or MES, can monitor, track, report, and even control the various processes and systems used to manufacture goods, from raw material to shipping.
Inventory management – Add Bill of Materials (BOM) and Product Trees to track associated operations and raw materials consumed. Track raw materials with lot traceability, from batch to finished product. Manage warehouse space.
Scheduling and inventory management – Effectively conduct MRP (material requirements planning) schedule and inventory management.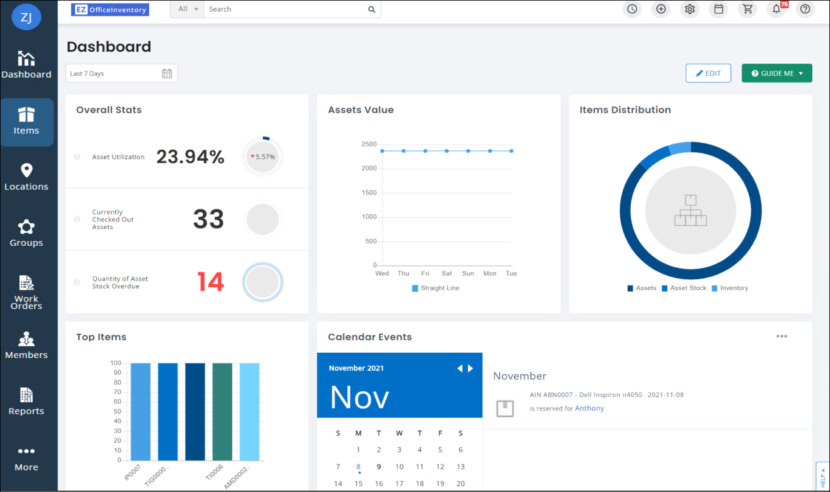 Your business assets drive growth and success, but managing them can be a challenge. Empower your team, streamline operations and reduce costs with the industry's leading asset tracking software. Use EZOfficeInventory to track, maintain, and report on your equipment anytime, from anywhere.
Track items across locations and departments, scan barcodes right from your phone, streamline item maintenance to boost functionality, maintain optimized stock levels at all times, and manage all your users and vendors with one solution. The inventory management module enables users to track inventory levels with QR codes and barcode tags.
Control item movement and keep an accurate record of stock by tracking assets at multiple locations. Schedule preventive maintenance to make your equipment last longer. With an automated procurement system, never worry about running out of stock for critical assets.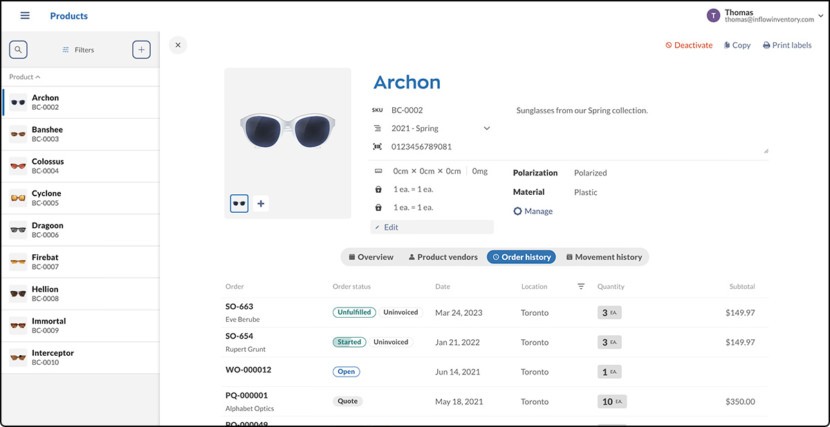 Looking for an inventory and order management system for your small or medium-sized business? inFlow is used in over 90 countries around the world for manufacturing, wholesale, distribution, ecommerce, and more. It's also simple to set up thanks to its cloud-based Windows, web, and mobile apps.
Inventory management is a tough balancing act. You have to know what's in stock, which orders are coming in, and when you might need to order more. If you're having trouble keeping up with inventory and orders, inFlow is the software for you.
Inventory checks take up valuable work hours. inFlow shows you which SKUs are in stock, what's been reserved, and what's on order. And reorder points help you stay proactive about restocking before you ever run out.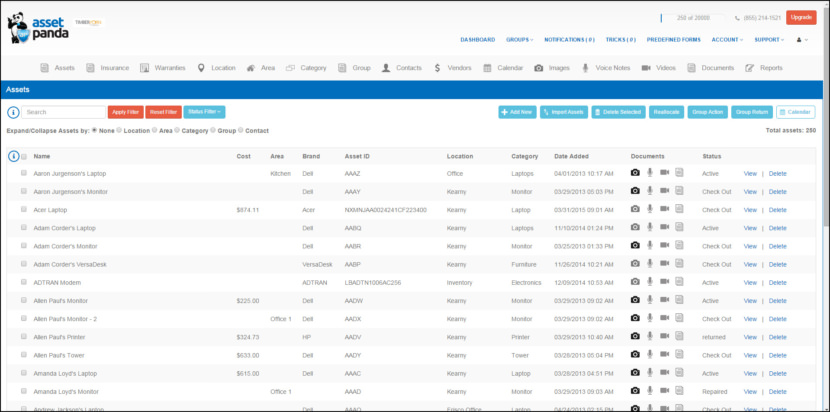 Never lose track of an item again with our cloud-based asset management and tracking platform that adapts to the way you work. From IT and construction to education and retail, every business has items of value that they need to keep track of. Some are digital, like contracts and software licenses, while others are physical, like laptops and vehicle fleets. Whatever you're tracking, we're here to help your team improve efficiency and save time and money.
Asset Panda helps users assign contacts by location and track depreciation. The User can use a barcode scanner to look up asset details and automate pick lists. Role-based security ensures that employees are granted the appropriate level of access, so they always see the information relevant to what they are working on.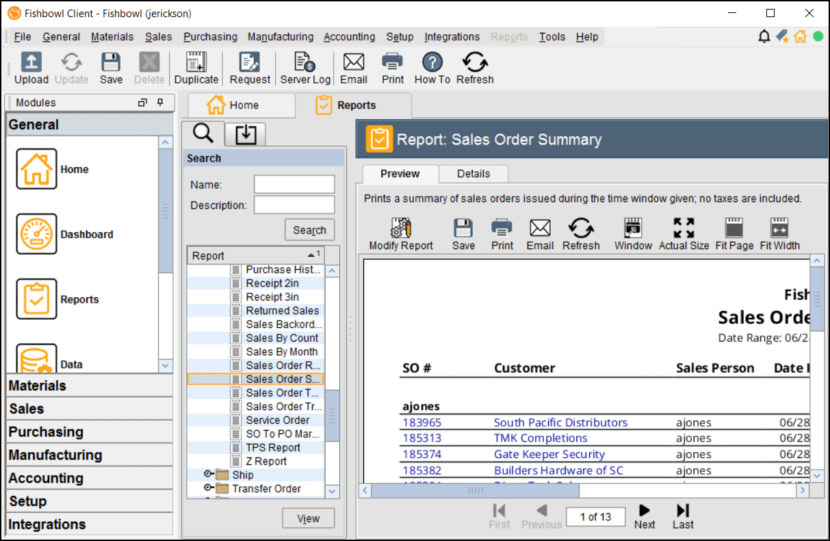 Gain full visibility into your warehouse and manufacturing workflows, streamline integrations, and grow your business – in weeks, not months. Fishbowl is the #1 manufacturing and warehouse inventory management software! Its powerful inventory control system gives your small or midsize business the exact tools needed to transform your inventory management and scale your business.
Real-Time Inventory – Increase traceability and eliminate errant data entry
Multi-location Management – Track and manage your inventory anywhere, anytime
Parts Tracking – Access many built-in options or create custom part tracking
Asset Tracking & Management – Track and manage essential business equipment, from supplies to fleets
Fishbowl reduces the number of steps in your manufacturing process and seamlessly integrates with some of the most popular business solutions such as QuickBooks, Amazon, Adobe, Shopify, Salesforce and more. Fishbowl seamlessly integrates with dozens of software platforms. Link core business functions with Fishbowl to gain efficiency:
Amazon e-Commerce, Authorize.Net Merchant Services, ConverSight, Endicia, Android, Avalara, DHL, eZCom, Apple, BigCommerce, Ebay, FedEx Shipping, HubSpot CRM, LilyPad, Microsoft Surface, Netstock, Infocon Systems, Linux, Metrc, OnTrac, Kinein, Adobe Commerce, Motorola, Pepperi, QuickBooks Accounting, SalesIn, QuickBooks Payments, ShipStation, QuickBooks Online, Reckon, ShipRush, ShipWorks, Salesforce CRM, Shift4Shop, Shopify, QuickBooks Canada, Solid Works, UPS Ready Shipping, Web Shop Manager, Xero Accounting, SPS Commerce, Volusion, WooCommerce, Zebra, StarShip, Walmart, Windows, Zen Cart, USPS, Wasp Barcode, X-Cart, Zoho CRM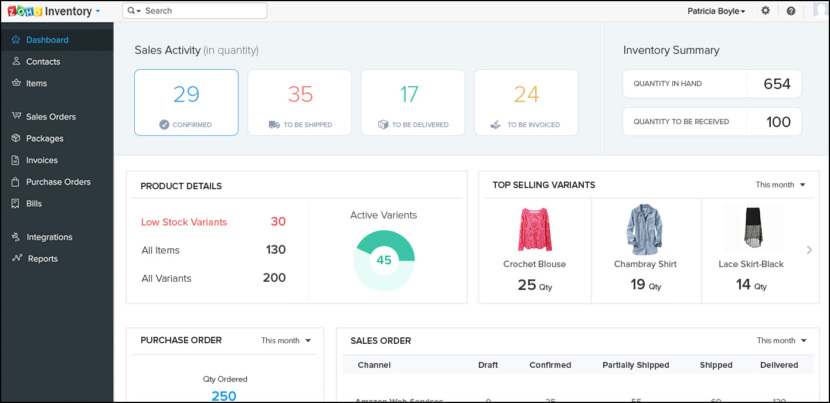 Inventory management software for growing businesses. Increase your sales and keep track of every unit with our powerful stock management, order fulfillment, and inventory control software.
Zoho Inventory is a cloud-based inventory management solution designed for small to midsize businesses. It features inventory management modules including reporting and analysis, vendor managed inventory and lot traceability. It features mobile compatible apps for Android and iOS devices.
Centralized Inventory – Update your inventory quantities across all your selling channels automatically whenever a sale has been made. There's no margin for error when everything is in perfect sync.
Product Listing – Keep your inventory organized with vital details like prices, cost, availability and SKUs. Create variants of an item based on custom attributes and keep them neatly organized.
Item Kitting – Bundle a group of items together to sell as a single unit. Zoho Inventory updates individual items and components as products are put together and sold.
Automatic Re-ordering – Never lose out on another sale due to stock-outs in any of the channels. Set re-order points, reminders, and preferred vendors for your products to avoid untimely stock-outs.
Stock Adjustments – Make adjustments to your stock levels in case of product shrinkages. Capture all the adjustments with all the details.
Barcode Inventory Management – Scan barcodes of items and watch the fields get auto-populated every time you create an invoice, sales or purchase order.
Serial Number Tracking – Identify each item in your inventory with a code and track its movement from the point of purchase to sale.
Batch and expiry date tracking – Track different batches of items and monitor their expiry dates so that, you sell them when it is fresh.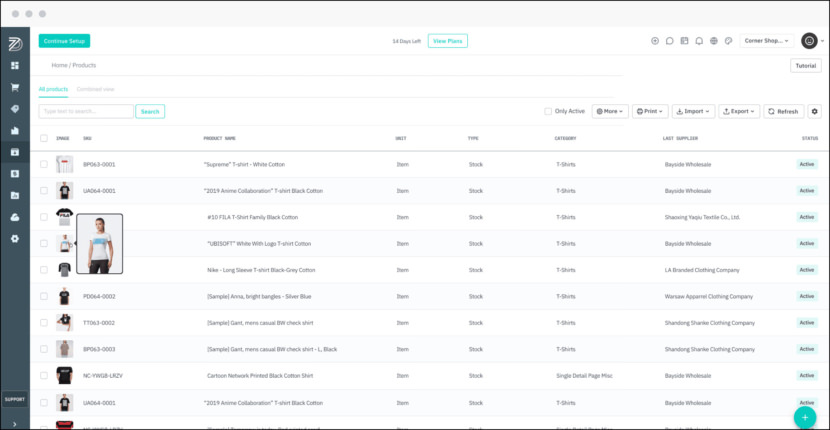 Leverage the power of multi-module inventory management software to keep the moving parts of your business all in one location. Automate time-consuming tasks, whether you are in retail, wholesale or manufacturing. Achieve complete visibility of sales across all channels. Integrations with online stores and shipping platforms help you reach more customers and increase sales.
Gain instant visibility into stock levels and order statuses, no matter the volume of product you manage. Upgrade from clunky traditional models to the speed, intuitiveness and cost-effectiveness of true cloud ERP software.
Manage Large Product Volumes – Simplify the challenges of wholesale level product management. With Cin7 Core, you can create Product Families containing variations of the same product, each with a unique, automatically-generated SKU. Managing extensive product lines has never been simpler.
Operate Multiple Locations – Use drop shipping to sell items you don't physically stock. Our Drop Shipment feature lets you create a sales order, then automatically generate a purchase order to your supplier with the shipment details. Your customer receives the order, while you save time and paperwork!
Automatically Generate Product Data – Increase the speed and accuracy of your product pick stage with efficient barcode scanning. With Cin7 Core, you can use a barcode scanner to process inventory during product picks, reducing time and human error. Simply scan and let Cin7 Core take care of finding the correct inventory.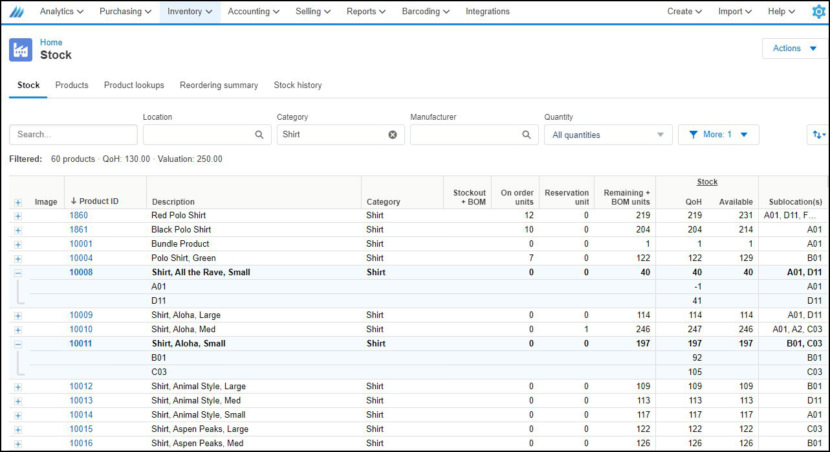 Finale Inventory is the top multichannel inventory management solution for applications involving high volume, eCommerce and warehouse management. Thousands of businesses trust Finale Inventory to improve and scale their operations. Designed to be flexible with scalability in mind. Built to solve YOUR inventory needs.
Finale Inventory is a cloud-based software platform that helps with inventory and warehouse management. As a result, it offers a range of benefits for organizations of any size. While its cloud-based architecture is just one of the many features of our product, it's one of the most important, as its flexibility, security and convenience are key to driving your success.
Finale Inventory puts real-time information right at your fingertips and visualizes it in graphs and charts. Since the software tracks inventory automatically based on your sales and replenishment orders, you'll have reliable data driving your stock replenishment decisions. You'll see a visual summary of your purchasing costs and recent sales totals from your dashboard.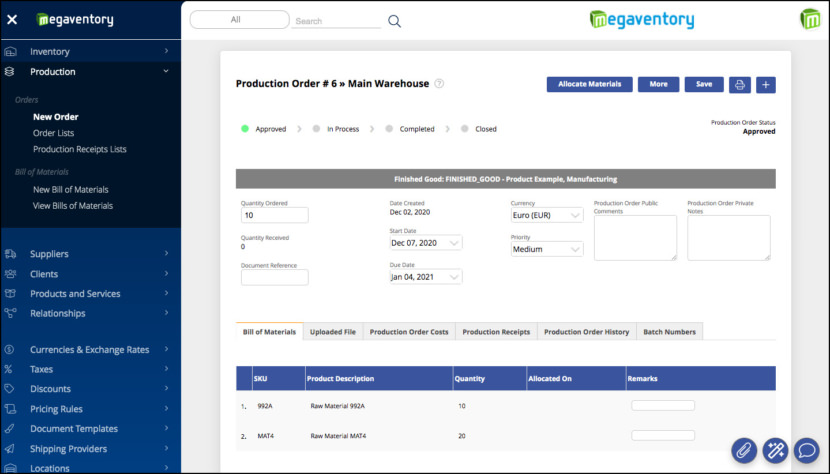 Megaventory provides you with a unique combination of technology and usability so that you can focus on what matters: your business! The inventory management feature focuses on providing inventory at multiple locations, keeping check of stock levels, checking supplier availability and ensuring the on-time return of inventory.
The order fulfillment feature helps users manage sales orders received from clients, as well as purchase orders from suppliers. It also assists in preparing sales quotes, shipping quotes, drop-shipping and consignment details. Inventory Management features:
Multiple Locations / Warehouses / Stores
Stock Alerts
Returns of Goods from Clients / to Suppliers
Supplier Availability and Lead Times
Inventory Changes over Time
Product Cost Tracking over Time
Serial Numbers
Batch Numbers / Expiry Dates
Transfer between Locations
Landed Cost Calculations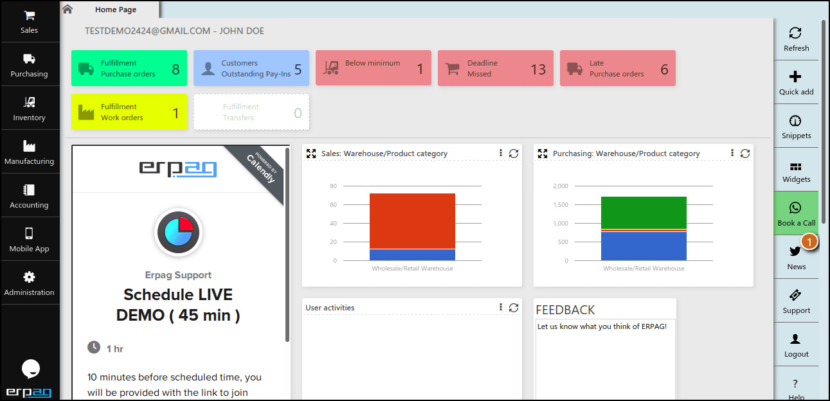 MRP or Cloud Manufacturing software featuring order management, multi-level bill of materials, time-track, supply chain, costing, CRM, estimating and quoting. ERPAG is a cloud-based enterprise resource planning (ERP) solution. It is suitable for small and midsize businesses in various industries, including automobile, retail, education, information technology and more.
Barcode Numbers – Auto-generated barcodes ready for label printing. ERPAG supports different barcode standards (EAN, UPC, QR etc. )
Lot Numbers – Track LOT or Batch series with the ERPAG tracking engine.Complete historical data overview with backtrack reporting.
Inventory Label Printing – Tag your items with ERPAG cloud label printing. We support all industry standard label printers.
Mobile app – Speed up scan/receive process with the mobile app.ttings.
ERPAG allows users to manage business processes including selling, ordering, receiving and delivery. Other features include payroll, service management, shipping management, user-access management, point of sale and barcode scanning. ERPAG Manufacturing Software is specifically designed for:
Additive Manufacturers
Aerospace & Defense Manufacturers
Chemical Manufacturers
Distribution Manufacturers
Food & Beverage Manufacturers
Health & Beauty Manufacturers
High Tech Manufacturers
Industrial Machinery Manufacturers
Job Shops
Medical Device Manufacturers
Metal Fabrication Companies
Oil & Gas Manufacturers
Plastics & Rubber Parts Manufacturers
Semiconductor Shops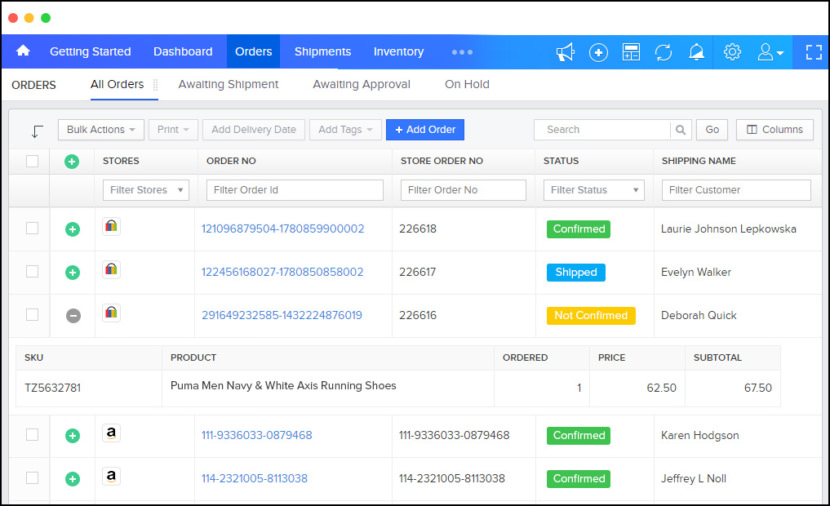 Track and manage your inventory in real-time across multiple channels for your fast growing brands with Cin7 Orderhive, and widen your eCommerce reach. Cin7 Orderhive is an ecommerce automation platform that helps you save your time and focus on growing your business. With Cin7 Orderhive, it's easy to automate tasks within your operations and across your apps.
eCommerce Automation – Automates daily tasks based on multiple preset triggers and desired actions, saving you time, costs and repetitive manual intervention.
Inventory Control – Learn everything about inventory control, and various other facets of stock management.
Order Management – Order fulfillment from warehouse to customers, facilitates multi-currency, back-orders, team-collaboration, etc.
Shipping Management – Lowest rates, real-time tracking, automated exception handling with integrations over 200+ shipping carriers.
Manufacturing Management – Improvise production process by helping manufacturers to ease-out on advanced work orders, bill of materials, etc.
Purchase Management – Simplifies purchase management with features like barcode, automated PO creation, multi-currency transactions, etc.
Return Management – Maximize value recovery with reduced turnaround time; receiving returns to managing refunds.
Analysis and Reports – Offers real-time access to reports & analytics with insights into inventory & orders, aids actionable data-driven decisions.
Invoicing and Payments – Facilitates payments & invoicing through software like QB & Xero, provides key financial data for better decision-making.
Warehouse Management – Automates warehouse workflows and fulfillment cycles with faster, optimized picking & packing processes.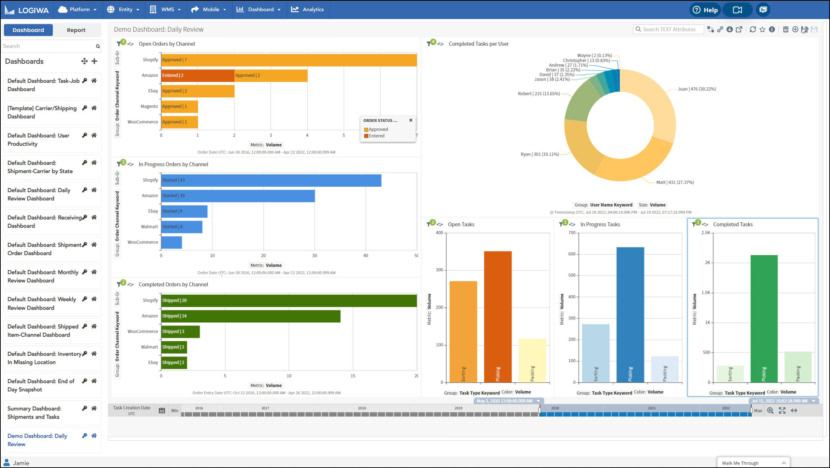 Logiwa is the leading cloud order fulfillment and Warehouse Management Software for B2C, direct-to consumer, and 3PL providers. Growing your 3PL, B2C, or DTC business is only possible if you can keep up with all the orders and never let your backend warehouse technology slow you down, or worse—tarnish your brand with a bad delivery experience.
Logiwa Cloud Fulfillment Platform is a fully integrated WMS Software and order fulfillment system that empowers companies and 3PL providers to run a digital fulfillment network and grow their direct-to-consumer business—without additional headcount.
Logiwa WMS is recommended to mid-size and large companies in verticals including 3PL, restaurant equipment, high technology, furniture and building materials. It can be deployed standalone or as a part of a supply chain management solution.