There is a saying, if you pay peanuts, you get monkeys. Just like everyday consumer goods, the cheaper it is, the lower the quality. Some may argue Google Android phones offer better specification than Apple yet retain the same quality. Just look around, have you seen any android phone older than 4 years? Apple smartphones on the other hand last longer as they are build with higher quality with the goal of making money via their subscription fees.
Alternative 2020 Article ➤ 5 Freeware To Check Current Battery Capacity Of MacBook, iPhone And Windows Laptop
It is hard to compare a product based on their specification alone. For instant, an iPhone's 3000 mAh battery does not have the same quality as an Android 3000 mAh battery. The material may differ, so does the number of rechargeable cycles. The only way to know the overall product quality is to look at the average failure rate against similar competitors within the same industry.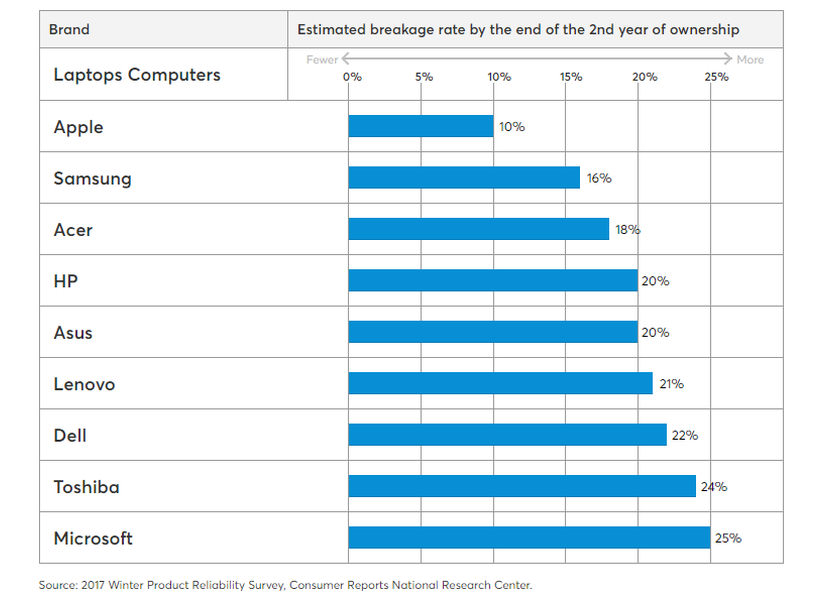 Of all the laptop brands in the market, which is the most reliable and comes with the lowest failure rate? According to Consumer Reports, Apple stands out as being the most reliable laptop brand. Microsoft, on the other hand, is less reliable than most other brands.
Missing in the list are sub brands or smaller brands such as Razer, Alienware, Predator and etc. These brands tend to have higher reliability than their parent companies' product. Thus, gaming laptops are worth the price for the reliability, but in term of performance, they are overkill for daily task such as surfing the web, word processing and photoshopping.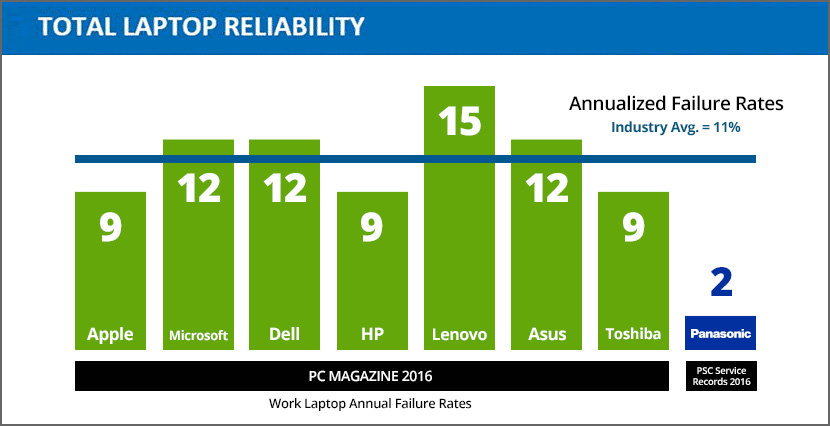 However, if you are looking for an industrial grade laptop, not those for the average consumer, Panasonic's Toughbook and Toughpad tablets rarely fail. In fact, Panasonic mobile computers and tablets are nearly ten times more reliable than standard business laptops and tablets. Their laptops and tablets are designed to be use in a really harsh environment.
Computers And Laptops After Sales Service
Apart from reliability, the after sales service is equally important too. I've owned a great number of computer brands, such as Acer, Asus, Dell, and Sony. My Dell PC failed during the first year and Dell immediately replace the part, no question asked. Sony did the same thing too when the hard disk failed. My Acer laptop died on the 3rd year, right after the warranty expires.
Planned Obsolescence
Planned obsolescence, or built-in obsolescence, in industrial design and economics is a policy of planning or designing a product with an artificially limited useful life, so it will become obsolete (that is, unfashionable or no longer functional) after a certain period of time.
No company will admit they have this policy, but we can observe this from a products' average failure rate and the company's sincerity in fixing it by making available parts required to fix it. This is why I am a huge fan of Japanese products and also Apple. Products are not merely hardware, Apple on the other hand is known for updating their 4 or 5 years old iPhone with the latest OS. As for parts, it is easy to find spare parts for most Japanese brands.