Using a "to do list" app such as Wunderlist, Clearlist, Any.Do, Task and more on your Apple iPhone and Google Android smartphone is the first step towards an organized life. Having said that, the most important question is – is it organized correctly? Does completing the task create unwanted consequences?
See More ▼ 40 Free Motivational and Inspirational Quotes Wallpapers / Posters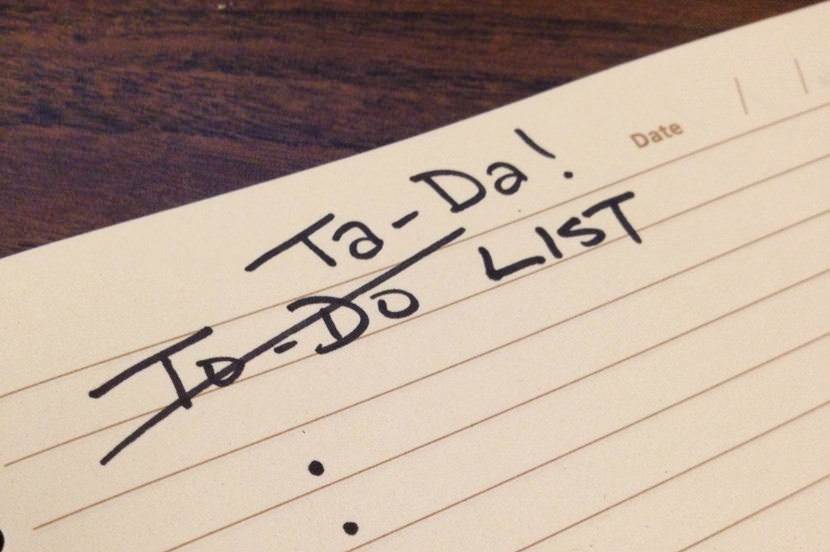 Without further ado, here are 4 ways to re-write your to-do list. By doing so, not only it enables you to complete them on time without pushing them further down the list, it increases productivity and most important of all, it creates a sense of achievement and satisfaction. Without further ado, here are top 5 recommended ways for Android and iOS smartphone user to write your everyday todo list,
01 – Ask Questions
Ask simple questions, this will stimulate your brain to come up with different opinions and enable you to see clearly. A simple question like the example below will open up a series of questions such as – How long more till bonus? Can I find another job in less than a month? If no one else is having issues with the manager, is it because of my own character? Extremely useful when you are angry with your boss and manager.

✗ Type resignation Letter
✓ Is this the right job for me?
Remember to rephrase the question to Who, What, Which, Where, When, Why and How.
02 – Challenge Yourself / Set A Goal
Set a new benchmark, instead of a boring reminder. Why not set a gradual benchmark every time you perform a task. For instance, the next run will be 10.5 km and then 10.6km. Being challenged is more exciting, this will eliminate the idea of the task being another boring task to complete. Extremely useful for your 'Bucket List'.

✗ Jogging @ 6pm
✓ Run 10KM @ 6pm, you can do it!
03 – Positive Thoughts
The number one rule in writing a positive reminder is never to have a Yes or No answer, always leave room for open interpretation. As shown in the example below, instead of asking Britney out, why not inform Britney you are free tomorrow at 8pm and would love to invite her for dinner, if she is not free at 8pm, simply propose 10pm. Great way to complete a wedding list too.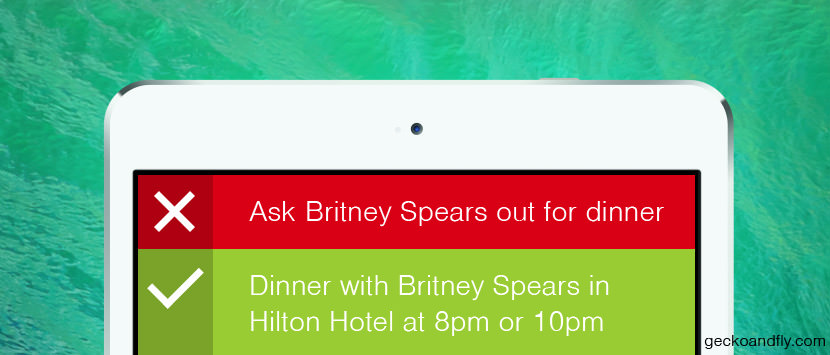 ✗ Ask Britney Spears out for dinner
✓ Dinner with Britney Spears in Hilton Hotel at 8pm or 10pm
04 – Personal Touch
Instead of using common words that have no sense of belonging, replace these common words with their actual names. As shown below, by replacing it with a unique name, there is a sense of urgency and importance to it. It is not 'a Cat', it is 'the Cat'.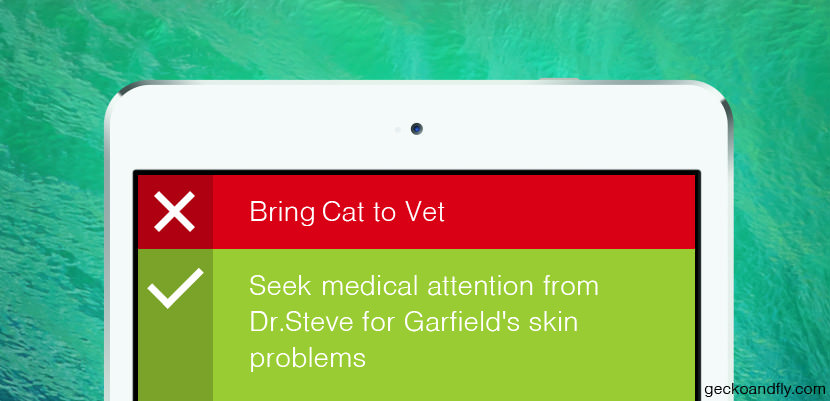 ✗ Bring Cat to Vet
✓ Seek medical attention from Dr.Steve for Garfield's skin problems
05 – Break Down The List
Always break down a huge task into a smaller list; this makes it more doable and manageable. You are more likely to complete it as you have a sense of achievement as you cross the smaller task. It is a journey that makes the destination worth fighting for, therefore making the journey easier.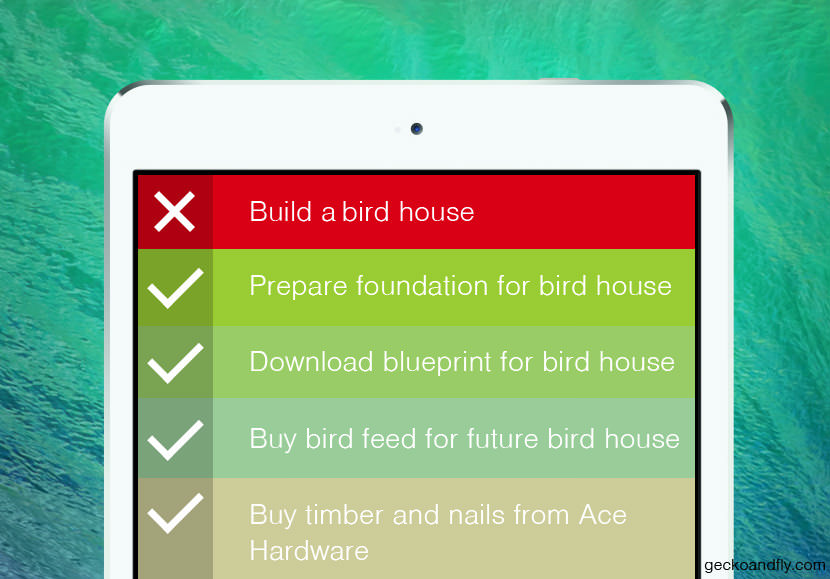 ✗ Build a birdhouse
✓ Prepare foundation for birdhouse
✓ Download blueprint for birdhouse
✓ Buy bird feed for future birdhouse
✓ Buy timber and nails from Ace Hardware
Works great for grocery lists or any large project.