How to recover deleted files from recycle bin Apple Mac OS X? Internet recovery mac is possible, the hard disk failure rate is somewhat low on a mac, not that Apple manufacture any hard disk or SSD, it is the quality of the hard disk they demanded from their manufacturer. Those that supplied hard disk with high failure rate will not have their contact renewed, thus manufacturer such as Toshiba, Seagate, Samsung, Western Digital will always supply Apple with the best.
Related Article 2019 ➤ 6 Free Compact Flash and SD Memory Card Data Photo Recovery Software
Having said that, sometimes there are defects and failure is unavoidable, this is when you will need a third party software or app to recover your files and photos from the macbook Pro SSD hard disk, USB flash drive or SD Card. These free software and shareware works on all macOSX, macbook, imac, laptop and desktop.
Mac data recovery software to restore documents, photos, music or videos lost due to deletion from any HFS, HFS+, FAT, ExFAT and NTFS format based file system. Stellar Phoenix Data Recovery for Apple macOS and Microsoft Windows is a complete solution to recover data from formatted partitions, corrupt hard drives, inaccessible optical media drives, and unbootable systems. With the help of this tool, you can recover data from all FAT, exFAT, and NTFS based volumes. It also helps you recover lost, missing or deleted files & folders from Mac Hard drives and other removable media. You can recover all file types including documents, emails, photo, music and videos after almost all instances of data loss. This comprehensive software restores lost data from volumes that are corrupt, damaged, deleted and even reformatted.
Perform Mac file recovery on iMac, MacBook Pro, Air, Mac Mini, Mac Pro
Enables smooth data recovery from encrypted file systems
Recovers all deleted files with their original file names
Supports RAW recovery on lost volumes
Supports Time Machine Backup drive recovery
Compatible with the latest El Capitan 10.11
Mac Data Recovery Guru is the most modern, the most technologically advanced, and the easiest to use mac data recovery utility available. Mac Data Recovery Guru works by employing content-based file scanning. This is a different approach to traditional forms of data recovery which attempt to repair the device in question, which when they go wrong will write over the data you were trying to retrieve in the first place.
Disks: Macintosh disks (HFS filesystems, HFS+, HFSX filesystems), Windows disks (NTFS, FAT filesystems), Linux disks (Ext2, Ext3, Ext4 filesystems), Unix disks (XFS, UFS filesystems).
Digital Cameras: (Kodak, Minolta, Nikon, Canon, Fuji, Olympus, Sigma).
Mobile Phones: Android, Nokia, Motorola, Palm, Dell, Hewlett-Packard, Samsung, Sanyo, Siemens, Sony Ericsson, Panasonic, Kyocera, Blackberry.
Miscellaneous devices: USB pen drives / USB flash storage / USB memory sticks, Memory Cards for cameras and portable devices, CD's/DVD's, MP3 Players, PlayStations, X-Boxes, Wii's, Palm devices.
TestDisk is powerful free data recovery software! It was primarily designed to help recover lost partitions and/or make non-booting disks bootable again when these symptoms are caused by faulty software: certain types of viruses or human error (such as accidentally deleting a Partition Table). Partition table recovery using TestDisk is really easy. TestDisk can:
Fix partition table, recover deleted partition
Recover FAT32 boot sector from its backup
Rebuild FAT12/FAT16/FAT32 boot sector
Fix FAT tables
Rebuild NTFS boot sector
Recover NTFS boot sector from its backup
Fix MFT using MFT mirror
Locate ext2/ext3/ext4 Backup SuperBlock
Undelete files from FAT, exFAT, NTFS and ext2 filesystem
Copy files from deleted FAT, exFAT, NTFS and ext2/ext3/ext4 partitions.
Data Rescue is a Mac data recovery software that can recover your photos, videos, documents from crashed, corrupted or non-mounting hard drives, accidentally reformatted hard drive or reinstalled OS and previous deletion, damaged or missing files. Easy And Safe Mac Data Recovery Software.
Works on all Mac hard drives even if they fail to mount or only partially operate.
Recovers digital pictures from your camera media even after it has been erased or reformatted.
Recover your entire Mac hard drive or just the files you need.
Recovers all file types from any HFS/HFS+ formatted drive.
Tuned for all modern Mac OS versions 10.7.5 and newer.
Recover from any iMac, Macbook, Macbook Pro, Macbook Air, Mac Mini, Mac Pro including retina displays.
RAW data recovery is enable from the entire Mac hard drive.
Supports data recovery from HTFS-based Boot Camp partitions.
↓ 05 – Disk Drill [ Free/USD90 ]
Do you need to recover deleted files in Mac OS X, such as critical business documents, music, photos or videos? Have files or whole partitions gone missing from your Mac? Are you having trouble accessing an external USB drive or camera card? We can help. We make data recovery for Mac OS X easy. Disk Drill makes data recovery in Mac OS X super easy. With just one click of a button, it will run through all of its scanning functions and display a list of files that can be potentially recovered. You can even preview these files so that you can determine which ones can be successfully recovered. If you have Disk Drill's data protection features enabled, some methods of file recovery on your Mac are free! If not, a quick upgrade will enable you to recover your files and get back to work. Deep Scan method can be used in any situation and is able to recognize and recover over 80 different file types, including:
Photo files like JPG, PNG and TIFF
Graphic files like AI, PSD and INDD
RAW camera files like CR2, NEF and DNG
Video files like AVI, DV and MP4
Music files like AIF, MP3 and WAV
Document files like DOCX, PPTX and XLSX
Free Mac file recovery software can help users to recover lost/deleted files from Mac-based hard drives, external hard drives, digital cameras, MP3/MP4 players, and other devices. With the intuitive interface and the 3-step process "Scan – Preview – Recovery", it easily retrieves photos, videos, music and other files lost by accidental deleting, formatting, virus infection, or improper operation. EaseUS Data Recovery Free for Mac allows users to freely recover 2GB of data. Key Features:
Recovers many types of files, including images, videos, documents, email, archive, etc.
Supports the recovery of data from multiple storage devices like external drives, USB drives, SD cards, memory cards, and others.
Supports Mac OS X 10.10 (Yosemite), 10.9 (Mavericks), 10.8 (Mountain Lion), 10.7 (Lion), 10.6 (Snow Leopard).
MiniTool Mac Data Recovery Personal License can recover photos, music, videos, emails, documents, and other types of data from Mac computer or other storage devices. This Mac data recovery software is fast, safe and easy to use. It has data preview effect, so Mac users can enjoy the charm of data recovery in advance. Four powerful recovery functional modules:
Undelete Recovery: helps Mac users quickly recover data lost due to accidental deletion from storage devices.
Damaged Partition Recovery: recovers lost data from existing partitions, such as damaged partition, formatted partition and the partition with a RAW file system or the partition which is notified by Mac: "Do you want to format it?".
Lost Partition Recovery: recovers lost data from lost or deleted partition.
Digital Media Recovery: recovers photos, audios, videos and other multimedia files from portable storage devices, such as memory card, memory stick and USB flash drive.
Wondershare Data Recovery is a user-friendly, intuitive and powerful data recovery software, which serves over 5 million users all around the world now. A professional Photo Recovery Software designed to recover photos, videos and audio files from any storage device for Computers, Hard Drives, Flash Drives, Memory Cards, Smartphones, Cameras and Camcorders.
Partition Recovery – Efficiently restore your files from deleted, lost, damaged, resized and formatted partition in all file systems (NTFS/FAT 16/FAT 32/exFAT).
Raw Recovery – It enables you to scan the raw hard drive partitions and provide real-time preview of all recoverable files, then it takes just one click to get the lost files back.
Lost File Recovery – Recover formatted and deleted files with their original file names and paths.
The Correct Way On Backing-up Up Your Files
It is always a good idea to have a portable USB hard disk acting as your backup system, alternatively, cloud storage is getting cheaper and more popular as time goes by. Other than cloud, the many mistake done by the average user is to have 1 copy of the files on a single hard disk. The correct method is to have 2 copies of the identical files on 2 different hard disk.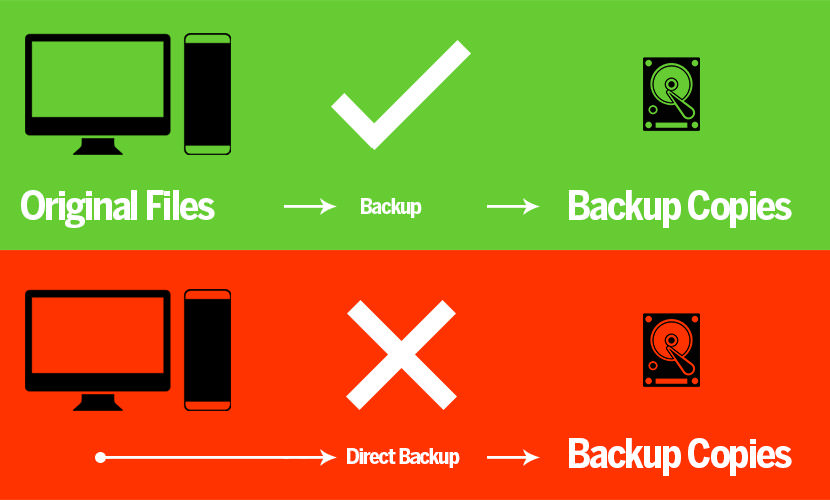 I personally prefer backing up my files on an external hard disk. For those new to backing up their files, here are 14 Free Folder and File Synchronization For External Hard Drive Backup. If possible, set the software to automatically sync all of your files to an external hard disk.